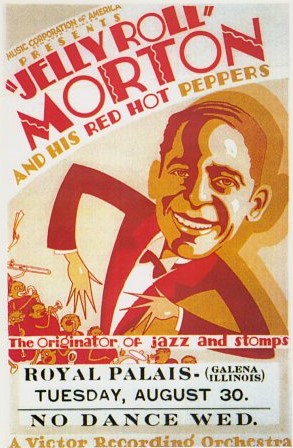 As we are approaching the birthday of Ferdinand Joseph La Mothe (October 20, 1890), professionally known as "Jelly Roll" Morton, it is interesting to note that during the depression and his most difficult years, Princeton University's Dial Lodge (eating club) booked one of America's first and best jazz pianists for their 1932 house party weekend.
As noted in the Daily Princetonian 57, no. 64 (April 26, 1932), "Well-known Bands Engaged to Provide Houseparties Music." The smooth continental Enric Madriguera & His Hotel Biltmore Orchestra played for Cap and Gown, highlighting their just released rumba Adiós. "Colonial, Ivy and Tiger, according to their annual custom, will give their Houseparty dance together, and have arrangements for a Meyer Davis unit to play. This orchestra was at the Waldorf Hotel in New York last winter and has recently been broadcasting over the radio on the Lucky Strike dance hour."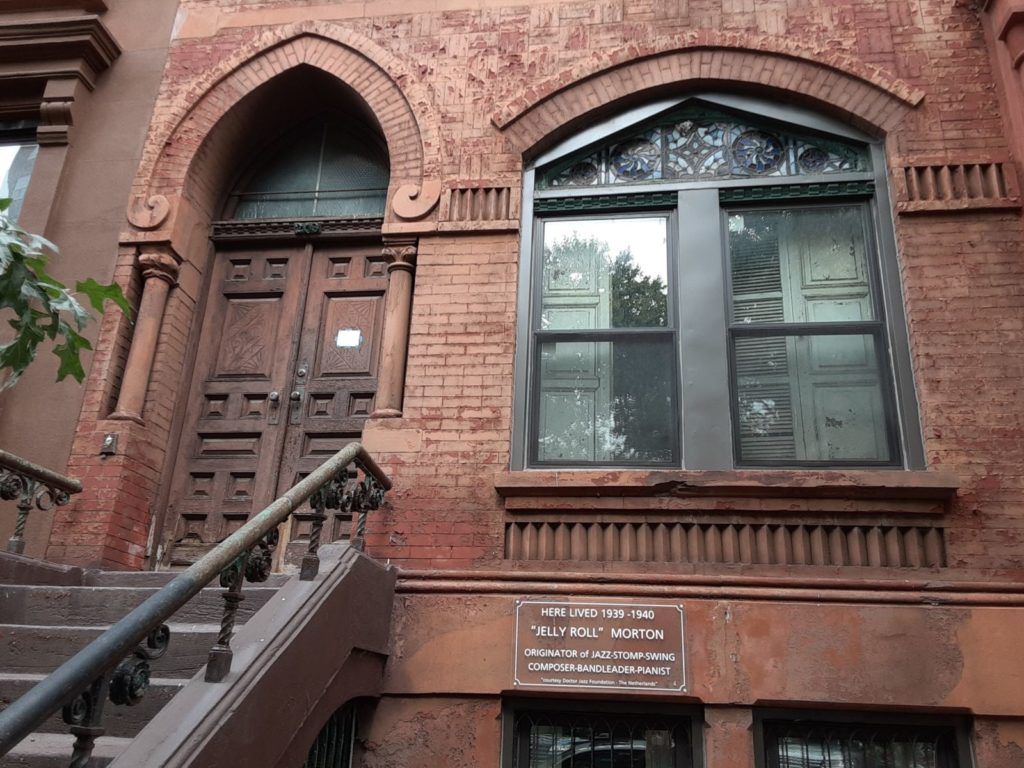 Morton's home for a few years, 209 West 131st Street, New York City
Close to the bottom of the announcement is the note that "Jellyroll Morton and his orchestra will play for Dial Lodge while Phil Solari, directing a Meyer Davis unit, will furnish the music for Elm. Morton, who has been on a stage tour for two years, has made a number of records for Brunswick recently recording "Crazy Chords," a selection which was written by himself." They do not mention that Morton made his first recording in 1915.
"Morton was jazz's first great composer, writing such songs as "King Porter Stomp," "Grandpa's Spells," "Wolverine Blues," "The Pearls," "Mr. Jelly Roll," "Shreveport Stomp," "Milenburg Joys," "Black Bottom Stomp," "The Chant," "Original Jelly Roll Blues," "Doctor Jazz," "Wild Man Blues," "Winin' Boy Blues," "I Thought I Heard Buddy Bolden Say," "Don't You Leave Me Here," and "Sweet Substitute." He was a talented arranger (1926's "Black Bottom Stomp" is remarkable), getting the most out of the three-minute limitations of the 78 record by emphasizing changing instrumentation, concise solos and dynamics. He was a greatly underrated pianist who had his own individual style. Although he only took one vocal on records in the 1920s ("Doctor Jazz"), Morton in his late-'30s recordings proved to be an effective vocalist. And he was a true character.

Jelly Roll Morton's pre-1923 activities are shrouded in legend. He started playing piano when he was ten, worked in the bordellos of Storyville while a teenager (for which some of his relatives disowned him) and by 1904 was traveling throughout the South. He spent time in other professions (as a gambler, pool player, vaudeville comedian and even a pimp) but always returned to music. The chances are good that in 1915 Morton had few competitors among pianists and he was an important transition figure between ragtime and early jazz.'

…With the center of jazz shifting to New York by 1928, Morton relocated. His bragging ways unfortunately hurt his career and he was not able to always get the sidemen he wanted. His Victor recordings continued through 1930 and, although some of the performances are sloppy or erratic, there were also a few more classics. …But with the rise of the Depression, Jelly Roll Morton drifted into obscurity. He had made few friends in New York, his music was considered old-fashioned and he did not have the temperament to work as a sideman. During 1931-37 his only appearance on records was on a little-known Wingy Manone date." —https://www.allmusic.com/artist/jelly-roll-morton-mn0000317290
http://downbeat.com/archives/detail/jelly-roll-morton-i-created-jazz-in-1902-not-w.c.-handy
Read his autobiographical letter to "Ripley's Believe it or not" above and see the article below announcing that Morton has been dismissed from his union.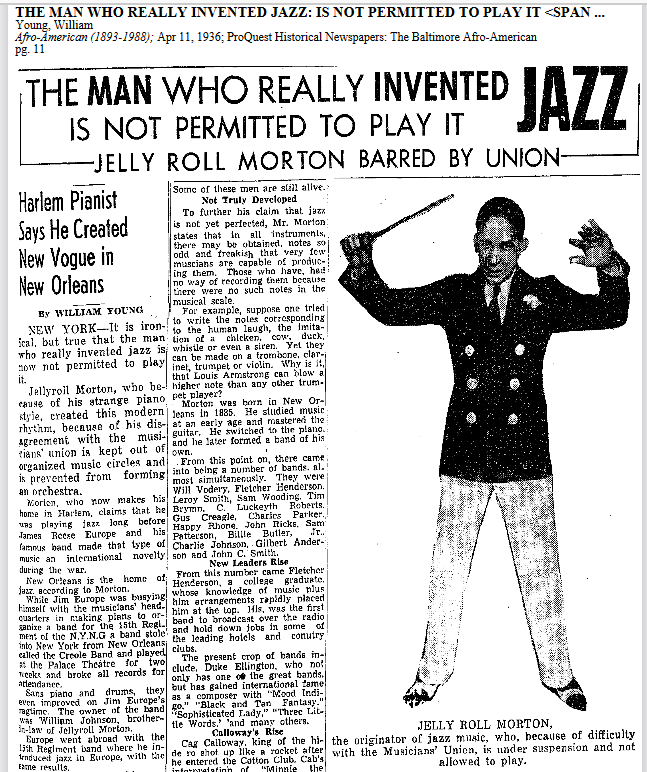 Those of us at Princeton can play Jelly Roll Morton here: https://princeton-nml3-naxosmusiclibrary-com.ezproxy.princeton.edu/jazz/catalogue/item.asp?cid=MCD-47018-2