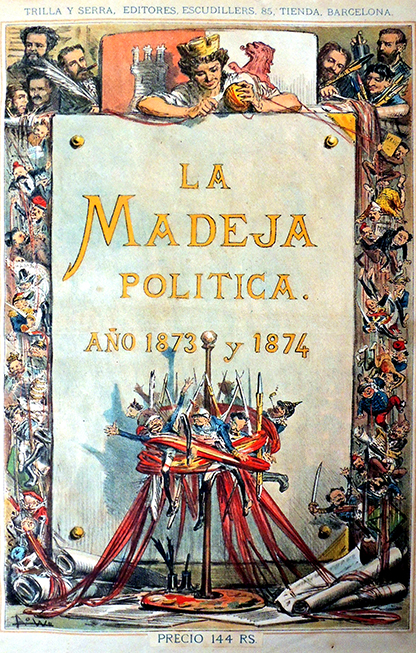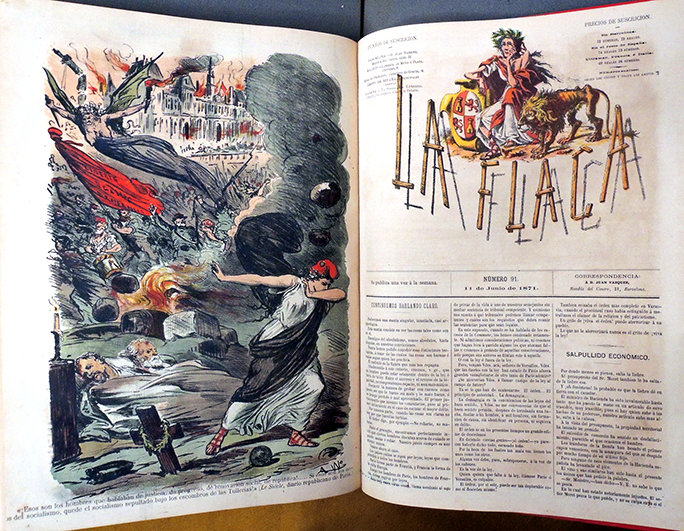 La Flaca, La Madeja Politica, La Carcajada, El Lio (Barcelona, March 1869 – March 1876). Complete with 256 weekly issues bound in 3 volumes, sophisticated copy. Graphic Arts Collection GAX 2020- in process
Latin American Studies and the Graphic Arts Collection recently acquired a scarce complete run of this remarkably well-illustrated satirical weekly, which began life as La Flaca. Each issue is typically comprised of one bifolium with a full-page color lithograph in volume 1 and in volume 2 ans 3, a double-page lithograph. More digital images have been posted at: https://translate.google.com/translate?hl=en&sl=fr&u=https://fr.wikipedia.org/wiki/La_Flaca&prev=search&pto=aue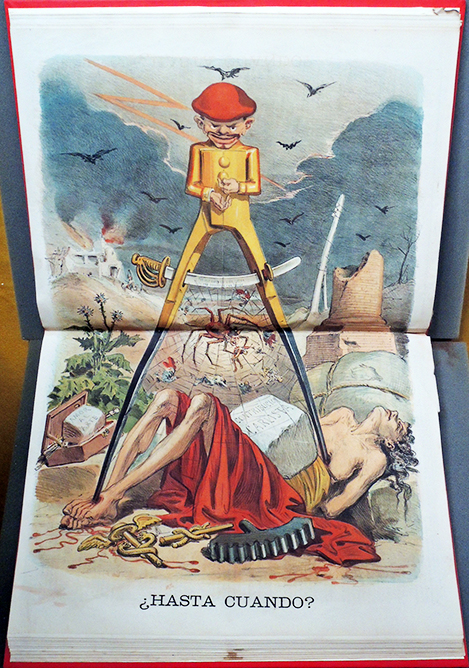 Published in Barcelona, the Republican magazine faced intense government censorship and so, frequently changed its name, switching from La Flaca to La Carcajada, then La Madeja, La Madeja Política, and finally El Lio to avoid the censors. Biting criticism of the Spanish government and church was a staple while promoting freedom of the press.
The magazine's chief illustrator was Tomás Padró y Pedret (1840-1877), who should be listed among the great caricaturist of the period. Born in Barcelona to a family of artists, he studied at the Real Academia de Bellas Artes de San Fernando in Madrid. It has been noted that another student, Mariano Fortuny, introduced him to the drawings by Paul Gavarni, an obvious influence in his satirical work. it is interesting that many plates use the iconography of drawing or writing or printmaking in their satirical message.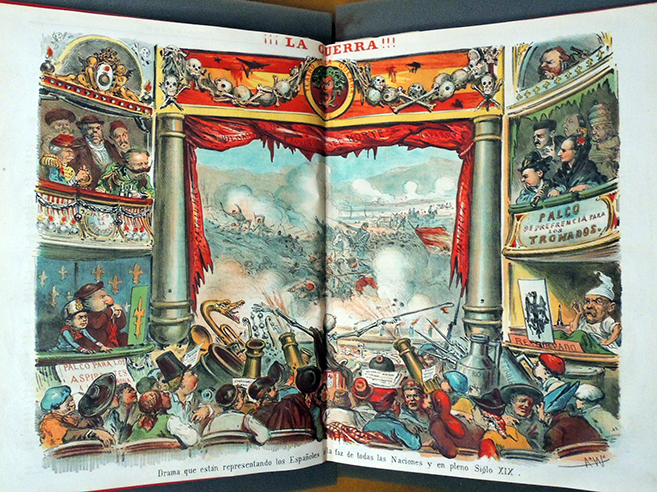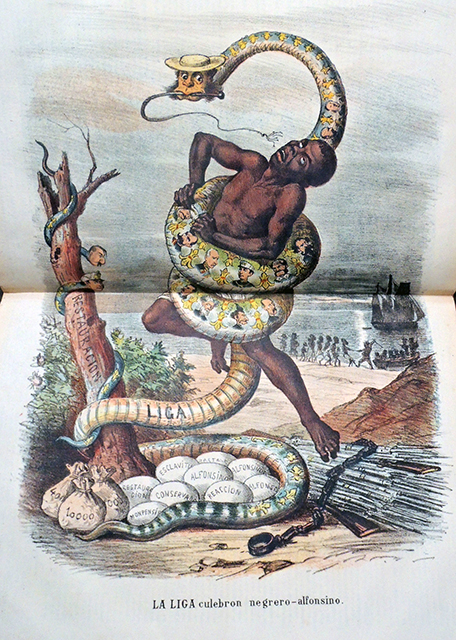 "The title was an ironic allusion to the plight of the Spanish people: the rickety woman with a shield bearing the country's coat of arms and laurel wreath, accompanied by an equally starving lion on the cover of the magazine was a satire allegory of the woman and the lion fomented by the authorities in the 19th century and supposed to embody the alliance between the monarchy and the people."
The contents are as follows:
Volume 1: La Flaca, nos. 1-100 (3rd of April 1869-3rd of September 1871). NB: no. 1 not dated.
Volume 2: La Carcajada, nos. 1-37 (17th of January 1872-31st of October 1872); La Flaca, nos. 38-84 (7th of November 1872-4th of October 1873).
Volume 3: La Madeja Politica, nos. 1-14 (1st of November 1873 – 31st of January 1873); El Lio, nos. 1-7 (7th of February 1874-18th of April 1874); La Madeja, nos. 22-50 (2nd of May 1874-19th of December 1874); La Madeja, nos. 1-22 (2nd of January 1875-3rd of March 1876).