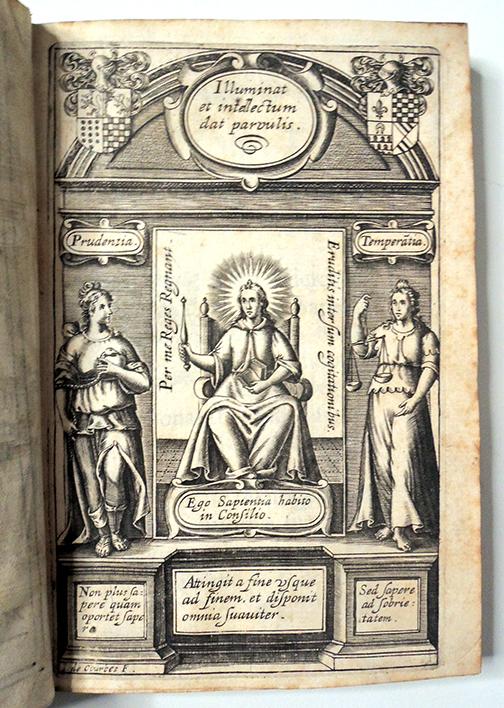 Allegorical engraving of Wisdom by Jean de Courbes (1592-1630 or after)
Top: Psalm 118:130
Declarátio sermónum tuórum illúminat et intelléctum dat párvulis.
The declaration of your words gives light and understanding to children.
Bottom: Proverbs 8:12-14
Ego sapientia, habito in consilio, et eruditis intersum cogitationibus.
I, wisdom, dwell with prudence; I possess knowledge and discretion.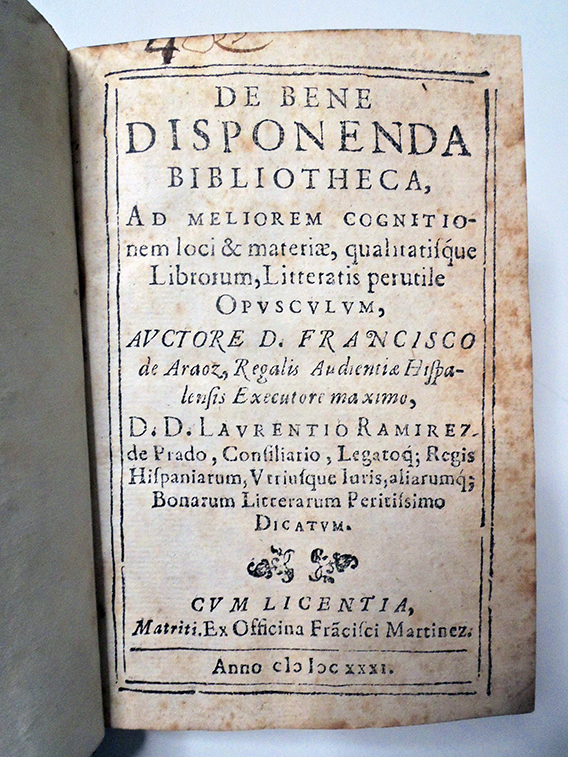 Francisco de Araoz (1583-1658), De bene disponenda bibliotheca: ad meliorem cognitionem loci & materiae, qualitatisque librorum, litteratis perutile opusculum [= The library is well managed: to improve their knowledge of the matter, and the quality of books, learned a valuable work]/ auctore D. Francisco de Araoz … (Madrid: F. Martínez 1631). Graphic Arts Collection GAX 2020- in process.
This rare Spanish bibliography develops a classification structure of 15 branches of knowledge, offering representative authors for each category. One scholar identifies this work as "one of the first to positively mention Cervantes' Don Quixote and F. Martinez was the first printer to publish the complete Madrid, Don Quixote (1st ed. 1605 & 1615 of 2 parts)."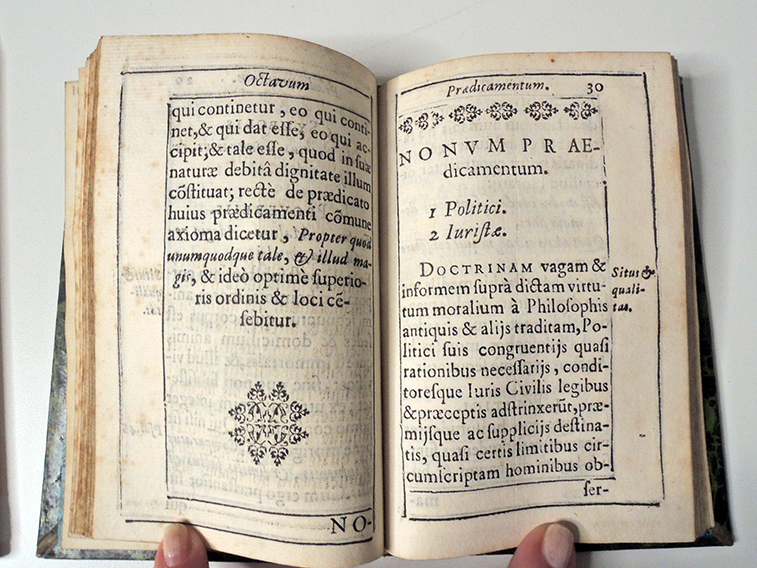 "Dictionaries, spellers and grammars come first then broad subject surveys of all fields. Rhetoric and eloquence, history, dramatic comedy and secular poetry, are the next three categories followed by the quadrivium. The seventh section includes science, medicine, agronomy and gastronomy, metallurgy and precious stones. Moral philosophy, emblems, fables, symbology and proverbs form a class, as do the practical undertakings of politics and civil law. The remaining sections are of a piece — canon law, scholastic theology, scripture (and its commentaries), ecclesiastical history, Church Fathers and doctrine, and, lastly, sacred verse, devotionals and liturgical works."
The French engraver living in Madrid, Jean or Juan de Courbes was active with Spanish publishers, designing a number of frontispieces.
Nacido en París, debió de llegar a Madrid hacia 1620, llamado por su hermano, el librero Jerónimo de Courbes, que tenía tienda abierta en la calle Mayor frente a las gradas de San Felipe. Su primera obra conocida, datada ya en Madrid en 1621, . . .

Autor prolífico, trabajó para todas las imprentas madrileñas e ilustró con sus grabados las portadas arquitectónicas o heráldicas de numerosos libros, como la Relación de las fiestas que la insigne villa de Madrid hizo a la canonización de (…) San Isidro, relación festiva de la que se encargó Lope de Vega, impresa por la viuda de Alonso Martín, 1622. En 1626, tras un paréntesis de tres años en los que pudo haber retornado a Francia, la portada del libro de Juan Pablo Mártir Rizo, Historia de Cuenca, con los retratos de los caballeros de la casa de Hurtado de Mendoza, señores de Cañete, recogidos en páginas interiores.

Sobre dibujo de Juan de Noort grabó en 1628 la portada del Quadragesimal sobre los Evangelios del padre fray Francisco de Rojas, impreso por Juan de la Cuesta. Del mismo año es la portada de la Vida de la bienaventurada Ritta de Casia de Alonso de Aragón, obra publicada en Madrid, en la imprenta de la viuda de Luis Sánchez; de 1630 la portada del Tratado de confirmaciones reales de Encomiendas, de Antonio de León Pinelo, impreso por Juan González, con las alegorías del Perú y la Nueva España, y del mismo año la de los Asuntos predicables para los domingos después de Pentecostés obra de Diego Niseno. …https://es.wikipedia.org/wiki/Juan_de_Courbes