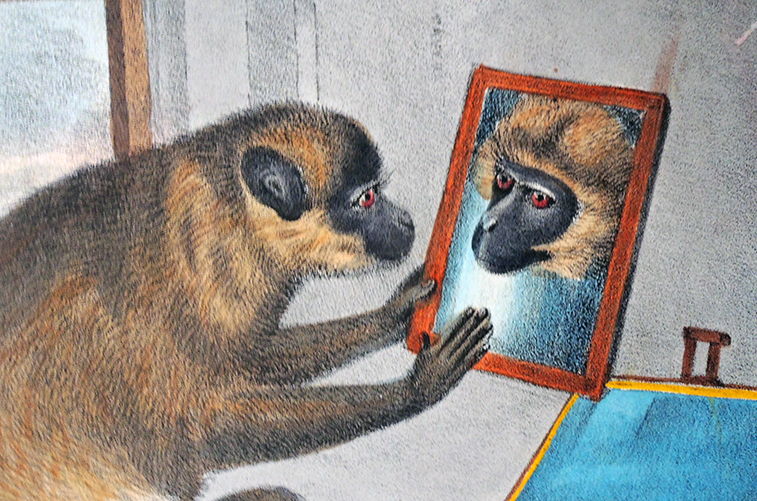 Mrs. Hamilton (1800s) after Stephen Taylor (active 1817-1849), Bonaparte's Monkey, February 18, ca. 1830. Lithograph. Graphic Arts Collection GA 2005.00490.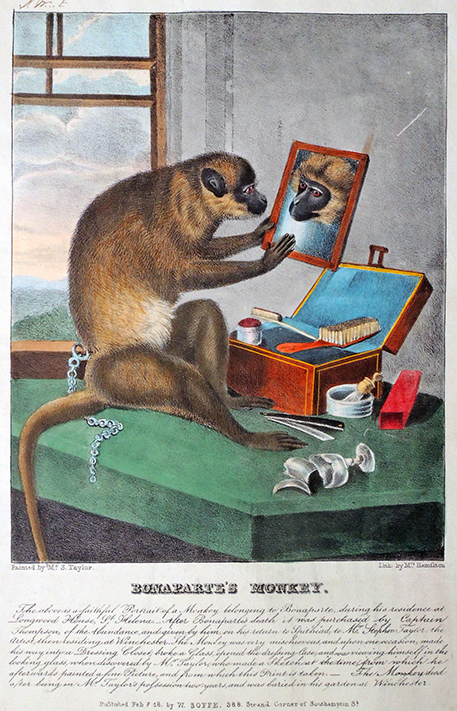 The text reads:
"The above is a faithful portrait of a monkey belonging to Bonaparte during his residence at Longwood House, St. Helena. After Bonaparte's death it was purchased by Captain Thompson, of the Abundance, and given by him, on his return to Spithead, to Mr. Stephen Taylor, the artist, then residing at Winchester. The monkey was very mischievous, and upon one occasion, made his way into a dressing closet, broke a glass, opened the dressing case, and was viewing himself in the looking glass, when discovered by Mr. Taylor, who made a sketch at the time, from which he afterwards painted a fine picture, and from which this print is taken. The monkey died after being in Mr. Taylor's possession two years, and was buried in his garden at Winchester."
Getty's ULAN database lists Stephen Taylor as a British painter, active 1817-1849, who specialized in dogs, portraits, and dead game. This is certainly the Taylor connected with this lithograph. He painted several canvases transferred to lithographs by an artist named Hamilton, sold at the shop of William Soffe on the Strand in London. The superscript letters that precede the name Hamilton have been read as M.R.G. Hamilton and as Mrs Hamilton, the latter being the best guess.

Stamped at the bottom of this sheet "Published Feb J. 18 by W. Soffe. 288 Strand Corner of Southampton St." The shop sold animal prints and other popular images. There is no information to back up the story that Napoleon Bonaparte (1769-1821) had a monkey, or that the painter Taylor purchased him from Captain Thompson. On the other hand, there's no reason not to believe the story either.