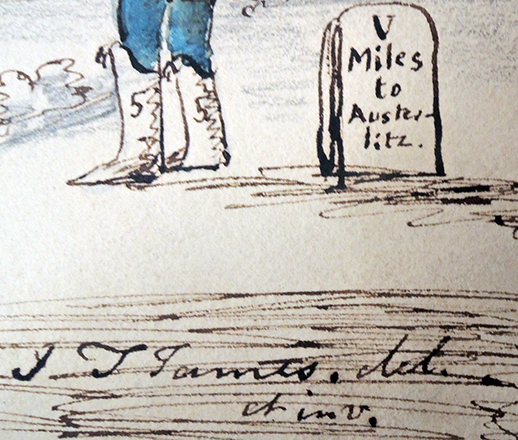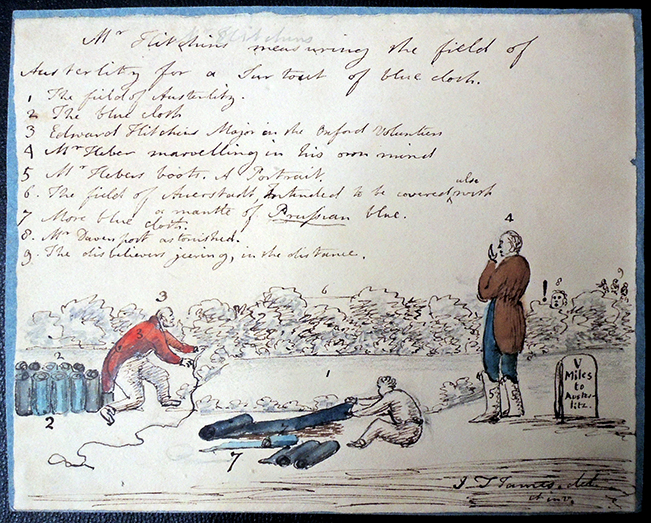 Attributed to John Thomas James (1786-1828), Mr Hitchins measuring the field of Austerlitz for a surtout of blue cloth, no date [ca.1805]. Pen and ink drawing. Gift of Dickson Q. Brown, Class of 1895. Graphic Arts Collection GA 2007.00059.
*Definition of surtout: a man's long close-fitting overcoat.
This drawing might be a comment on Napoleon winning the battle of Austerlitz in 1805, which is depicted as gentlemen fitting the battlefield for the standard Napoleonic blue coat. The men, Hitchins, Heber, and Davenport mentioned in the text are wearing red coats and Edward Hitchins Major is one of the Oxford volunteers. Britain had declared war on France in 1803 and was fighting on the loosing side. The Battle of Austerlitz, December 2, 1805, was one of the most important battles of the Napoleonic Wars. In what is widely regarded as the greatest victory achieved by Napoleon, the Grande Armée of France defeated a larger Russian and Austrian army led by Emperor Alexander I and Holy Roman Emperor Francis II.
As noted in Uniforms of the Napoleonic Wars 1805–1815: "The 'Napoleonic' coat was called habit à la française, it was dark blue with white lapels for line infantry. The white lapels were treated with pipe clay, which made them really white. In 1793 the dark blue coats were officially introduced in the infantry. It had long tail that was shortened before 1806. (The weather 'softened' the color of the dark blue and dust, blood and mud made it sometimes unrecognizable.) The dark blue became greyish blue etc."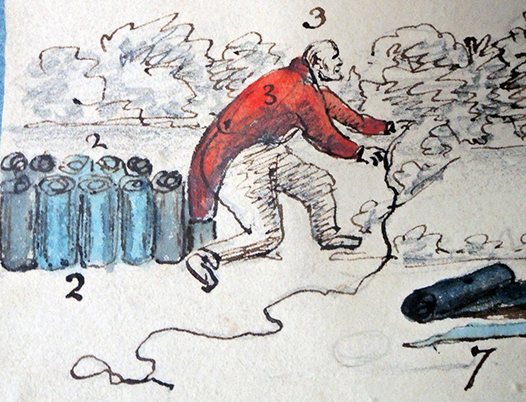 The artist is believed to be John Thomas James (1786–1828), later the Bishop of Calcutta. According to the DNB, he was
"educated at Rugby School until he was twelve years old, when, by the interest of the earl of Dartmouth, he was placed on the foundation of the Charterhouse. In 1803 he gained the first prize medal given by the Society for the Encouragement of Arts and Sciences for a drawing of Winchester Cathedral. He left the Charterhouse in May 1804, when he was chosen to deliver the annual oration, and entered Christ Church, Oxford.

After the death of his father on 23 September 1804, he was granted the dean's studentship by Dr Cyril Jackson. He graduated BA on 9 March 1808, and MA on 24 October 1810. James continued to reside at Oxford, first as a private tutor and afterwards as student and tutor of Christ Church, until 1813, when he toured northern Europe with Sir James Riddell. After his return he published, in 1816, a Journal of a Tour in Germany, Sweden, Russia, and Poland, during 1813 and 1814. Subsequent editions, in two volumes, appeared in 1817 and 1819.

…In 1826 he began the publication of a series of Views in Russia, Sweden, Poland, and Germany. These were engraved on stone by himself, and coloured so as to represent originals. Five numbers of these appeared during 1826 and 1827."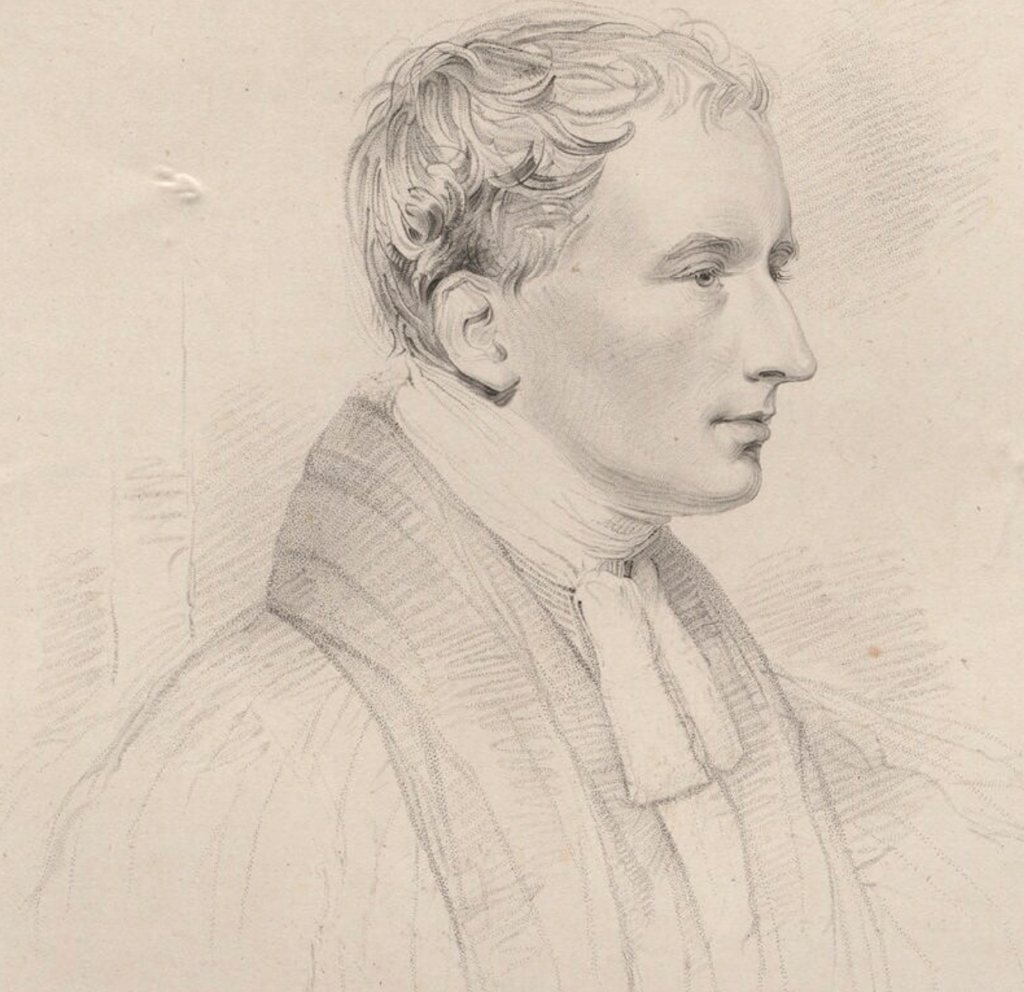 Edward Francis Finden, after Joseph Slater, John Thomas James, 1826 or after. Stiple engraving. NPG D20603