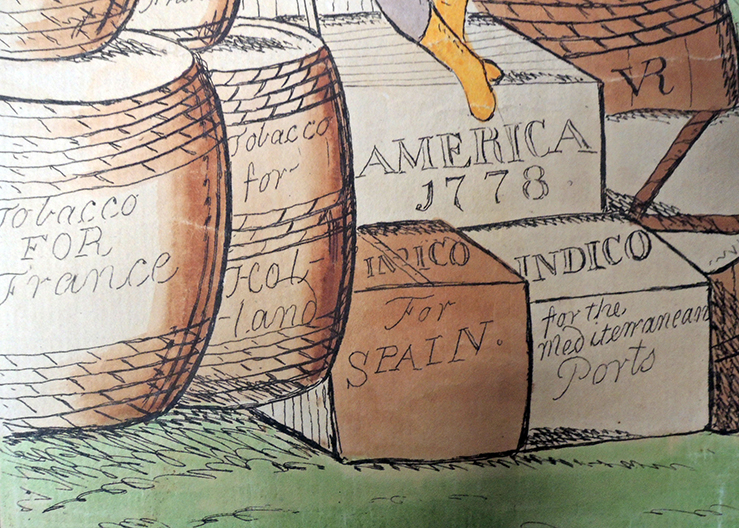 The bales and barrels are inscribed "Tobacco for Germany; Rice for France; Tobacco for France; Tobacco for Holland; America 1778; Indico for Spain; Indico for the Mediterranean Ports; and V.R. (Monogram)."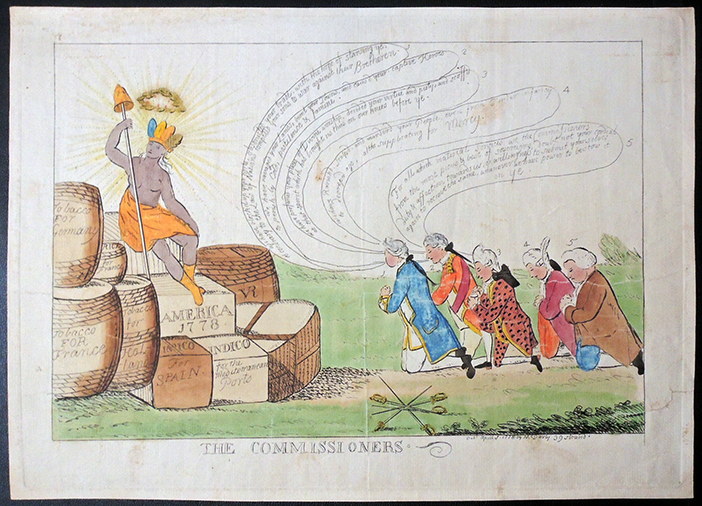 The Commissioners, April 1, 1778. London: Published by M. Darly, 39 Strand. Hand colored engraving. Graphic Arts Collection GAX 2021- in process.

From 1766 to 1778, Mary and Matthew Darly had a printshop at 39 Strand, on the corner of Buckingham Street, London. This was only one of 17 locations the British Museum has now identified with shops owned by one or both the Darlys. In the past, many prints listed as M. Darly were simply attributed to Matthew or Matthias (ca. 1720–1780), although Mary (flourished 1760–1781) clearly had her own shops, prints, and publications, as with the Graphic Arts Collection's copy of Mary Darly's A Book of Caricaturas: on 59 Copper-Plates, with ye principles of designing in that droll & pleasing manner, by M. Darly, with sundry ancient & modern examples & several well known caricaturas (Cornhill: Printed for John Bowles, [1762?]). GAX 2005-2501N.
A wonderful biography of Matthew can be found at https://www-oxforddnb-com.ezproxy.princeton.edu/view/10.1093/ref:odnb/9780198614128.001.0001/odnb-9780198614128-e-7161. It is unfortunate that the best the DNB can do for Mary Darly is "see Matthew." Although we continue to argue about attribution–which items should be credited specifically to Mary–at the very least this print should be considered sold by Mary Darly.
The sheet offers a humorous look at the five commissioners nominated to negotiate peace with the American colonies: Admiral Lord Richard Howe, General Sir William Howe, Lord Frederick Carlisle, Lord Auckland (William Eden), and Commodore George Johnstone, known as Governor Johnstone. They kneel facing a personification of America, holding a liberty cap.
The dialogue bubbles read:
"We have block'd up your ports, obstructed your trade, with the hope of starving ye, & contrary to the Law of Nations compelld your sons to war against their Bretheren."
"We have ravaged your Lands, burnt your Towns, and caus'd your captive Heroes to perish, by Cold, pestilence & famine."
"We have profaned your places of Divine worship, derided your virtue and piety, and scoff'd at that spirit which has brought us thus on our knees before ye."
"We have Ravish'd, Scalp'd, and murder'd your People, even from Tender infancy to decrepid age, altho Supplicating for Mercy."
"For all which material services, we the Commissioners from the most pious & best of sovereigns, doubt not your cordial duty & affection towards us, or willingness to submit yourselves again to receive the same, whenever we have power to bestow it on ye."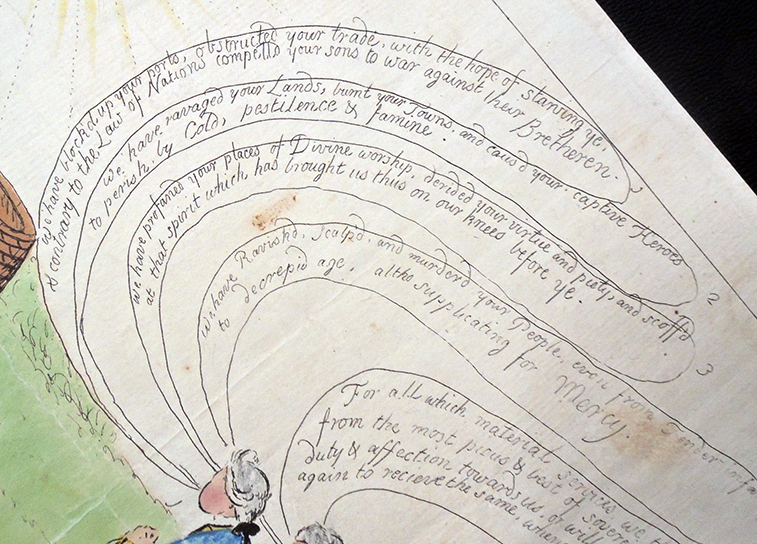 Carlisle, Auckland, and Johnstone sailed for Philadelphia on April 21, 1778, twenty days after this satirical print was published indicating that the Darlys were predicting the failure of the commission, not simply reporting it.
Only five years later, the Continental Congress left Philadelphia and convened in Princeton at Nassau Hall. Here is a bit of local history from the period: https://paw.princeton.edu/article/continental-congress-nassau-hall