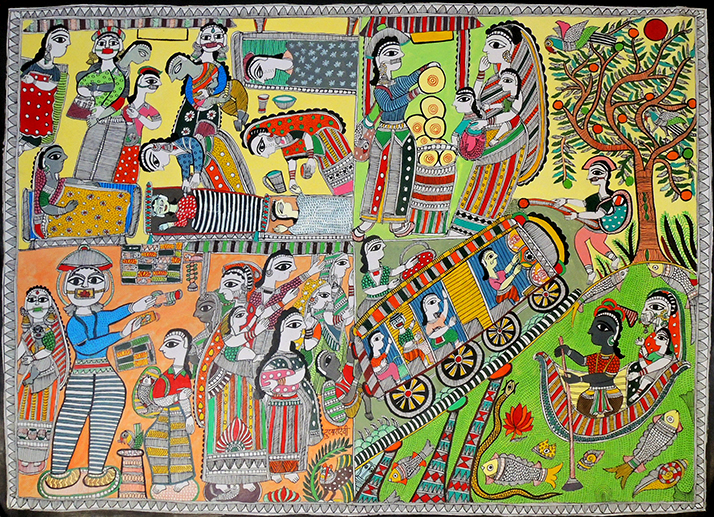 Dulari Devi, Corona Effect in Patna, 2020. Acrylic on paper. Purchased with funds from South Asian Studies and Graphic Arts Collection GAX 2020- in process
On March 24, 2020, Prime Minister Modi gave the 1.35 billion citizens of India four hours' notice before he imposed a complete lockdown of the country, hoping to prevent the spread of Covid 19. It is hard to imagine the rush this instigated, as thousands of people pressed into trains, boarded ships, borrowed bicycles, and in any way possible struggled to reach family. Many were stranded, many became unemployed, and many were infected.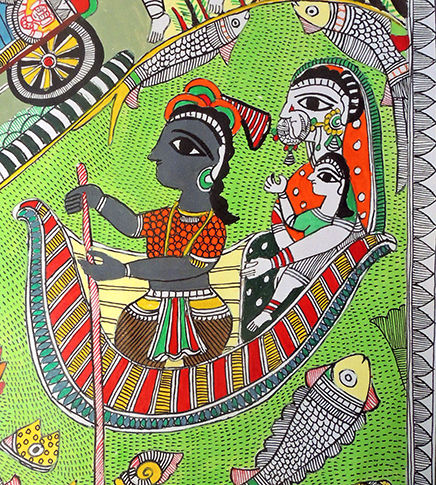 Second only to the United States, India has recorded the highest number of coronavirus cases in the world. Over the last year indigenous artists of India turned their attention to this subject matter, chronicling the 2020 exodus and its aftermath.
This week in January 2021, India's health minister declared its COVID-19 epidemic contained. Also this week, the Graphic Arts Collection acquired the first of a group of paintings by the artists of the Mithila region, responding to the events of the last year. We follow their work through the Mithila Art Institute: http://mithilaartinstitute.org/Home/Artists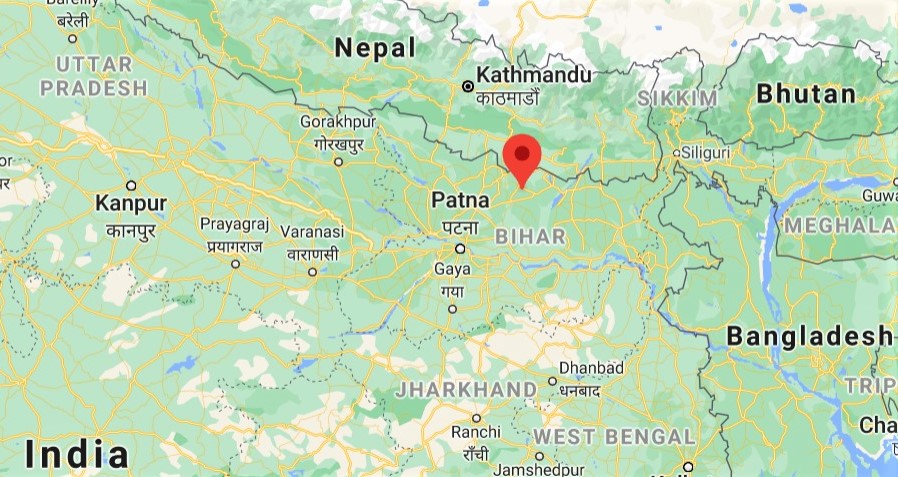 The red arrow indicates the town of Madhubani in the Mithila region in northeast India. Traditionally, the women of this area decorated the walls of their homes for special events, eventually putting these designs onto paper and selling them to a growing international market.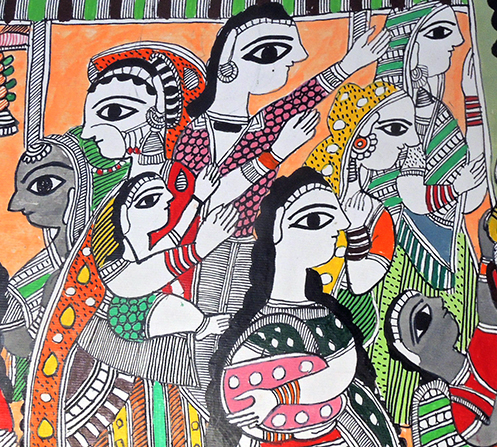 Our first acquisition is by Dulari Devi, a Master Painter and Instructor at the Mithila Art Institute. Her biography states "A resident of Ranti, she received the State of Bihar Award for Excellence in Art in 2013, and authored the first autobiography by a Mithila painter, the award winning, Following My Paintbrush (2010). She learned to paint from Karpoori Devi one of the early Masters. She is now in great demand for her murals, closely observed village scenes, and paintings of Ganesh and Durga." She writes,
"Corona positive patients are reaching [the] hospital but [there] is not enough space for large number of patients. Four patients are in critical position lying on the floor. Some people are carrying patients on their shoulder, as there is no ambulance available. In another scene, one person is distributing food packets among the people. And then a government employee is distributing among the people. And then a government employee is distributing mask among people. Finally, the lockdown has been imposed in Patna city. All the daily wage laborers are now unemployed and are coming to Madhubani, to their villages by bus. One family is traveling on the Ganga in a boat." — Dulari Devi, Mithila Art in the Time of Covid 19 https://indd.adobe.com/view/b42ffd50-92eb-4c53-b8be-cad71851cee7
http://mithilaartinstitute.org/Home/History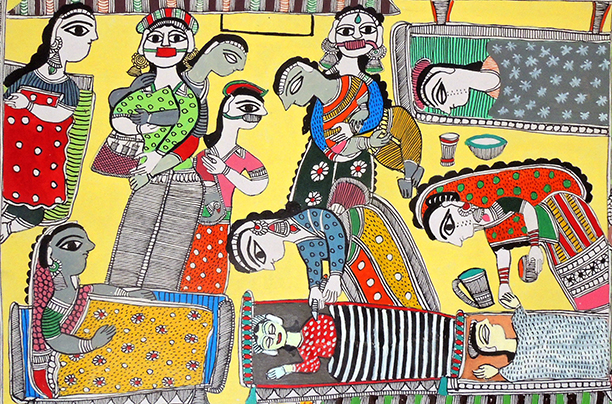 See also:
Bharti Dayal, Madhubani art (Durbuy, Belgium: Museum of Sacred Art ; New Delhi, India : Niyogi Books, 2015). Marquand Library N7310.D39 A4 2015
Mulk Raj Anand, Madhubani painting (New Delhi, India: Publications Division, Ministry of Information and Broadcasting, Govt. of India, 1984). ReCAP ND1006 M26 An14
Martine Le Coz, Mithilâ: l'honneur des femmes (Paris: L'Harmattan: Michalon, 2013). ReCAP 14-14284
In March there will be a free live webinar focusing on Princeton's new collection of Mithila paintings. Details coming.