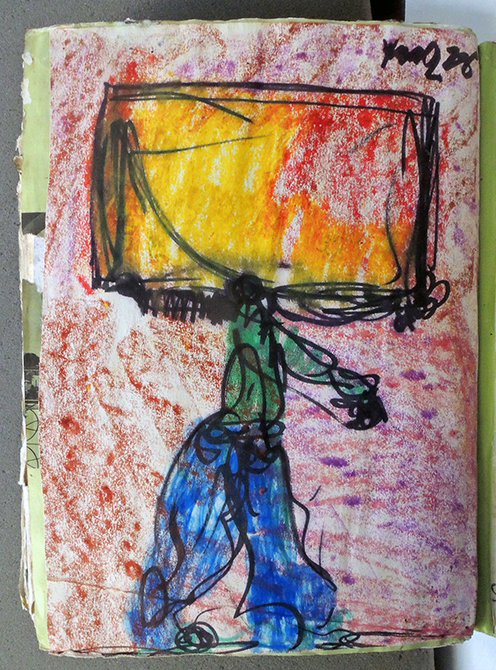 "Perhaps the most famous painter to ever come out of Florida," writes Deirdra Funcheon, Washington Post 1/8/2020, "Young had depicted the struggles and joys of Miami's poor black community and was branded an 'outsider artist'." When he died in 2010, he left 1,884 works of art.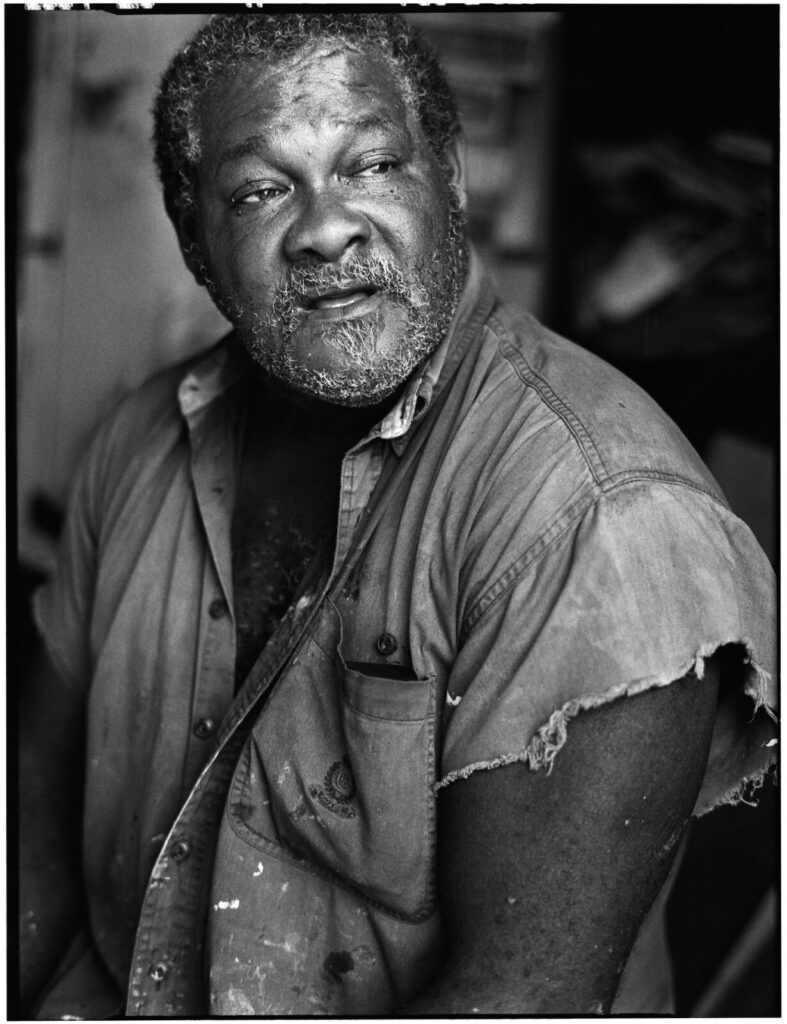 Photograph by David A. Raccuglia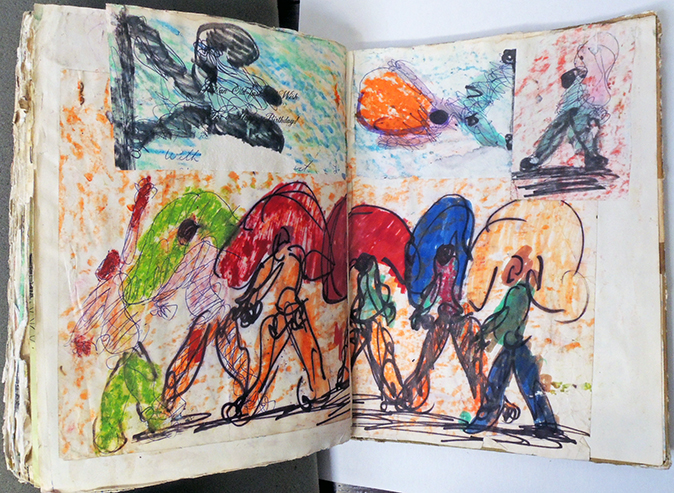 It is no longer correct to classify the African American artist Purvis Young (1943-2010) as an Outsider Artist. His work is owned and exhibited at the Metropolitan Museum of Art in NYC, along with dozens of other major collections, public and private, around the world. In 2018 the artist was posthumously inducted into the Florida Artists Hall of Fame.
Self-taught might be a better term, although Young credits the Florida public libraries and their collections of art books as his teachers. And so it is appropriate that one of his unique artists' books be added to the Graphic Arts collection in Firestone Library. Like his paintings, the volume is made of found material–a repurposed book–crammed with multi-colored pages, collaged drawings, and personal symbolism. A handwritten title reads: People Whit Something To Do, with various pages dated 1981-1988.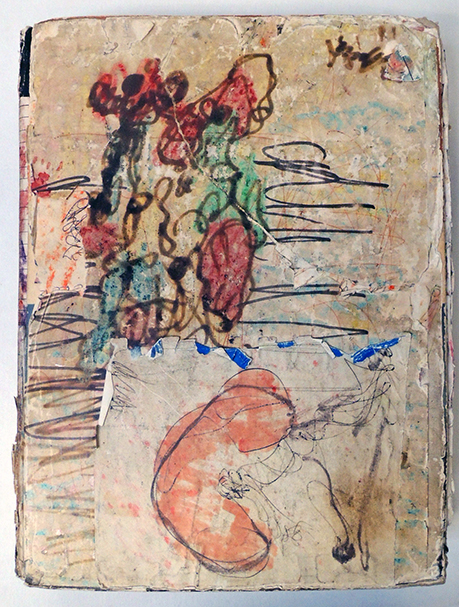 A wonderful full-length documentary Purvis of Overtown was produced by the Souls Grown Deep Foundation in 2012 and can be viewed here: https://vimeo.com/50659708. On March 5, at 12:00 noon EST, Raina Lampkins-Fielder, curator at Souls Grown Deep will deliver the 2021 Griffin Memorial Lecture at Princeton University (through zoom) and tell us more about the Atlanta-based nonprofit that documents, preserves, and showcases art by African-American artists of the American South. Register for the event here: https://libcal.princeton.edu/calendar/events/soulsgrowndeep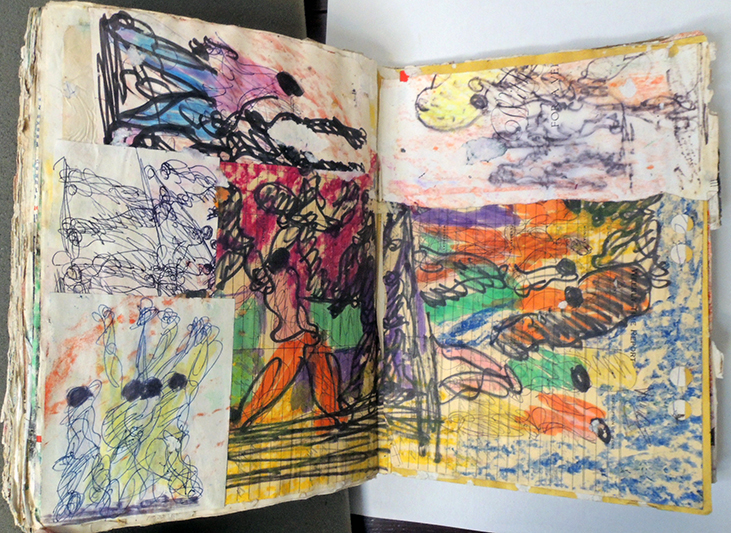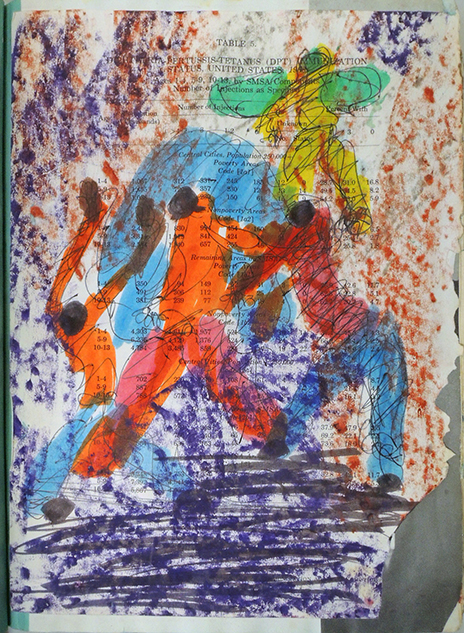 "I been drawing all my life, but I taught myself to paint in the early seventies. I seen people protesting. I seen the war going on. Then I found out how these guys paint their feelings up North, paint on walls. Wall of Respect. That's when I start painting like that. I didn't have nothing going for myself. That's the onliest thing I could mostly do. I was just looking through art books, looking at guys painting their feelings. The first things I painted were heads with halos around them."
"I started out about 1971 in Goodbread Alley. I wanted to express my own feeling. I wanted the peoples to see it. I put my paintings on a lot of fronts of abandoned buildings. They was fixing to tear them down and build an expressway. I knowed when I was making the art that one day it was going to go. Nothing's going to last forever."– Taken from interviews with Purvis Young by William Arnett and Larry Clemons in 1994 and 1995.