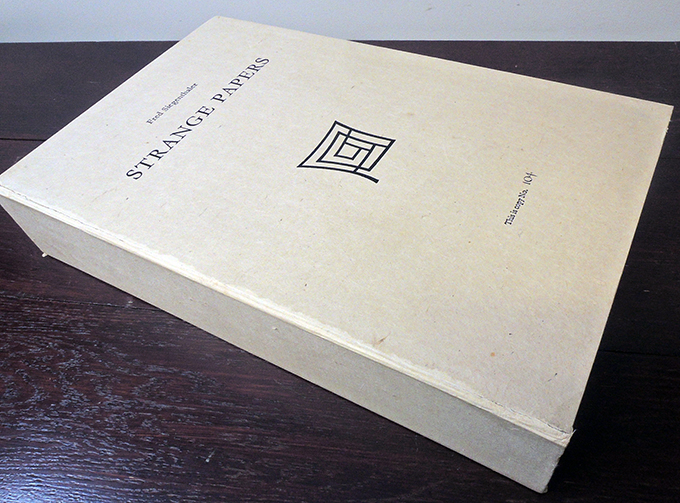 Fred Siegenthaler, Strange Papers: A Collection of the World's Rarest Handmade Papers (Muttenz: Fred Siegenthaler, Paper Art, 1987). Graphic Arts Collection GAX 2021- in process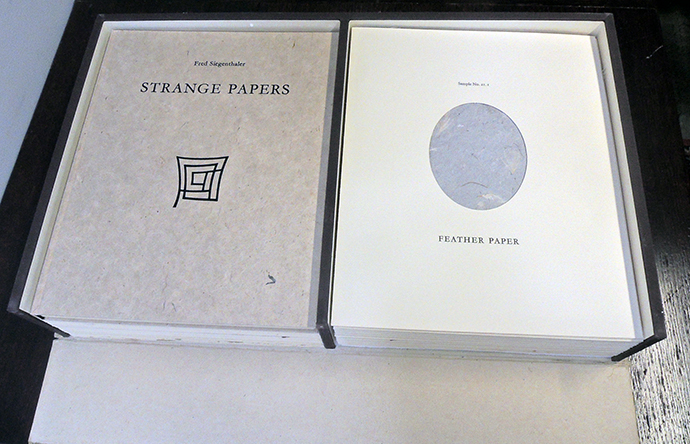 There are a number of good descriptions online for Strange Papers. Here's one: https://books-on-books.com/2021/01/10/books-on-books-collection-fred-siegenthaler/ Here is the description of our copy:
"In the early 1980s Fred Siegenthaler, a papermaker himself, wrote to international papermakers he knew from his travels requesting samples of their work made from rare and unusual materials. From these he chose 101 papers from 51 papermakers and purchased 200 sheets of each to produce this limited edition box set of samples with accompanying book. Papers in this collection come from makers in The Netherlands, Mexico, USA, Denmark, Brazil, Philippines, Germany, Israel, Australia, Japan, Switzerland, Scotland, Belgium, Egypt, England, and Czechoslovakia, and are made from materials including asparagus, canna lily, carrots, cedar bark, corn husks, kangaroo grass, hemp, laver, leather, pampas grass, papyrus, petmoss, potato stalks, red hot poker, suksuka, stinging nettle, and other exotic ingredients. The work is limited to 200 copies, the first 20 of which comprise the special edition with an additional 19 samples. This copy is one of the regular edition and is numbered 104 of 200 and signed by the author."
Fred Siegenthaler is the founder of The International Association of Hand Papermakers and Paper Artists (IAPMA), the world's leading organization for paper artists. It was founded in 1986 in Düren, Germany, when paper as an art medium was far less well-known than it is today. While paper history and production are one facet of the Association's activities, the central focus is the role of paper as art form and contemporary artistic medium.
The next IAPMA congress takes place from October 7-10, 2021, in Tokyo Japan: https://iapma.info/Congresses
Siegenthaler is also the author of several dozen volumes, articles, and conference papers including Bücher für Kunsterziehung; Agamemnon 3; Tsai-Lun: vesuche in der Kunst Papiermachens; Diverse Papier; Siebdruck-Papiere =Papier de l'impression au cadre; and Künstlerbriefe.