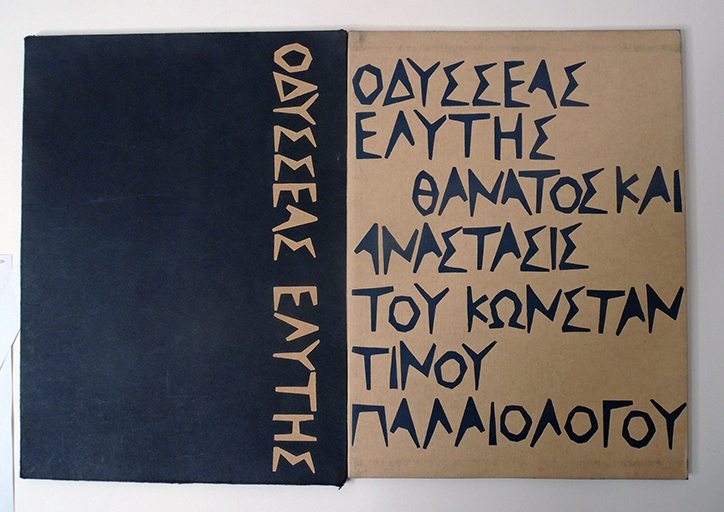 Odysseas Elytēs (1911-1996), Θάνατος και ανάστασις του Κωνσταντίνου Παλαιολόγου [= Thanatos kai anastasis tou Kōnstantinou Palaiologou = The Death and Resurrection of Constantine Palaiologus] (Chavannes-sur-Reyssouze, 1971). Blind embossed engravings by Costa Coulentianos (1918-1995). Acquired with matching funds provided by the Program in Hellenic Studies with the support of the Stanley J. Seeger Hellenic Fund. Graphic Arts Collection GAX 2021- in process
"On May 29, 1453, the Ottoman army, led by Mehmed the Conqueror, seized Constantinople, putting a violent end to one of the longest-lasting empires in history. Along with it, the seizing of the great city also ended the life of the last emperor of Byzantium, Constantine Palaiologos.
The legends that sprang up around the Fall of Constantinople are a large part of Christian Orthodox and Hellenic tradition. Even after the liberation from the Ottomans — even today, to be honest — there are Greeks who continue to believe that one day Consntantinople will become Greek once again."— Greek Reporter July 6, 2020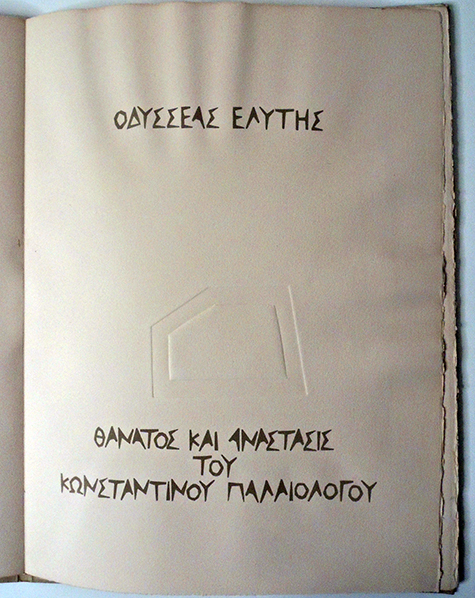 Nobel Prize winner Odysseas Elytēs (1911-1996) drew on the mythology of Constantine Palaiologus for his epic poem Death and Resurrection of Constantine Paolaiologus, which in turn was the inspiration for the Greek sculptor Costa Coulentianos' blind embossed artists' book. Written in modern Greek, printed by Duo d'Art in Switzerland, and published in France, this is truely an international publication.