When asked recently whether George Cruikshank's print "An Outline of Society in Our Own Times," from his rare four volume Our Own Times (1846), was an etching or a glyphograph, we pulled both of the sets in Graphic Arts, as well as a scrapbook of Cruikshank illustrations. The plate is a glyphograph, one of 34 in the whole book, with a single etching in each volume and 6 woodcuts throughout.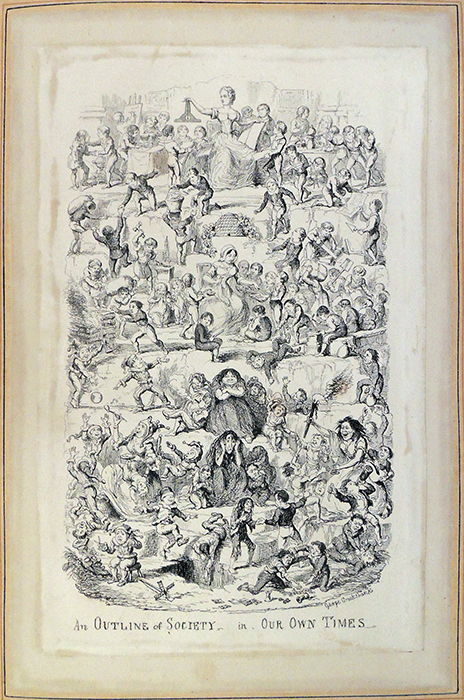 George Cruikshank (1792-1878), "An Outline of Society in Our Own Times," from Our Own Times ([London]: Bradbury & Evans, 1846). No. 1 (Apr. 1846)-no. 4 (July 1846). Graphic Arts Collection Cruik 1846.2
How can you tell an etching (intaglio) from a glyphograph (relief)? Look for the absence of a plate mark. On poor or cheap printing, you will also see some ink in the white areas, where the pressure has pushed the paper below the metal relief line.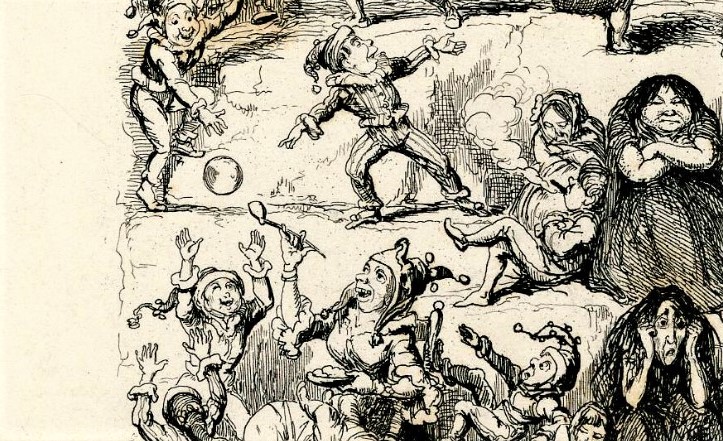 The print features four women, beginning at the top center, personifying Science, Industry, Folly (seen above blowing bubbles), and Crime, with children of the various attitudes surrounding each. Cruikshank was still a heavy drinker in 1845-46—signing a vow of abstinence in 1847—and so the lower portions of society ruled by folly and crime still seems quite appealing.
We are fortunate to have a number of scrapbooks holding illustrations, proofs, newspaper clippings, letters, and more Cruikshank material. The one pictured here "Scrapbook of illustrations, 1839-1865" has 394 p. in a half morocco binding 57 x 38 cm. It was a gift from Alex van Rensseler, Class of 1871. The spine lists a few of the books contained inside. Unfortunately the paste used to fix the print to the album page is in many cases eating into the sheet and leaving intrusive marks.
Here are some additional pages from the scrapbook of Cruikshank illustrations.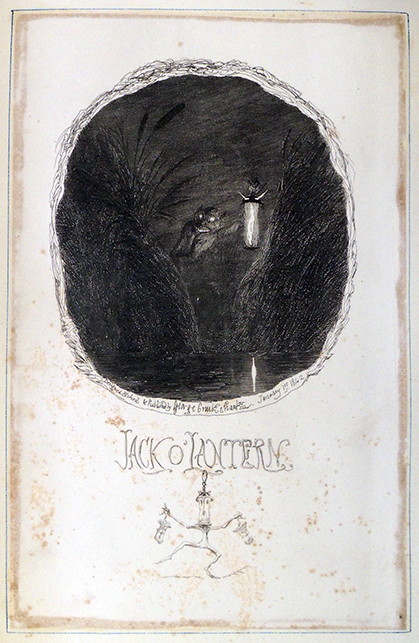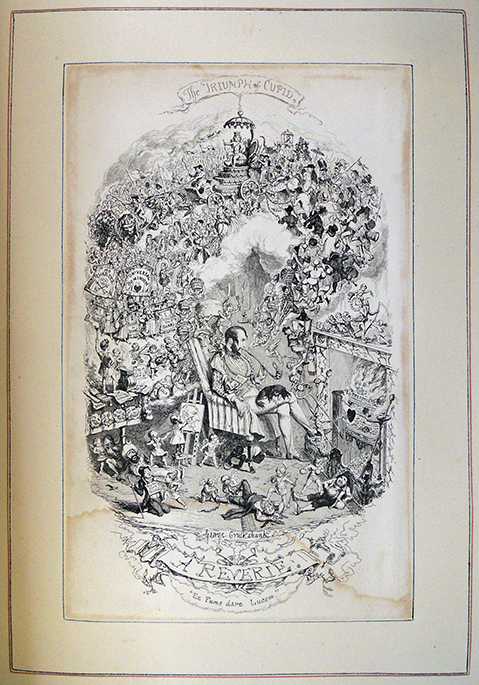 Note in "The Triumph of Cupid" not only several self portraits of Cruikshank but enslaved European, African, and Middle Eastern men in chains at the bottom of this imaginary scene.