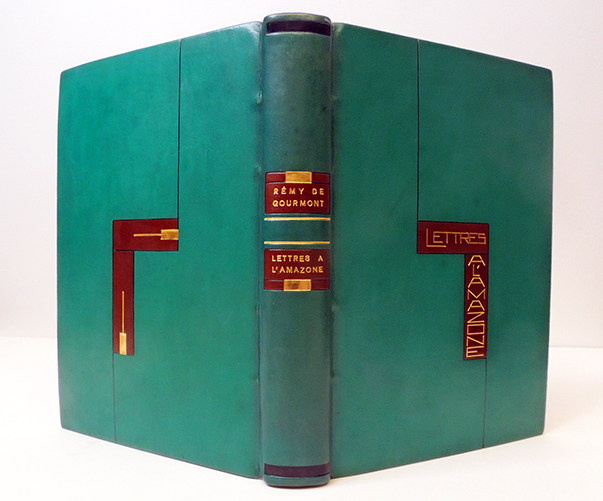 Remy de Gourmont, Lettres a l'Amazone (Paris: George Cres et Cie., 1914). Binding by Madeleine Gras housed in original chemise and slipcase. One of 8 copies on papier de chine, from a total edition of 1075. Graphic Arts Collection GAX 2021- in process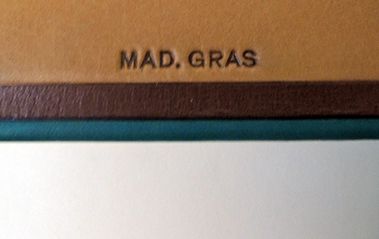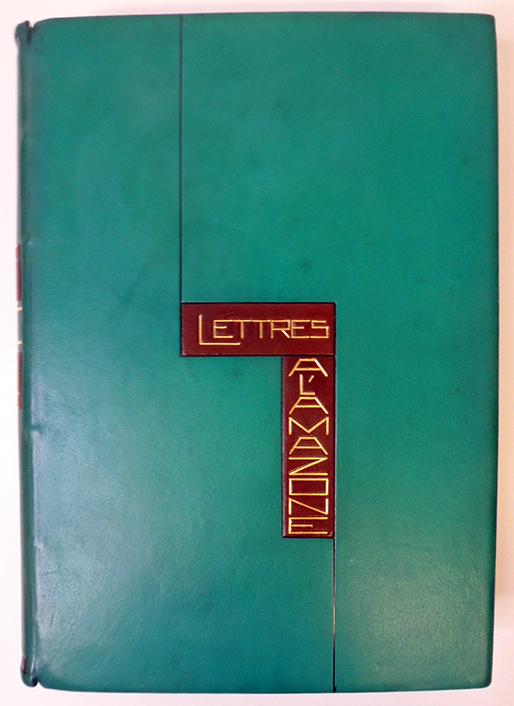 Madeleine Gras (1891-1958) was a Parisian binder (born Switzerland) who first appeared in 1922 at the Salon de la Société nationale des beaux-arts. While her name is known, there are few bindings identified through institutional collections, OCLC, or major auctions. The variant spellings of her name may have played a small part in this, appearing as Madeline, Madeleine, Madelaine, and Madelene, either by accident or misunderstanding.
Gras is often most identified with her first teacher, master binder Henri Noulhac (1866-1931). Thanks to Tom Conroy's "Teaching Genealogies of American Hand Bookbinders" in the Guild of Book Worker Journal 28, no. 1 and 2 (Spring/Fall 1990) we have the important chronology:
"Few French binders were attracted to America, and the few who came made no mark as teachers. In consequence, French influence on American binding came mostly through advanced training in France; and it worked more on finishing and design than on forwarding or philosophy. By far the most popular French teacher was Jules Domont (1847-1931), a finisher and professor of the greatest distinction. In he Guild of Book Workers Yearbooks from 1908 to 1946, 37 members named Domont among their teachers; no other teacher was named by more than 15. At least five of Cobden-Sanderson's dozen American pupils also went to Domont. Many of the Americans who studied with Domont also studied with Henri Noulhac (1866-1931), a specialist in "jansenist" bindings, whose French pupils included Rose Adler and Madelaine Gras; or to Louis Jacobs, an onlay specialist, in Brussels."
See also:
Alastair Duncan and Georges De Bartha, Art Nouveau and Art Deco bookbinding: French masterpieces, 1880-1940 (New York: H. Abrams, 1989).
Reliures du xxe siècle de Marius Michel à Paul Bonet. Exposition à la Bibliothèque royale de Belgique du 23 mars au 13 avril 1957 ([Bruxelles?]: Société des bibliophiles et iconophiles de Belgique; Bibliothèque royale de Belgique. ; Lessing J. Rosenwald Reference Collection, 1957).
Catalogue of a collection of fine French illustrated books and bindings of the eighteenth to twentieth century: the property of Senhor Nicolau Lunardelli (sold for the benefit of the Institute Saõ Paulo) (London: Sotheby's, 1969).