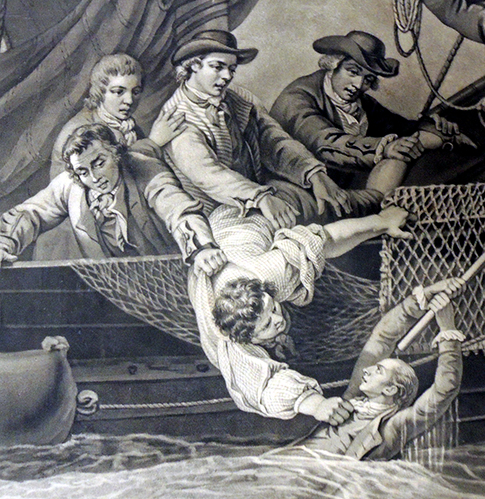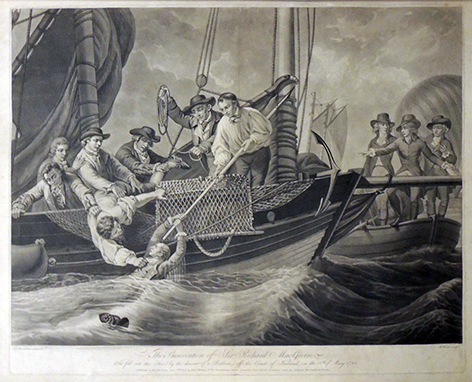 William Ward (1766–1826), after John James Barralet (about 1747-1815), The Preservation of Sir Richard MacGwire who fell into the sea (by the descent of a Balloon) off the coast of Ireland on the 12th May 1785. Mezzotint. Published in London June 4, 1787 by Thomas Milton and by Barralet in Dublin. Harold Fowler McCormick Collection.
This scene should have depicted the rescue of Richard Crosbie, who spent most of 1784 building a machine that could fly from Dublin to London. "…After two failed attempts, Crosbie finally achieved his aim of being the first person to ascend in a balloon in Ireland on 19 January 1785. Newspapers recorded crowds of at least 20,000 in Ranelagh (the Freeman's Journal made the exaggerated claim that there 'could not be less than 150,000 spectators')."
Crosbie's next attempt was in May 1785 but he was too heavy for the balloon so Richard MacGwire (often incorrectly listed as McGuire), a young Trinity student, volunteered to replace him. The balloon flew out to sea followed by a number of "balloon-chasers," in small boats. MacGwire finally called the trip to an end by puncturing the balloon, which came down north-east of Howth. Barralet's design shows MacGwire's dramatic rescue by sailors while a second boat with Lord Henry Fitzgerald, brother of Lord Edward; Mr Oliver; and Mr Thornton look on. Read more: https://www.historyireland.com/18th-19th-century-history/a-most-ingenious-mechanicirelands-first-airman/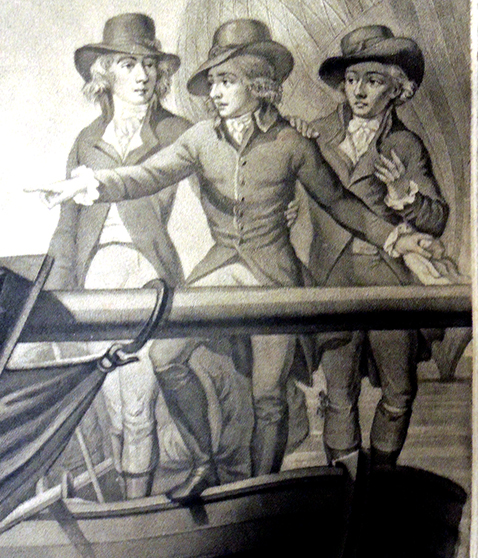 Note the balloon seen at the far back right.
Not all fine art prints are found in the Graphic Arts Collection, or for that matter in art museums. The McCormick Collection of Aeronautical Illustrations, 1783-1898 (GC014) consists of approximately 300 prints and drawings dealing with the first attempts at ballooning and air transportation collected by McCormick (Class of 1895). The material was given to the library by Alexander Stillman. See: Maurice H. Smith, "Travel by Air before 1900," Princeton University Library Chronicle 27 (1966), pp. 143-147 [ full text].
A colored copy of this mezzotint can be found in the National Air and Space Museum Collection in Washington D.C.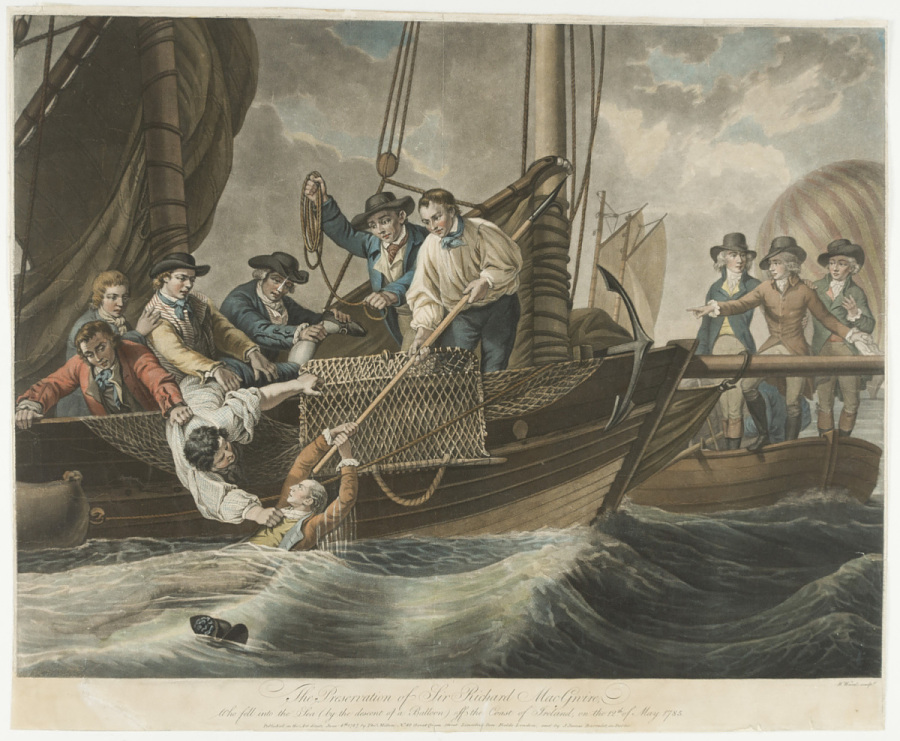 Born in Dublin around 1747, John James Barralet moved to London where he was best known as a painting and drawing instructor. Throughout the 1870s and 1880s, he exhibited with the Society of Artists before returning to Dublin. Barralet's book illustrations for Grose's Antiquities of Ireland, Milton's Views and other volumes kept him employed, a practice he continued in Philadelphia from 1795. He also learned engraving and is said to have introduced a ruling machine for engravers to America.