The Graphic Arts Collection is fortunate to have acquired an album of 96 albumen and gelatin silver photographs of Trinidad and Tobago from the last years of the 19th century. Images include government buildings, botanic gardens, groups of officials and staff, parades, a memorials addressed to Queen Victoria, and much more. There is a cocoa harvest and a fair highlighting the year's produce. In addition, are several pen and ink drawings.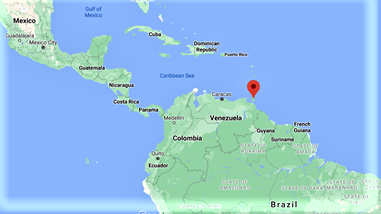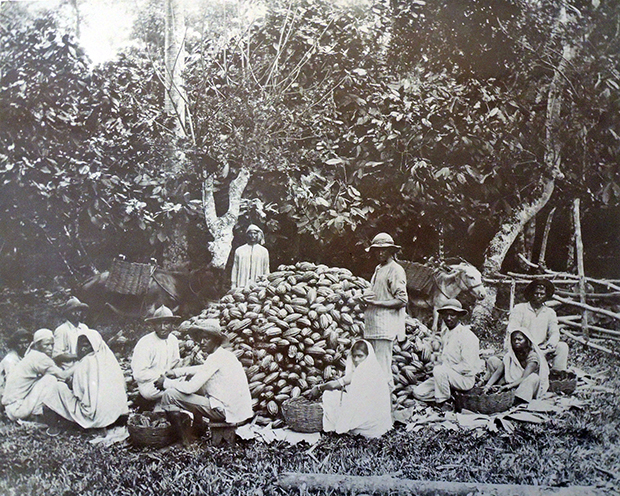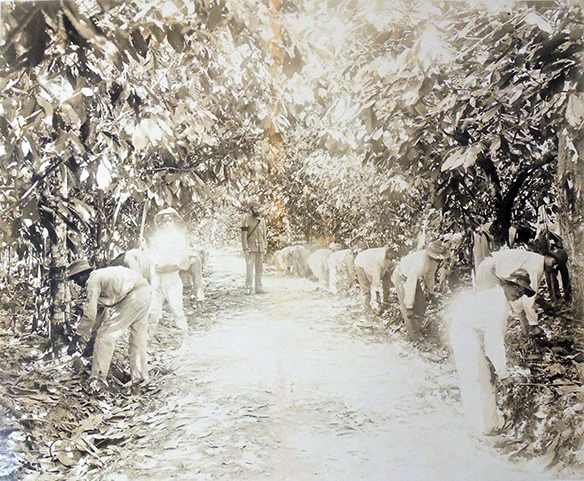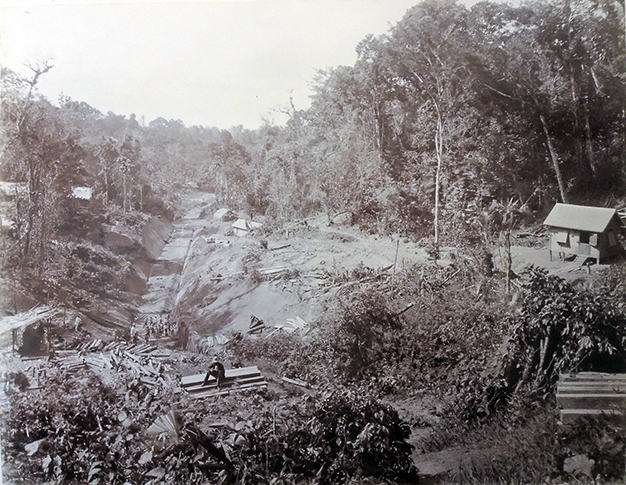 The black half morocco binding is stamped "Trinidad" on upper cover, and 'H.E.H.J.' on lower cover, which refers to the owner Sir Hubert Edward Henry Jerningham, KCMG, DL (1842-1914), Governor of Trinidad and Tobago between 1897 and 1900.
By 1830, Trinidad and Tobago was the world's third highest producer of cocoa, after Venezuela and Ecuador, producing 20% of the world's cocoa. This was before Ghana began its large-scale cultivation of cacao. The cocoa industry eventually dominated the local economy between 1866 and 1920 during which time the world demand for cocoa products increased, and cocoa prices remained stable at an appreciable level.

Subsequent to 1921, when local cocoa production peaked at 75 million lbs (34,000 tons), a combination of events led to the gradual decrease in production. World cocoa prices declined due to a glut on the market resulting from over-production, particularly in West Africa, then came the onset of the Great Depression of the 1920's, the appearance of Witches' Broom disease (WB) in Trinidad and Tobago in 1928, the increase in world sugar prices, and the development of the local oil industry, which competed for agricultural labour. –Frances L. Bekele, "The History of Cocoa Production in Trinidad and Tobago," The Cocoa Research Unit, The University of The West Indies, St. Augustine, Trinidad & Tobago, September 20, 2003.
British rule
1797 – A British naval expedition captures Trinidad from Spain.
1802 – Spain cedes Trinidad to Britain under the Treaty of Amiens.
1814 – France cedes Tobago to Britain.
1834 – Slavery abolished; indentured workers brought in from India to work on sugar plantations.
1889 – Trinidad and Tobago administratively combined as a single British colony.
1945 – Universal suffrage instituted.