Figures Made Visible in the Sadness of Time. Designed by Michele Burgess, poetry by Peter Everwine, etching by Bill Kelly (San Diego: Brighton Press, 2003). Copy 8 of 40. Graphic Arts Collection GAX Oversize 2004-0236Q
"This book was designed by the artists in close collaboration with the poet and Michele Burgess. The poems were printed letterpress by Nelle Martin and the etchings were hand wiped by the artists and printed with the assistance of Alvin Buenaventura. The tea-dyed linen cover bears a stencil that was hand cut by the artists and hand stamped through twelve templates by Sonja Jones. An original pochoir appears on the title page." –Colophon
"Kelly has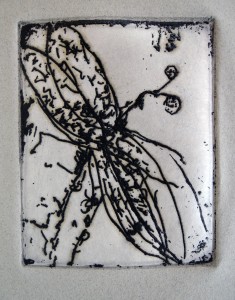 collaborated with the poetry of Peter Everwine to illustrate "Figures Made Visible in the Sadness of Time," writes Marcia Manna. "The shape of a dragonfly is embedded as an etching on one page and also displayed on a long scroll, embellished with sparkles and vibrant shades of blue. Kelly said the image represents the fleeting moments when something is recognized and then disappears. 'To be very literal about something means you are just seeing, and Peter operates in a world of transcendent beauty,' Kelly said. 'He's one of the few poets I've worked with who understands art in a deep physical sort of way. The great thing about these books and art is that one doesn't illustrate the other. One broadens the view of the other and it becomes something bigger.'"– "These books are also works of art," by Marcia Manna (2004)
There is in me, always,
you and the absence of you.
There is in me, always,
that road that leads to a field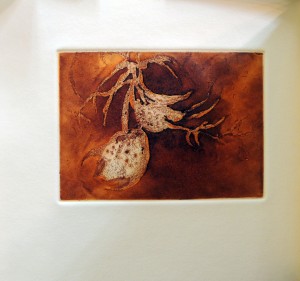 of flowers we once knew
in that place where you were young,
there, where Memory keeps a life
of its own in the dark,
like a plant that waits patiently
year after year, asleep and folded inward
until the appointed night arrives
when it stirs and wakes
and opens out—Oh dream flowering!
Darkness flowering into darkness!—
forms, figures made visible
in the sadness of Time.