Queen Victoria (1819-1901) commissioned a painting from the Scottish artist William Lockhart (1836-1900) to capture the thanksgiving service held on June 21, 1887 in Westminster Abbey celebrating her fiftieth year in office or Golden Jubilee. Lockhart painted for three years, inviting many of the attendees to pose in his studio so he could make an accurate document. The finished oil painting was then photographed and a photogravure made in Berlin, which was sold by William Doig and Company in 1890.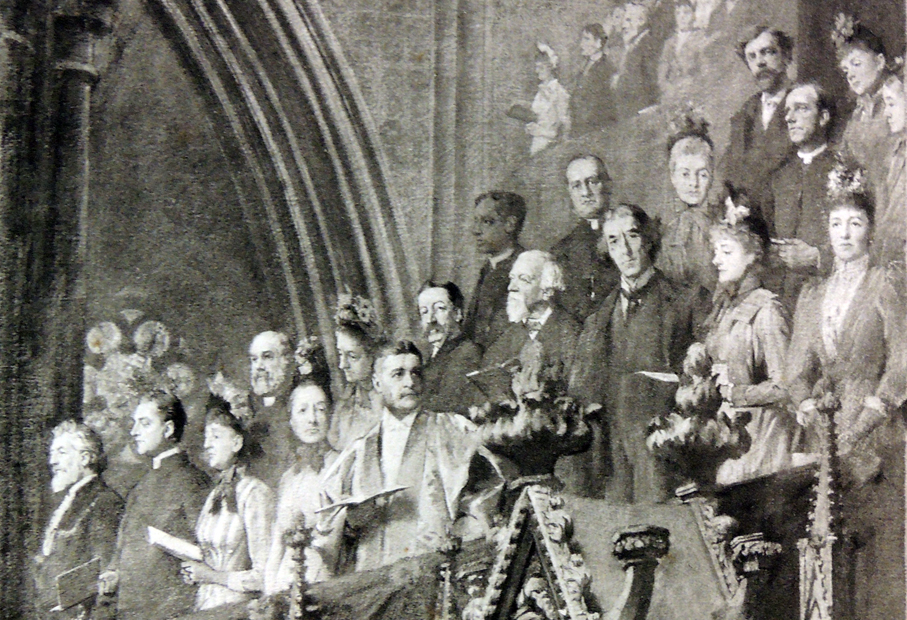 Notable figures have been identified, including in the box at top right, Sir Frederick Leighton (1830-1896) at the far left. The actor Henry Irving (1838-1905) gazes out towards the viewer in the center of the box. To the left of Irving is the poet Robert Browning (1812-1889), and to the right of Irving is the actress Ellen Terry (1847-1928).
Lockhart also added portraits of himself and his wife. He is the dark bearded figure in the same box at the back on the far right who looks out towards the viewer.