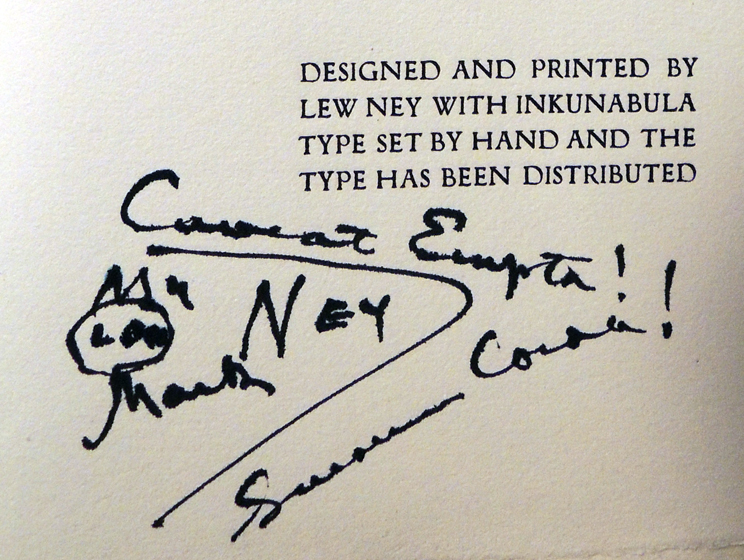 In May 1936, the printer Lew Ney (aka Luther Widen) wrote to the poet Allen Tate (1899-1979) to let him know why the publication of Tate's book, The Mediterranean and Other Poems had been delayed. Commissioned by Ronald Latimer, the publisher of Alcestis Press, Lew Ney had already printed five fine press poetry books for Latimer, including work by Wallace Stevens, Willard Mass, William Carlos William, Robert Penn Warren, and John Peale Bishop. Tate was to have been third on Alcestis' list but Latimer pushed Warren and Bishop ahead.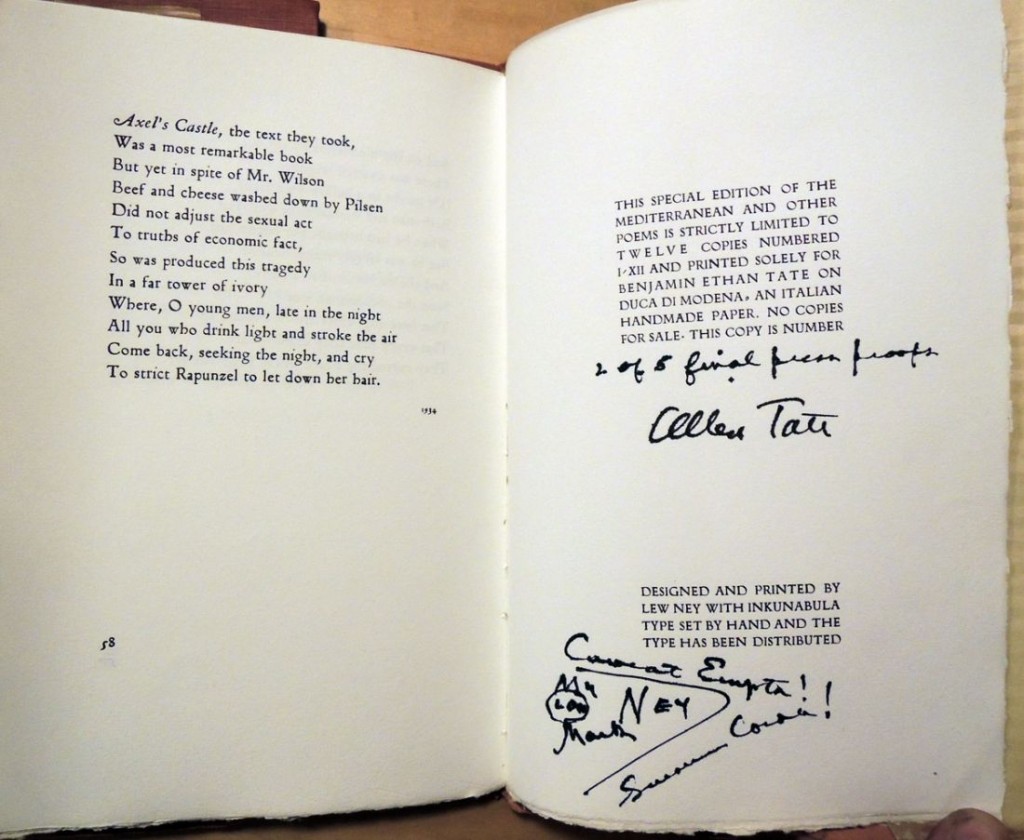 In the midst of the Great Depression, Latimer owed Lew Ney $1,000 for his work but was refusing to pay. Instead, he pulled Tate's manuscript and sent it to Vrest Orton, a Vermont printer who was unaware of Latimer's under-handed business dealings. Although Orton's name is not on the volume, it looks decidedly different from the other Alcestis books.
Back at Lew Ney's Parnassus Press in Brooklyn, the pages for Mediterranean were still locked and ready for printing. He wrote to Tate to say that he would hate to redistribute his famous "Inkunabula" type without printing at least a few copies. According to the colophon Tate's brother, a financially successful businessman, funded the printing of twelve copies designated a "Benfolly" edition printed solely for Benjamin Ethan Tate.
Princeton University Library is fortunate to hold two very rare copies of these twelve. One is signed by both the author and the printer with his special mark, Caveat emptor! (Let the buyer beware!) and Sursum corda! (Lift up your hearts!). While both of Tate's books are "first editions," Lew Ney added "first issue" to let us know his book actually came first.
Allen Tate (1899-1979), The Mediterranean and Other Poems (New York: Alcestis Press, 1936). "This first edition … is strictly limited to 165 numbered copies, signed by the author … 135 copies are for sale and 30 copies are reserved for presentation and review purposes"–Colophon. Rare Books (Ex) 3952.88.362.11
Allen Tate (1899-1979), The Mediterranean and Other Poems ([New York]: Privately printed, 1936). "This special edition … is strictly limited to twelve copies numbered I-XII and printed solely for Benjamin Ethan Tate on Duca de Modena, an Italian handmade paper. No copies for sale. Designed and printed by Lew Ney with inkunabula type set by hand and the type has been distributed"–Colophon. First edition, first issue. Rare Books (Ex) 3952.88.362