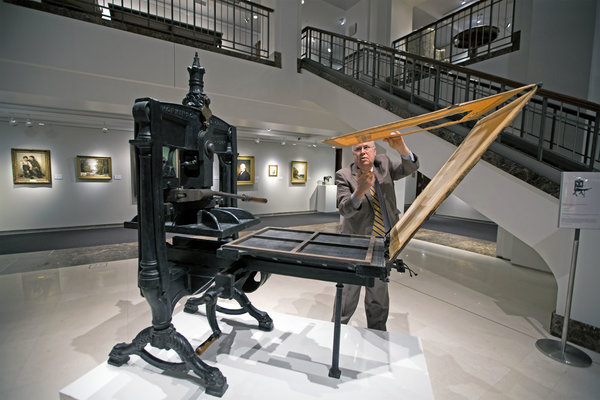 Yesterday, December 6, 2013, an Albion Press no. 6551 made by Hopkinson & Cope and used by William Morris (1834-1896) was sold at Christies for $233,000. The buyer was the Rochester Institute of Technology's Cary Graphic Arts Collection. Happily, Princeton's Graphic Arts Collection is already the proud owner of its own Albion, currently on view inside the temporary Graphic Arts rooms in Firestone Library.
The press sold in New York on Friday was purchased by Morris in 1894 for £52.10s and became one of the three full-sized Albions he was to own at the Kelmscott Press. According to Christies, "Morris chose this Albion for the formidable task of printing the Kelmscott Chaucer and had the press reinforced with iron bands to keep the staple from cracking under the extra pressure required to print the heavy forms of this monumental book. After Morris' death, the Albion was owned first by C.R. Ashbee's Essex House Press, and then subsequently by the Old Bourne and Pear Tree Presses, before it was purchased by Bertha and Frederic Goudy in 1924. The Goudys brought the Albion to America where it joined the typecasters and other foundry equipment of the Village Press and their Press of the Woolly Whale. In 1960, Elizabeth and Ben Lieberman acquired the press after it had resided with several additional printers."
Princeton's Albion has equally interesting provenance, as the last working press owned and used by the great American printer Carl Purington Rollins (1880-1960). Made in England in 1840, Rollins used the press in his New Haven shop until it was packed and shipped south by the Friends of the Princeton University Library, in honor of Graphic Arts curator Elmer Adler's retirement. Pictured above is Rollins with one of several Albions in his shop.
One of the greatest graphic designers (working with only one eye) Rollins joined the staff of the Yale University Press in 1918 and was appointed Printer to the University in 1920. At Yale he designed and printed all university publications and ephemera. Rollins also taught a course in bibliography and established the Bibliographical Press in the University library for student use.
At the same time, he established a private press, At the Sign of the Chorobates, and with our Albion printed numerous award winning publications. In 1940, Rollins received the highest award of the American Institute of Graphic Arts. He retired in 1948 and the last sheet he printed on his beautiful Albion press was the broadside announcing the Adler gift to Princeton.