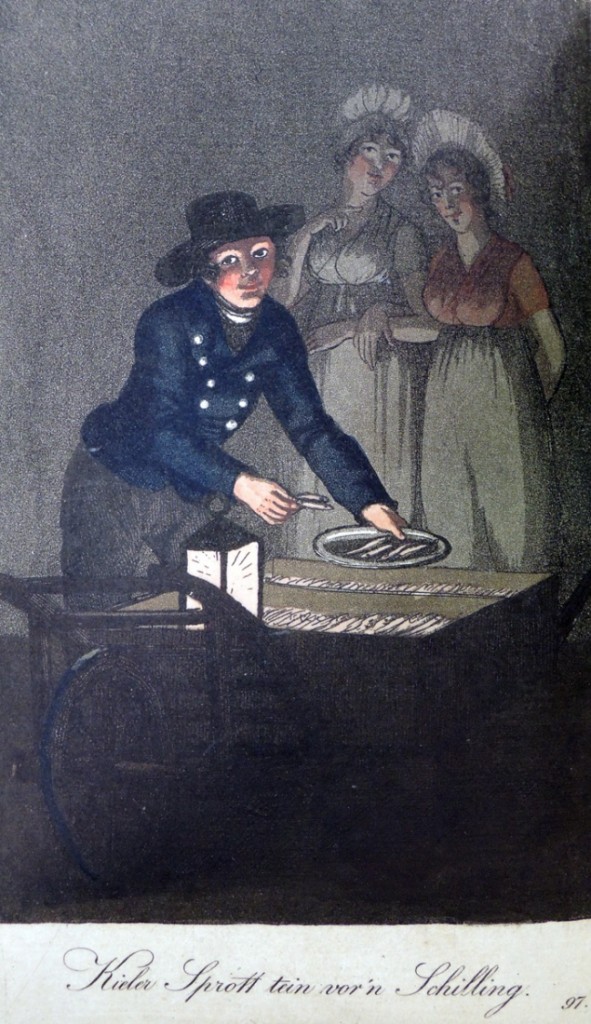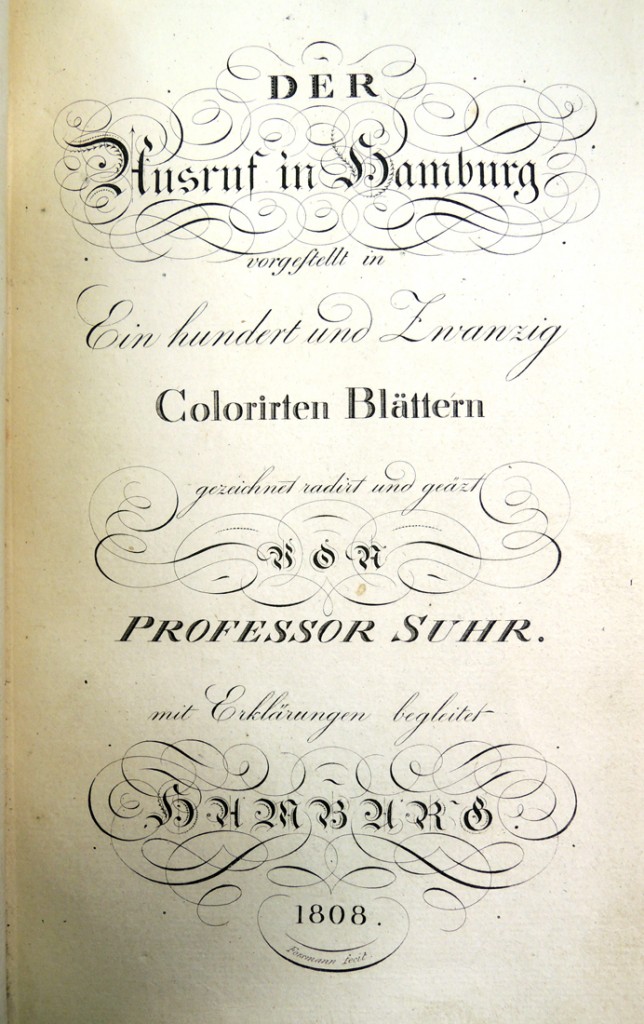 Street vendors, both past and present, are known for their cries or patter, which lets the customer know what they are selling. Sets of prints depicting these vendors and their merchandise, informally known as Cries, are often distinguished by the city in which they work, such Cries of London or Cries of Paris.
Christoffer Suhr's 1808 Cries of Hamburg presents 120 street vendors in fully rendered plates, with a surprising variety of food, crafts, and other goods for sale. Der Ausruf in Hamburg was originally issued in 10 parts from 1806 to 1808 and then, bound together into a single volume.
The three Suhr brothers in this family were all artists. Christoffer Suhr (1771-1842) was the oldest, a trained portrait painter and "Professor Extraordinarius" at the Berlin Academy before returning to Hamburg. Cornelius Suhr (1781-1857) was primarily an engraver and Peter Suhr (1788-1857) ran a lithographic press. Together the Brothers Suhr produced a number of prints, illustrated books, maps, and other Hamburgensie (Hamburg memorabilia).
This slideshow requires JavaScript.
Christoffer Suhr (1771-1842), Der Ausruf in Hamburg: vorgestellt in ein hundert und zwanzig colorirten Blättern [Hamburg Cries: Presented in 120 Colored Plates] (Hamburg: [Conrad Müller], 1808. Preface by Karl Johann Heinrich Hübbe (1764-1830). Purchased with funds provided by the Rare Book Division and the Graphic Arts Collection, GAX 2013- in process
See more: Katalog der Freiherrlich von Lipperheide'schen Kostümbibliothek (1963). Marquand Library (SA) Z5691 .B45 1963; 807.