In trying to understand contemporary artists' books, we often ask which came first, the text or the images? For one of Latin America's most acclaimed 20th -century writers Julio Cortázar (1914-1984) and his fellow Argentine Julio Silva (born 1930), that process evolved over time.
Chronologically, the first book that brings them together is Les Discours du Pince-Gueule, as Peter Standish notes in his book Understanding Julio Cortázar, "Not only was this the first such combination essayed by Cortázar, it was also the first of what would become many collaborative ventures with his friend…." [Peter Standish, Understanding Julio Cortázar (Univ of South Carolina Press, 2001)].  Published in Paris in 1966, the first edition of their book had a limited run of only 100 copies. This has become a very rare volume, with most libraries only collecting the 2002 edition.
It may not be obvious to those who are not fluent in French that the title is a neologism. Standish points out that Cortázar "made the Pince-nez flip down from the nose to the mouth (for which gueule is a vulgar slang word) and no doubt he also had in the back of his mind the term pince-san-rire, meaning a person with a dry humor."
  In the case of this first collaboration, Silva provided lithographs to complement text that Cortázar had already written for Les Discours du Pince-Gueule (1966). This later changed when Silva's designs came first with the two collage books, La vuelta al día en ochenta mundos (1967) and Último round (1969) and then Territorios (1978). With Silva and other collaborators, Cortázar preferred to let them take the lead, writing that he had "a wish to walk alongside friends who are painters, creators of images, and photographers" (Territorios, 107). According to Standish, "by the seventies he was saying that he was writing because of the existence of their art, and pointing out that critics had paid a great deal of attention to literary influences upon him but not enough to a long list of artistic and musical ones."
We are fortunate to have acquired not only the 1966 limited edition artists' book but also many drawings and proofs that led to the first edition. We also acquired several albums of personal photographs from Silva and Cortázar, providing views of their friends and collaborations. The photographers include Pierre Boulat; Colette Portal; Yan Voss; and Cortázar himself. We are extremely grateful to Julio Silva for making this acquisition possible, which will undoubtedly inspire and inform generations of researchers.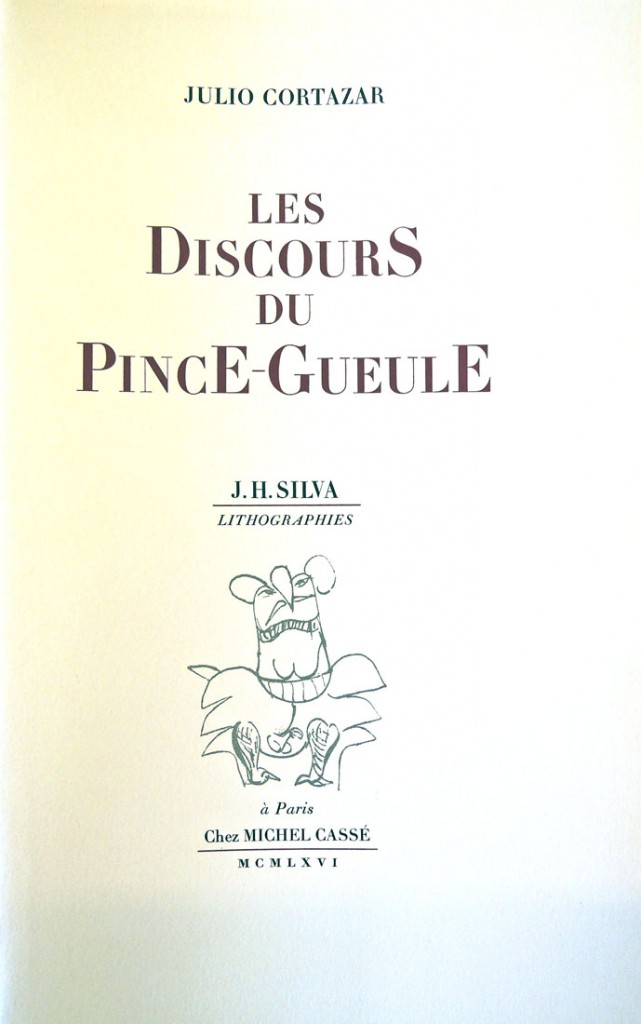 Julio Cortázar, Les Discours du Pince-gueule. Illustrations by Julio H. Silva (Paris: M. Cassé, 1966). Edition of 100. Graphic Arts Collection. Purchased with the generous support of Stanley J. Stein, the Walter Samuel Carpenter III Professor in Spanish Civilization and Culture, Emeritus, in honor of Barbara H. Stein, Princeton University's first bibliographer for Latin America, Spain and Portugal.