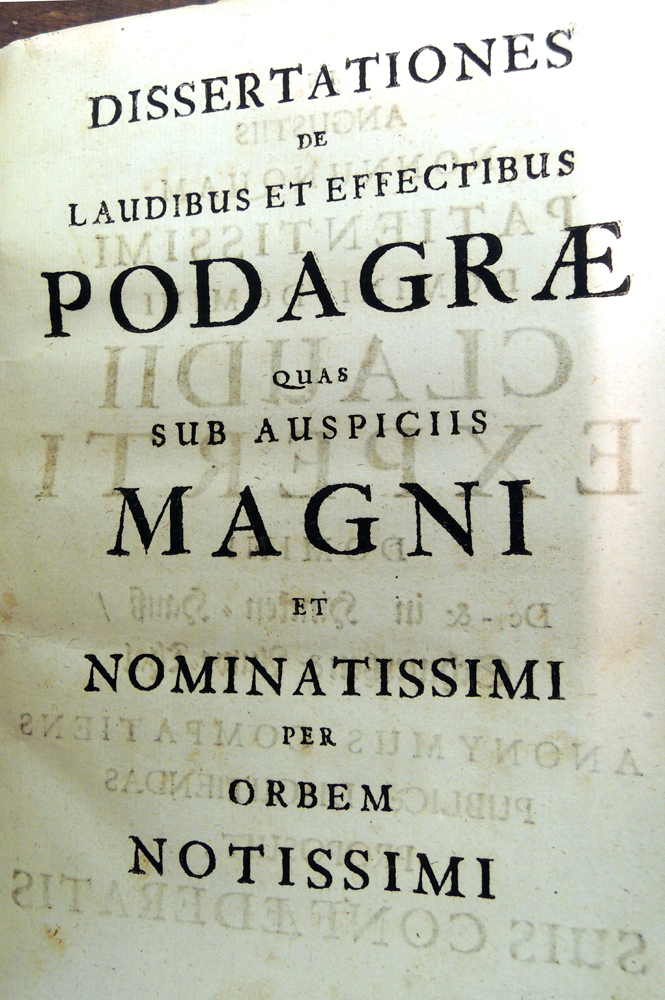 Graphic Arts recently acquired an elaborately designed 18th-century satire on gout, praising those who attain the condition through drinking enough punch or having enough sex. Virtues are extolled with clever emblems and epigrams such as "Breve gaudium, longa miseria (brief joy, long misery).
Written in Latin and German, the four page title translates (very roughly): "Dissertations on the praises and causes of gout, under the auspices of the great and most famous, the most celebrated in the world.
[Dedicated] to the difficulties, sometimes, of the most patient Lord Claudius Expertus, Lord of and in Limping-House, the Valley of Ashes and Pains, his anonymous fellow-sufferer sets forth [for public distribution] to his allies.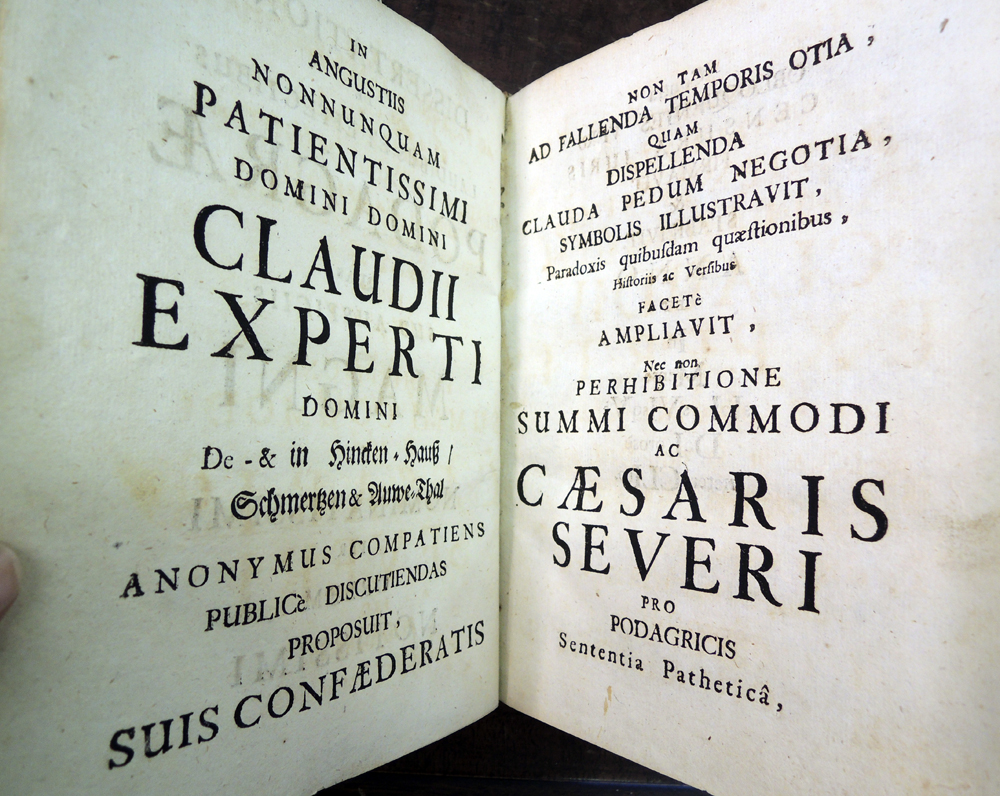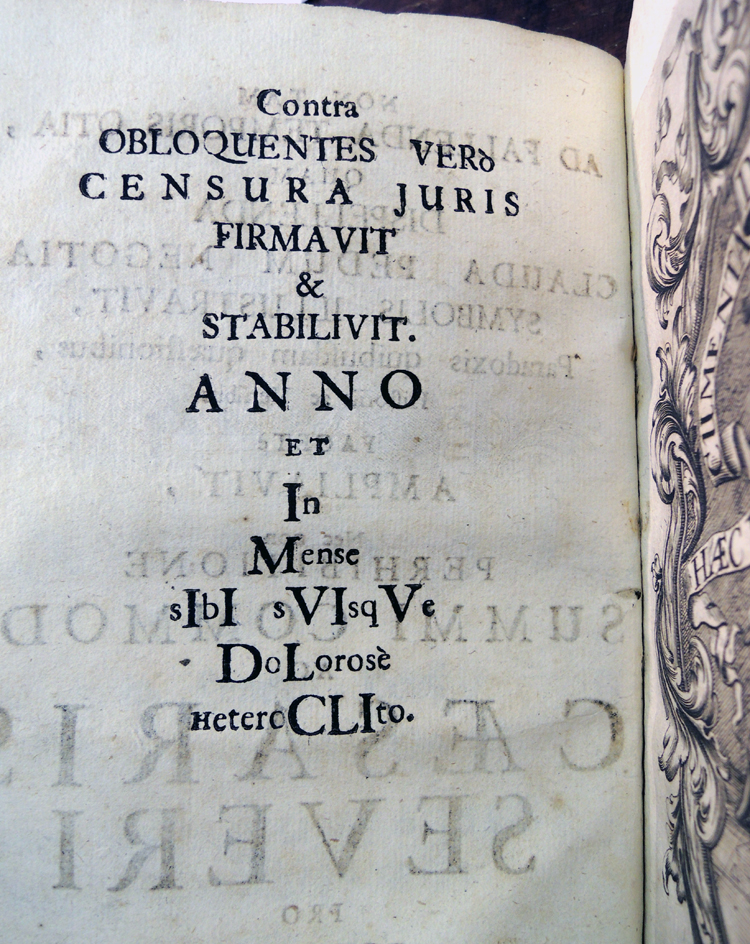 Not so much to beguile leisure time, as to dispel the lame troubles of the feet, he has illustrated with emblems, with questions paradoxical to sane people, enlarged humorously with stories and verses, and not without the testimony of that most pleasant person, Caesar Severus, for the pathetic sentence to cases of gout.
Against interrupters assuredly the censorship of the law has strengthened and established it. In the year [1715]."
The date is a beautiful chronogram (time writing) in which the letters are also the numbers of the date: In Mense sIbI sVIsqVe DoLorosè hetero CLIto = IMIIVIVDLCLI =  MDCLLVVIIIII = 1715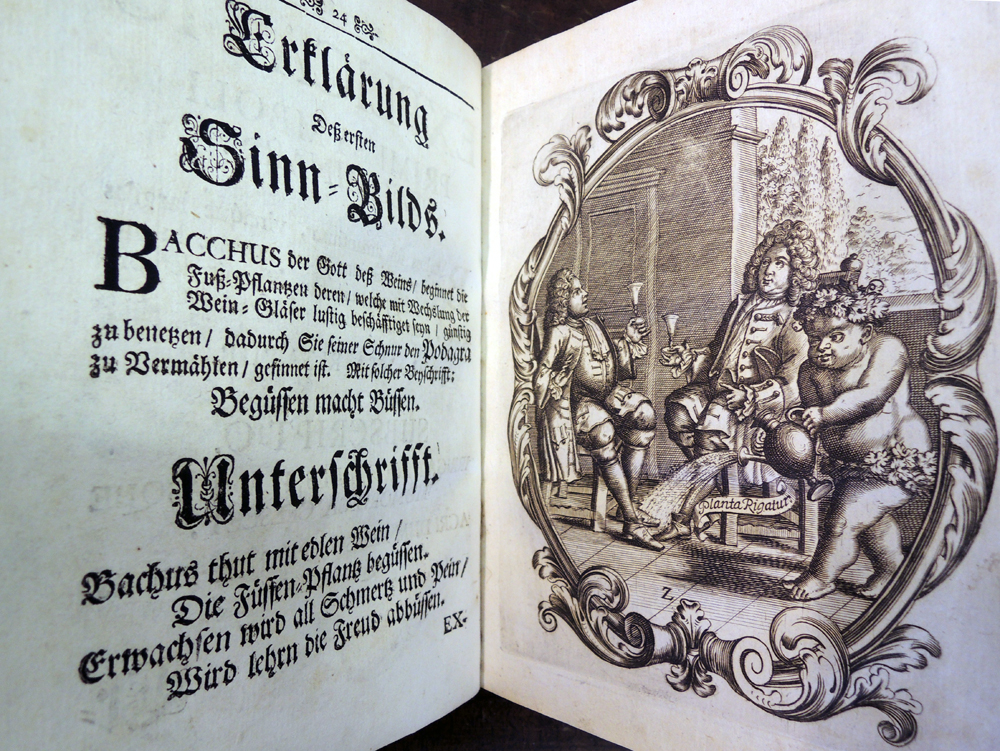 The first of the satirical emblems is signed by the Austrian artist Johann Georg Guttwein (1678-1718), and the rest have been attributed to the same artist. In the plate above, "Bacchus, the god of wine, who begins the 'foot-planting' of those who are merrily occupied with exchanging wine glasses, and waters the plant favorably, so that it is inclined to be wed to his daughter-in-law, gout." With this postscript: Drinking leads to repentance. Note the inscription in the print: Planta Rigatur=The plant is watered.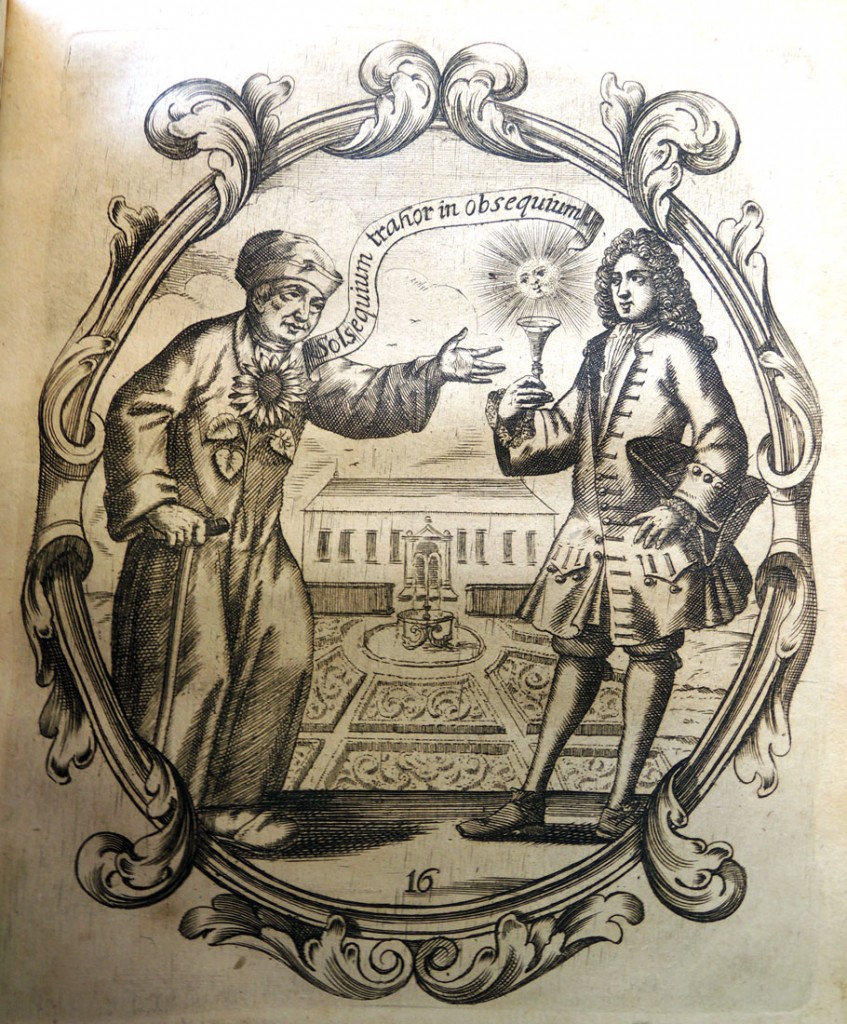 The emblem below is inscribed: "Inde genus durum sumus experiensque laborum / et documenta damus qua simus origine nati." The text comes from Ovid's Metamorphosis: "The earthy part, however, wet with moisture, turned to flesh; what was solid and inflexible mutated to bone; the veins stayed veins; and quickly, through the power of the gods, stones the man threw took on the shapes of men, and women were remade from those thrown by the woman. So the toughness of our race, our ability to endure hard labour, and the proof we give of the source from which we are sprung."
Members of the gout club are congratulated in a proclamation folded into the back of the volume, signed with names that sound like expressions of pain, such as Mr. Ouch: