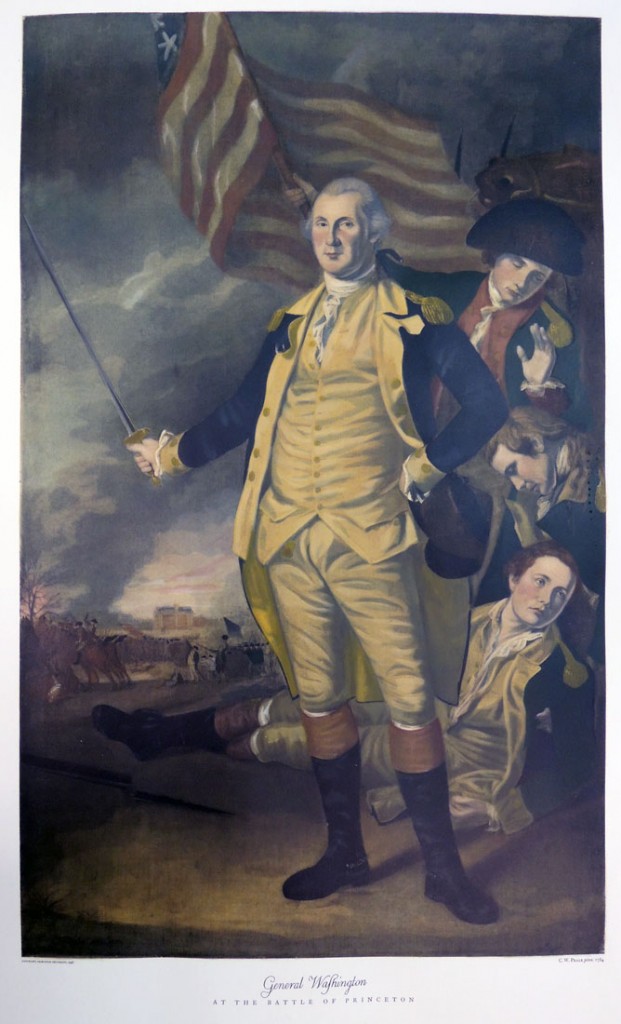 "Although George Washington never attended any college," writes Donald Egbert, "in many ways he had particularly close relations with the College of New Jersey, as Princeton University was known." In 1783, trustees of the College commissioned a portrait of Washington by the Philadelphia painter Charles Wilson Peale, which was hung in Nassau Hall.
To celebrate the University's bicentennial year, a large print was editioned after the Peale painting. The process began with the enormous canvas being carried outside to the lawn in front of Nassau Hall, so that it could be photographed in direct sunlight. Ira Martin, photographer of the Frick reference library, was brought down to Princeton to make the photographic negative. Then, 500 black and white collotype positives were printed by the Meriden Gravure Company.
To add the correct color, twenty-six stencils were designed by the twin sisters and pochoir specialists Kate and Martha Berrien, working in their Greenwich Village studio. Each individual stencil was used to hand paint one layer of watercolor over the collotype until Peale's original was reproduced exactly. Copies of the final print were given to select donors and alumni throughout 1946 and today, only a few copies remain in the Graphic Arts Collection.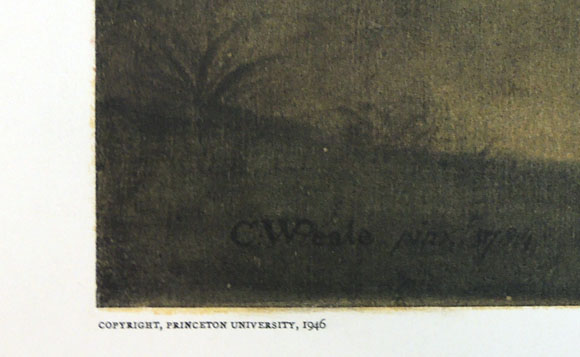 Egbert's article on the making of this facsimile was published in the Princeton University Library Chronicle 8, no 2 (February 1947): http://libweb5.princeton.edu/visual_materials/pulc/pulc_v_8_n_2.pdf