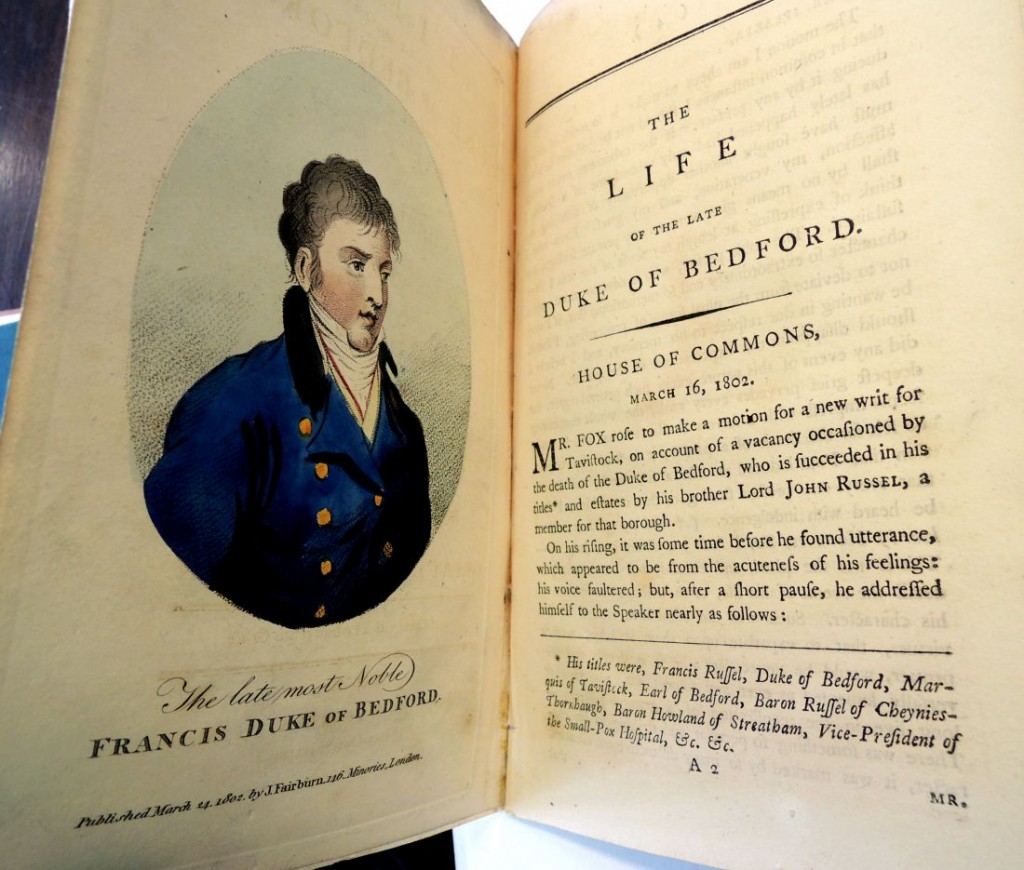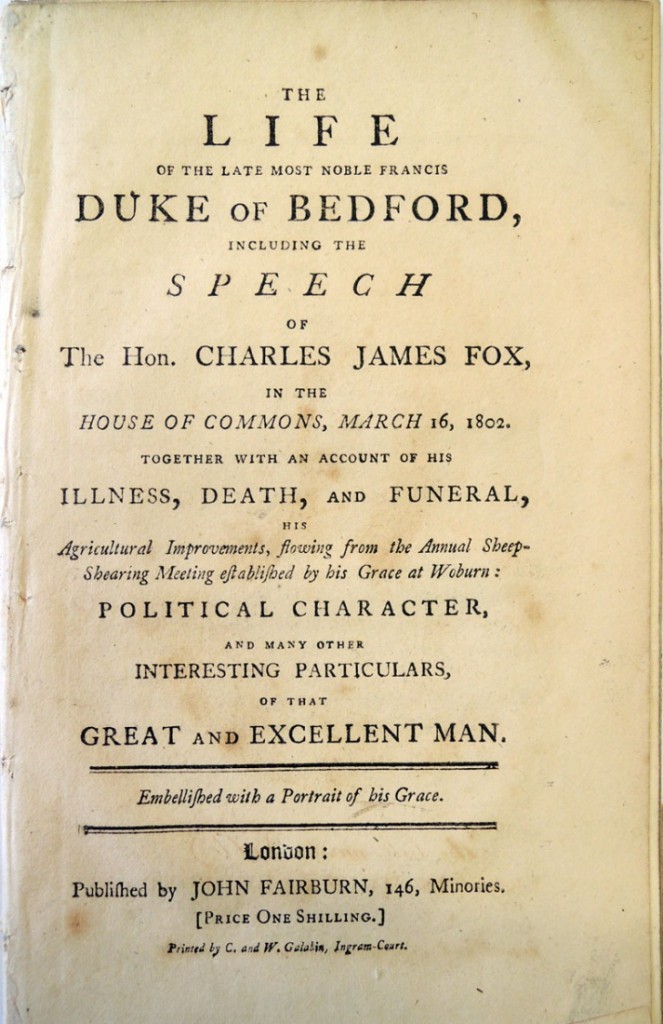 The Graphic Arts Collection was recently offered the gift of Isaac Cruikshank's frontispiece for The Life of the Late Most Noble Francis Duke of Bedford, completed March 16,1802. We already have the book, with its frontispiece in place, However, we were thrilled to acquire the duplicate print.
Why? In the Krumbhaar Catalogue Raisonné from 1966, this particular print is described in entry 648: "IC. Oval colored portrait frontispiece, 'The Late most Nable Francis Duke of Bedford,' unsigned but inscribed 'From a drawing by my Father I. Cruikshank' in GC's [George Cruikshank's] handwriting."
Krumbhaar goes on to say the print was "Bought by me at a Parke-Bernet auction, November 18, 1958, item 142. See also Chubbock, p. 4, no. 22"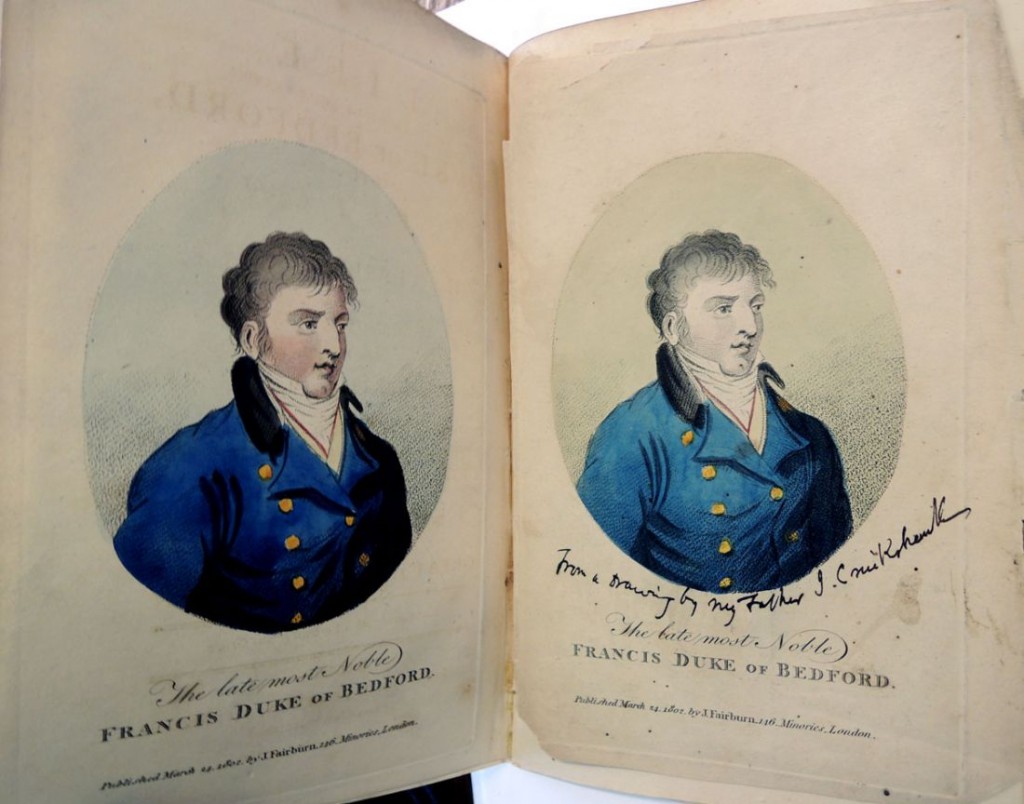 The bound-in frontispiece on the left with the inscribed print laid next to it on the right. Thanks to Thomas V. Lange for his watchful eye to catch this treasure for Princeton's collection.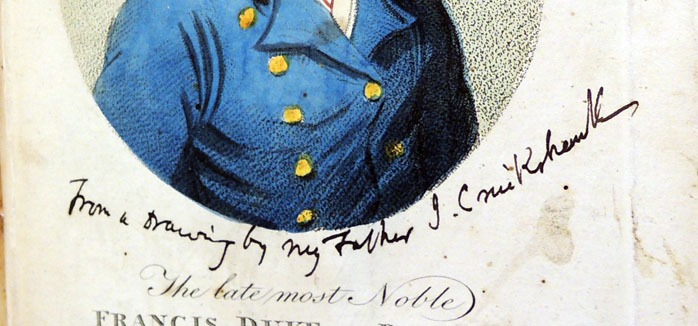 Isaac Cruikshank (1764-1811), Frontispiece etching for The Late most Noble Francis Duke of Bedford… (London: J. Fairburn, 1802). Inscribed by George Cruikshank. Graphic Arts Collection 2014- in process. Gift of Thomas V. Lange.
The Life of the late most noble Francis, Duke of Bedford : including the speech of the Hon. Charles James Fox in the House of Commons, March 16, 1802 …(London: John Fairburn, [1802]). Rare Books (Ex) 3580.161
Edward Bell Krumbhaar (1882-1966), Isaac Cruikshank; a catalogue raisonné, with a sketch of his life and work (Philadelphia: University of Pennsylvania Press [1966]). Rare Books: Reference Collection in Dulles Reading Rm. (ExB) NE642.C82 K7