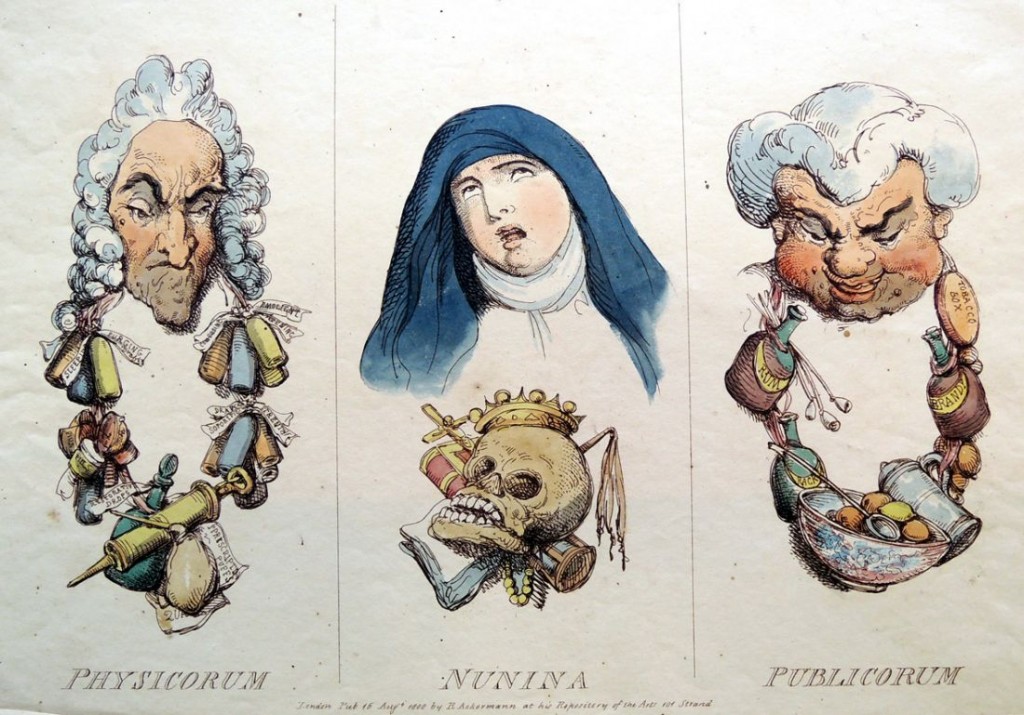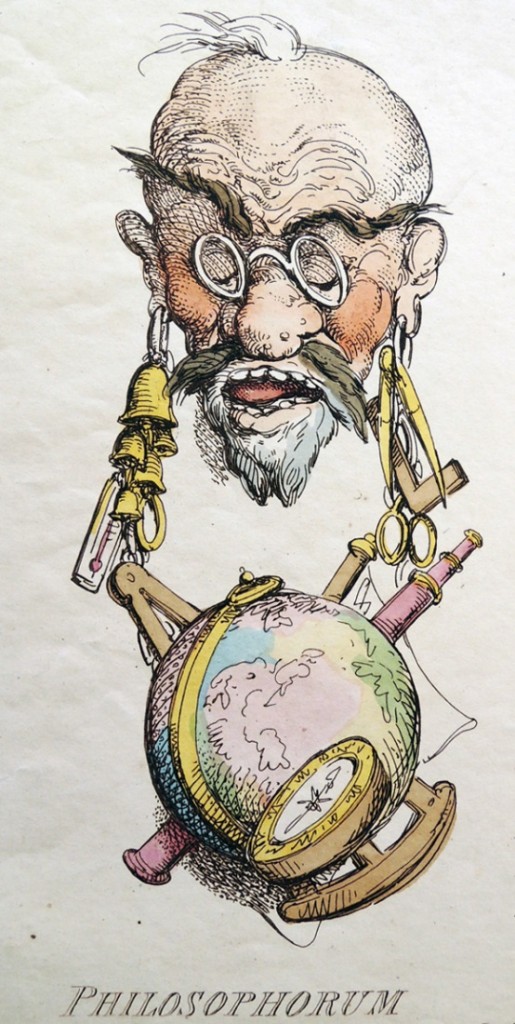 Joseph Grego writes "On August 15, 1800, Mr. Ackermann issued at his Repository of Arts, 101 Strand, a series of six plates designed and etched in [Thomas] Rowlandson's boldest and most spirited style, and finished and coloured in almost exact imitation of the original drawings. Each plate contains three large distinct heads, festooned with attributes peculiar to the respective designs."
"It is not very clear whether these symbolical groupings, which are superior in execution to the average of Rowlandson's published works, were devised to be cut up for scrap-books, screens, or wall borderings, but they have become remarkably scarce since the date of publication, and sets of these typical heads (eighteen in all) are rarely met with at the present date."
The Masqueronians are named:
Plate one: Philosophorum, Fancynina, Epicurum
Plate two:  Penserosa, Tally ho! Rum!, Allegoria
Plate three: Physicorum, Nunina, Publicorum
Plate four: Funeralorum, Virginia, Hazardorum
Plate five: Battleorum, Billingsgatina, Trafficorum
and Plate six: Barberorum, Flora, and Lawyerorum.
In 1814, a possibly forged set of Rowlandson's designs was released by the Parisian publisher Vallardi, under the title Caricature Anglaises. The sheets held at Princeton, under the heading Symbolical groupings, [Grego's words] are two per page and several of the figures are laterally reversed, presumably traced from the original.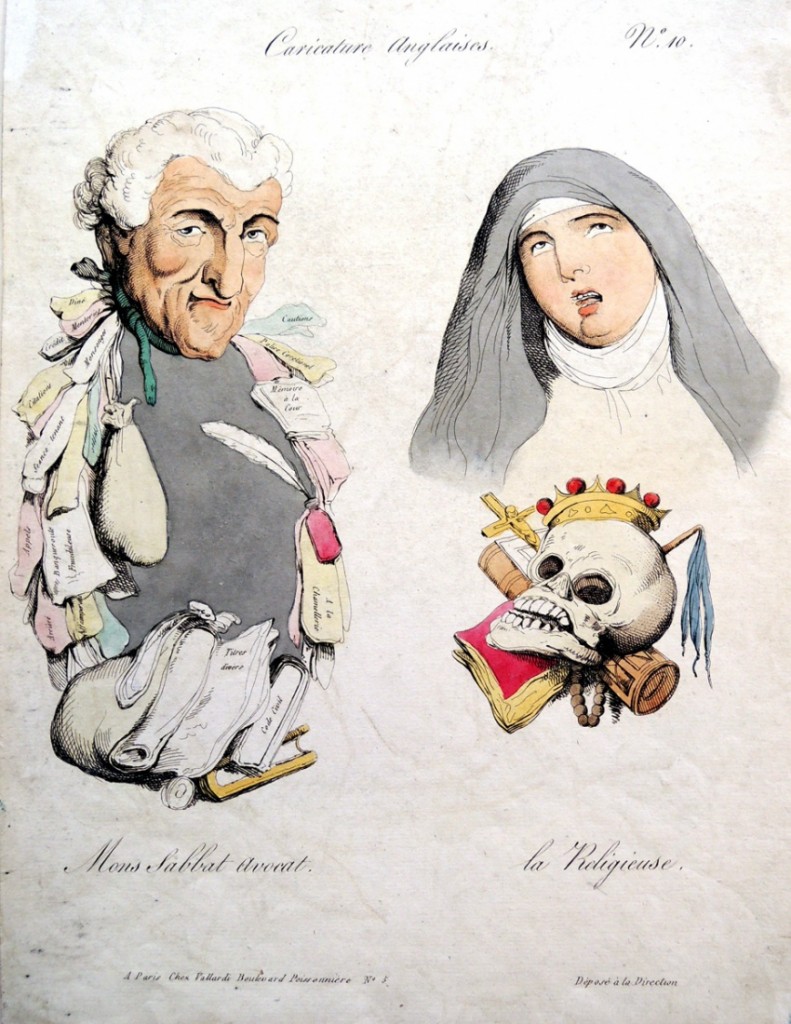 Dorothy George describes one plate as from "a group of Caricatures Anglaises that was listed by Vallardi in the Bibliographie de France for 10 September 1814. It is a partial copy of a print by Rowlandson with heads titled Billingsgatina and Battleorum, from the series Masqueronians (1800)."
"The French series has copies after most of the Masqueronians, other known titles as follows (from impressions in the collection of Nicholas Knowles):
No. 8, Mons. Friteur gargotier ambulant, La fantasie (Epicurum, Fancynina)
No. 9, Mons Craque Perruqier Mad. Flore (Barberorum, Flora)
No. 10, Mons. Sabbat Avocat. La religeuse (Lawyerorum, Nunina)
No. 12, La comedie. Mons. Taiant chasseur (Allegora, Tally! Ho! Rum!)
No.14, La Tragedie Le croque Morts (Penserosa, Funeralorum)"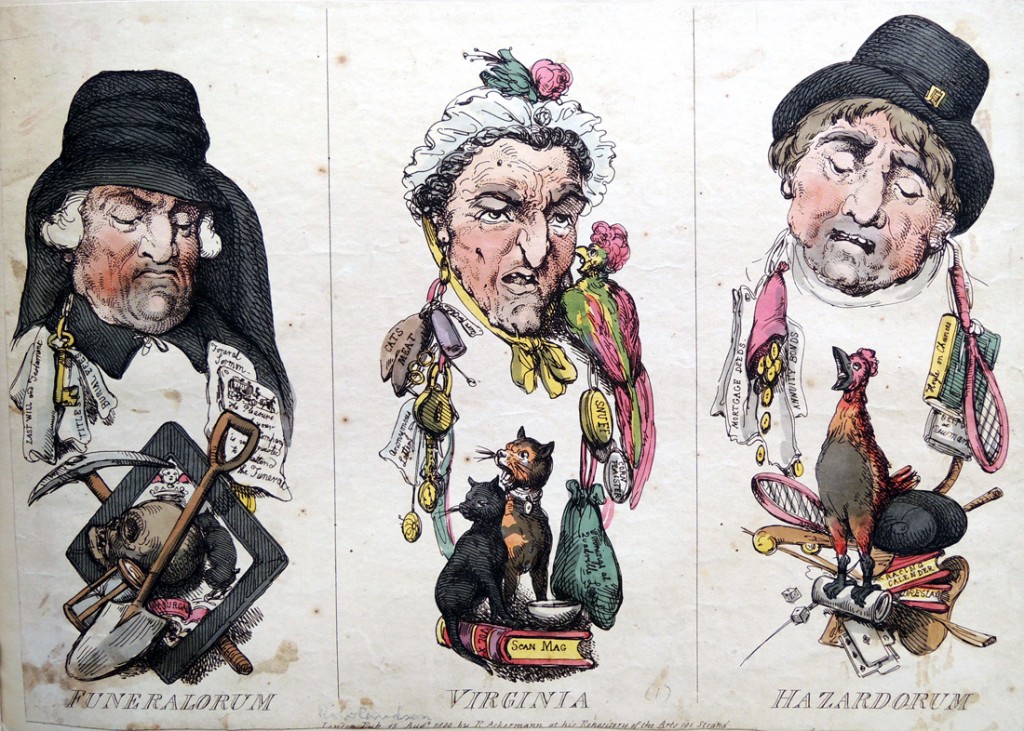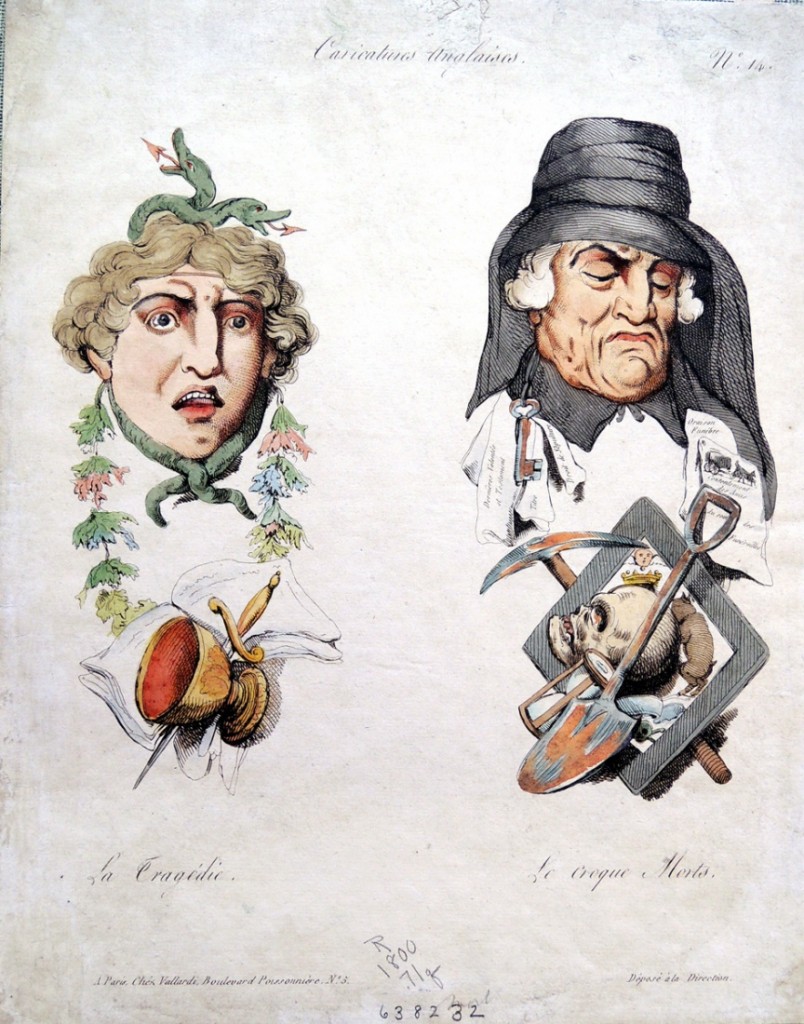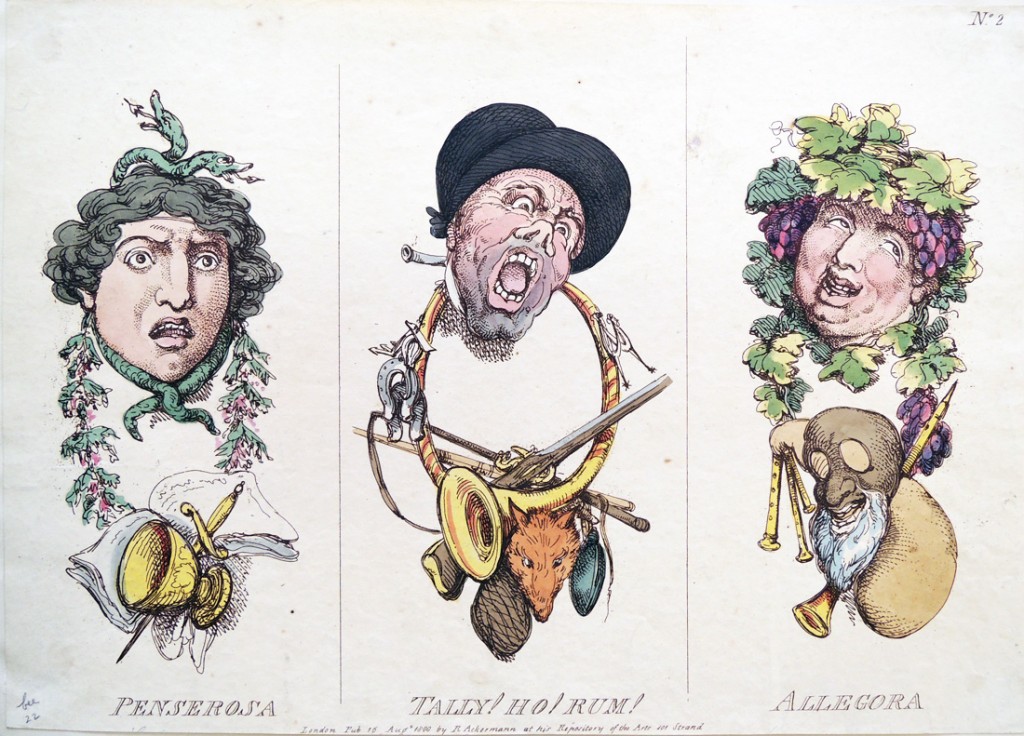 Thomas Rowlandson (1756-1827), Masqueronians ([London, Ackermann, 1800]). 8 col. pl. Graphic Arts Collection (GA) Oversize Rowlandson 1800.71f
Thomas Rowlandson (1756-1827), Symbolical groupings ([London, Ackermann, 1814]). 3 col. pl. Graphic Arts Collection (GA) Oversize Rowlandson 1800.7f