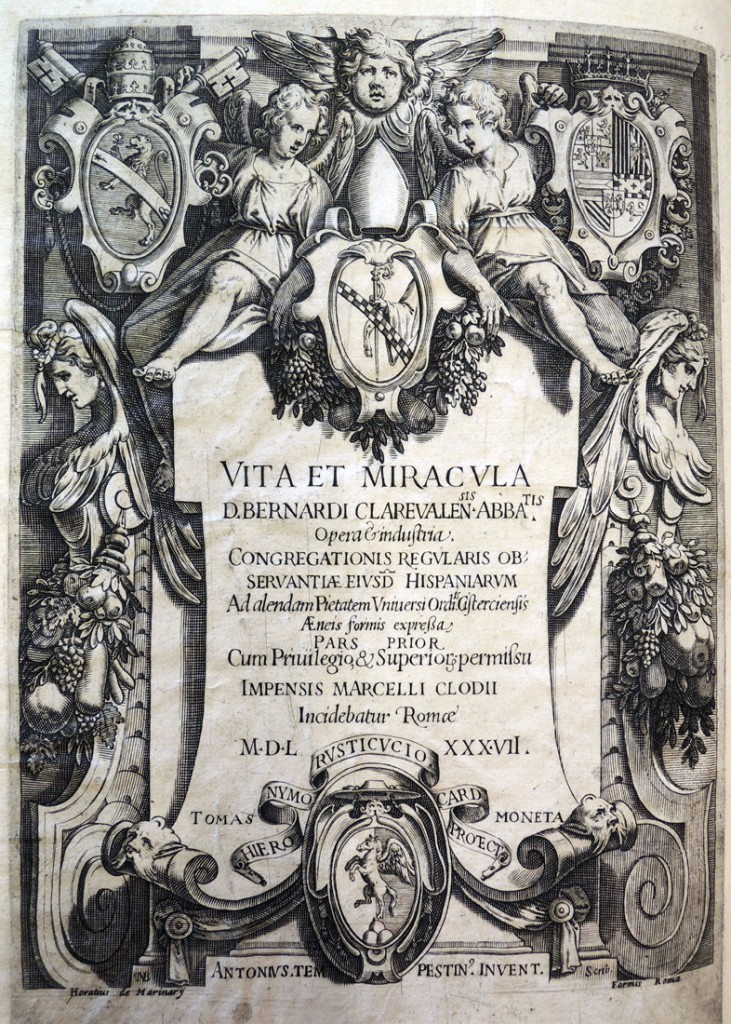 Antonio Tempesta (1555-1530), Vita et miracula D. Bernardi Clarevallensis abbatis. Opera & industria Congregationis regularis obseruantiae eiusdem Hispaniarum ad alendam pietatem Vniuersi Ordinis Cisterciensis. Aeneis formis expressa. Pars prior. Cum priuilegio, & superiorum permissu. = The Life and Miracles of Lord Bernard, Abbot of Clairvaux. The Works and Diligence of His Regular Observant Congregation of Spaniards for the Spiritually Nourishing Piety of the Whole Cistercian Order. Printed with copper plates. Part one. With the privilege and permission of the superiors (Rome, 1587). 56 engravings depicting the life of Saint Bernard of Clairvaux (1090 or 1091-1153), 11 with monograms identifying various printmakers.
Bound with: Les Portraits de quelques personnes signalées en piété … de l'ordre des minimes (S.l., 1668) and Les figures et l'abrégé de la vie, de la mort et des miracles de S. François de Paule (Paris, 1664). More about these two in other posts.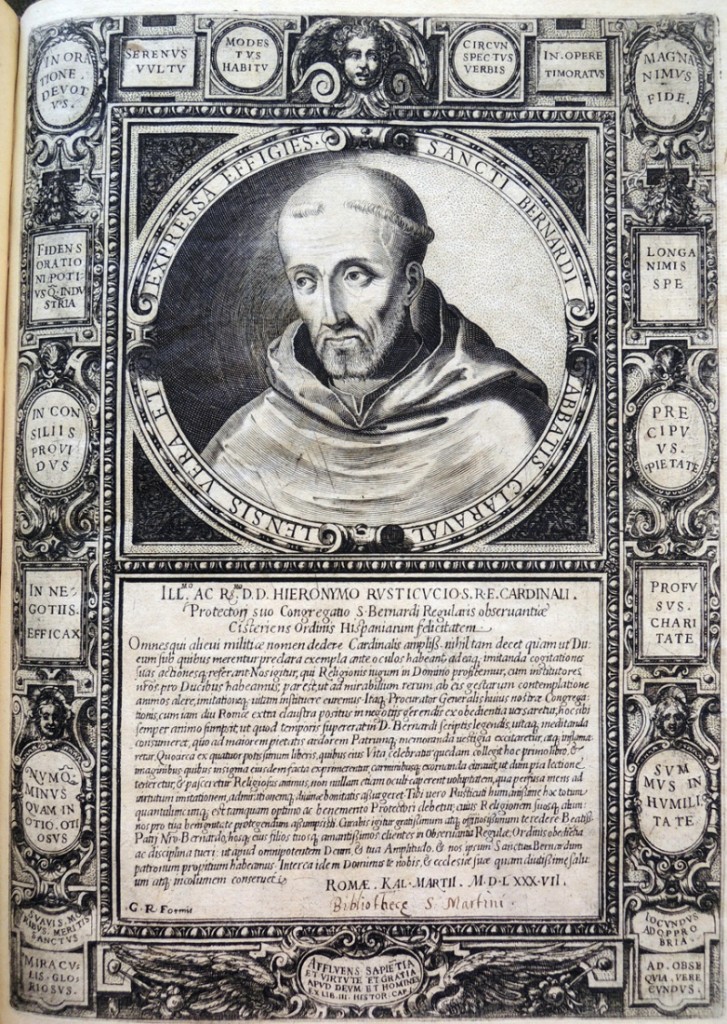 Antonio Tempesta (1555-1630) was a multifaceted Baroque artist who worked both large and small, in color and in black & white, designing enormous wall frescos as well as modest, albeit complex, book illustrations. In Rome, he was one of the artists Pope Gregory XIII selected to decorate the Loggia Gallery of the Vatican Palace, among many other projects. At the same time, he produced over 1,500 engraving, released in portfolios and as bound plates.
For his first published book, Tempesta was commissioned by the Cistercian Order to tell the story of the French abbot Bernard of Clairvaux, (1090-1153) who founded a monastery known as Claire Callée or Clairvaux. According to the Catholic Encyclopedia, Bernard "began that active life, which has rendered him the most conspicuous figure in the history of the 12th century. He founded numerous other monasteries, composed a number of works, and undertook many journeys for the honor of God."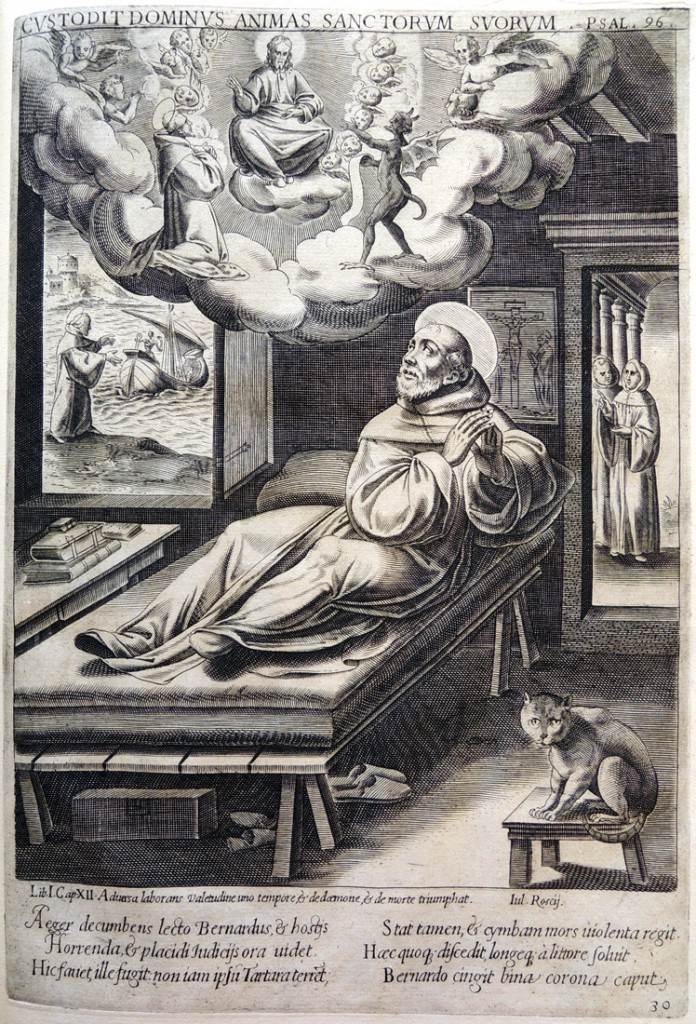 Custodit Dominus animas sanctorum suorum. Psal. 96. Lib. I. Cap. XII. Aduersa laborans valetudine uno tempore, & de daemone, & de morte triumphat. = [The Lord] preserveth the souls of his saints. Psalms 97:10. Book 1, ch. 12. Struggling simultaneously against disease, the devil, and death, he triumphs.
For the text, the Jesuit, humanist and polygraph Giulio Roscio (1550-1591) was selected, a specialist in religious poetry. He wrote six lines of verse at the bottom of each of Tempesta's plates. This one translates:
Lying sick in bed, Bernard sees both the horrors of the enemy, and the face of the one who is gentle in judging. /  This one befriends, that one flees; now the nether regions themselves hold no terrors; he, however, stands; and raging death steers the boat. / The boat also departs, and sets sail far from shore. A double crown encircles Bernard's head.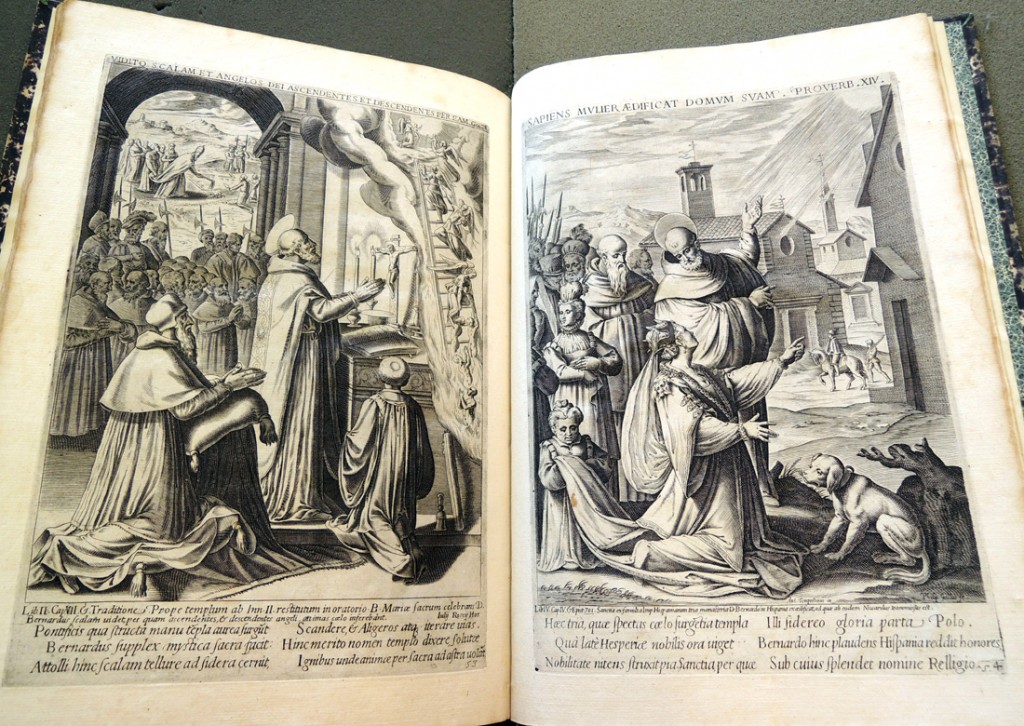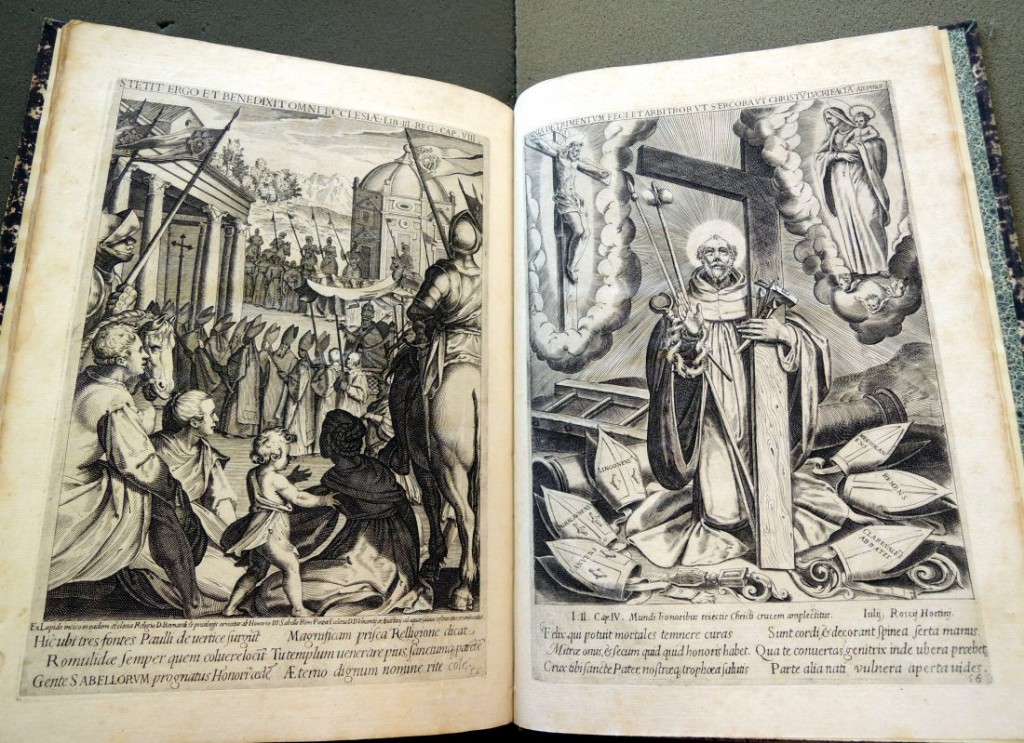 See more of Tempesta's work:
Antonio Tempesta, Metamorphoseon, siue, Transformationum Ouidianarum libri quindecim, æeneis formis ab Antonio Tempesta Florentino incise… (Amsterodami, Wilhelmus Ianssonius excudit [1606?]) Rare Books (Ex) NE662.T45 O94 1606
Antonio Tempesta, Septem orbis admiranda ex antiqvitatis monimentis collecta, et oblectationi pvblicae in aereas tabvlas ab Antonio Tempesta Florentino relata (Antuerpiae, Venduntur apud I.B. Vrintium [1608]) Marquand Library (SAX): Rare Books NE662.T24 A3
Otto van Veen, Batavorum cum Romanis bellum, engraved by Antonio Tempesta (Antuerpiae: Apud auctorem vaeneunt, 1612) Rare Books (Ex) Oversize 2009-0462Q