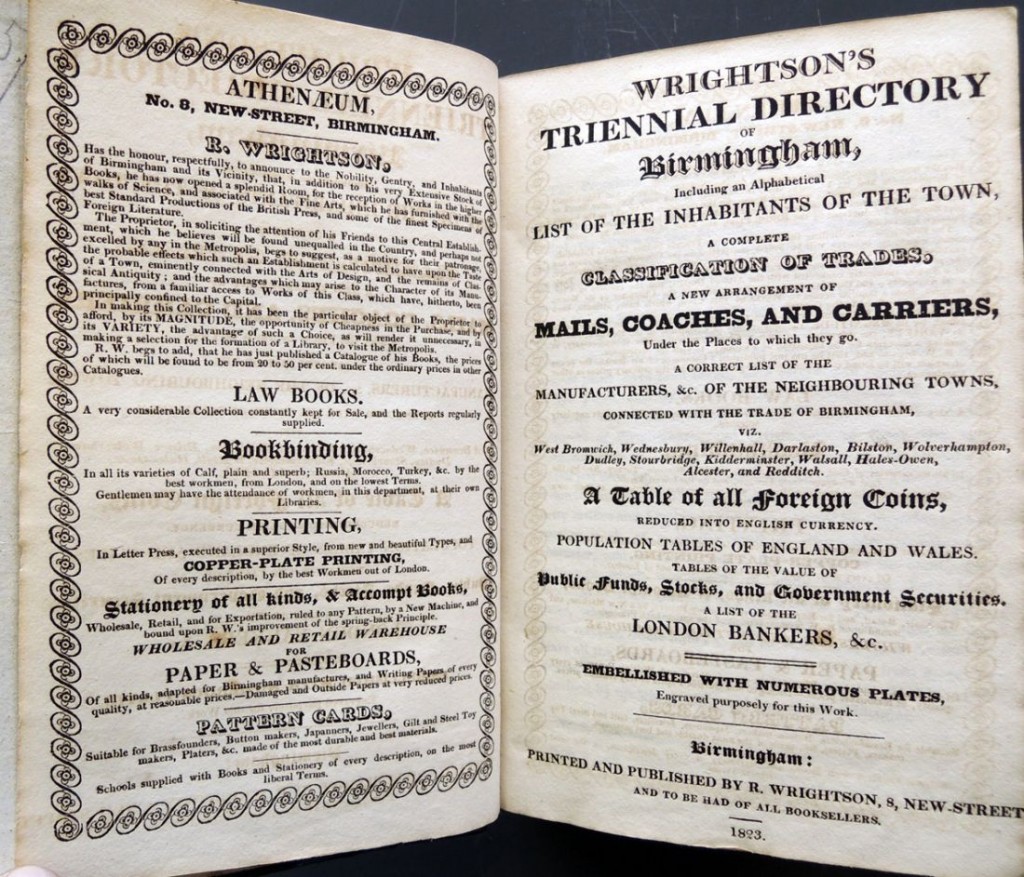 Wrightson's New Triennial Directory of Birmingham . . . . Embellished with plates, engraved purposely for this work (Birmingham [England]: Printed and published by R. Wrightson, 1823). [76] leaves of plates (9 folded) "R. Wrightson, printer, Birmingham."–colophon. Plates are mostly engraved advertisements, three printed in colored inks; some are letterpress. Graphic Arts Collection GAX 2014- in process.
"The term 'trade card'," writes Michael Twyman, "already ambiguous in its first usage (historically it referred to an item of paper), has become doubly ambiguous through its use to denote multicoloured collectable give-aways. The bubble-gum card, and all its related phenomena, must be clearly distinguished from the original tradesman's name-and-address slip."
The Graphic Arts Collection recently acquired an extraordinary business directory for the city of Birmingham, which includes large format, engraved advertisements bound with the address listings. These are too large, for the most part, to be re-printed trade cards and so, must have been separately designed and steel-engraved plates that were specifically created for this publication by the entrepreneur Robert Wrightson (active 1805-1850).
According to The Book Makers of Old Birmingham (1907), "In 1818, Robert Wrightson of 7 New Street, Birmingham, published his New triennial directory of Birmingham, in which were listed 'the merchants, tradesmen and respectable inhabitants' of the town (or, more precisely, such of them as had thought it worth their while to pay for an entry)."
These directories, which continued until 1846, were "profusely adorned with illustrated advertisements, many of these, as the work of well-known engravers, being of interest and value. … Besides the Triennial series, Robert Wrightson was one of the first to introduce lithographic printing to Birmingham…. He designated his shop "The Athenaeum" and preserved the somewhat distinctive character of his business to the end."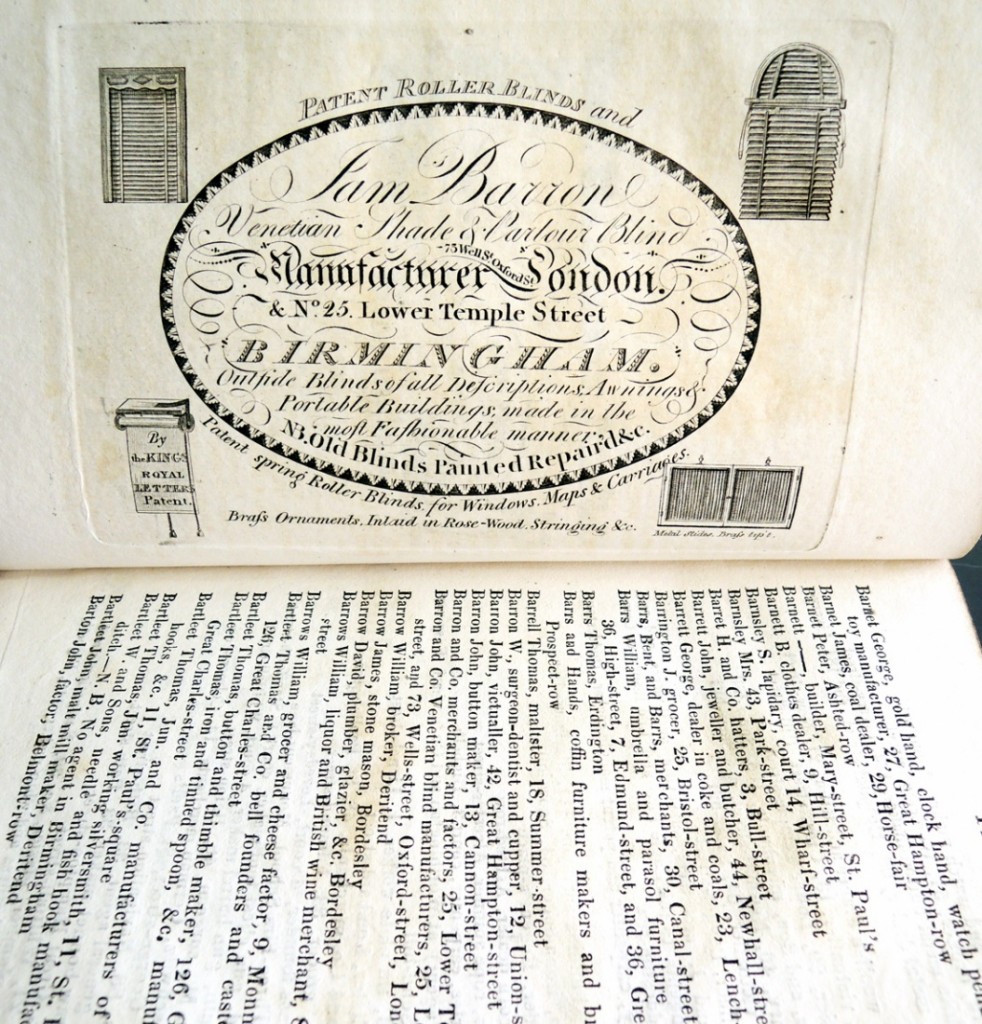 Joseph Hill, The Book Makers of Old Birmingham (Birmingham: Printed at the Shakespeare Press for Cornish Bros., 1907). http://books.google.com/books?id=MmEbAQAAMAAJ
The Encyclopedia of Ephemera: a guide to the fragmentary documents of everyday life for the collector, curator, and historian by Maurice Rickards; edited and completed by Michael Twyman, with the assistance of Sally De Beaumont and Amoret Tanner (New York: Routledge, 2000). Graphic Arts: Reference Collection (GARF) Oversize NC1280 .R52 2000q