On Sunday 20 June, 1897, Queen Victoria (1819-1901) celebrated her Diamond Jubilee Accession Day at Windsor Castle. To commemorate the event, a number of paintings, sculpture, medallions, posters, and all types of printed materials were created.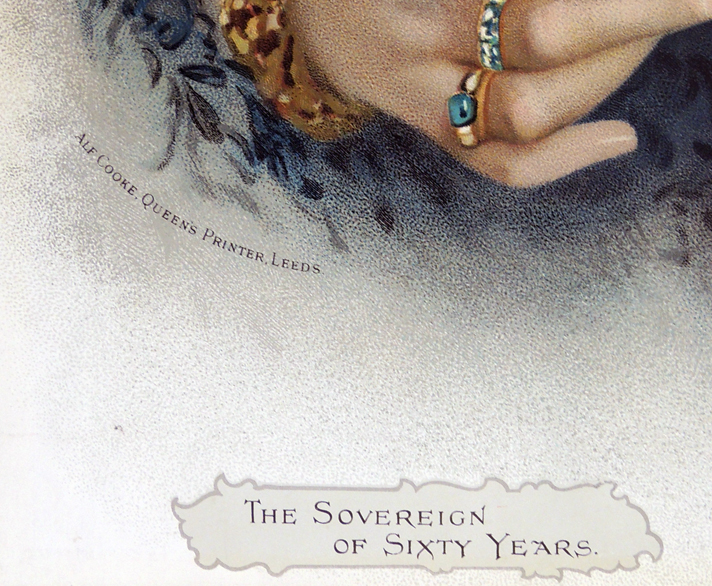 The master printer Alf or Alfred Cooke (1842-1902) of Leeds, was no exception. Cooke's first printing factory opened in 1866, was rebuilt twice after fires, and managed to grow into one of the largest chromolithography plants in Great Britain. This led to Cooke's appointed as "Colour Printer to the Queen" and later, Mayor of Leeds.
His third and final factory, which operated until 2005, was called "New Crown Point Printing Works" and claimed to be the "largest, cleanest, healthiest and most completely fitted printing works in the world." At its height, Cooke had 300 presses run by a staff of over 600 workers.
Thanks to Charles E. Greene, the Graphic Arts Collection is the proud new owner of Cooke's 1897 Diamond Jubilee portrait of Queen Victoria, which was later reproduced hundreds of times in posters and advertisements.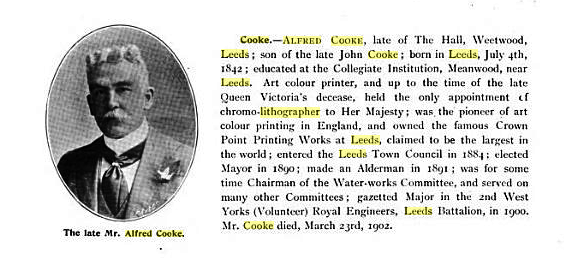 from W. Herbert Scott, The West Riding of Yorkshire at the Opening of the Twentieth Century: Contemporary biographies (W.T. Pike, 1902)