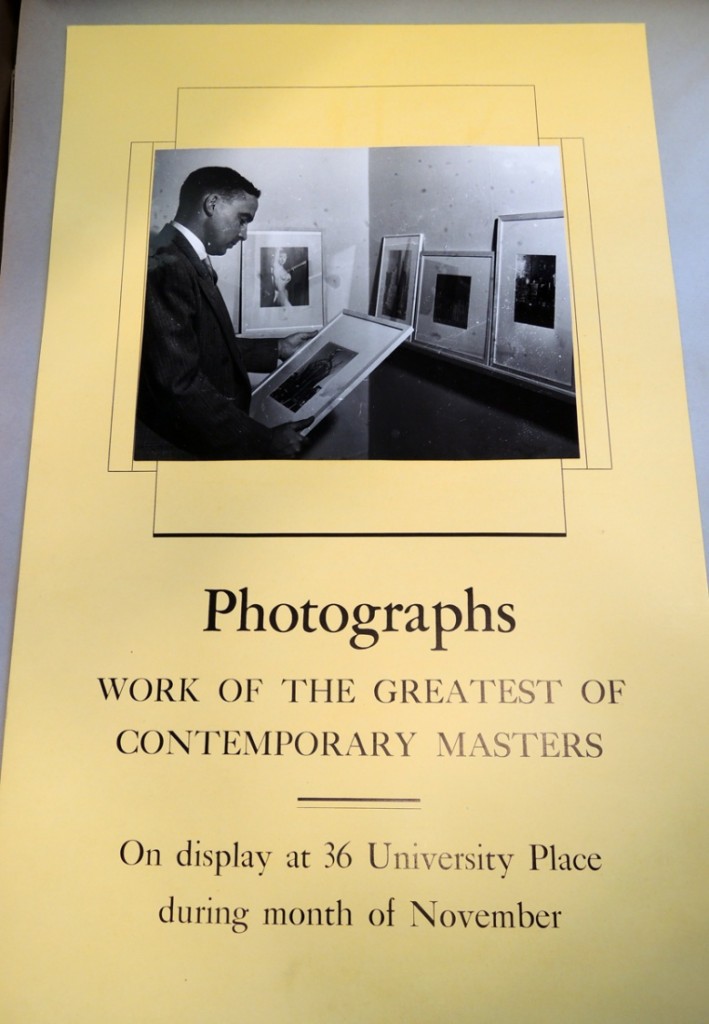 The Princeton Print Club (PPC) was established in October 1940 by Princeton University's newly christened Research Associate in Graphic Arts, Elmer Adler (1884-1962) with exhibitions, a print lending collection, and annual print publications, among other events. Two months later, the Museum of Modern Art (MoMA) held its first exhibition of photography. Although there were no classes in photography at Princeton, through the PPC the undergraduates began studying and exhibiting contemporary American photography.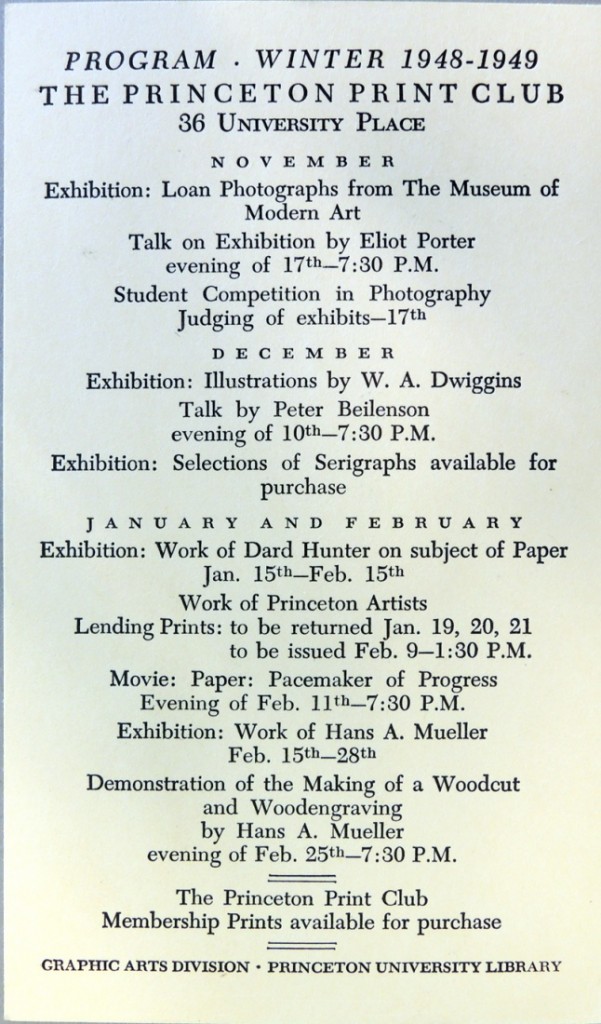 Little more than a year after the club was established, an exhibition of twenty exceptional color photographs of the Pueblo Indians of New Mexico by David Hare (1917-1992) opened in January 1942 at the PPC's headquarter at 40 Mercer Street. The son of Elizabeth Sage Goodwin, an art collector and a backer of the 1913 Armory Show, Hare grew up in a house filled with artists. As a professional photographer, he was an early practitioner in color photographic processes. This led to an assignment for the American Museum of Natural History to make photographic portraits of Hopi, Navajo and Zuni Indians in the Southwest. Hare exhibited the color-dye transfer prints in 1939 and then, published twenty of them in a limited edition portfolio. Adler introduced his students to Hare's work and helped them borrow the portfolio for an exhibit (WA Oversize 2005-0041F).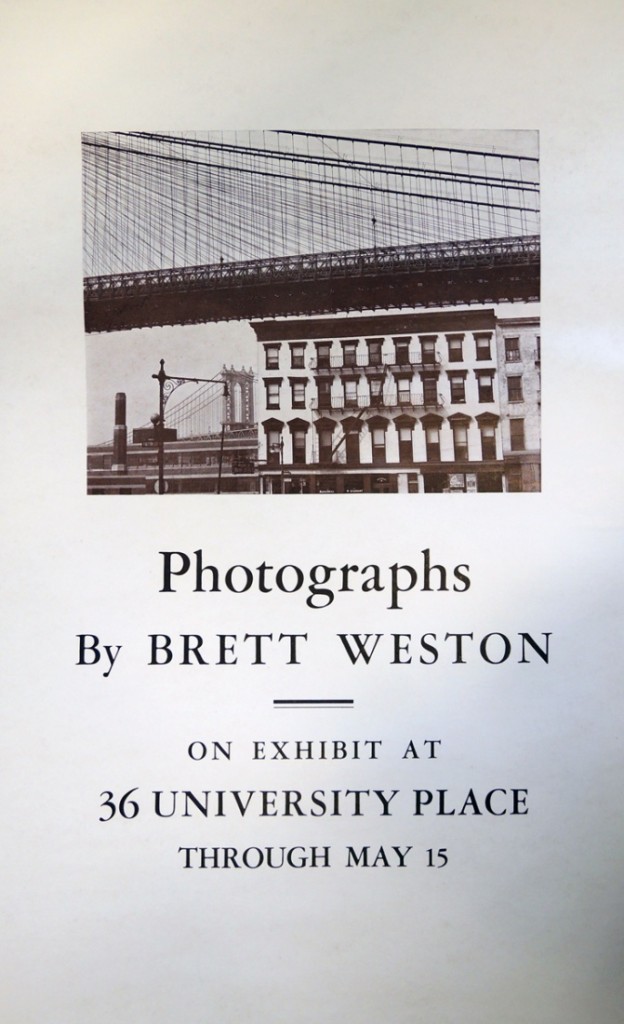 The return of many young men after WWII reinvigorated the club with a strong focus on modern technologies, in particular the photographic arts. In April of 1947, the PPC announced an exhibition of photographs by Brett Weston (1911-1993) of scenes in and around Princeton. The photographs were loaned by David H. McAlpin, Class of 1920, an early supporter of contemporary photography, only recently returned to his Princeton home from service as a Navy commander. Before the war, McAlpin had commissioned and purchased Weston's work and it is possible that McAlpin was hoping the PPC would select one of Weston's campus photographs for their annual print (they chose to publish George Jo Mess's acquaint "Stanhope Hall, Princeton University").
In October of the same year, again thanks to McAlpin, the PPC sponsored a large exhibition of photography by Ansel Adams (1902-1984). The photographer himself accepted an invitation to visit Princeton and give a talk about his work on October 23, held at the PPC's new headquarters at 36 University Place. Adams told the students how he intended to have a career as a concert pianist, but a six weeks' walking trip through the Sierra Nevadas turned his interest toward photography. When MoMA formulated plans for a photographic wing, Adams was appointed vice-chairman of the photographic committee, which also included McAlpin.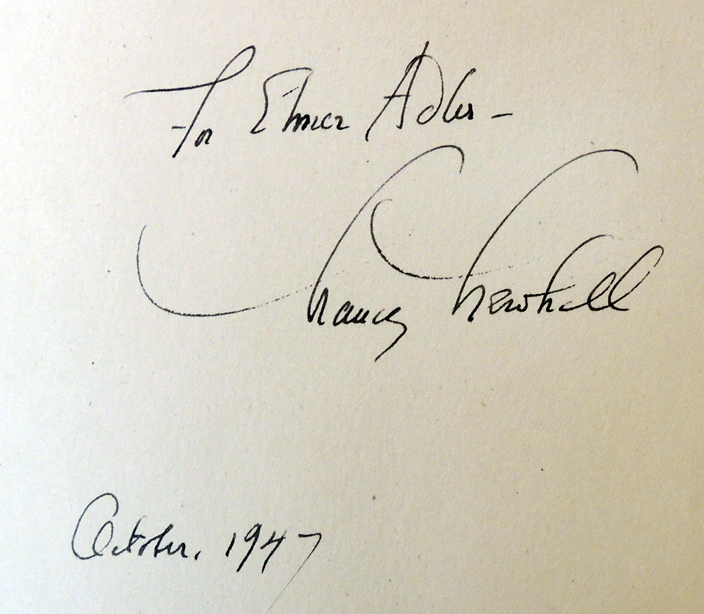 Student photographers were encouraged to enter their prints the following April 1948, when McAlpin sponsored a photography contest "under the auspices of the Princeton Print Club." Each print was to focus on the theme of roofs and chimneys found on the Princeton campus and prizes included both cash and photographic equipment. So successful was the event that another contest was held the next November, and each semester that followed.
Fifty student photographs were exhibited by the PPC in the fall semester and the Daily Princetonian announced that prizes would be awarded during a lecture by Beaumont Newhall, although it was in fact Nancy Newhall who had been invited and spoke to the students. As MoMA's curator of photography during the war, Nancy Newhall was active in assembling the museum's photography collection. She focused her remarks on the cross-section of contemporary camera work currently on exhibit at the print club.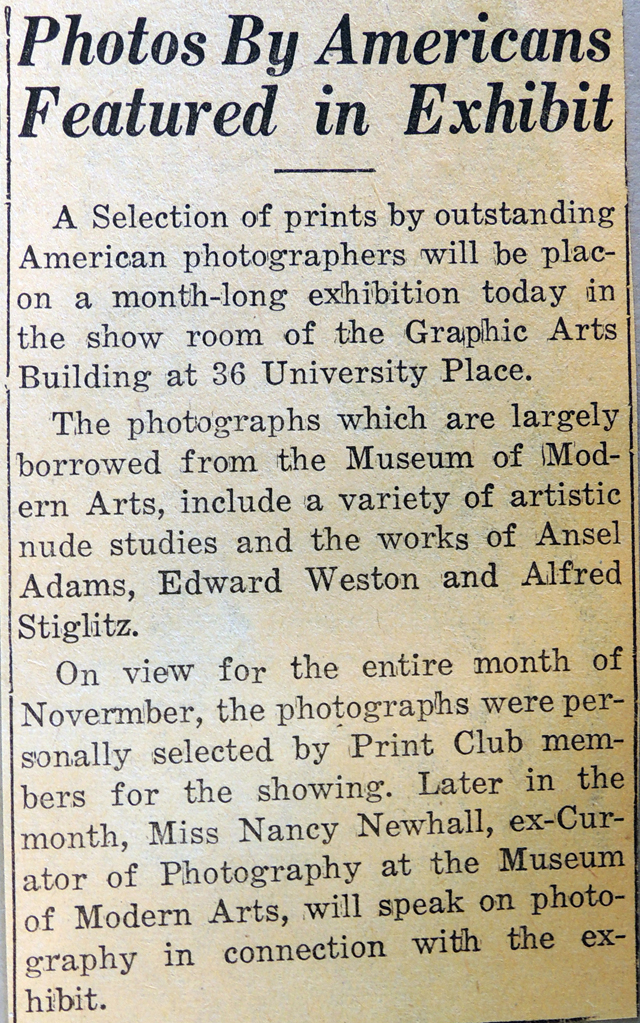 Also during the fall of 1948, the students of the PPC were invited up to MoMA and allowed to personally select a group of photographs for a Princeton exhibition. Photography: Works of the Greatest Contemporary Masters included "a variety of artistic nude studies and the works of Ansel Adams, Edward Weston [Brett's father], and Alfred Stieglitz."
In conjunction with this exhibition, a lecture was given by color photographer Eliot Porter (1901-1990). The Daily Princetonian reported that Dr. Porter told the students that as a young man he was an enthusiastic birdwatcher. However, his love of nature and photography did not seem suitable for a career and so after majoring in chemical engineering at Harvard, he went on to earned an M.D. at the Harvard Medical School.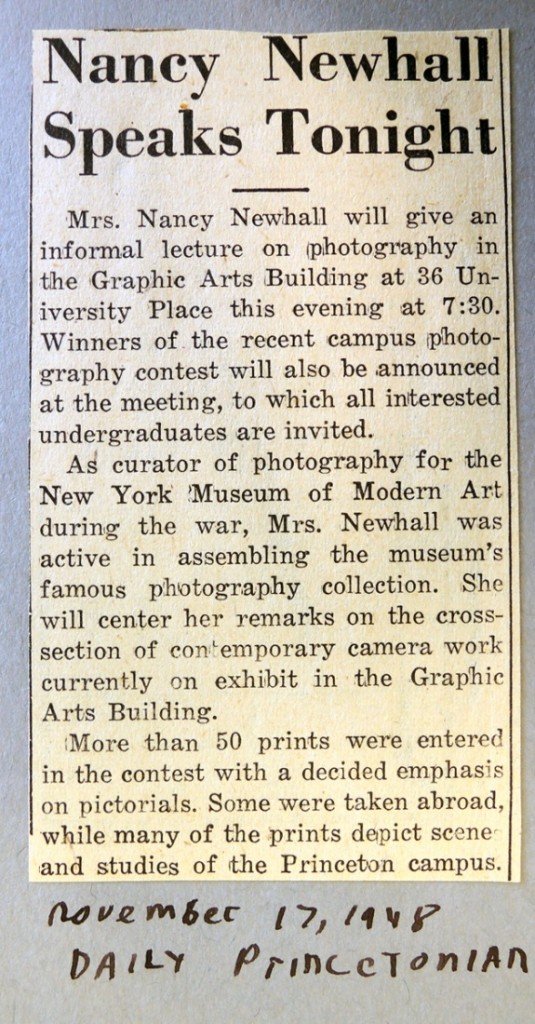 Porter never lost his fascination with birds, however, and continued to photograph them. "Encouraged by the photographer Alfred Stieglitz, who presented a show of Mr. Porter's photographs at his New York gallery, he finally gave up teaching and started work full-time as a freelance photographer in 1939."
"The Exact Instant," was the title of a lecture given to the PPC in March of 1949 by Edward Steichen (1879-1973), curator of photography at MoMA. Several years earlier, a group of photographs taken by the U.S. Navy's photography unit in the Pacific, under the direction of Captain Steichen, had been held by the New Jersey State Museum and Adler had selected a group for Princeton's Graphic Arts Collection. The PPC made a selection of these prints and in conjunction with this exhibition welcomed Steichen to the Club.
In the same month, Adler announced the gift of 72 photographs by Carl Van Vechten (1880-1964) including portraits of Katherine Cornell, Salvador Dali, Theodore Dreiser, Joe Louis, and Gene Tunney, among others. The Van Vechten collection was to be used in connection with Princeton Print Club activities and the students complied immediately by mounting an exhibition.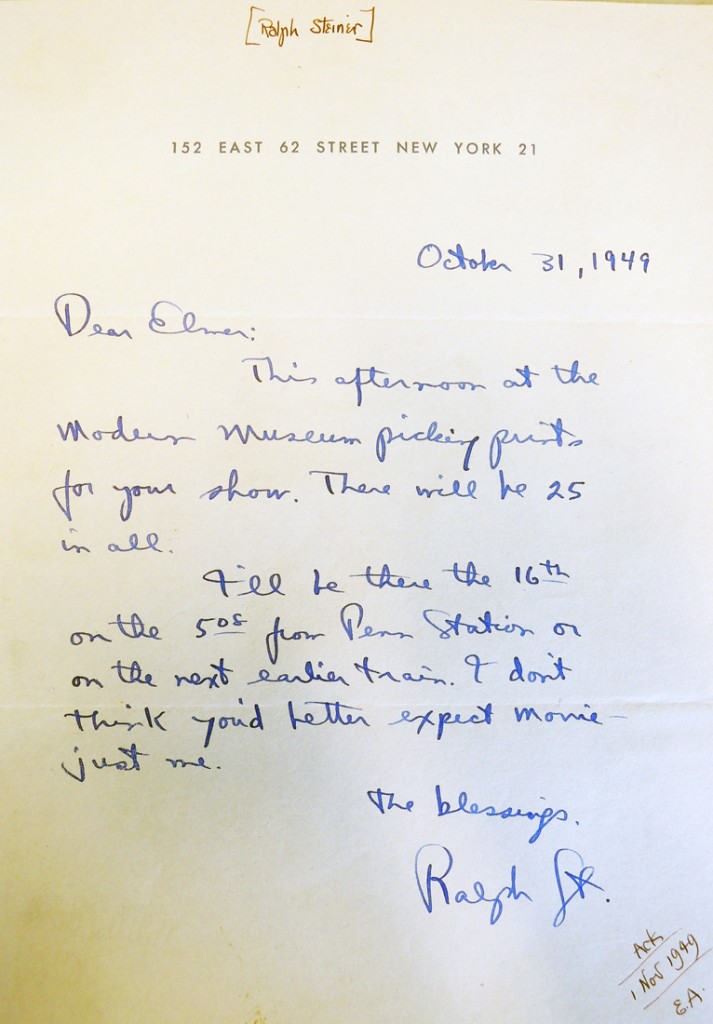 On October 31, 1949, photographer Ralph Steiner (1899-1986) wrote to his old friend Elmer Adler, "this afternoon at the Modern Museum picking prints for your show. There will be 25 in all." Once again, MoMA had approved a loan for the PPC and the museum prints were carried to Princeton by Steiner on New Jersey Transit.
He stayed to deliver the Spencer Trask Lecture entitled simply, "Photography." That evening prizes were also delivered to the winners of the photo competition, including first prize to Arthur D. Haas, Class of 1951, and second prize to William B. Hall, Class of 1947, and special mention was given to A. Perry Morgan Jr., Class of 1946, along with $5.00."
One final photography show was arranged under the PPC before Adler left Princeton and the graphic arts collection moved into Firestone Library. For this April 1952 event, Edward Steichen personally selected the work of 44 young and upcoming photographers in MoMA's collection, most only a few years older than the Princeton students. Nine of the men and women whose work was shown at the PPC were winners in Life magazine's recent "Contest for Young Photographers," certainly an inspiration to the young men of the PPC.