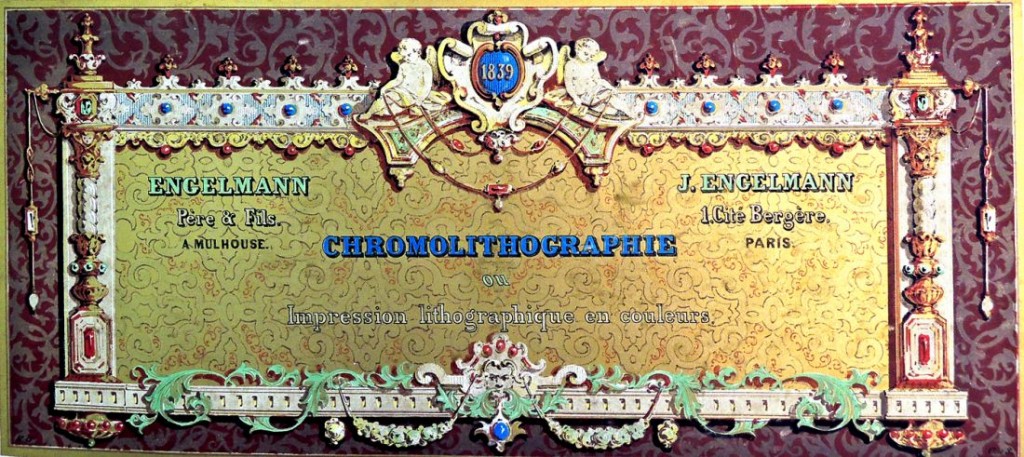 Archive of Proofs and Samples from the Société Engelmann père et fils, ca. 1839. 3 vols. Chromolithography. Purchased with funds from the Graphic Arts Collection and Rare Books. 2014- in process
Princeton recently acquired a set of three elephant folios, which Michael Twyman calls, "the most interesting collection of its kind that I have ever come across." These albums hold hundreds of specimens of early chromolithography from Godefroy Engelmann (1788-1839) and his Société Engelmann père et fils.
The provenance of the albums is not clear though Twyman states that they probably came into the market within the last ten years from the Engelmann descendants. They turned up, not surprisingly, in Paris. Here are ten sample pages:
This slideshow requires JavaScript.
What is clear is that the 250 leaves hold an unprecedented archive of printing samples, many still uncut, from the Engelmann company under both the father and son, beginning with a complete copy of
The Album Chromolithographique
(1837). Other proofs range from ephemeral playing cards and labels to the most elaborate chromolithographic broadsides and publications.
Other highlights include:
Large trade card dated 1839 (280 x 120 mm), reads as follows: "Engelmann, Pere & Fils à Mulhouse – J. Engelmann, Cité Bergere Paris. Chromolithographie ou impression lithographique en couleurs."
Female portrait. "Premier essay du procédé chromo-lithographique de Mr. Engelmann par E. Viennot" (for approval of the Société d'Encouragement in Jan. 1837). And a similar male portrait without caption.
Uncut sheets with playing cards for different games (Loto graphique, Rebus, Jeu de la Mythologie, Jeu de cartes syllabaire Européen, and Jeu de cartes de l'histoire de France par un professeur d'histoire).
Jean Landais, printer in Rennes, announcement of the reopening of his business and starting with lithographic color printing of all kinds in Rennes, 25 June 1840.
Jean Engelmann, announcement of the invention of chromolithography and the opening of his press in Paris, 1 January, 1838.
Many uncut glazed paper sheets with pages from missals and other religious texts in the style of mediaeval manuscripts ('Paroissiens').
Many examples of book illustrations, book covers, trade cards, posters, window displays, carte-de-visites, tobacco labels, cigar bands, illustrated writing papers, paper toys, religious cards, etc. etc.
Godefroy Engelmann (1788-1839), biographic details from the British Museum: "Lithographic printer, famed 'Körner' (grinder) for crayon-lithographs and patentee of chromolithography. Originally from Colmar; trained in Munich; set up press in Paris in June 1816. He improved lithography, particularly by developing lithographic wash in 1819. In 1825 he created a new company in association with Jérémie Graf and Pierre Thierry and named 'Société Engelmann et Cie'. In 1826 an annex company is founded in London and named 'Société Engelmann, Graf, Coindet et Cie', which was dissolved in 1833. Then Engelmann returned to Mulhouse and created the company 'Société Engelmann, père et fils'.