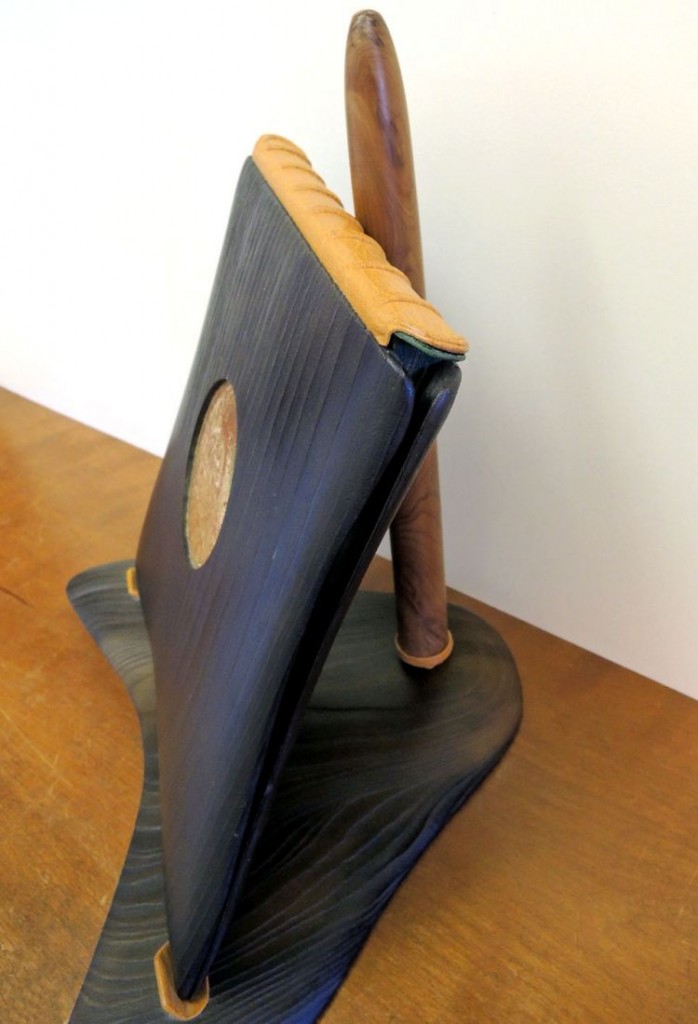 This modern translation of The Seafarer was created and published in an edition of 240 copies. Inger Lawrance cut all 43 images on wood; Kevin Crossley-Holland prepared the text from the Anglo-Saxon; and Nicolas McDowall hand-set the Albertus types, completing the printing of the book in June 1988 at the Old Stile Press.
"Ever since the tenth century, versions of The Seafarer have been committed to books, though it was no doubt part of the tradition of poems recited aloud and learned by heart. Here, Kevin Crossley-Holland has written the poem in modern English verse which retains all the Anglo-Saxon poet's passionate love for the sea while recognising its hardships and dangers.
Inger Lawrance is Danish but now lives near the stormy Northumberland coast, so the sea features prominently in much of her painting and printmaking. Her woodcutting technique was learned partly in Japan and her imagery is very spare, almost calligraphic. The book itself is somewhat delicately bound in the Japanese style but is enclosed, almost wrapped, in a portfolio of rough linen and blue buckram – as though it had survived a turbulent time at sea and is now rescued especially for the reader."—prospectus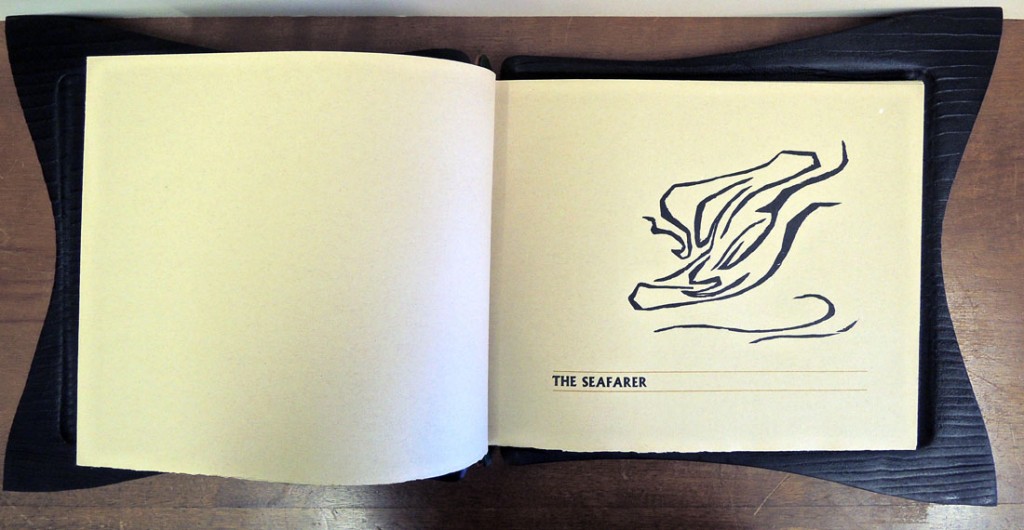 From the limited edition, ten copies were reserved for the special binding by Habib Dingle, one of which is now in the Graphic Arts Collection at the Princeton University Library. Dingle wrote in the prospectus:
"After necessary consideration of the structure and function, the design was allowed, or took, full rein to express itself in organic form…. Although the sea and seafaring are the more obvious subjects, my own reading of the poem gave me a greater sense of the mystic – to this end the circular motif, mandala like, is focal to the design – it consists of burnished and distressed gold laid on gesso raised so as to give the impression of an Anglo-Saxon emblem in the centre of the image of the sun."
The Cedar of Lebanon boards were initially roughed out with a radial saw followed by an overhead router and finally a spoke- shave. The boards were then fired using a blow-lamp and the charred wood worked out with wire-wool, before waxing. It has retained its distinctive cedar smell.