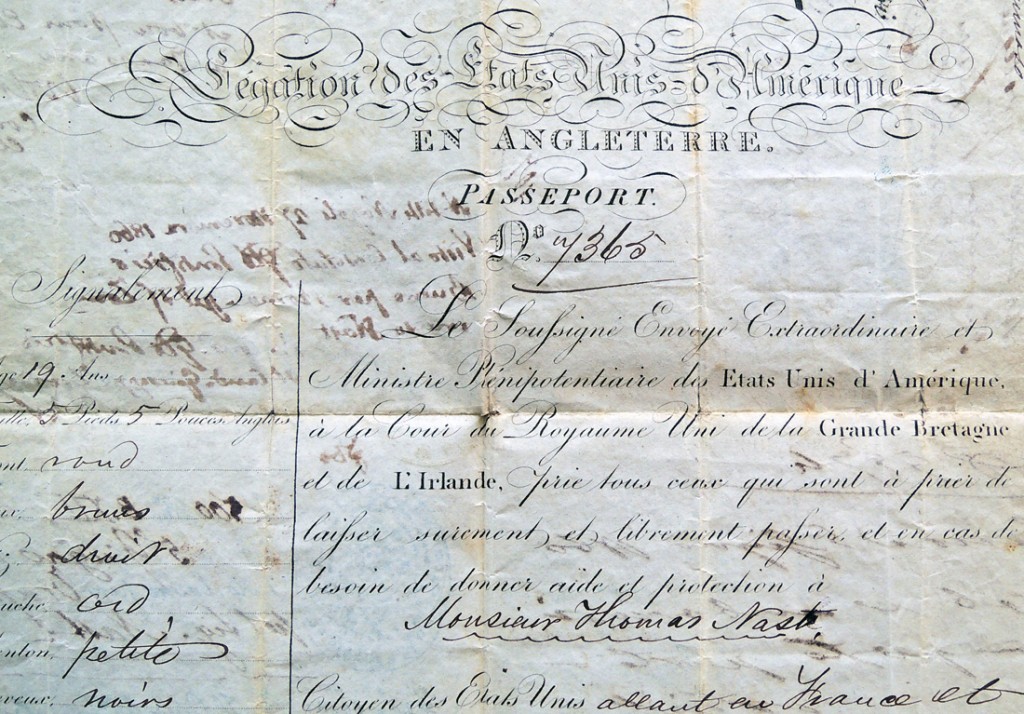 Passport no.7365 belonging to Thomas Nast (1840-1902), 17 x 10 ½", signed by G[eorge] M. Dallas, and issued to "Monsieur Thomas Nast" by the "Légation des Etas Unis d'Amérique", granting him permission to travel "allant en France et partout le Continent." London, 17 May 1860. Graphic Arts Collection GA2015- in process
The American artist Thomas Nast was nineteen years old when he was issued this passport, signed by former United States Senator and former Vice-President, George M. Dallas (1792-1864), then serving as Minister to the Court of St. James. At that time, passports included a physical description of the passport holder since no photograph was yet attached. Nast is described as a diminutive lad, 5'5" tall, with a round body, a round face, brown eyes, small chin, straight nose, brown complexion, and black hair.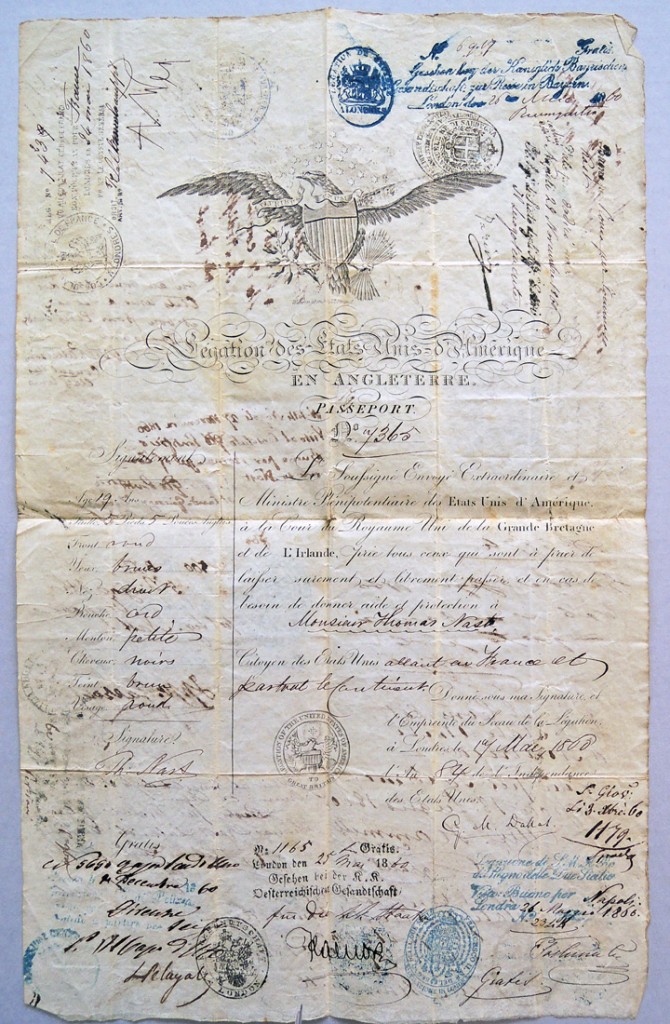 Our thanks go to the antiquarian dealer Rusty Mott, who somehow read through the entire document, which is covered with stamps and signatures on both sides. Mott records authorizations for travel to Great Britain, France, Germany, and Italy, including stops in London, Genoa, Turin, Florence, Naples, Palermo, Rome, and Trapani, Sicily. Besides Dallas, the American officials represented by their signatures and stamps include Alexander Hammett of Maryland, who for 52 years, from 1809 to 1861, represented the United States in Naples; W. L. Patterson, American consul at Genoa; and Henry H. Barstow (1823-1875), at Palermo.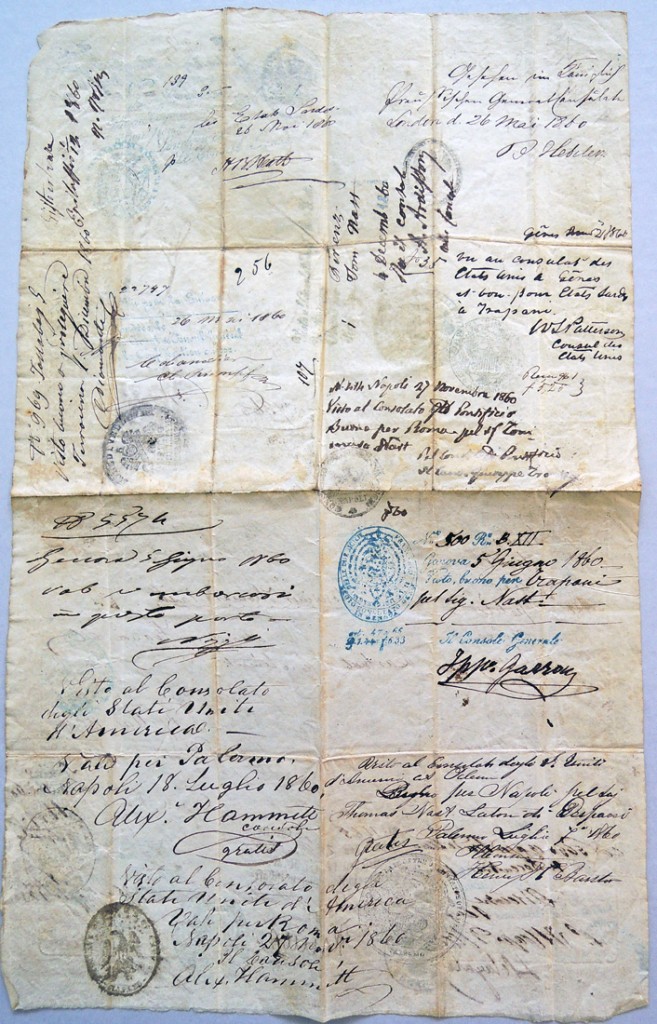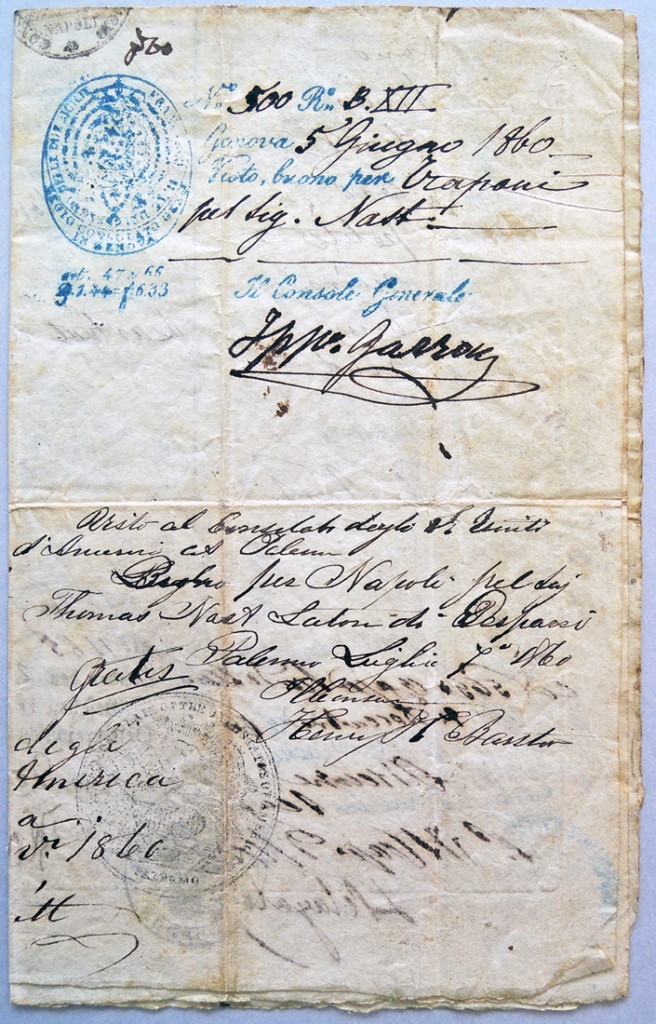 In 1859, Nast was hired by the New York Illustrated News but this passport was issued on 17 May 1860 so he could travel to Sicily representing The Illustrated London News and report on Giuseppe Garaibaldi's military campaign to unify Italy. Mott notes that "Nast had not been paid by his employer, and had no money to make his Italian trip until Heenan, the American pugilist, lent him the necessary funds. Nast followed Garibaldi from Sicily to Naples, right through the battle of Volturno, October 1-2, and his articles and illustrations covering the war captured the American imagination."
"He left Italy on Friday, November 30, 1860, making his way north to Germany, with stops in Florence, Milan, Genoa, on through Switzerland, to his boyhood home in Bavaria (hence the November and December authorizations), then back to London. He sailed for New York on January 19, 1861."
For the Graphic Arts Collection of Thomas Nast prints and drawings, see http://pudl.princeton.edu/collections/pudl0039