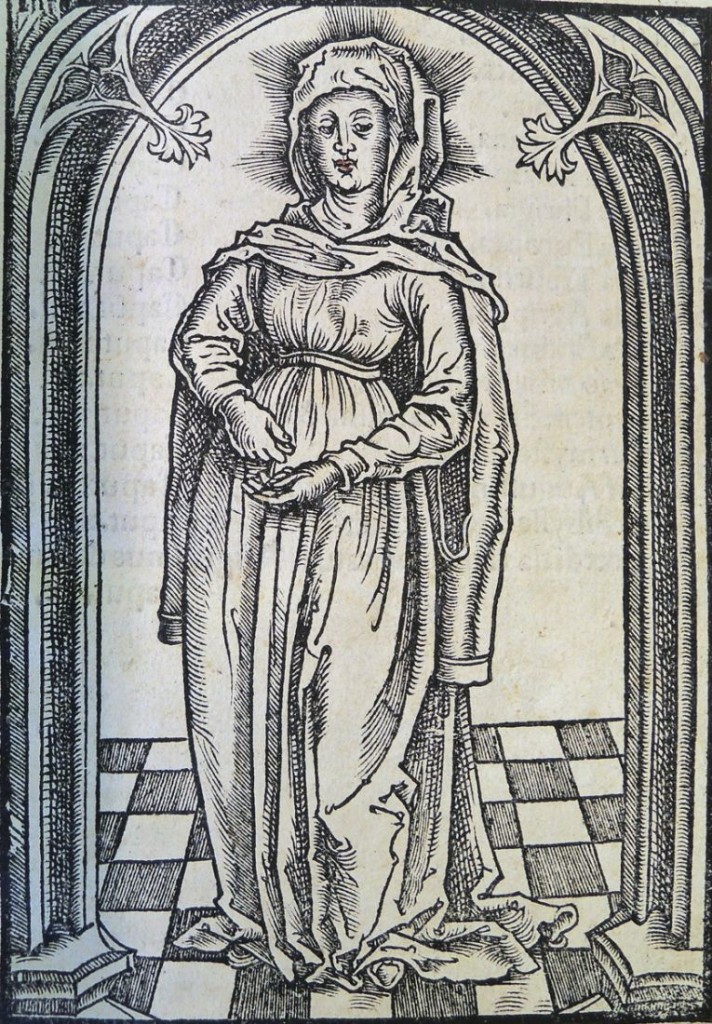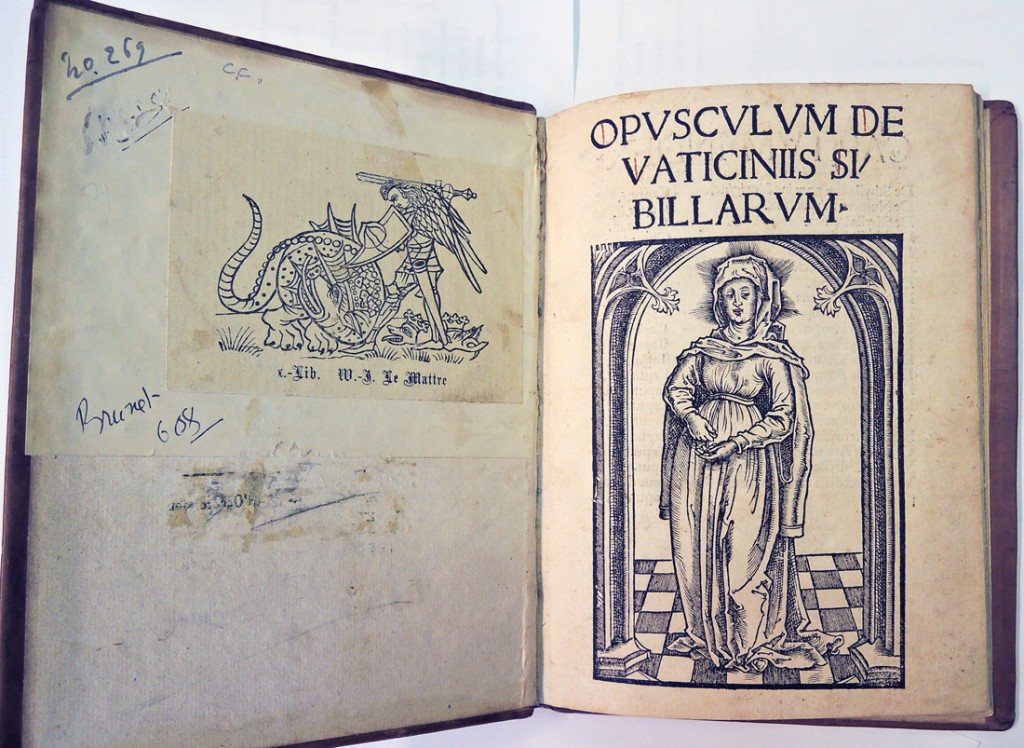 Philippus de Barberis (ca. 1426-1487), Opusculum de vaticiniis Sibillarum (Oppenheim: [Jacob Köbel, ca. 1514). Large woodcut on title-page and 12 full page woodcuts of female soothsayers. Previous owner: W.J. Le Mattre. Graphic Arts Collection GAX 2015- in process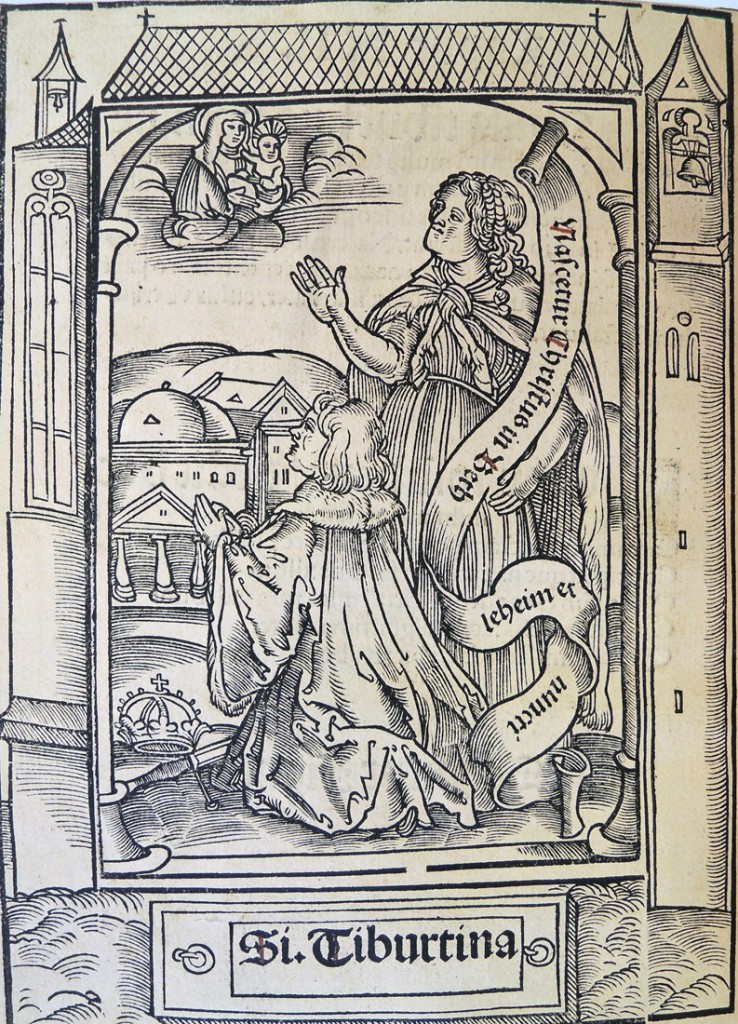 This collection of the prophecies of the Sibyls was printed by Jacob Köbel (1460-1533), who ran a press in Oppenheim from 1503 to 1532. Although there is no date in the book, we believe it was printed about 1514 (Goff B-122, after 1500). Counting the title page, there are 13 large woodcuts with quotations and architectural borders. This is not the copy owned by Arthur Vershbow but in equally good condition.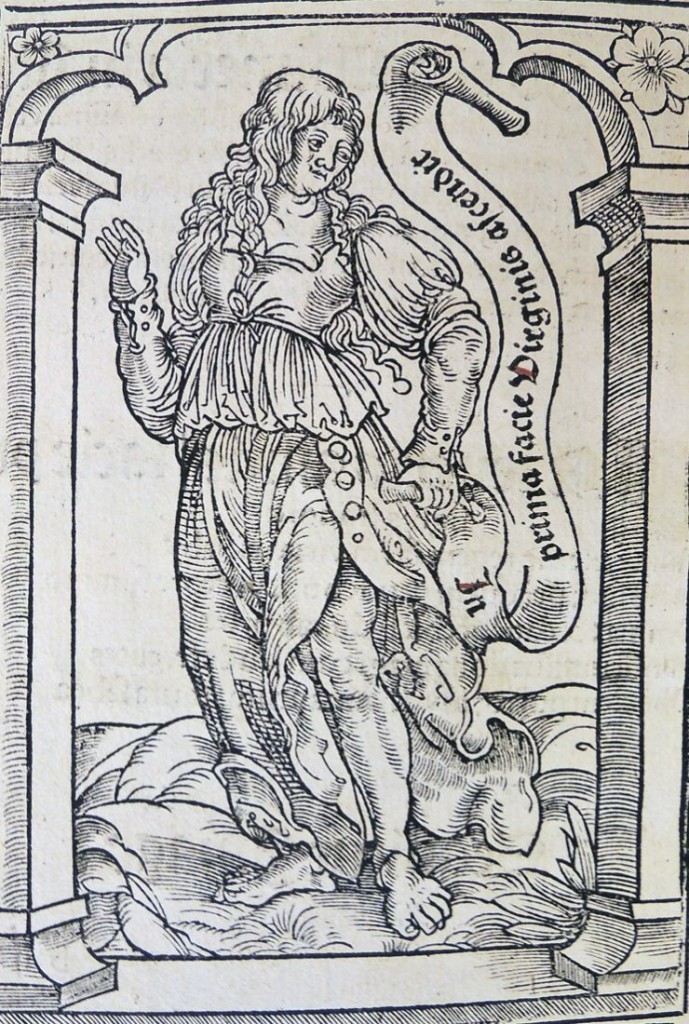 The source for the texts of the prophecies of the Sibyls is by the Dominican Philippus de Barberis, Discordantiae sanctorum doctorum Hieronymi et Augustini adiunctis aliis opusculis, which was compiled c. 1479 and appeared in several printed versions.
"L'Opusculum de his in quibus Augustinus et Hieronymus dissentire videntur in divinis litteris fu riedito in una raccolta di scritti detta Opuscula (pubblicata perla prima volta nel 1481; il titolo è ricavato dalla prefazione), con il titolo di Discordantiae sanctorum doctorum Hieronymi et Augustini (unico opuscolo della raccolta che sia opera del B.): il contenuto degli altri scritti degli Opuscula (i vaticini delle sibille, i carmi della poetessa Falconia, il simbolo anastasiano, l'orazione domenicale, la salutazione angelica, ecc.) induce a pensare che questa raccolta fosse destinata a uso scolastico; essa, comunque, ebbe una certa fortuna e varie edizioni, alcune delle quali successive alla morte del Barbieri. Iù stata avanzata dal Di Giovanni l'ipotesi che il B. fosse anche l'autore di un'opera intitolata De vita et moribus philosophorum (Codice 3. Q.q. A. III, cc, 65 della Biblioteca comunale di Palermo): centoventotto biografie di filosofi, poeti e scrittori, seguite, per meglio porne in evidenza il pensiero, da brani delle opere dei biografati. Poiché il manoscritto proviene dal convento domenicano di Palermo e fu copiato in Sicilia, poiché il B., sino al Quattrocento, fu l'unico a interessarsi di storia delle scienze, il Di Giovanni gli attribui questo lavoro, seppure con riserva. Questa conclusione tuttavia non può che rimanere allo stato di ipotesi; né si può ritenere che tale lavoro sia da identificarsi con il De inventoribus,noto soltanto attraverso la citazione della Viroruni illustrium cronica dello stesso Barbieri." Dizionario Biografico degli Italiani – Volume 6 (1964)