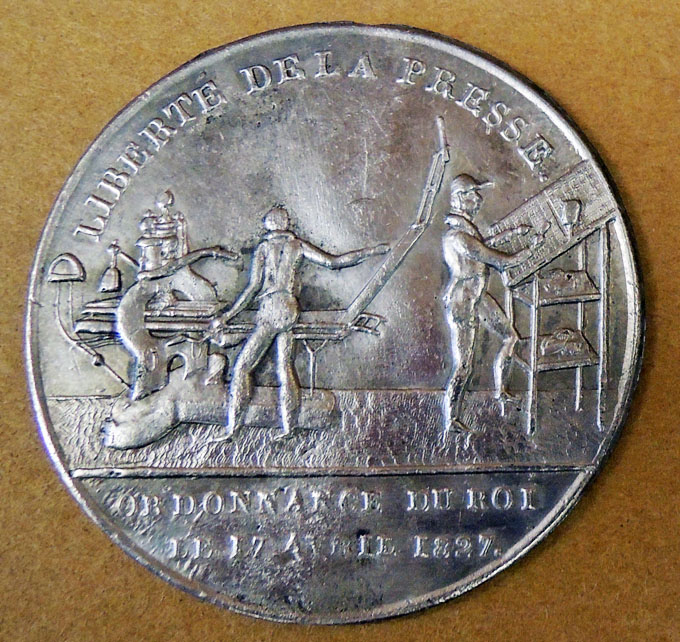 Jehne no. 323: Paris, Freedom of the Press, 1827.
Princeton's Numismatics Collection and the Graphic Arts Collection have jointly acquired a collection of 457 medals and tokens issued by printers, booksellers, and others in the book arts. A spread sheet with basic information on each one can be accessed here: Copy of MorrisMedals (1).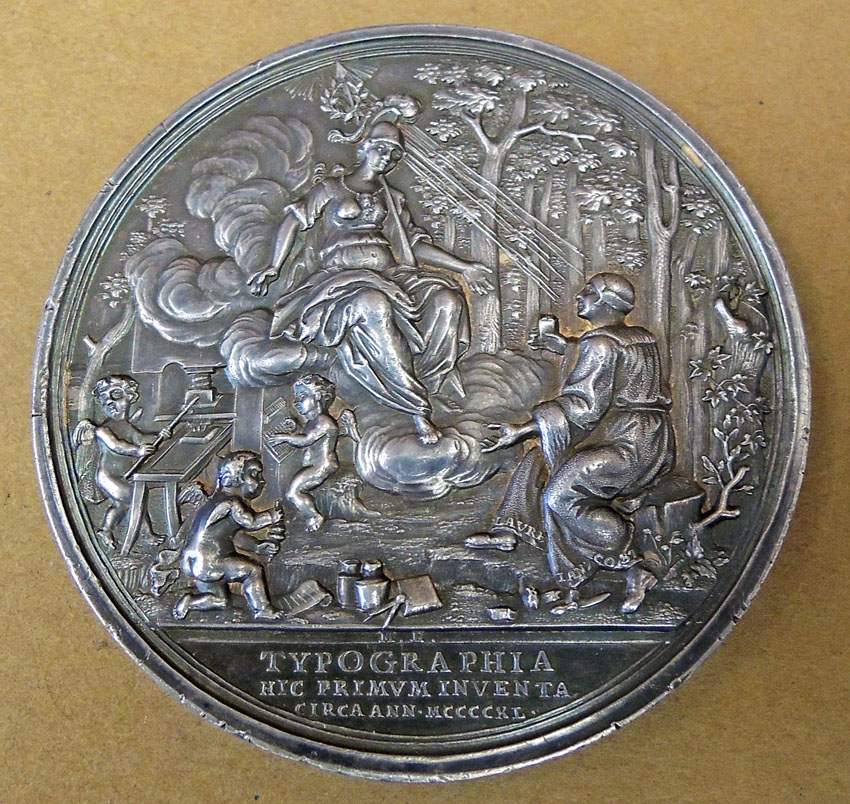 Blades 22: Harlem, 1740. "The wood near Haarlem, with Coster in the scholar's dress of his time, seated on the stump of a tree; his name being written on the hem of his tunic . . . on the border is N.H. (Martin Holtzhey), the initials of the engraver."
"This, the most ambitious of the Dutch Medals, was struck in commemoration of the 1740 Jubilee at Haarlem, by Michael Holtzhey, Medallist to the king."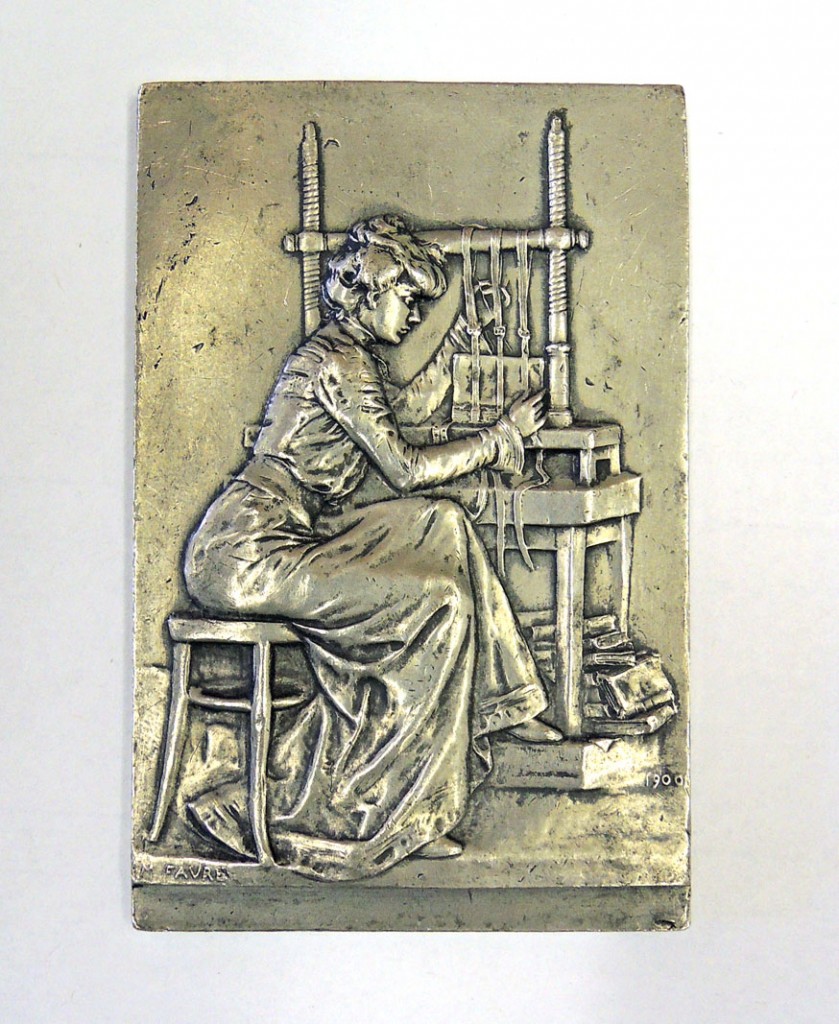 Verso: Aux amis de la Maison du Livre 1900. Ch. Meunier [publisher/binder Charles Meunier]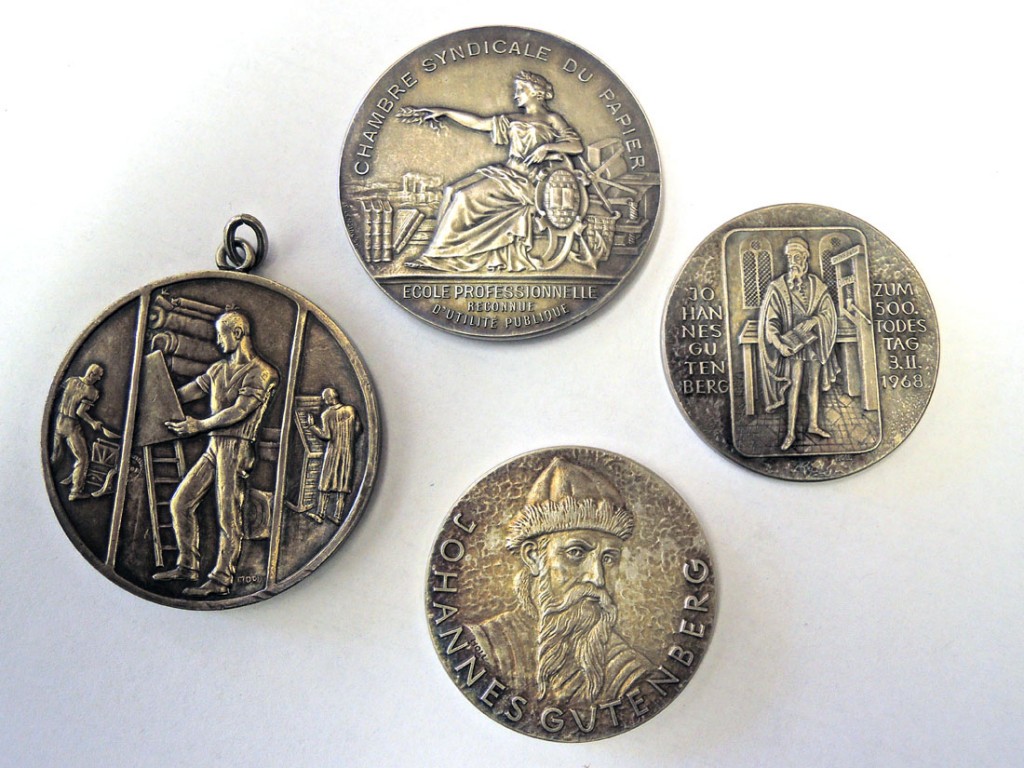 The collection is the life-work of Henry Morris of the Bird & Bull Press, who designed and printed books relating to the book arts (with additions by Robert Fleck). Morris spent many years tracking and acquiring this archive of medals and tokens, which led to a number of publication from his press, including:
Henry Morris, Trade tokens of British and American booksellers & bookmakers: with specimens of eleven original tokens struck especially for this book. Compiled and edited by Henry Morris (Newtown, Pa.: Bird & Bull Press, 1989). Graphic Arts Collection (GAX) Z234 .M677 1989
Elizabeth M. Harris, The art of medal engraving: a curious chapter in the development of 19th century printing processes (Newtown, Pa.: Bird & Bull Press, 1991). Graphic Arts Collection (GA) NE2720 .H37
William Blades (1824-1890). Rarities of Numismata typographica: four examples of early Dutch printers', bookbinders' & booksellers' guild medals : cast in sterling silver from original specimens. Descriptions by William Blades ; introduction by Henry Morris (Newtown [Penn.] : Bird & Bull Press, 1996.) Graphic Arts Collection (GA) Z234 .B632 1995
and many other titles.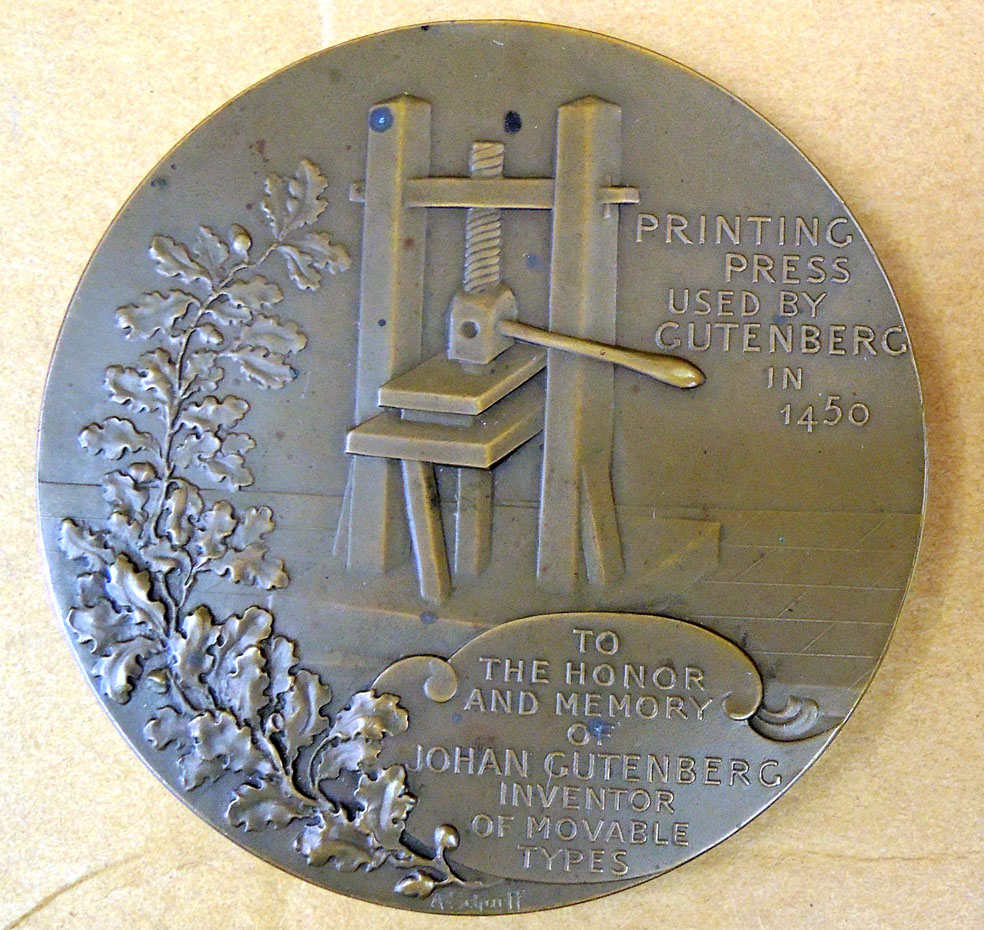 Here are a few examples of the medals. More about the tokens that Morris had produced in a later post.