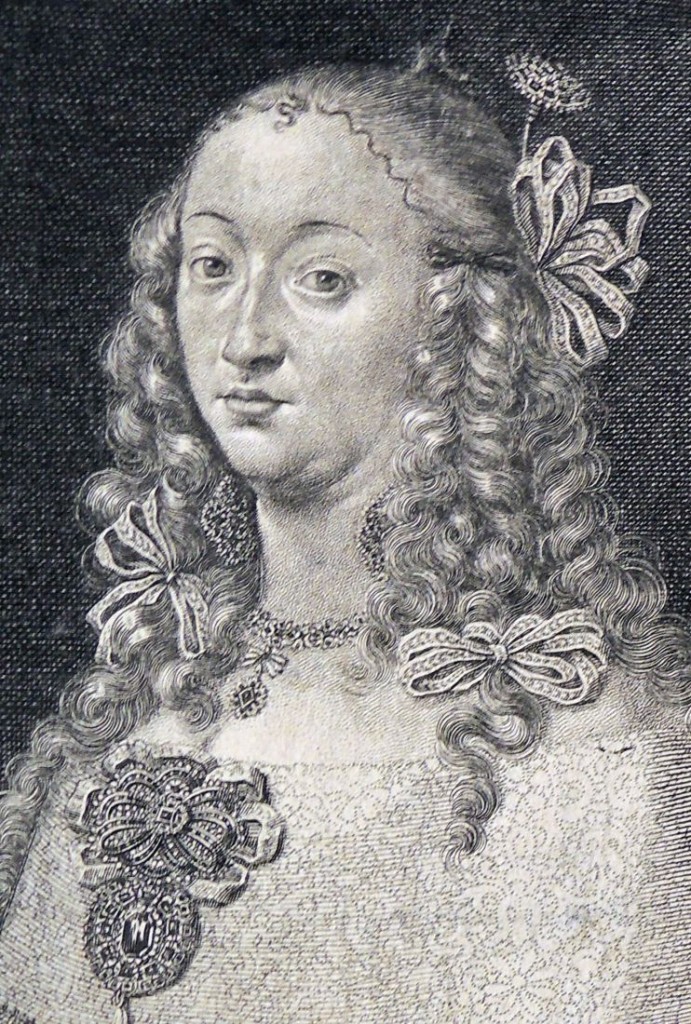 This memorial portrait of Amalie von Stubenberg (1632-1661) was engraved following her death at the age of 29.  Amalie was the wife of Georg Augustin von Stubenberg (1628-1691), a cousin and close acquaintance of Johann Wilhelm Herr von Stubenberg (1619-1663).
The print includes Amalie's family crest and her husband's at the upper corners, with two weeping putti at the bottom corners. Her portrait is framed with the words: Amalia, Herrin und Frau von Stubenberg, geborne Kevenhüllerin, Freyherrin zu Aichelberg. Ist gebohren den 9 May 1632. Starb den 26 October 1661. Ihres Alters 29 Jahr 5 Monat, 17 Tag. [Amalia, mistress and wife of Stubenberg, born Kevenhüllerin, mistress to Aichelberg. She was born on May 9 1632. Died the 26 October 1661. 29 years of age, 5 months, 17 days.]
Bartholomäus Kilian II (1630-1696), the engraver, included a few lines from a sermon by Christoph Ludwig Dietherr (1619-1687). The verse reads:
Hier ist das Tugendt-Bild, so offt für Gott getretten,
Die wol verstundt die kunst in Andachts glut zu beten,
Was sterblich an Ihr war, zeigt uns des Künstlers Handt,
Ihr Seel war Gottes Lust, sein theures unterpfandt.