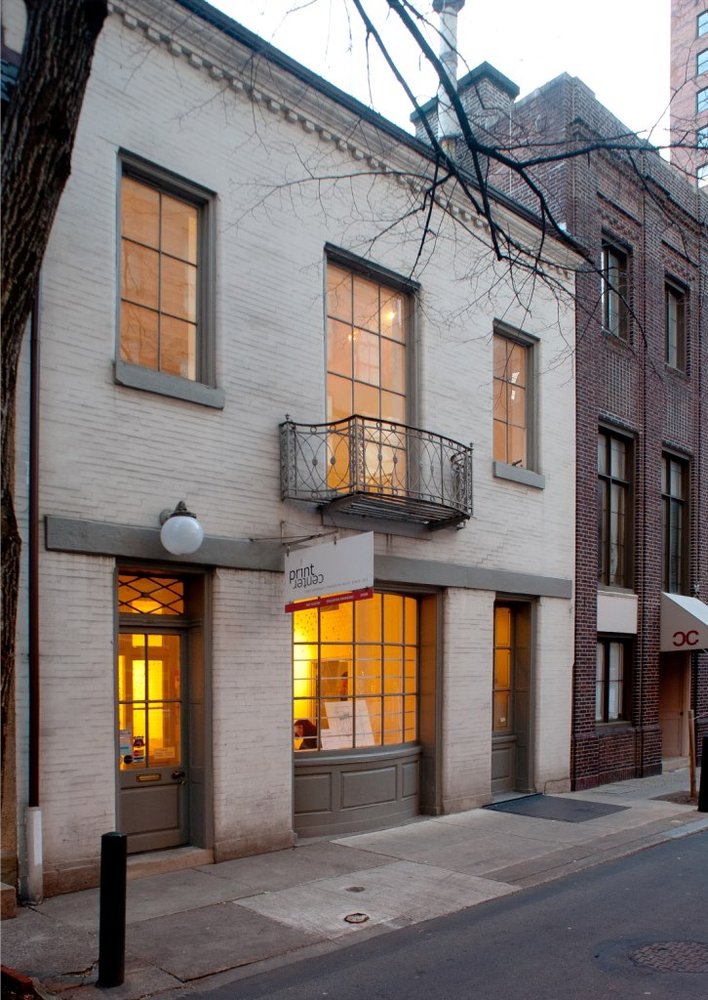 A panel discussion entitled Printmaking Now was held today at the Philadelphia Museum of Art in honor of the centenary of Philadelphia's Print Center (1614 Latimer Street). Sarah Suzuki, Associate Curator in the Department of Drawings and Prints at the Museum of Modern Art, led a discussion exploring the inventive uses of print with artists Rirkrit Tiravanija and Elizabeth Peyton, along with David Lasry of Two Palms Press.
This was only one of 100 exhibitions, publications, and programs scheduled over the next few months to celebrate Print 100. Founded in 1915 as the Print Club, the Center was one of the first venues in this country dedicated to the appreciation of prints. The organization was established to support the "dissemination, study, production, and collection of works by printmakers, American and foreign." In 1942, The Print Center donated its collection of prints to the Philadelphia Museum of Art forming the core of their fledgling print department.
A digital guidebook to events is available here.
The list of activities begins with events at The Print Center:
1. Gabriel Martinez: Bayside Revisited
2. Recollection: Group Exhibition
3. New Website for The Print Center
4. The Print Center Timeline
5. Print Center Stories – Personal Recollections
6. The Print Center 100 Announcement Poster
7. The Print Center 100 Guidebook
8. Gala
9. Street Party
10. Centennial Portfolio
11. WHYY Friday Arts Feature
12. The Legacy of The Print Center, Lecture
13. Kayrock Screenprinting, Pop-up Shop
14. BYO Social, The Print Center Publications
15. Book Launch, Printeresting's Ghost
16. Writer's Workshop with artblog & The St. Claire
17. PECO Crown Lights
18. Open Door, Philadelphia Sketch Club
19. Artists Takeover of The Print Center's Instagram
20. Neighborhood Social with Center City Residents Association
21. Emerging Collectors Event
22. Centennial Members Closing Party
23. Centennial Publication
24. New Commission: Amze Emmons
25. New Commission: Julia Blaukopf
26. New Commission: Henry Horenstein
27. New Commission: Dina Kelberman
28. New Commission: Ken Lum
29. New Commission: Dennis McNett
30. New Commission: Critical Writing
Numbers 31-60 are on view in The Print Center's first floor gallery September 18 to December 19, 2015. The exhibition highlights art, ephemera and objects drawing out their history, mission and evolution from a club to an internationally recognized voice in printmaking and photography.
Numbers 61-100 are exhibitions, programs, and projects presented as part of The Print Center 100 by their partners in the Philadelphia region and beyond.