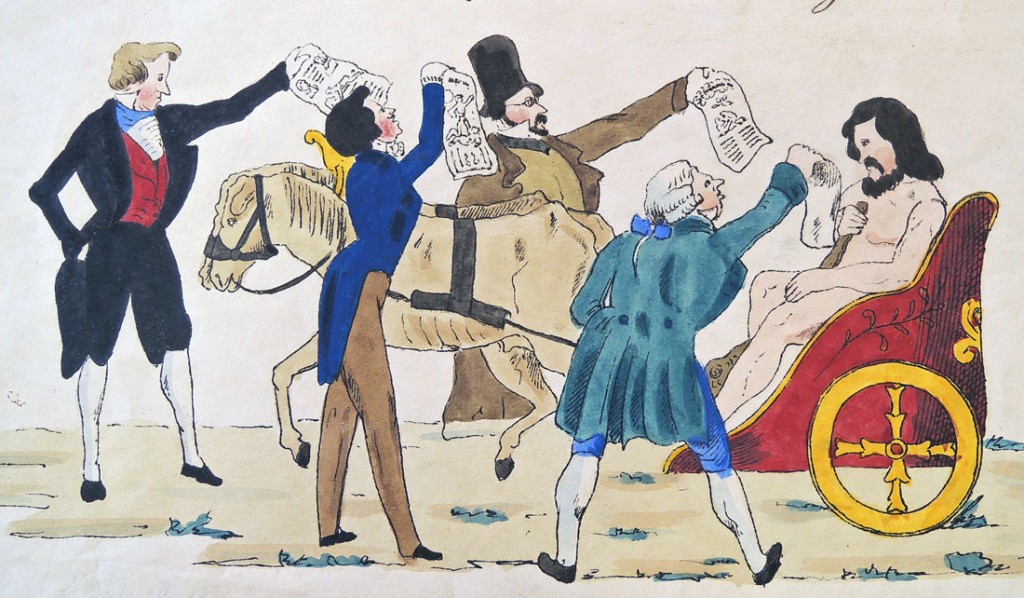 Jean Dupuis (1799-1888) was a celebrated French athlete, circus performer, and wrestler who would traveled from town to town, performing feats of strength. He would lift a variety of heavy objects and then, challenge the strongest man in the town to a wrestling match, offering prize money to anyone who could defeat him.
He managed to remain undefeated for a number of years, fighting predominantly in Germany but also in Paris, Moscow, Rome, and Warsaw. Finally, on January 22, 1841, Dupuis lost a fight at the Munich Royal Theatre. A rare satirical broadside (above and below) was published celebrating this defeat at the hands of a Munich servant known only as Simon. The charming illustration shows Dupuis as a defeated half naked Hercules collapsed in his chariot as four Munich citizens wave his broadsides at him. These may well be the four men who wished to fight him. Dupuis only agreed to fight two and was defeated in his second bout.
Only one other copy of the Dupuis defeat broadside has been found in the Germanisches Nationalmuseum in Nuremberg and that copy is uncolored.The Stadtgeschichtliches Museum Leipzig (City Museum of Leipzig) has a number of Dupuis wrestling broadsides, although not these two. The distinctive wrestling woodcut at the bottom of this post was owned by Dupuis as it is used in two other broadsides by him.