"Franklin McMahon, an artist who defied journalism's preference for photographs to make a renowned career of drawing historic scenes in elegant, emphatic lines, died on Saturday in Lincolnshire, Ill. He was 90." So begins the artist's obituary written by Douglas Martin for the New York Times, March 7, 2012.
Martin continues, "With sketch pads in hand, Mr. McMahon covered momentous events in the civil rights struggle, spacecraft launchings, national political conventions and the Vatican, turning out line drawings for major magazines and newspapers. Many were later colored by watercolor or acrylic paints, and most rendered scenes in a heightened, energetic style. His goal, he said, was to step beyond what he considered the limitations of photography to 'see around corners.'"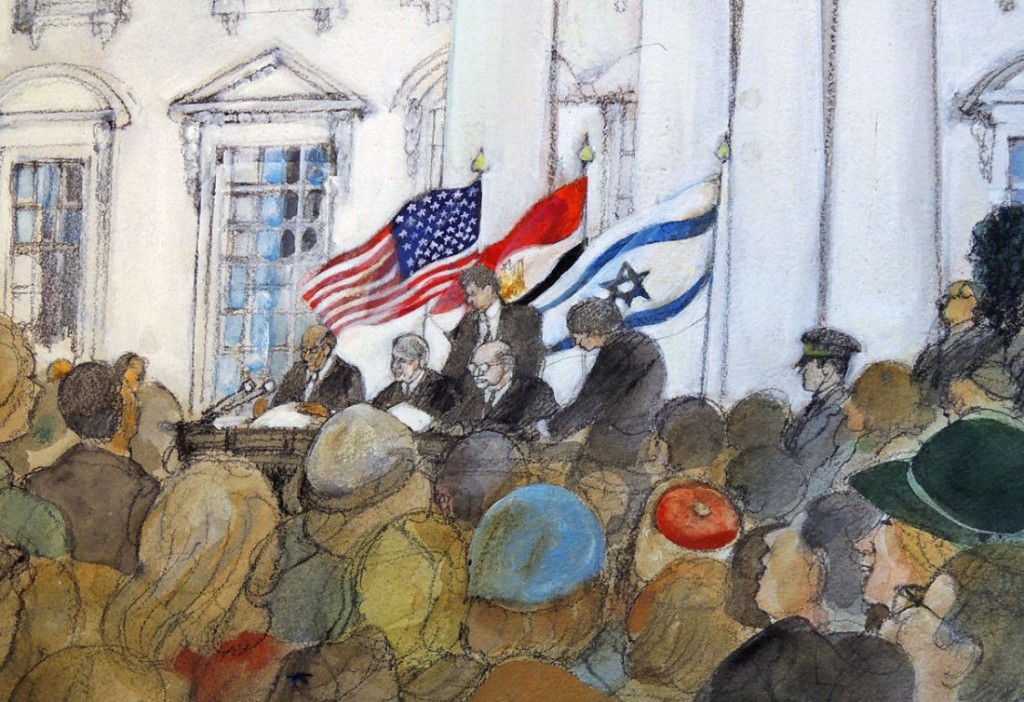 The Graphic Arts Collection is pleased to have acquired several important paintings on paper by Franklin McMahon (1921-2012), documenting key moments in recent American history. We thank, in particular, his granddaughter Irene Burke, Class of 2016 and a member of the PUAM Student Advisory Board, for her help with these acquisitions. We also thank Jeremy Darrington, Politics Librarian, and David Magier, AUL for Collection Development, without whom these acquisitions would not have been possible.
The first of our McMahon paintings documents the historic signing of the Israeli/Egyptian Peace Accord at the White House.
"On March 26, 1979, in a ceremony hosted by U.S. President Jimmy Carter at the White House, Israeli Prime Minister Menachem Begin and Egyptian President Anwar Sadat signed the Israel-Egypt Peace Treaty, the first peace treaty between Israel and an Arab country." [Posted by The New York Times Learning Network, March 26, 2012]

"At the signing ceremony, all three leaders offered prayers that the treaty would bring true peace to the Middle East and end the enmity that has erupted into war four times since Israel declared its independence on May 14, 1948."

"Israel and Egypt had been in a state of war since the Arab-Israeli War, which occurred immediately after the founding of Israel. Following the 1973 Yom Kippur War, the two nations began indirect peace negotiations through U.S. Secretary of State Henry Kissinger, who engaged in "shuttle diplomacy" by meeting with each nation's representatives.

President Carter took a different approach when he took office in 1977, by inviting Israeli and Egyptian leaders to multi-lateral talks. In 1978, President Carter, President Sadat and Prime Minister Begin met secretly at Camp David in Maryland, where they agreed to the framework for the peace treaty and for the establishment of self-rule for Palestinians living in the West Bank and the Gaza Strip. Both Sadat and Begin were awarded the 1978 Nobel Peace Prize for the Camp David Accords."
For an in depth discussion of the events leading up to the signing, see the Carter Center's transcript from the Camp David 25th Anniversary Forum held in 2003.