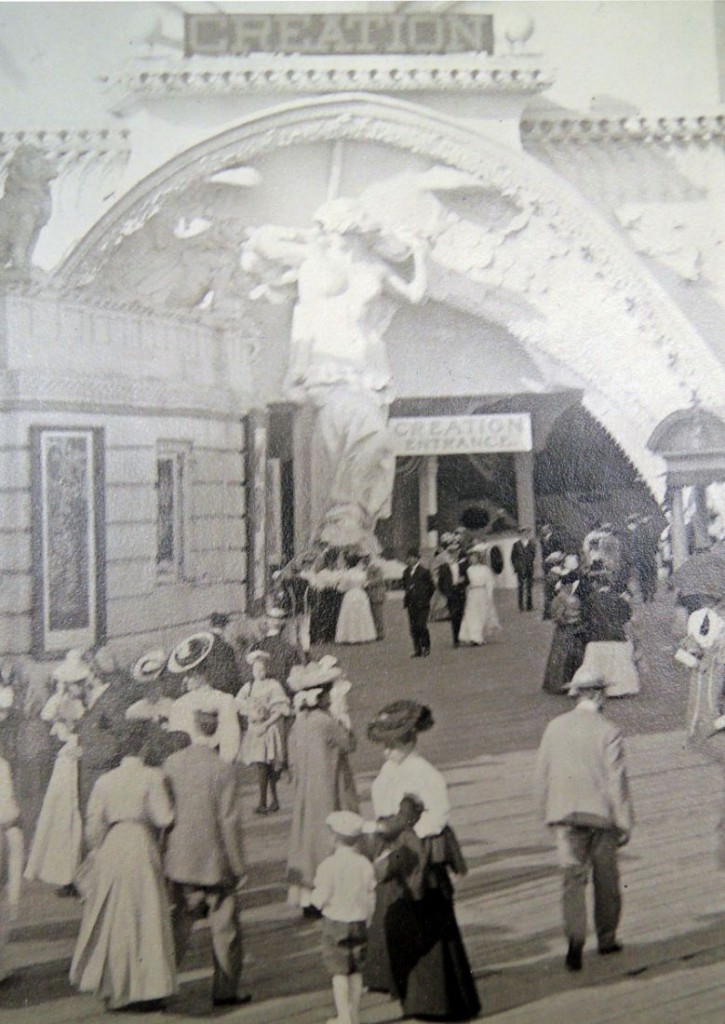 London-born illusionist Henry Roltair (1853-1910) designed "Creation at the Pike" (also called Roltair's Creation) for the St. Louis World's Fair in 1904. Lasting over two hours, the ride took spectators through the biblical story of creation as described in the book of Genesis. Visitors were also shown the great wonders of the world, including the Grand Canyon, the Egyptian pyramids, and other international sites.
In 1905, the work was recreated and installed on Surf Avenue, Brooklyn, to serve as the entrance to Dreamland at Coney Island. The ride was shorter than the original but covered the same biblical theme of creation. Both the Creation ride and Dreamland continued until 1910 when its owner William Reynolds went bankrupt. The following year, Dreamland was destroyed in a fire.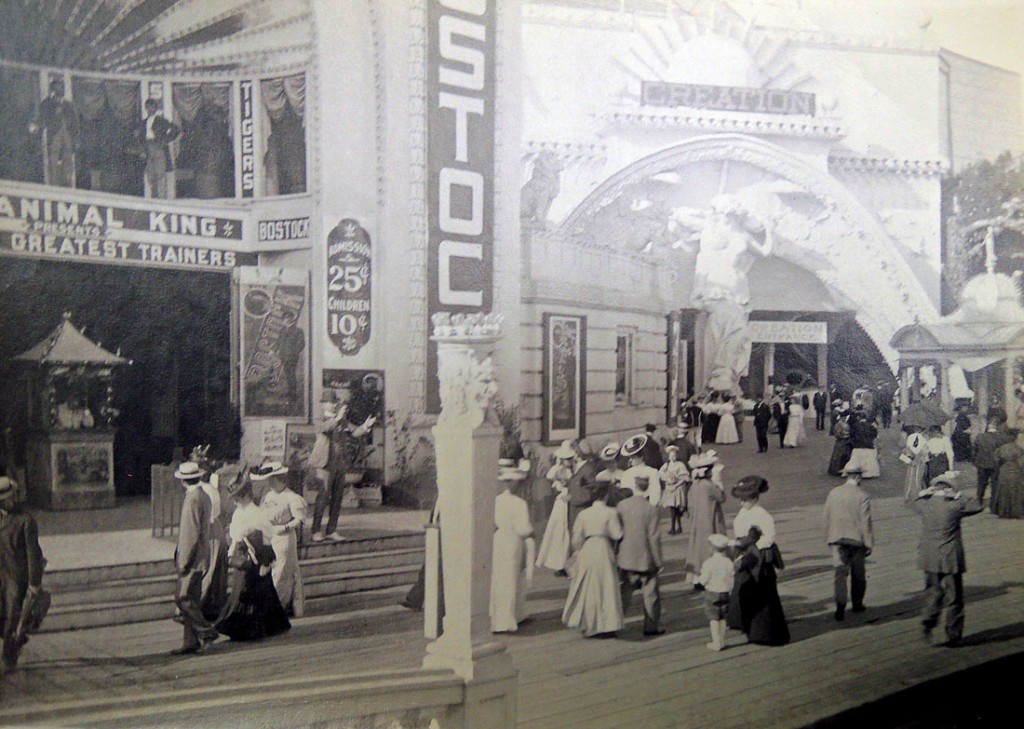 "Dreamland's Big Statue took twenty-three men two weeks to make moulds for 'Creation,'" New York Tribune May 4, 1905:
"The allegorical figure, 'Creation' at the entrance to Dreamland, Coney Island, entailed in its erection unusual difficulties. The figure is that of an angel with extended wings which measure from tip to tip eighty feet. Its height is forty feet. It as the intention to bring to Dreamland the original figure which stood in front of the 'Creation' building at the St. Louis Fair but it was found that the original statue contained so much iron work that it would be impossible to cut it into sections for transportation. It became necessary to make a mould of this figure, the largest piece of statuary ever seen in this country except the Statue of Liberty. A Creatry & Co. contractors in ornamental plaster work, agreed to do the work and President Reynolds made the necessary contract with them. Mr. Creatry of that firm, who reproduced the statue and the ornamental work on the façade of the dreamland building said that it was the most difficult work he had ever undertaken. Two weeks were required to complete the moulds. . . Herman Leon [possibly Charles Herrmann-Leon, 1838-1908], a French sculptor made the original model of 'Creation'. In all its dimensions it is that of the perfect woman. Ten women posed for different parts of the statue."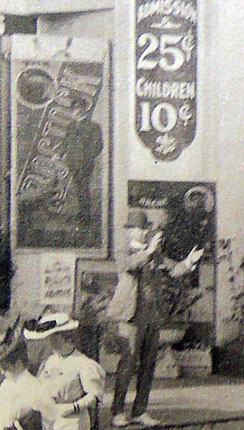 Here is a short film of Dreamland in 1905. You will see the entrance to Creation about halfway through, just after the camel. The wings are not yet installed.
The gelatin silver photograph above was made between 1905-1910 by amateur photographer Thomas William Kennedy (1837-1923).