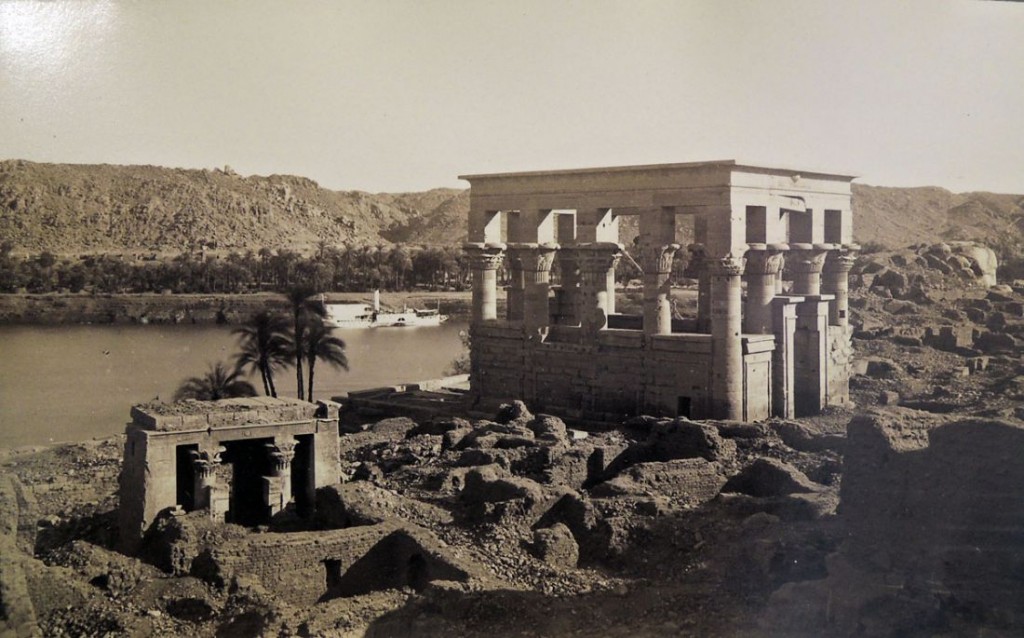 In 1882 the American journalist Edward Wilson traveled to the Middle East. His obituary described this as "the largest photographic expedition ever attempted in those countries, visiting and photographing through Egypt, Arabia and Palestine. Returning to America he utilized the vast source of pictorial material thus secured in the lecture field and in the preparation of articles for The Century and Scribner's Magazine, His exploration of the buried city of Petra in Arabia was recognized by savants as a distinct achievement. In recognition of the value of his work in the East, as supplying lost links in Biblical history, the Washington and Jefferson College of Pennsylvania honored him with the degree of Doctor of Philosophy." —Wilson's Photographic magazine July 1903.
Wilson's glass negatives were transported and stored for ten months before printing yet the resulting prints are crisp and powerful. He published this print in his own magazine Wilson's Photographic Magazine (previously The Philadelphia Photographer) with the following explanation:
We offer our readers this month another memento of our Nile travel. The picture before us is a view in the Nubian district. Sailing along the Nile towards the cataracts, there suddenly burst upon the astonished vision of the traveler one of the most lovely sights imaginable; a scene fantastic as a dream, an echo of the past reflected in the present. …The view before us was taken from the top of the famous temple of Isis, on the Island of Philae, and presents in the immediate foreground the ruined kiosk of their goddess, whose mysteries were worshiped over the whole of Egypt, and even found devout votaries among the most distinguished of the Greeks and Romans. Winding about this lovely gem; we see the Nile flowing in beautiful curves, and in the distance the Nubian hills. It may be of interest to know that the little steamboat which lies moored has since been lost.

The plates upon which the subject was made were six in number, every one of which turned out perfectly satisfactory, although the exposures were made in the month of January 1882 and not developed until the following October. Having survived all the vicissitudes of travel, they revealed to us again when placed in the developing tray, a renewed impression of the beautiful scene we had beheld, and we trust that our readers may gain an adequate idea of its loveliness from the beautiful print we present them in this number.
After a series of articles in Century Magazine, 150 of Wilson's Middle Eastern photographs were engraved on wood and published by Scribner's as In Scripture Lands: New Views of Sacred Places (1890). Firestone recap 1793.977