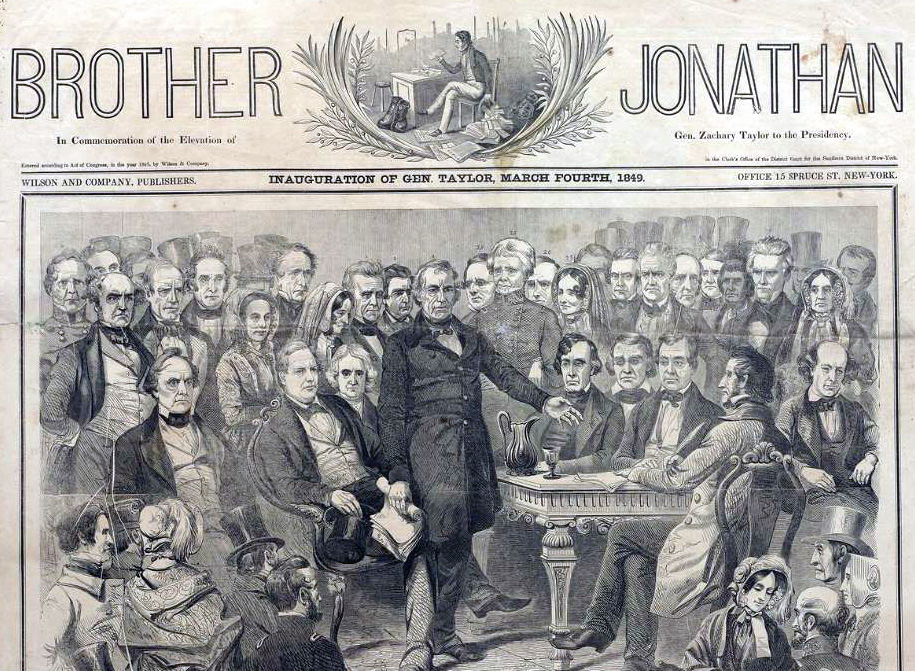 In the winter of 1860, an advertisement was posted in several urban newspapers: Pictorial Brother Jonathan for Christmas and New Years. The Great Holiday Sheet of Pictures for 1860. The Mammoth Brother Jonathan this year stands Unrivalled! It positively can't be beat! Price 12 Cents per copy—Ten for One Dollar. The copy continued:
"The Pictorial Double Brother Jonathan for Christmas and New Years was first issued in the year 1840-—just twenty years ago. It was at that time such a novelty that the demand for it continued three or four months, and even then the circulation reached eighty thousand copies. Since that period it has been issued regularly each year, with the avearage [sic] sale of over one hundred thousand copies for every number. Among the Newsvenders, the Brother Jonathan is extremely popular, as they never have a copy of it leftover unsold.

The immense size of the Mammoth Double Brother Jonathan enables us to give in it a profuse amount of reading and still leave room for the great number of Elegant Large Pictures. Altogether, you will find it to be a paper unsurpassed in interest, in point of handsome embellishment and agreeable reading. We give away this elegant Pictorial Paper to every yearly and half-yearly subscriber to the Weekly Brother Jonathan. The Christmas and New Years Pictorial Brother Jonathan will be sent, post-paid, to purchasers at 12 cents per single copy, or ten copies for One Dollar; but if you [subscribe] to the weekly paper, you will get a copy of the pictorial for nothing. Be sure to mention that you want the Pictorial Brother Jonathan, to prevent any mistake. Send cash to B. H. Day, 48 Beekman-Street, New York."
We are thrilled to announce that Princeton University Library's rare collection of 23 mammoth issues and 2 prospectuses of the Pictorial Double Brother Jonathan have been cleaned, flattened, repaired, catalogued, digitized, and posted online for the public to read and enjoy.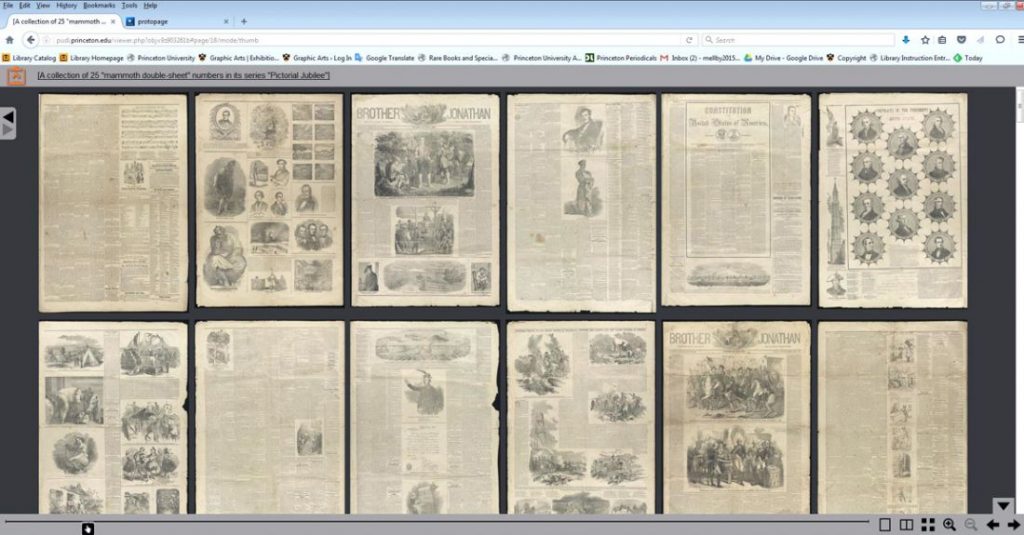 Brother Jonathan [A collection of 25 mammoth double-sheet numbers in its series Pictorial Jubilee] (New York: Wilson & Company, 1845-1860). Permanent Link: http://arks.princeton.edu/ark:/88435/9z903261b
Sizes vary, primarily 81 x 56 cm.
Princeton University Library holdings:
July 4, 1845
July 4, 1846
July 4, 1847
[1847?] An illustrated history of the victories and conquests … (gift of Sinclair Hamilton)
[Dec. 1847] Christmas/New Year
July 4, 1848
March 4, 1849
No. 22 [Dec. 1850] Christmas/New Year (gift of Sinclair Hamilton)
No. 23, July 4, 1851
[1852?] Prospectus or advertising sheet for Christmas and New Year
No. 25 [Dec. 1851] Christmas/New Year 1852 (gift of Sinclair Hamilton)
Vol. 13, no. 28, June 26th, 1852 [4th of July]
[Dec. 1852] Christmas/New Year
July 4, 1853
July 4, 1854
[Dec. 1854] Christmas/New Year (2 copies)
[Dec. 1855] Christmas/New Year
[Dec. 1856] Christmas/New Year
Vol. 18, no. 317, December 12, 1857 Christmas/New Year
Vol. 18, no. 344, June 19 1858, [4th of July]
Vol. 18, no. 369, Dec. 11, 1858, Christmas/New Year
Vol. 19, no. 397, June 25, 1859 [4th of July]
Prospectus or advertising sheet for Christmas and New Year
Vol. 19, no. 421, December 10, 1859, Christmas/New Year
Vol. 20, no. 474, Dec. 15, 1860, Christmas/New Year.
Over the years, these wonderful issues have been called Brother Jonathan Pictorial; Double Sheet Brother Jonathan Pictorial; Jubilee Sheet Brother Jonathan; Jubilee Number Brother Jonathan Pictorial Double; and so on, making them not only difficult to find but hard to describe.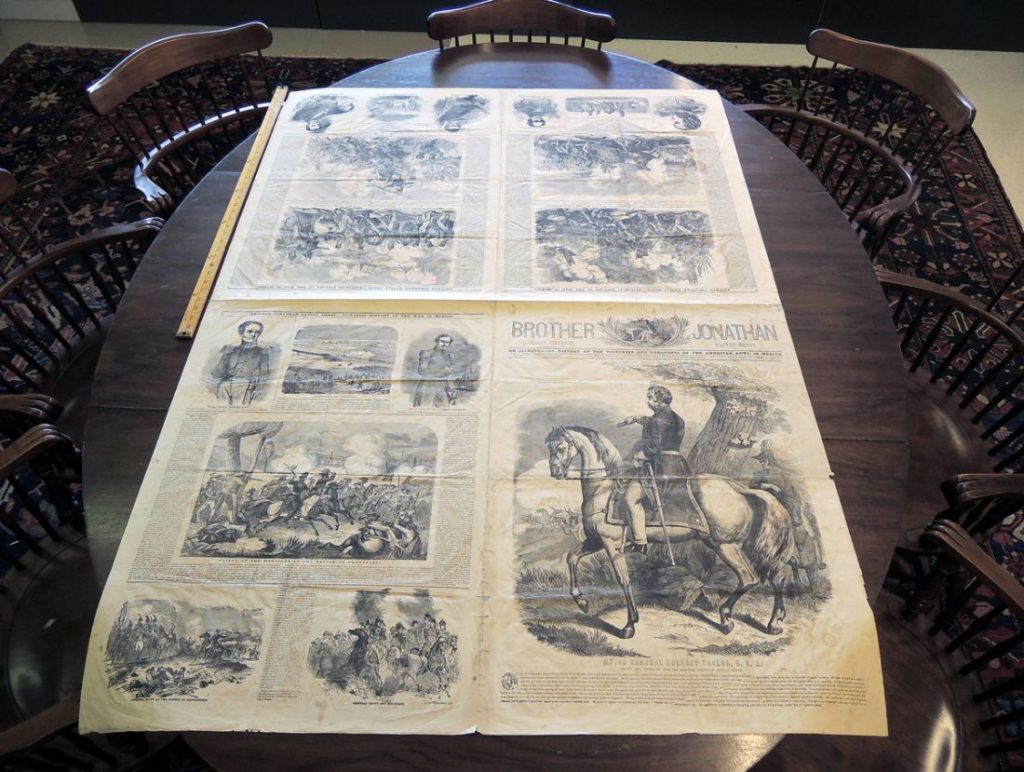 One of the many benefits to having these mammoth newspapers online is the ability to zoom in and see details. Several of the double-page spreads hold wood engravings 3 feet tall by 4 feet wide. Artists such as Frank Leslie (1821-1880) perfected the technique of dividing a scene between many small woodblocks and then, reassembling the blocks once they are engraved. Even zooming in, it is hard to see evidence of the individual blocks.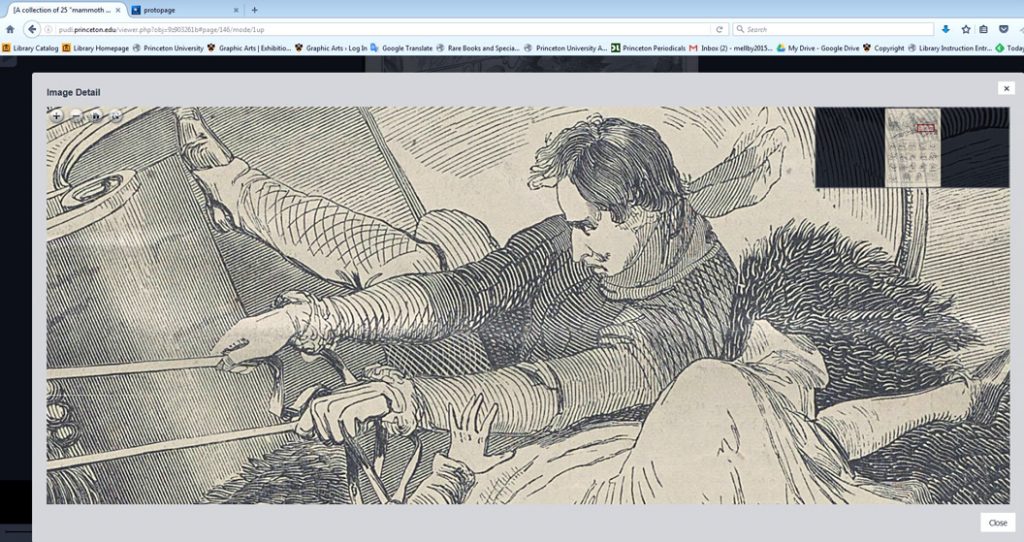 Above is a detail from below.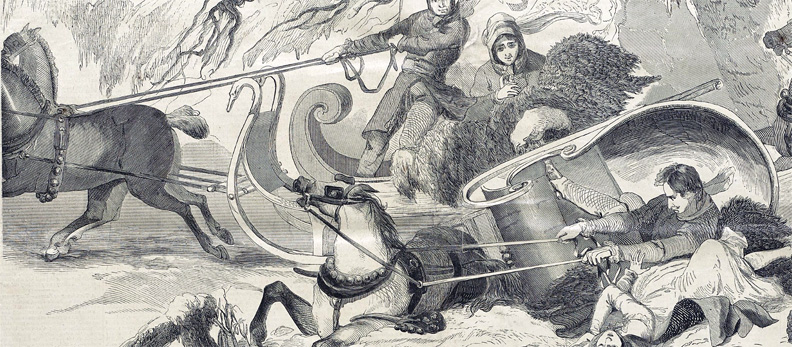 The amount of space available on these large sheets allowed for the publishing of entire novels, public orations, and complete essays. Here is a tiny portion of George Van Santvoord's essay "The Character of Robespierre and the First French Revolution."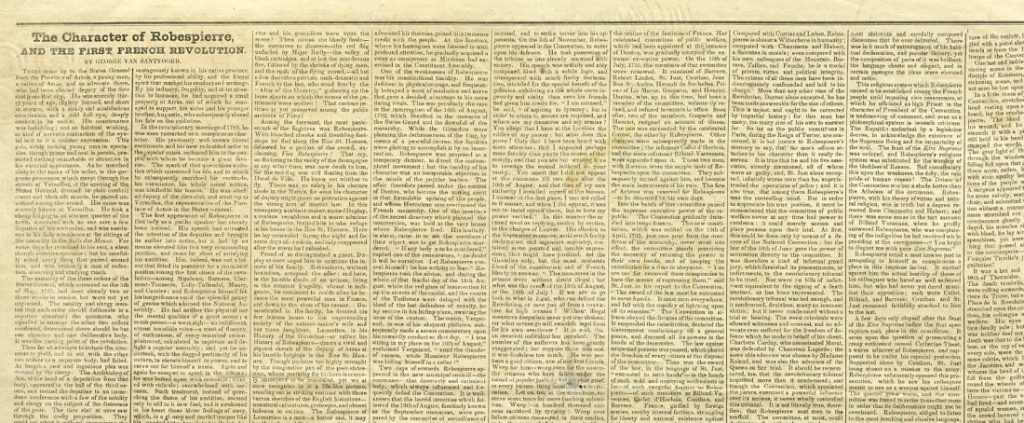 Thanks to the dozens of staff members who worked on this project, to Sinclair Hamilton who donated the first copies, and Steve Ferguson who brought this extremely rare collection together.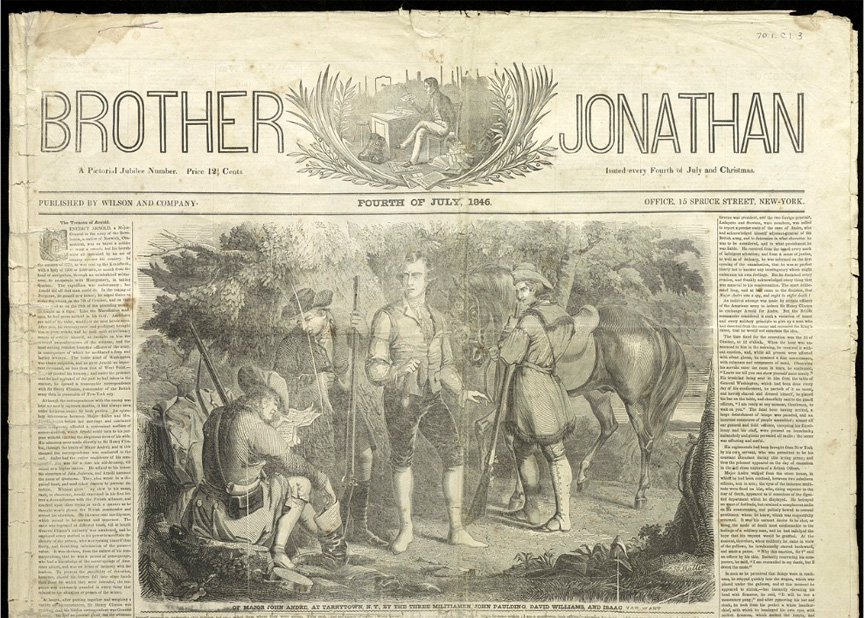 Permanent Link: http://arks.princeton.edu/ark:/88435/9z903261b