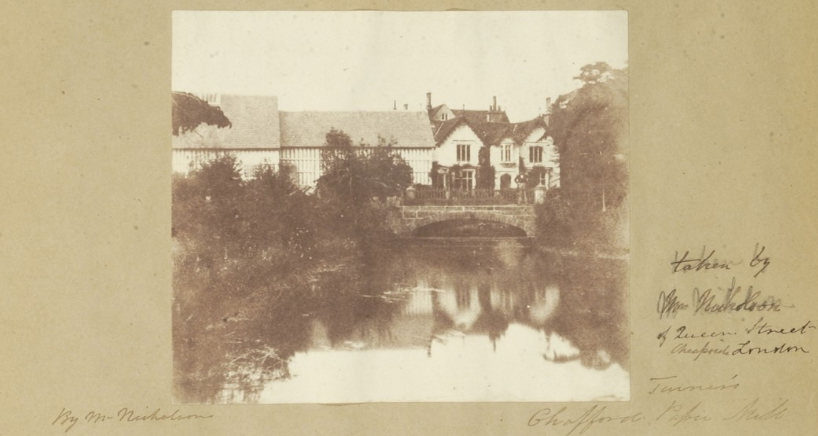 Our thanks to photography historians Jenny and Ken Jacobson, whose recent publication Carrying off the Palaces: John Ruskin's Lost Daguerreotypes (SA TR 365 .J34 2015Q) identifies another artist represented in the Richard Willats album at Princeton University (Permanent Link: http://arks.princeton.edu/ark:/88435/k930bx11x)
On leaves 35, 49, and 51 of the album are calotypes labeled 'Mr. Nicholson.' Not only have the Jacobsons identified him as James Nicholson (ca. 1815-1894), "an amateur photographer and lead and glass merchant in the city of London," but they also made the discovery that it was Nicholson who instructed John Ruskin (1819-1900) in the calotype process. Get a copy of the book to read the whole, fascinating story.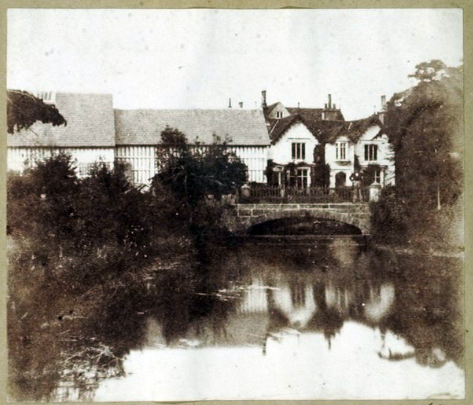 Nicholson's calotype above is cropped and photoshopped as it might have looked originally. Inscribed: Taken by Mr. Nicholson, of Queens Street, Cheapside London. Turner's Chafford Paper Mill.
The subject is the Chafford paper mill, where a special paper was made for the early photographers. A letter to the editor in The Photographic Journal instructs, "You may obtain Turner's paper, specially made for photography, of Sanford and others, who deal in photographic papers. It is generally marked in the margin with the water-mark 'R. Turner, Patent Talbotvpe,' at other times, 'R. Turner, Chafford Mills.'"—March 16, 1861, p.146.
In her history of the mill, Sarah Tanner notes, "At the time of the census in 1861 Richard Turner was still proprietor of the mill employing 34 men, 11 boys, 30 women, and 8 girls, and in 1864 is listed producing writing, drawing and bank papers, hand and machine made, copying papers tissues etc." –Sarah Tanner, "The Turner Family and Chafford Mill No 389, Fordcombe, Penshurst, Tunbridge Wells, Kent"
Inscribed: Winchester West Window from the interior by Mr. Nicholson, London, an early interior on Paper if not the first.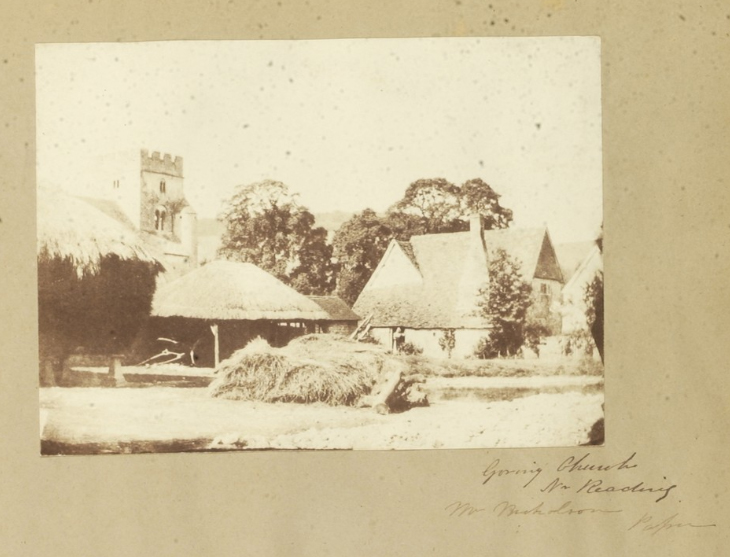 Inscribed: Goring Church Nr Reading. Mr. Nicholson, paper.
This photograph shows St. Thomas of Canterbury, Goring-on-Thames. The church is adjacent to the old Mill in Goring and it is possible Nicholson was inspired by "Goring Mill and Church," ca. 1806-07, an oil painting by Joseph Mallord William Turner (1775–1851) now in the collection of Tate Britain.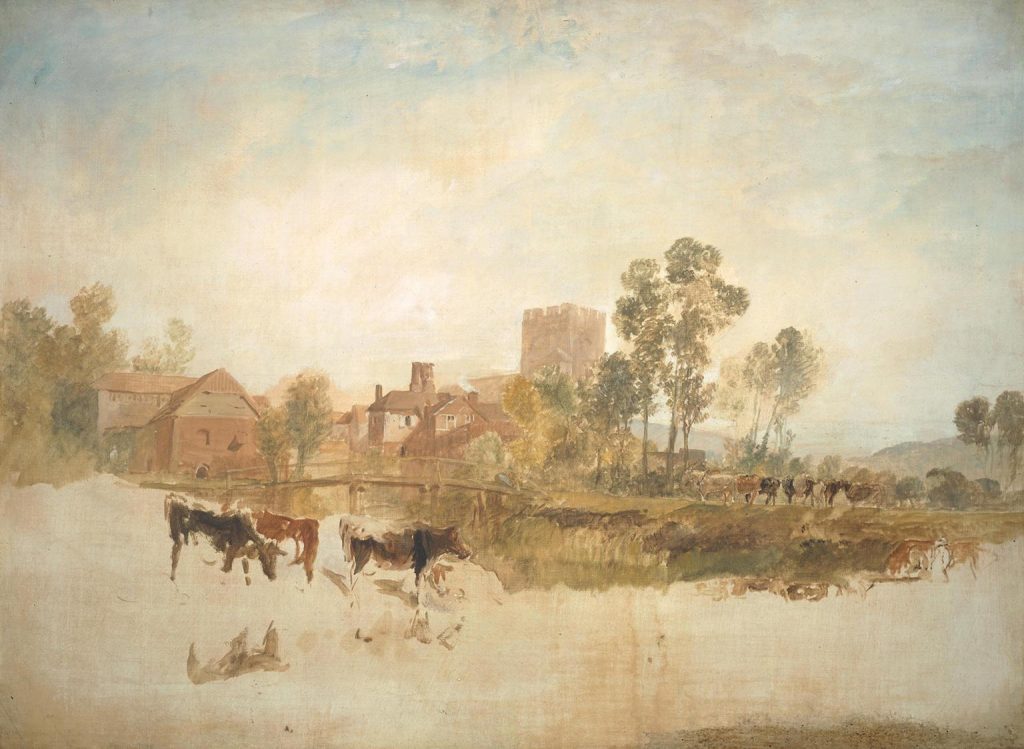 (c) Tate Britain