We are offering a guest post today written by Larry J. Schaaf, Director, William Henry Fox Talbot Catalogue Raisonné, Bodleian Libraries, University of Oxford with additional information from Tone Rasch, Curator, The Norwegian Museum of Science and Technology, Oslo, Norway. Our sincere thanks to them both.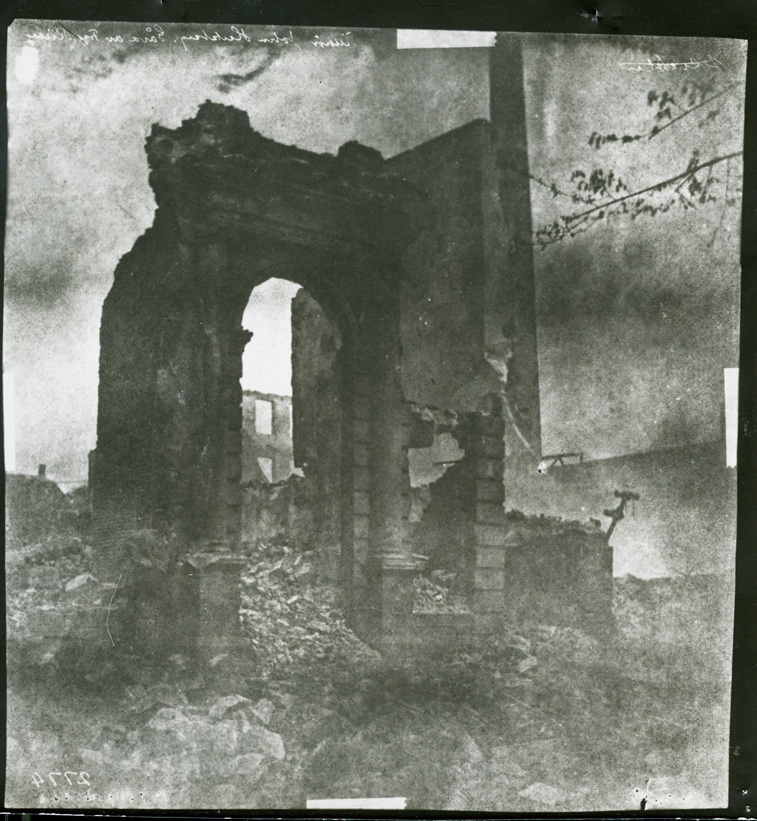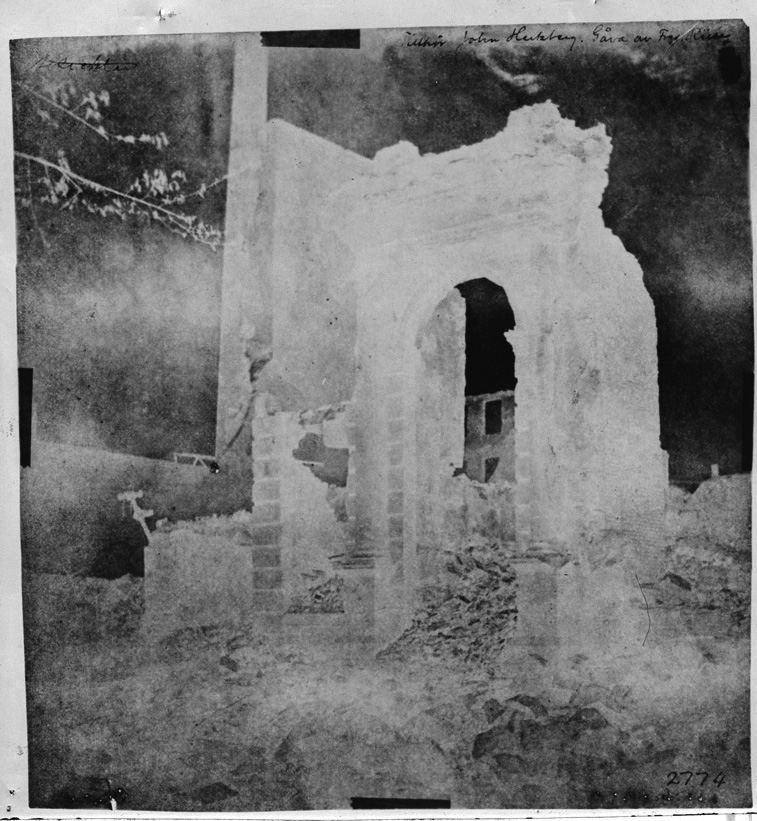 "In 2009, Tone Rasch of the Norwegian Museum of Science and Technology contacted me about a mysterious paper negative in their collection [left]. It depicts a man standing among the ruins of a once-grand urban building. In 1935 this museum had been one of the recipients of Miss Matilda Talbot's distributions of her grandfather's photographs but I knew straight away that it was not the work of Talbot.
This negative had come into the museum through the collection of the Swedish professor of photography, Helmer Bäckstöm. He had made some notes on the negative and elsewhere suggested that it was by the Edinburgh photographers Hill & Adamson.
Some years before I had catalogued Glasgow's collection of their work and I was immediately reminded of two negatives taken during the 1848 demolition of the 15th-century Trinity College Church, then shamefully being demolished to make way for Waverly Station.
http://special.lib.gla.ac.uk/hillandadamson/search/detail.cfm?Haa_GUL_Number=HA0636 and
http://special.lib.gla.ac.uk/hillandadamson/search/detail.cfm?Haa_GUL_Number=HA0758
but the association was not convincing."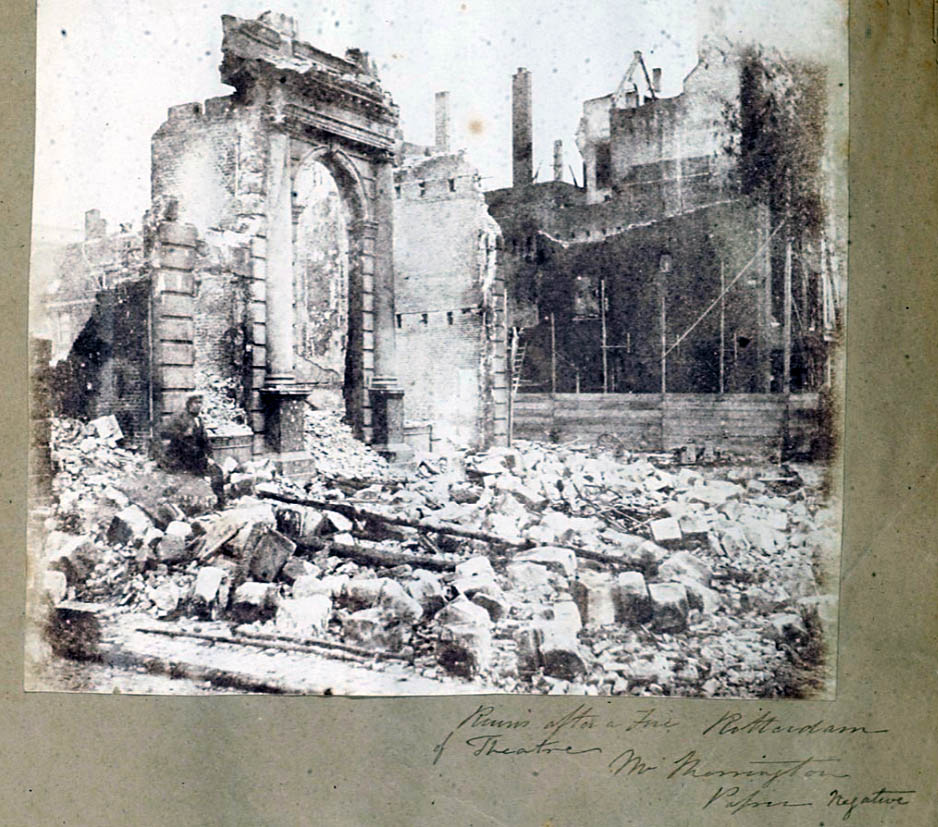 Quite separately one of the entries that I contributed to the biographical dictionary in Roger Taylor's Impressed by Light [(SAPH) Oversize TR395 .T39 2007q] a couple of years before was on John Sherrington, an English Catholic who had moved to Rotterdam in 1838 after a bank failure. http://www.luminous-lint.com/app/photographer/John__Sherrington/A/
We knew very little about Sherrington's calotypes save for the fact that some prints from them were included in the fabulous Willats album at Princeton University. Permanent Link: http://arks.princeton.edu/ark:/88435/k930bx11x [leaf 37, seen left ]
I have to freely confess that none of these disparate threads came together in my mind at the time. However, for whatever reason, last week when I was reviewing the online version of the album the memories all fell into place – it is clear that the Norwegian negative and the Willats print are from the same session.
Just when was this fire that destroyed the theatre? Surely it would have been mentioned in the accounts of the Great Fire of 1849 that destroyed the commercial heart of the city, but curiously, so far no mention of the destruction by fire of the Rotterdam theatre has been traced.
What little we know of Sherrington at this point is primarily through the fame of his daughter, the soprano Madame Lemmons-Sherrington. https://books.google.com/books?id=p8ocAQAAIAAJ&pg=PA452&lpg=PA452&dq=rotterdam+%22john+sherrington%22&source=bl&ots=7Vg510BcQY&sig=sB5xSFVN50QVY8bOn-G2ZxFKLp0&hl=en&sa=X&ved=0ahUKEwiUvYPctajRAhWC7SYKHXykAnMQ6AEIKjAD#v=onepage&q=rotterdam%20%22john%20sherrington%22&f=false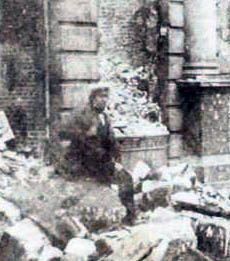 Cropped and Photoshopped
This quest fits in well with the multiple intents of the William Henry Fox Talbot Catalogue Raisonné, now being prepared for online publication by the Bodleian Libraries at the University of Oxford. http://foxtalbot.bodleian.ox.ac.uk/. We presently have item-level records on about 25,000 original negatives and prints done by Talbot and his close associates and distributed through collections worldwide. It had been common practice in the past for most any early paper photograph to be attributed to Talbot, mostly because of a lack of information on just how many photographers were experimenting on paper in the 1840s. I remember many years ago Dr David Thomas, then curator of photographs at the Science Museum, telling me that anytime somebody turned up an early paper photograph in one of their collections he simply placed it in one of the Talbot boxes because there was no other place to store it. Hence is history created. The Catalogue will recognise these historical associations and attempt to properly attribute them."
Here Tone mentions "I contacted Martin Jürgens at the Rijksmuseum in Amsterdam and he found another version of the Willats picture. http://collecties.stadsarchief.rotterdam.nl/publiek/detail.aspx?xmldescid=415896&tag=gebeurtenis;akten;archieven;algemeen&view=lijst&volgnummer=1&positie=7&beschrijvingssoort=157879244&doc_beschrijvingssoort=157879244&a_z=%5BARGS_PLACEHOLDER%5D This is a bit confusing because this text differs from the album text, telling that ruin is from the fire in Rotterdam in 1849 from the sugar refinery of Mr. Tromp. Not at all a theater fire.
This photograph is not attributed to Sherrington, as are 11 other photos in the city archive, among these the wheel boat that is in the Willats album as well. I have sent a mail to the archive to ask if they have any further information on Sherrington or the sugar refinery. I have also sent a mail to Copenhagen Museum that has the collection of Frederik Riise who once owned the paper negative. The text that tells about the gift of Frederik Riise is written on the back side of the negative, same thing with the unreadable words at the right side of the picture.

And just to clarify, "The paper negative was photographed in 2009 when it was mounted between two glasses with an exhibition text. As you will see, the picture is less distinctly than the newer positive print. You can see the 2009 picture here:https://digitaltmuseum.no/011024238926/fotografi?aq=owner%3A%22OMU%22+text%3A%22papirnegativ%22&i=0"

New information can be found at http://www.tekniskmuseum.no/nyheter-fra-samlingene/1318-fotografi-fra-1849-identifisert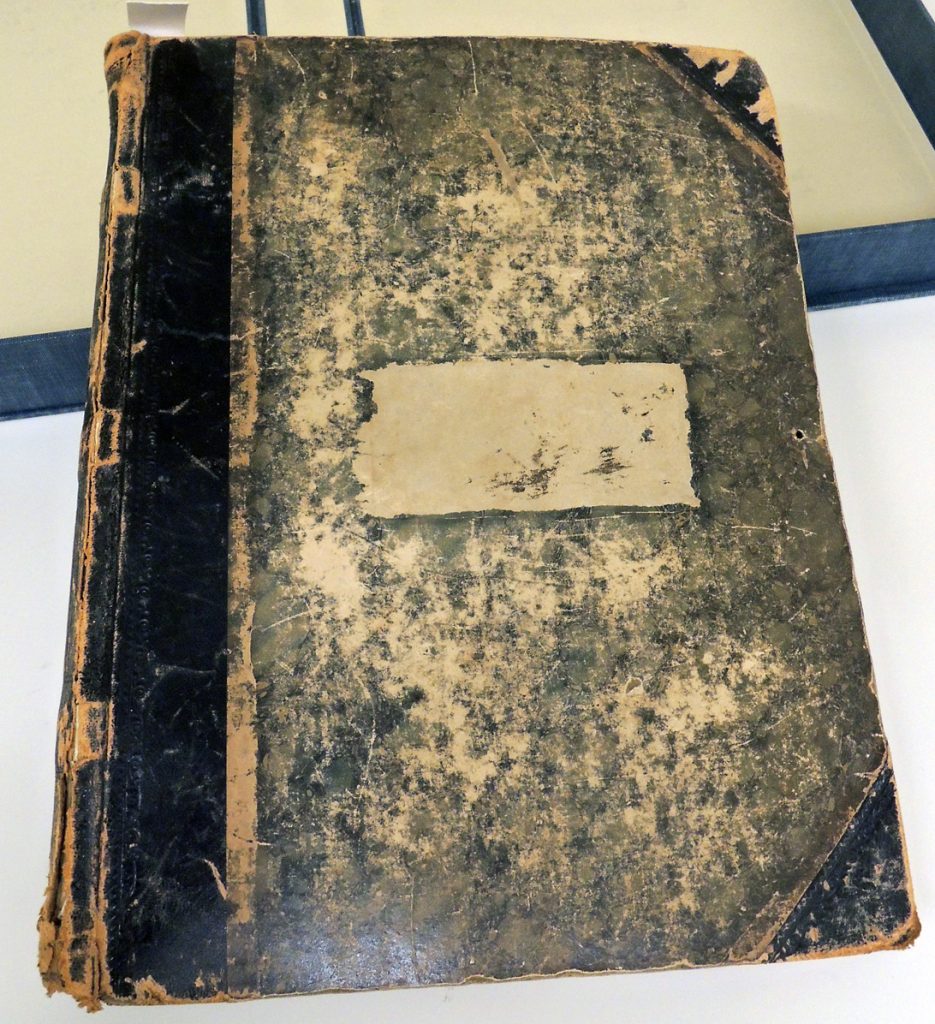 The Willats album was purchased for Princeton by Gillett Griffin (1928-2016). Please save the date for the inaugural Gillett G. Griffin Memorial Lecture: "The London Circle: Early Explorations of Photography" delivered by Sara Stevenson on Sunday, 2 April 2017 at 3:00 p.m. in The Friends Center, Princeton University corner of William Street and Olden Street, Princeton, New Jersey. https://graphicarts.princeton.edu/2016/11/11/the-inaugural-gillett-g-griffin-memorial-lecture/