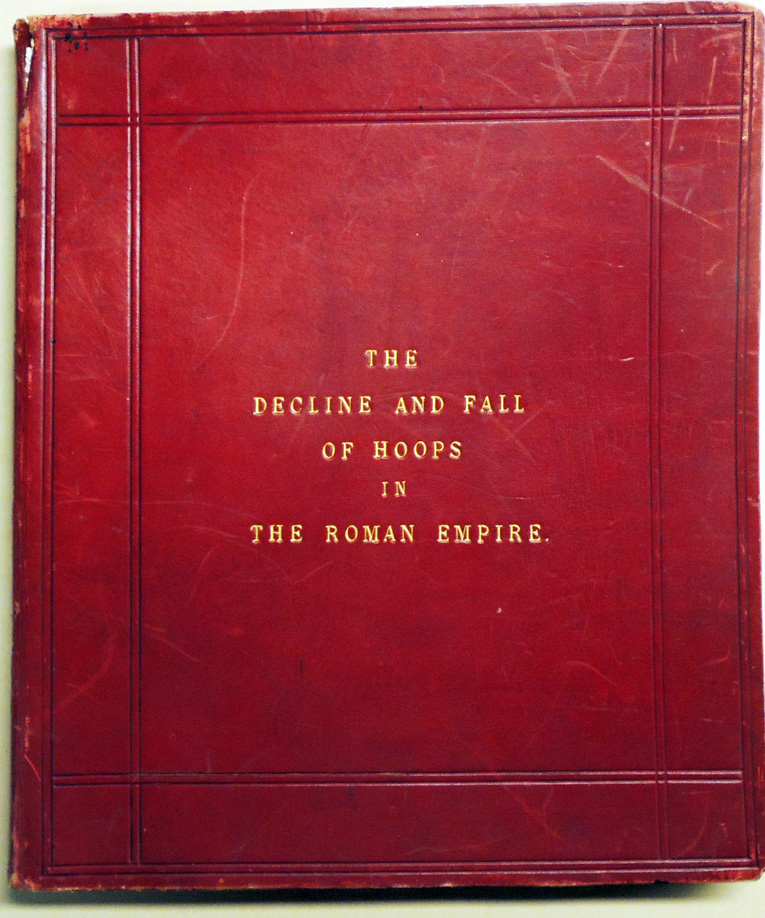 Attributed to Emily "Lille" Maingay (1837-1890), The Decline and Fall of Hoops in the Roman Empire. Bound with The Christmas Robin ([London, privately printed? ca. 1872]). Graphic Arts Collection GAX 2017- in process
The Graphic Arts Collection recently acquired two small books bound together, both attributed to Emily "Lille" Maingay (1837-1890). The first is an illustrated satire on 19th-century women's fashion and the Catholic Church, in which Pope Pius IX decides to ban women's hooped skirts because they might prevent women from going to confession (doorway too narrow).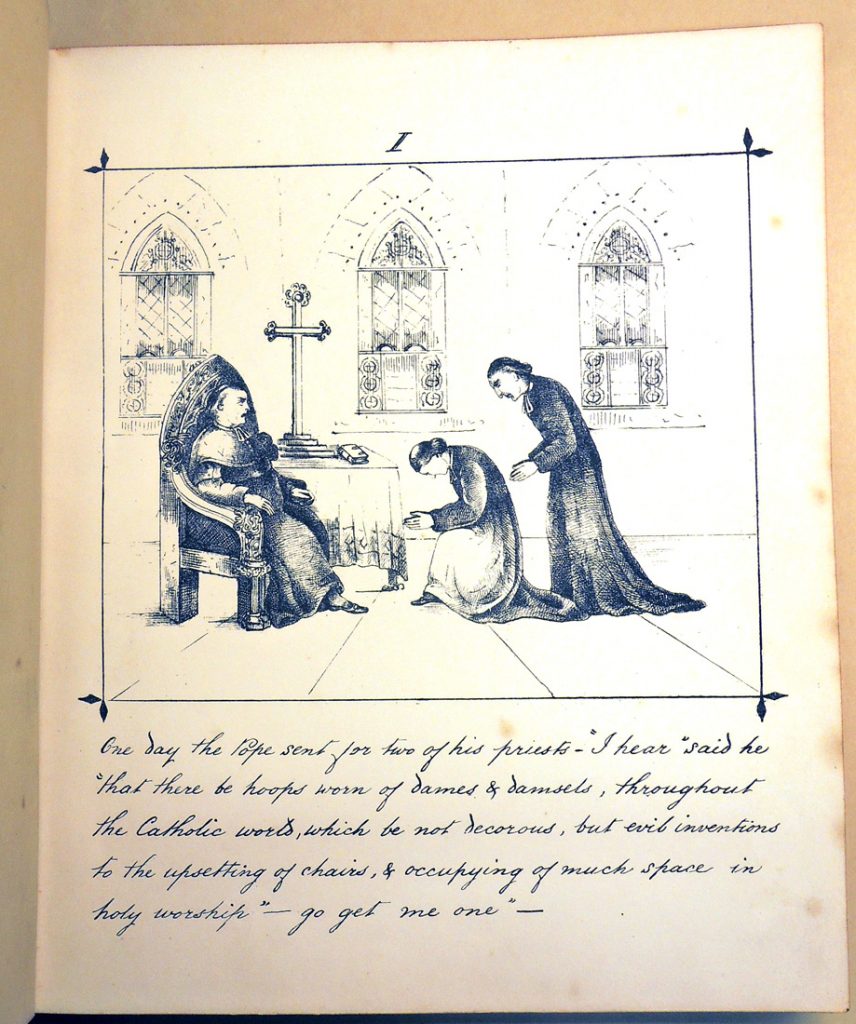 One section concerns a deacon who puts on a hoop and is chased by cardinals. "When caught, the pope amazed at his singular reserve did immediately confers on him priests orders (to cure him of the same)."
Maingay made the books using anastatic printing, also called metal relief, similar to what William Blake used with his illuminated books. Rockwell Kent also like the look of metal relief. Many of the copies of this book in other collections are called ink drawings, although they might also be anastatic printed copies. When the ink is transferred gently onto the paper, the result looks similar to an ink drawing.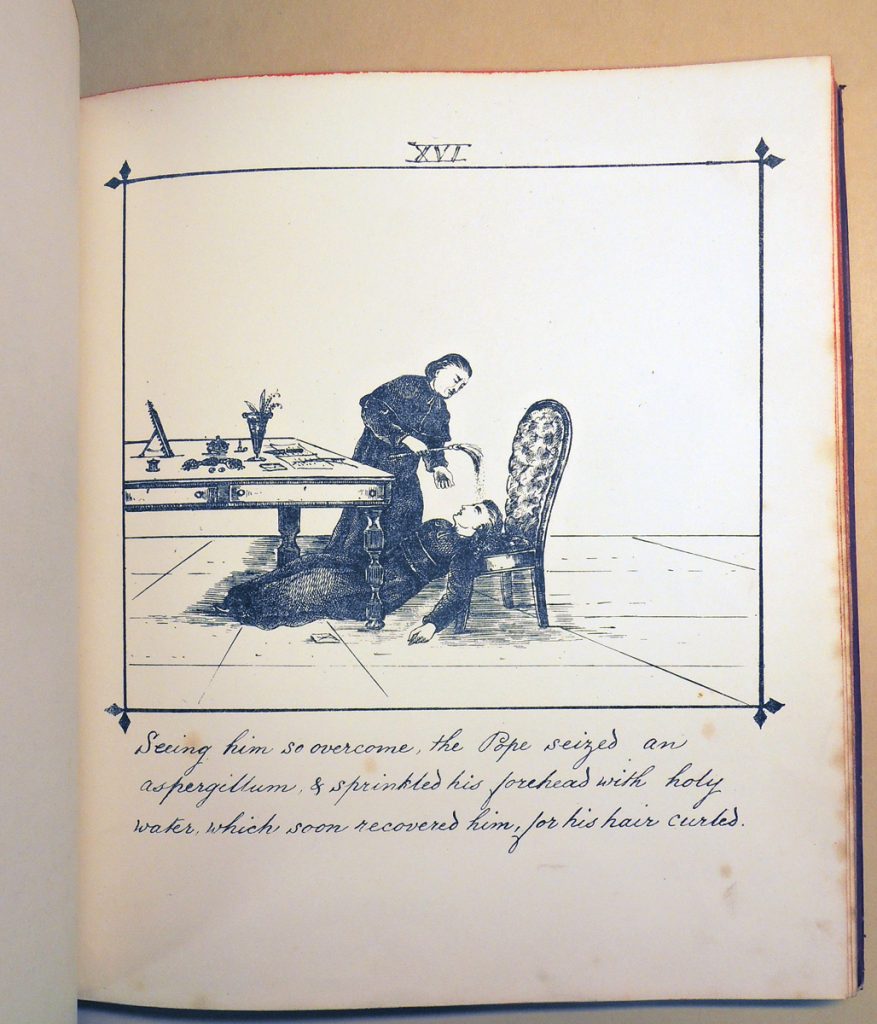 Emily "Lille" Maingay (1837-1890) and her three sisters moved back to London from St. Petersburg in the 1860s. They were active in various charities. "The St Cyprian's Orphanage for Girls is thought to have been founded in the 1870s at Allsop (or Allsopp) Mews, Marylebone, by the Misses Maingay of 39 Dorset Square. It was one of several homes in the area set up under the St Cyprian's name, along with establishments for orphan boys, the aged, the incurable, and the fallen . . . the Maingay sisters donated the home to the [Waifs and Strays] Society" along with money to support it. —http://childrenshomes.org.uk/
It may be for the children of the orphanage that Maingay produced these small, humorous books.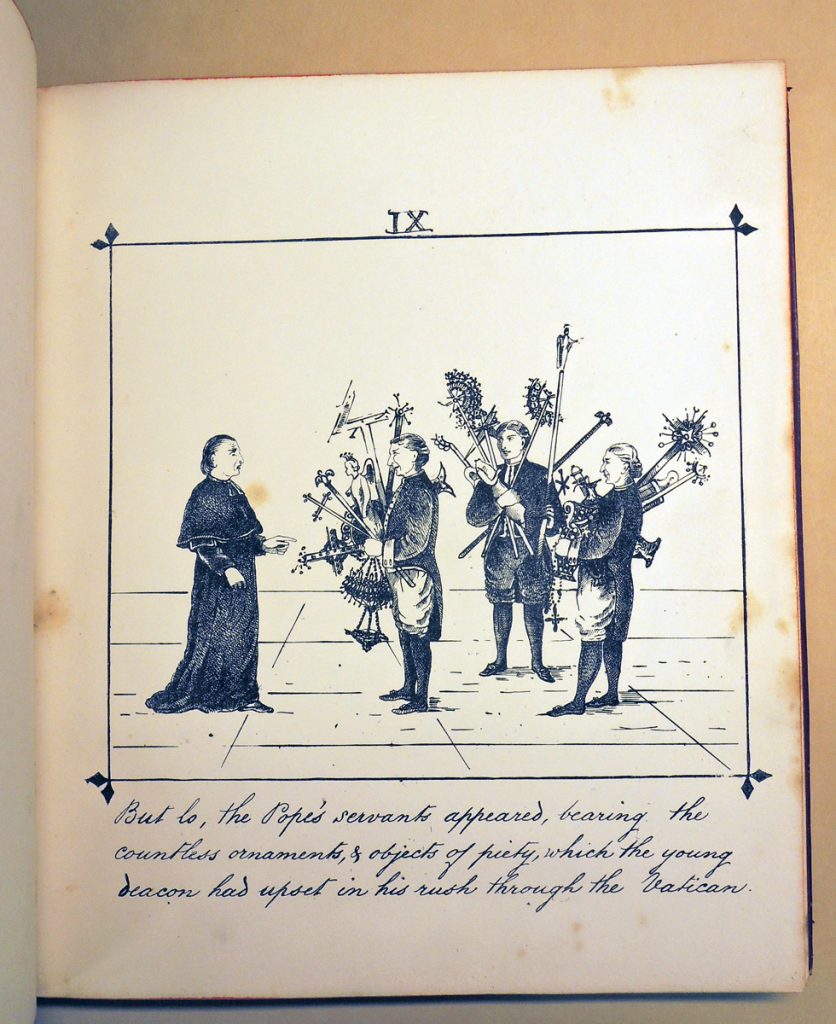 The Guernsey Magazine obituaries for January 1891 announced "On Christmas Day, at 39, Dorset-square, London, Emily Lille Maingay, youngest daughter of the late William Maingay, Esq., at St. Petersburg."