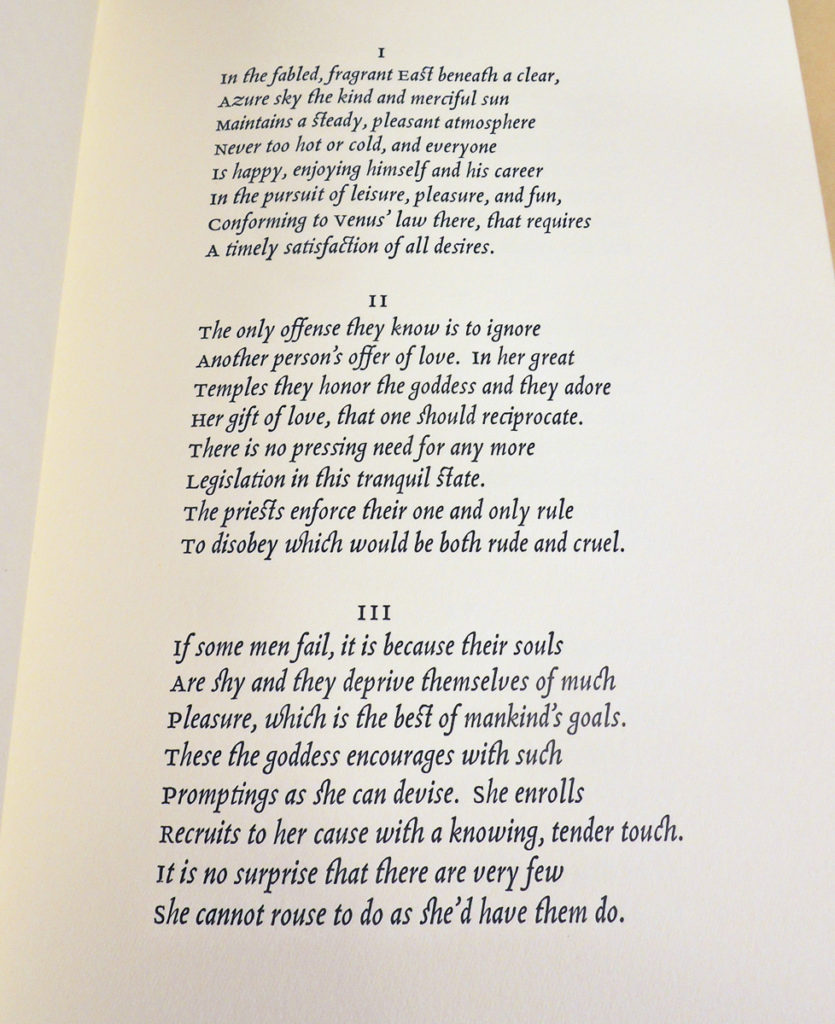 Pietro Bembo (1470-1547), Stanzas. Spine title: In the fabled, fragrant East; Nell' odorato e lucido oriente. Translation by David R. Slavitt, edited by Michele Miracolo (Austin: Michele Miracolo Press; printed by Bradley Hutchinson, 2015). Dos-à-dos binding. Graphic Arts Collection GAX 2017- in process
Pietro Bembo was a well-known Vienna poet and humanist who composed this 50 stanza poem as part of the Carnival festivities for the court of Urbino in 1507: "For the entertainment of the lords and ladies gathered at Castel Durante, and to the delight of Madonna Elisabetta Gonzaga, Duchessa d'Urbino, and Madonna Emilia Pia, her good friend and companion. Both ladies are entreated by Bembo and Don Ottaviano Fregoso, disguised as ambassadors from the court of the Goddess Venus, to renounce their sad devotion to chastity and embrace the pleasures of Love."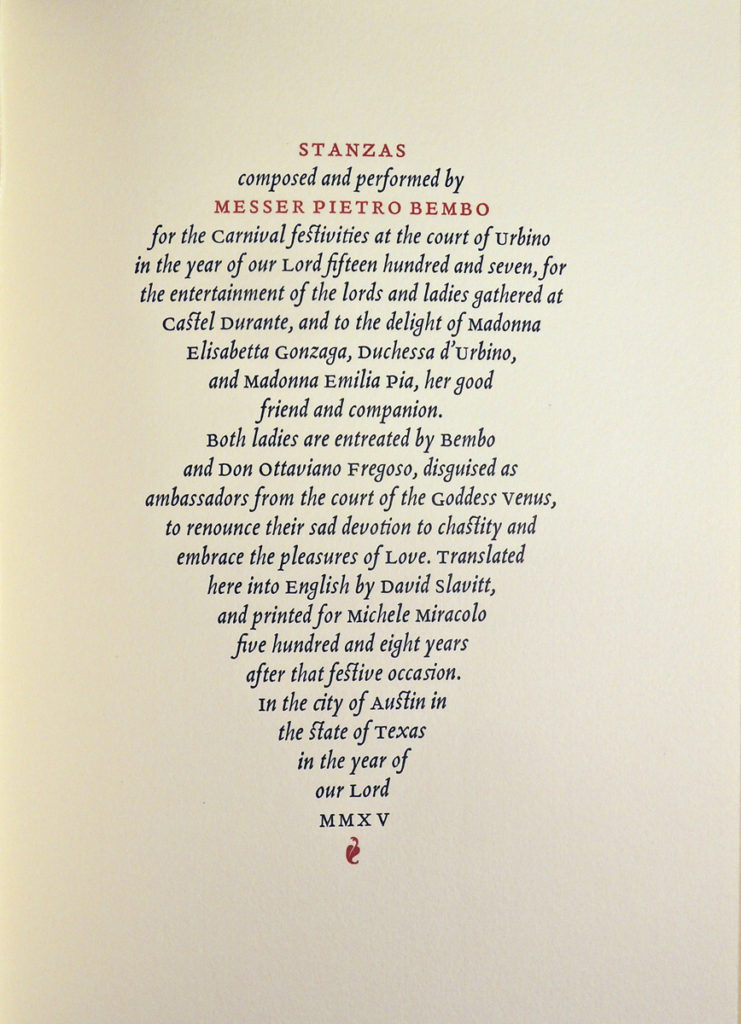 The Graphic Arts Collection recently acquired the inaugural publication from Austin's Michele Miracolo Press. Bembo's text has been newly translated into English by David Slavitt and printed by Bradley Hutchinson from Blado types cast at his letterpress workshop in Texas.
"Approximately 100 copies of this bilingual edition were printed and bound in an unusual "tête bêche" [a.k.a., dos à dos] style, with each language having its own front cover but meeting in the middle, one text upside down in relation to the other.
The printing was executed on a Heidelberg flat-bed cylinder letterpress by Bradley Hutchinson. The paper is a scarce mouldmade sheet from the 1980's, no longer manufactured, from the Magnani mill in Pescia, Italy.
The text is smythe sewn and bound into stiff wrappers, with a soft grey dust jacket and enclosed in a handsome slipcase made by Jace Graf at Cloverleaf Studio in Austin, Texas."–prospectus.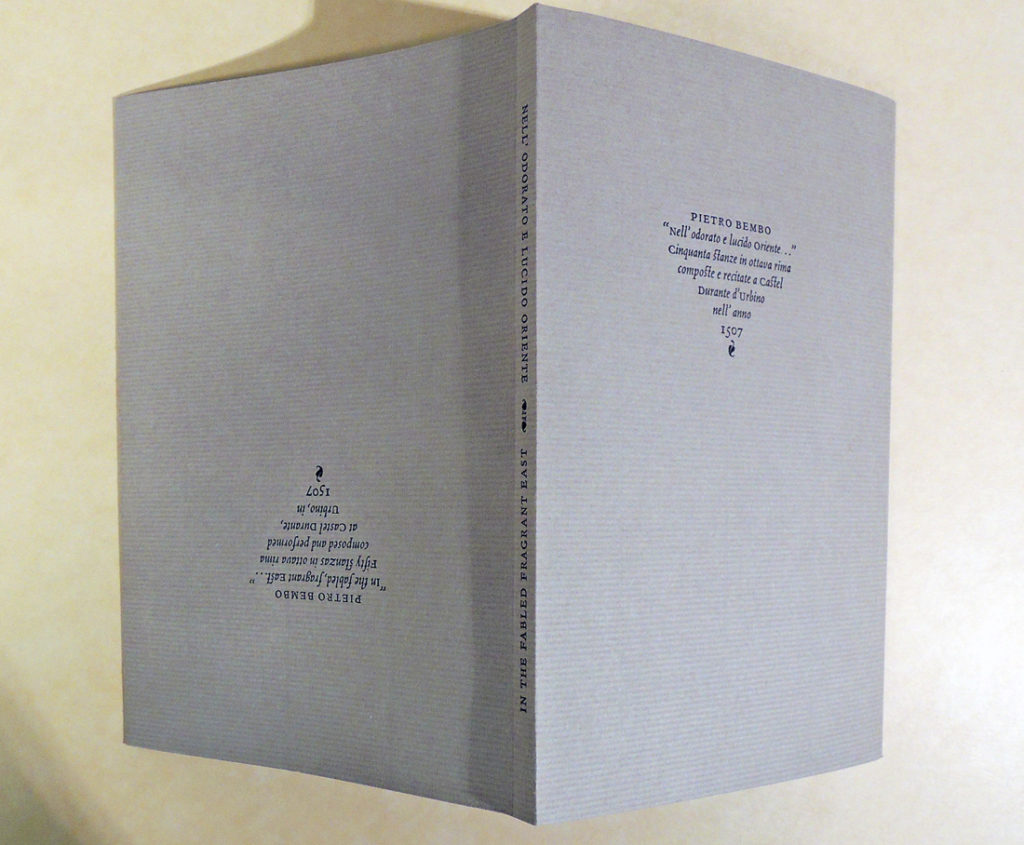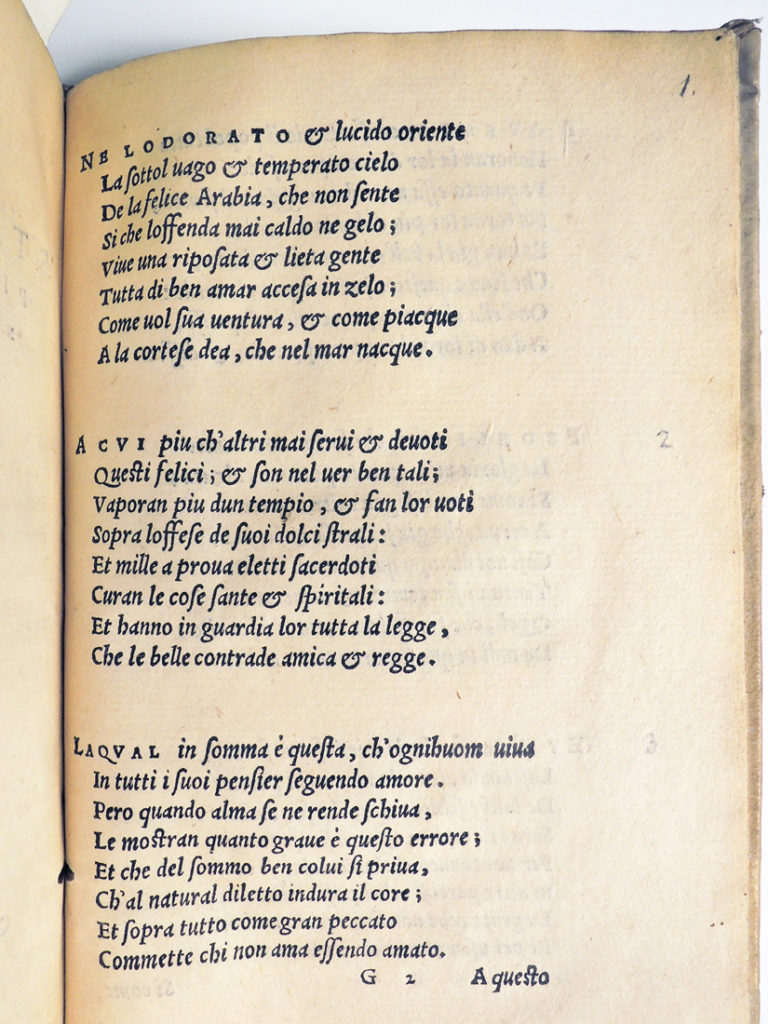 See also:
Pietro Bembo (1470-1547), Le rime di m. Pietro Bembo, nvovamente ricorrette et ristampate In Vinegia [G. Scotto] (1552). "Stanze di m. Pietro Bembo nvovamente ricorrette & ristampate." with separate t.p.: 10 l. at end. Rare Books (Ex) 3122.68.1552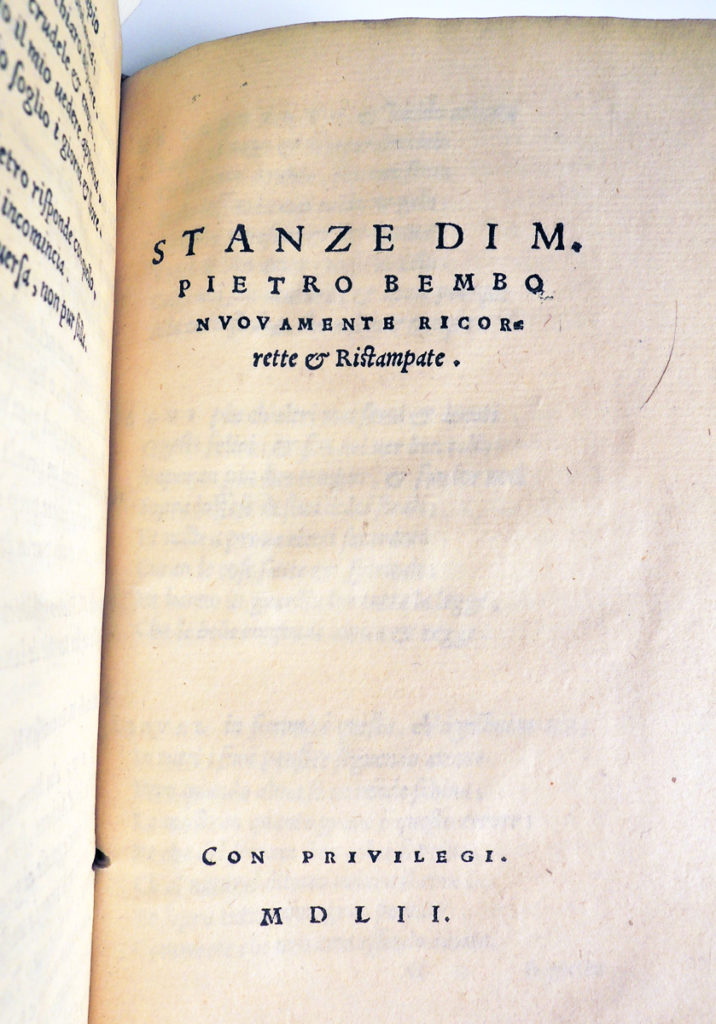 and Pietro Bembo (1470-1547), Gliasolani de Messer Pietro Bembo (Venetia, Aldo Romano, 1505). Rare Books (Ex) 3122.68.313