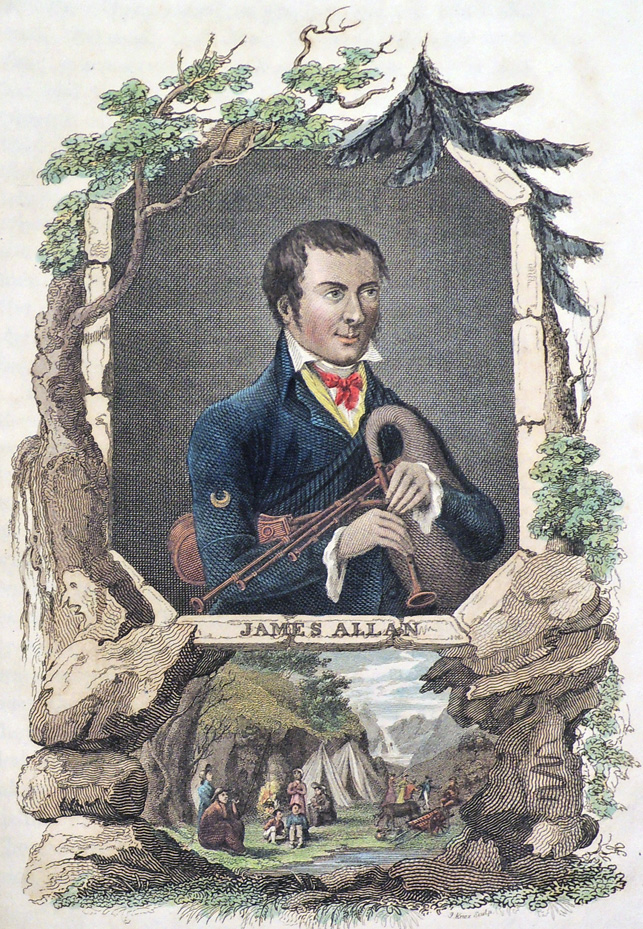 The first criminal given a royal pardon signed by the prince regent, afterwards George IV, was James (Jimmy or Jemmy) Allan, musician and thief. Unfortunately, it arrived several months after his death at the age of 76.
James Allan (1734–1810) was the son of the performer Will Allan and a woman called Betty, frequently described as a Gypsy. Thanks to his mother, James Allan believed he was a member of the Faas, a clan of Gypsies noted for roving the Anglo-Scottish border. Although official piper to Elizabeth Percy, countess of Northumberland, for two years, the majority of Allan's life was spent on the road playing music and stealing.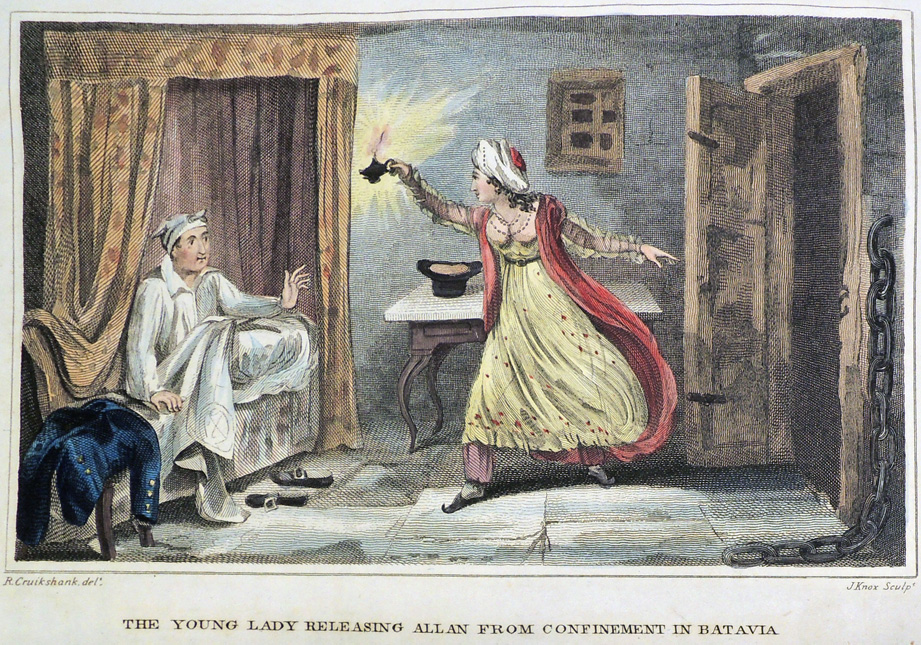 According to Keith Gregson's entry in the DNB, "Most of Allan's adult life was taken up with rambling and it is here that 'the line between fact and fiction becomes thin'. He made his livelihood out of piping and stealing and, beyond that, by 'enlisting as a soldier and deserting—often having received his bounty money'. He was eventually arrested in 1803 . . . tried and sentenced to death [but] the death sentence was commuted . . . ."

"Allan was remembered as a virtuoso on the bagpipes, an expert at the double hornpipe played at 3/2 or 9/4 pace, and closely associated with the music of his native Cheviot Hills. Woodcuts of his playing both the Northumbrian small pipes and the highland pipes have survived but the veracity of any surviving sketches of him was brought into question by the researches of the bagpipe historian Gilbert Askew in the 1930s."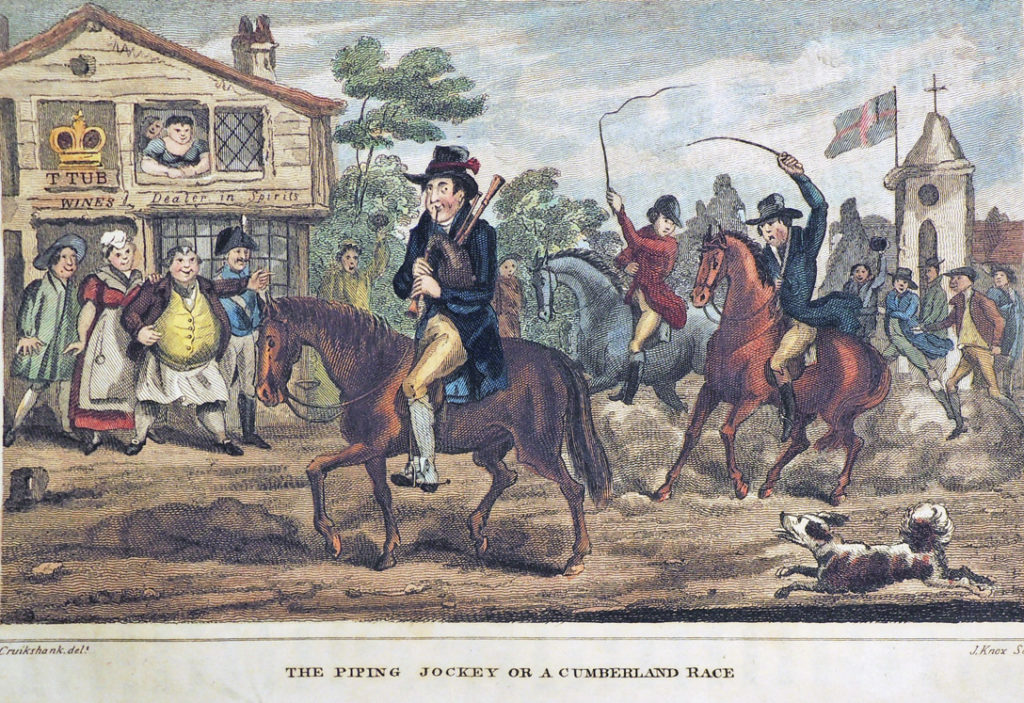 We were recently asked for a history of the language of the Gypsies, which can be found in this biography of Allan, illustrated with designs by Robert Cruikshank (1789-1856), engraved by J. Knox. We are fortunate to have the rare volume thanks to our donor, Richard Waln Meirs, Class of 1888.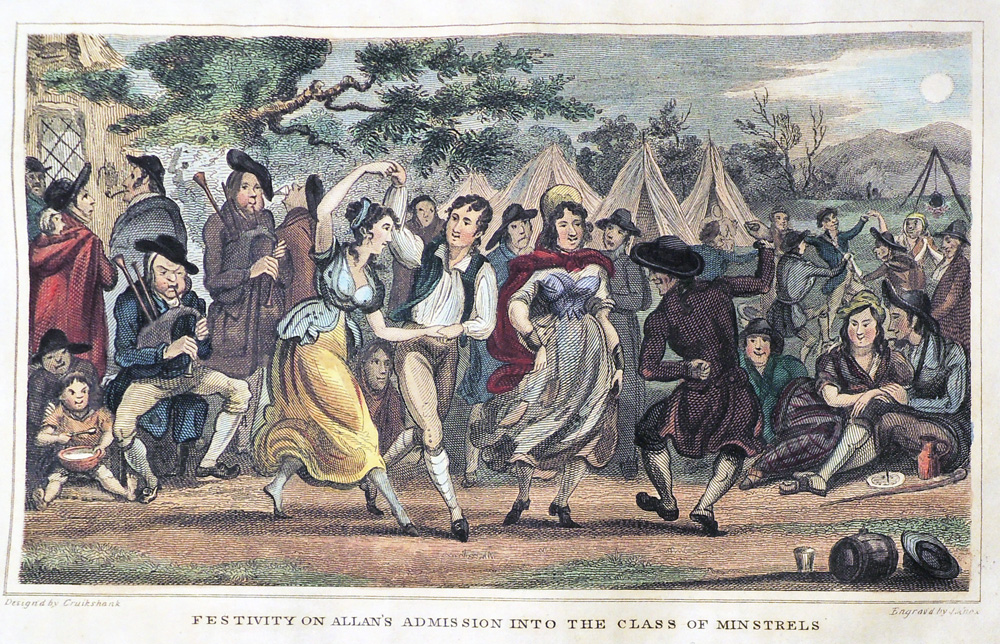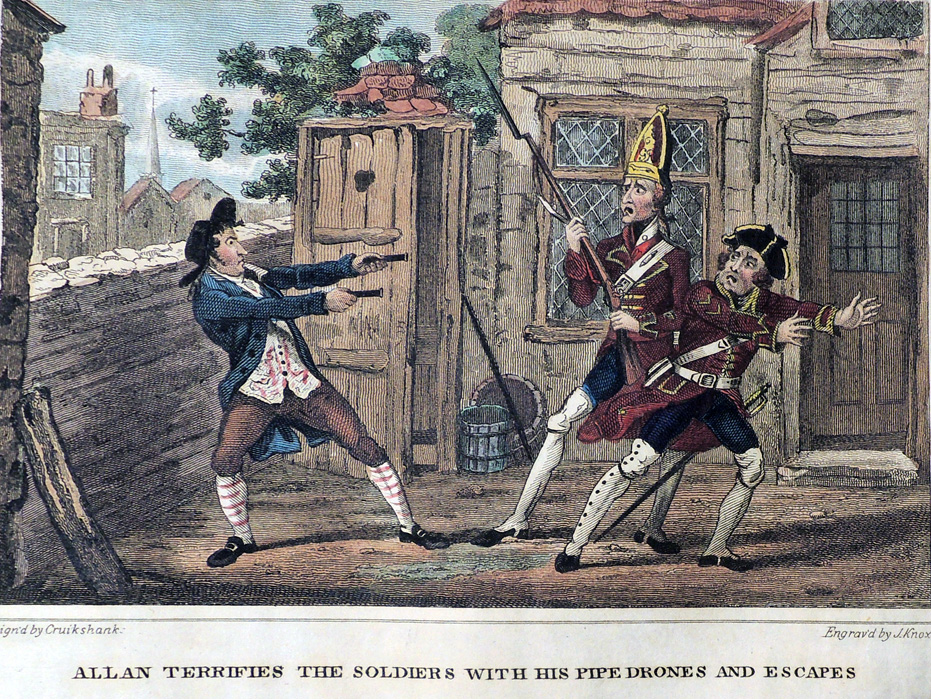 "The life of this singular character has all the air of a romance, the incidents being so various and extraordinary; but the relation possesses such genuine marks of authenticity as must satisfy the most scrupulous. Allan was extremely illiterate, and utterly incapable of perusing the narratives of the adventurous voyager and the curious traveller, much less of collecting and arranging their scattered remarks on the manners and customs which prevail in distant and unfrequented countries, with a view to impose upon the public. Yet his observations in China, in India, in Tartary, and in other countries, exactly correspond with those published by the most learned, accurate, and esteemed travellers, and afford such presumptive and internal evidences of the substantial veracity of this history, as must dissipate the most marvellous and obstinate credulity."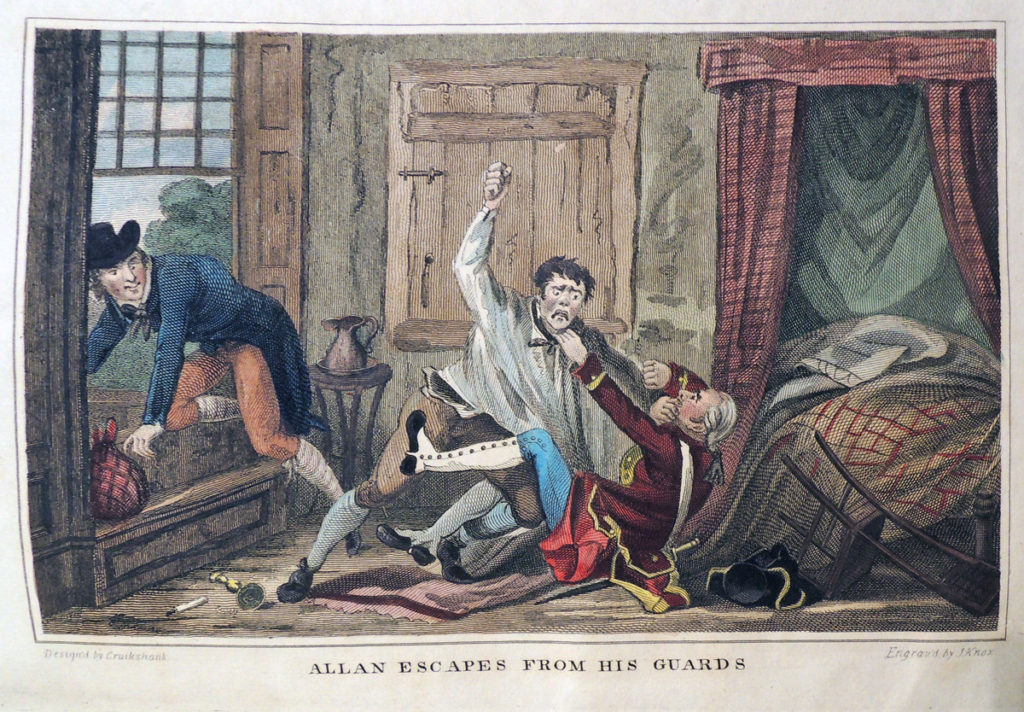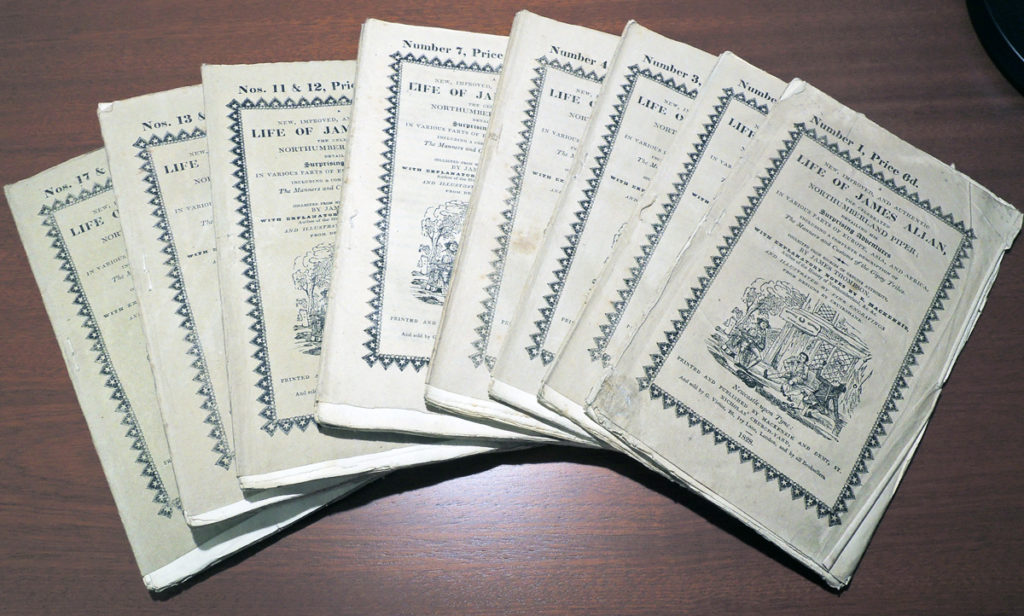 James Thompson (active 1828), A New, Improved, and Authentic Life of James Allan: the Celebrated Northumberland Piper, Detailing His Surprising Adventures in Various Parts of Europe, Asia, and Africa, including a Complete Description of the Manners and Customs of the Gipsy Tribes, Collected from Sources of Genuine Authority, by James Thompson; with Explanatory Notes by E. Mackenzie … ; and Illustrated by Fine Engravings from Designs by [Robert] Cruikshank (Newcastle upon Tyne: Mackenzie and Dent … 1828). In the original parts (20 in 14 numbers) with original light brown printed wrappers. Gift of Richard Waln Meirs, Class of 1888. Graphic Arts Collection (GA) Cruik 1828.3 Robert
See also [below]: History of James Allan, the celebrated Northumberland piper (Newcastle: W. Fordyce [1840]). (Ex) 3580.999 v.32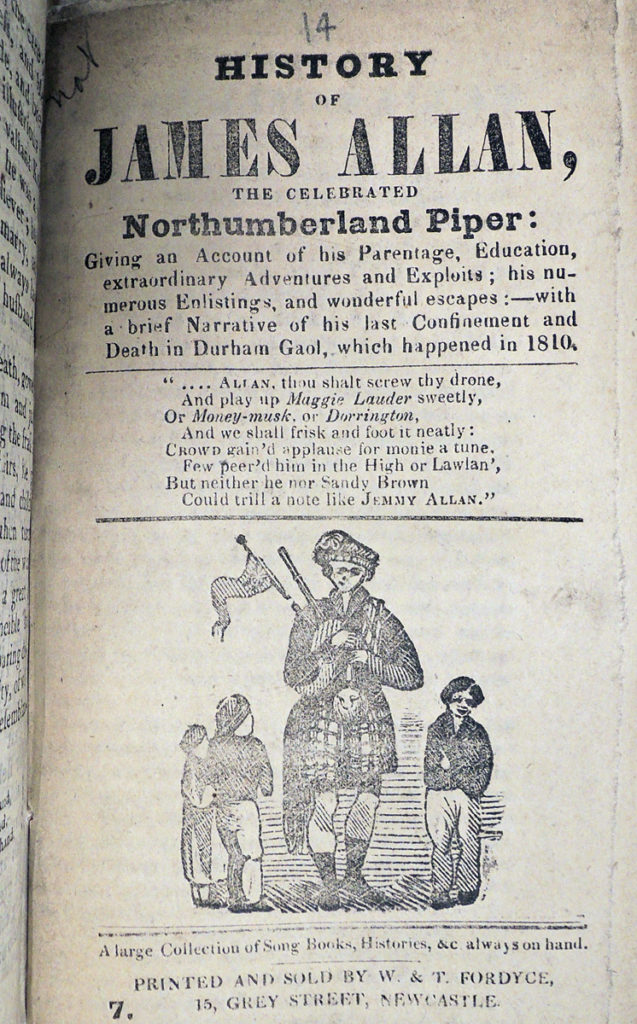 Soon after Allan's passing, the following lines were written to his memory:
All ye whom Music's charms inspire
Who skilful minstrels do admire,
All ye whom bagpipe lilts can fire
'Tween Wear and Tweed,
Come, strike with me the mournful lyre
For ALLAN's dead.
No more where Coquet's stream doth glide
Shall we view JEMMY in his pride,
With bagpipe buckled to his side,
And nymphs and swains
In groups collect at even-tide
To hear his strains.
When elbow moved and bellows blew,
On green or floor the dancers flew,
In many turns ran through and through
With cap'ring canter,
And aye their nimble feet beat true
To his sweet chanter.
http://www.thenorthernecho.co.uk/history/8857492.The_duke___s_piper/