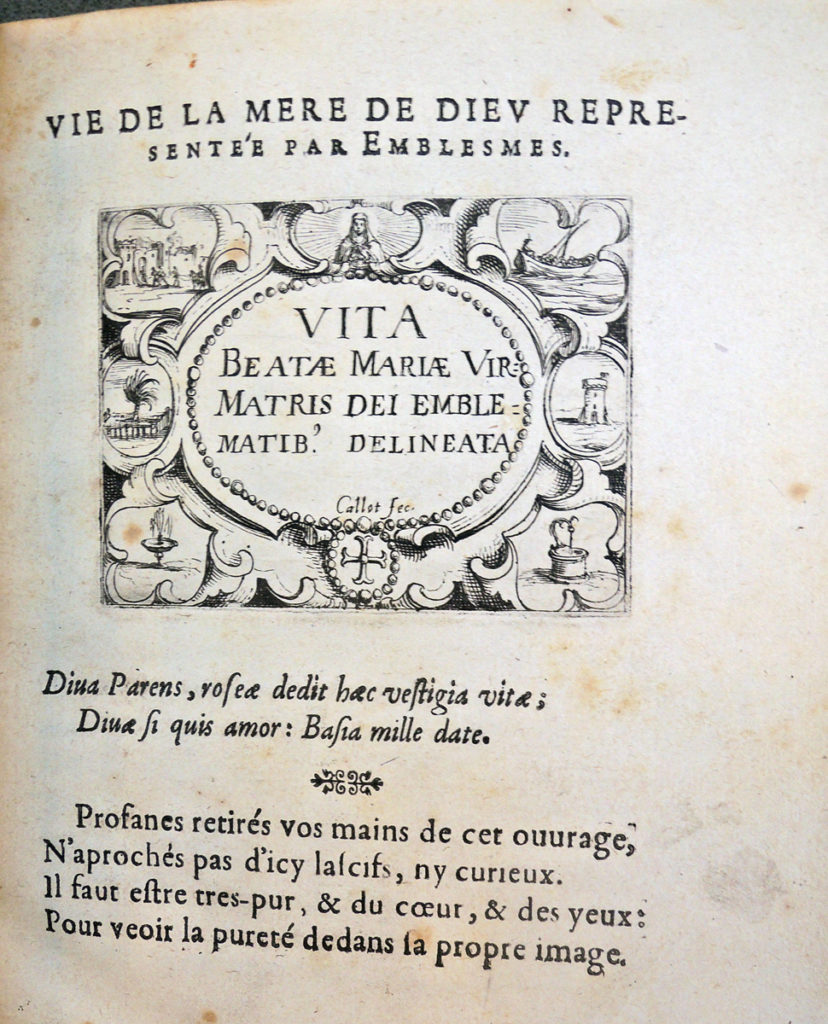 Jacques Callot (1592-1635) and François Rennel, Vie de la Mère de Diev representée par emblesmes = Vita Beatae Mariae Vir. Matris Dei emblematib[us] = [The Life of the Blessed Virgin Mary the Mother of God, represented in emblems]… ([Nancy: Antoine Charlot, 1628]). [4], 26 leaves of etched emblems.  Bound in a late nineteenth-century red morocco gilt, gilt edges, by Riviere. Provenance: Sir Henry Hope Edwardes, 10th Baronet (1829–1900), with his bookplate. Graphic Arts Collection GAX 2017- in process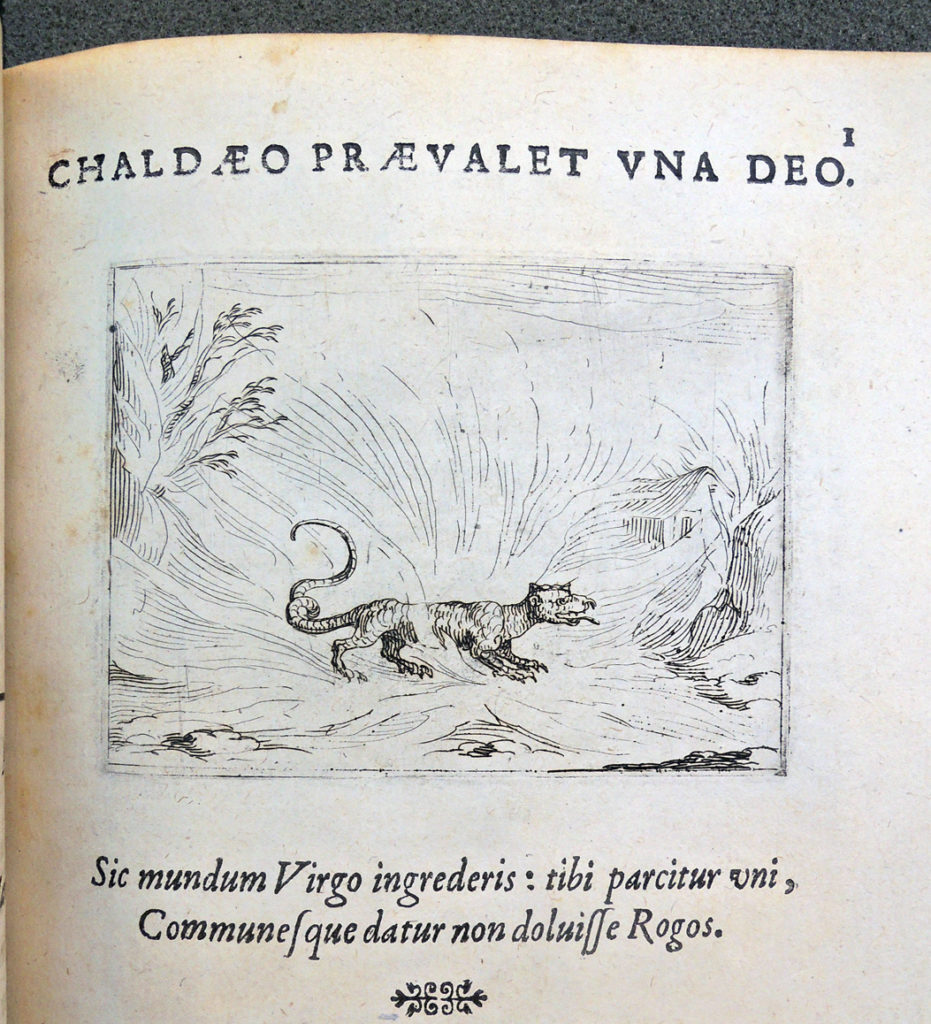 On each plate, below the Latin are four lines of French verse, as in the quatrain accompanying the figure of the salamander (symbol of the French king Francis I, representing the man who had been through fire and lived) in the opening emblem:
"Chaldaeo praevalet una Deo" (Chaldeans prevail with God):
Je vis sans me bruler au milieu de la flame:
Et la Vierge au milieu du crime original,
Par l'absolu pouvoir de l'Arbitre eternal,
Dans le brasier commun n'a point bruslé son Ame.
[note the last two lines are reversed in the second edition]

The Graphic Arts Collection is fortunate to have acquired a rare first edition of this beautiful emblem book, one of two illustrated by Callot (the other being Lux claustri). The etchings are here in the unnumbered state. Paulette Choné convincingly established the place of printing, printer and date of the work, and also identified François Rennel as the author of the text (the initials 'F. R.' appear at the end of the preface; see P. Choné, Emblèmes et pensée symbolique en Lorraine (1525–1633), Paris, 1991, p. 725 ff.).
It was Callot's close friend François Rennel (1583-1649), councillor at the Chambre des Comptes de Lorraine, who conceived the artist's two emblem books. Both men were influential members of a Jesuit congregation in Nancy.
"The first works by [Maximilian van der Sandt] Sandaeus must have made a vivid impact; his inspiration, his sophisticated poetry and metaphorical vocabulary show a close affinity to the extreme delicacy of the Vie de la mere de Dieu and Lux claustri." — P.Choné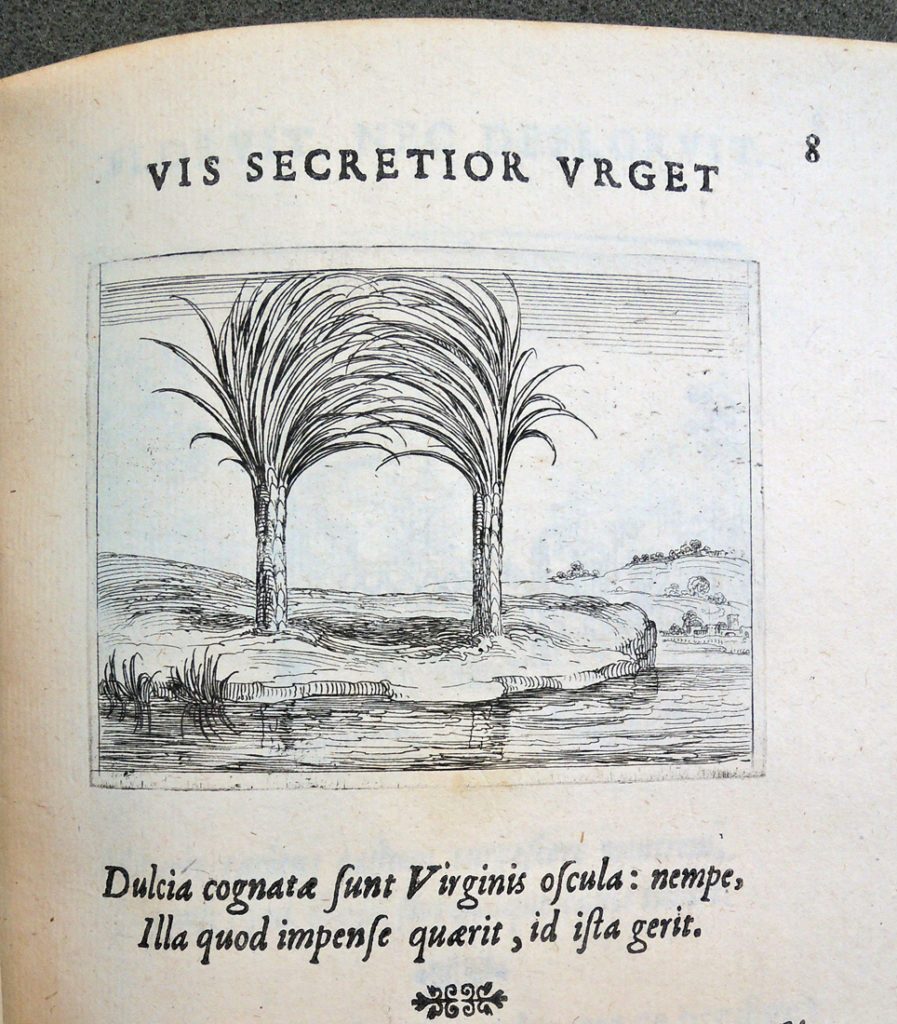 "The publishing history of the Vita Beatae Mariae virginis. Vie de la bien-heureuse vierge Marie is complex. Whereas only one edition of the Lux claustra was published—Paris by François Langlois in 1646—three undated editions of the Vita beatae Mariae virginis… Vie de la bien-heureuse vierge marie were published in addition to that produced by Langlois in 1646 as a partner edition to the Lux claustra, and in all of these the text is different."

"A further variant version of the work, (including the engravings but no text) exists in the Getty Museum. In the 1646 edition … each emblematic engraving is accompanied by a Latin motto, together with a Latin distich and a French quatrain. In one of the undated editions the mottoes are in French rather than in Latin, and there is a Latin distich, but no French quatrain, while the other two follow the pattern of the Lux claustra, and include both Latin and French mottoes, together with a Latin distich and a French quatrain. While the Latin mottoes remain the same in all editions that include them, the French mottoes in the undated Benoît Audran edition, in which they appear alone, are different from those which appear together with Latin mottoes in the other two undated editions."—Alison Saunders, The Seventeenth-century French Emblem: A Study in Diversity (2000)