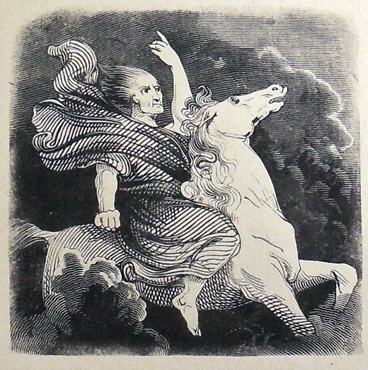 After appearing in 54 numbers (28 pages each), Harper's Illuminated and New Pictorial Bible came out in all its morocco-bound, hand-tooled, gold-embossed, and gilt-edged glory in the early part of 1846. Frank Weitenkampf called it "the first richly illustrated book in the United States, the first attempt to produce a fine piece of book-making." By 1859 the Bible had sold 25,000 copies at more than a half million dollars retail. –details from Eugene Exman, The Brothers Harper (Z473.H29 E9 1965).
The total edition is uncertain since a large number of copies were lost in their building fire of 1853.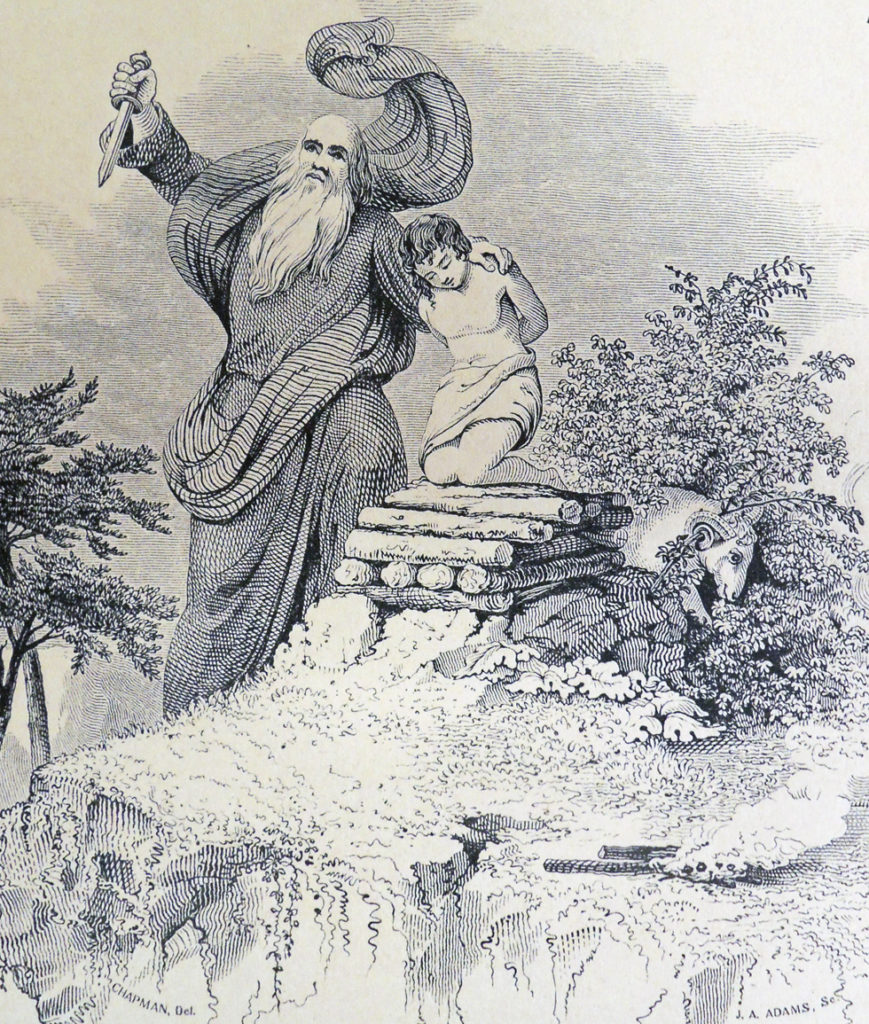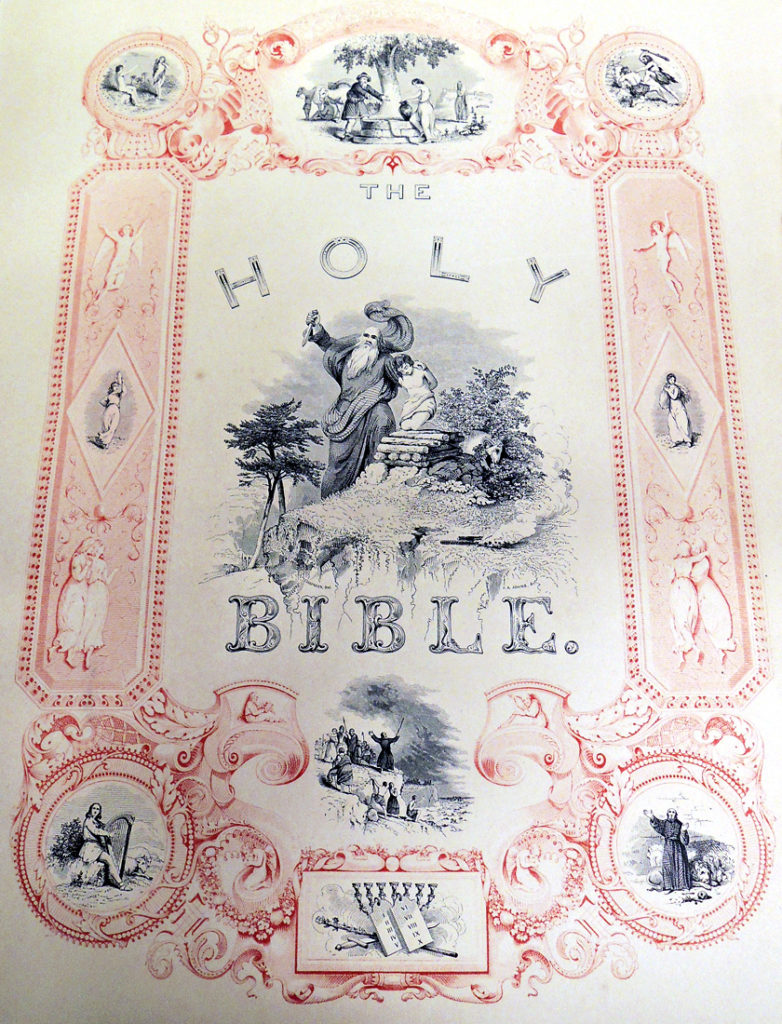 The initial idea came from the engraver Joseph Alexander Adams (1803-1880), who contracted with Harper's on the guarantee of half the final profits from the Bible.  According to Exman:
Adams was "concerned with the problem of printing wood engravings, especially to find a border that would both support and protect the blocks. In 1839, he developed a galvanic process whereby an electric current passing through a solution holding copper would coat a wax mold of his border engraving with a shell of copper. This shell, when affixed to a block, gave the necessary support to the engraving itself. This discovery, now known as electrotyping was simultaneously developed that same year by two Englishmen and a Russian.

Another mechanical aid was the development of the six-roller press by Isaac Adams (not related to the engraver) and his brother Seth of Boston. This press was first put into operation at Cliff Street in 1840. Since the Adams press could take a larger sheet than other presses, this may have been the reason for the decision to issue the Harper-Adams Bible in folio."
John L. O'Sullivan of the Democratic Review wrote "We think it questionable taste to print the edition in the obsolete form of folio."
John Gadsby Chapman (1808-1889) supplied 1,400 designs to be engraved, for which he was paid $2,121.80. In his volume of proofs for the bible Illustrations, Chapman lists the engravers as Roberts, Childs, Minot, Howland, Gordon, Butler, Morse, Orr Jr. (Nathaniel), Hall Hart, Kinnersley (Henry), Kinnersley (Augustus F.), Peckham, Bookhour, Holland, and Weeks. He goes on to say only a few can be definitely ascribed to Adams (such as the title page above).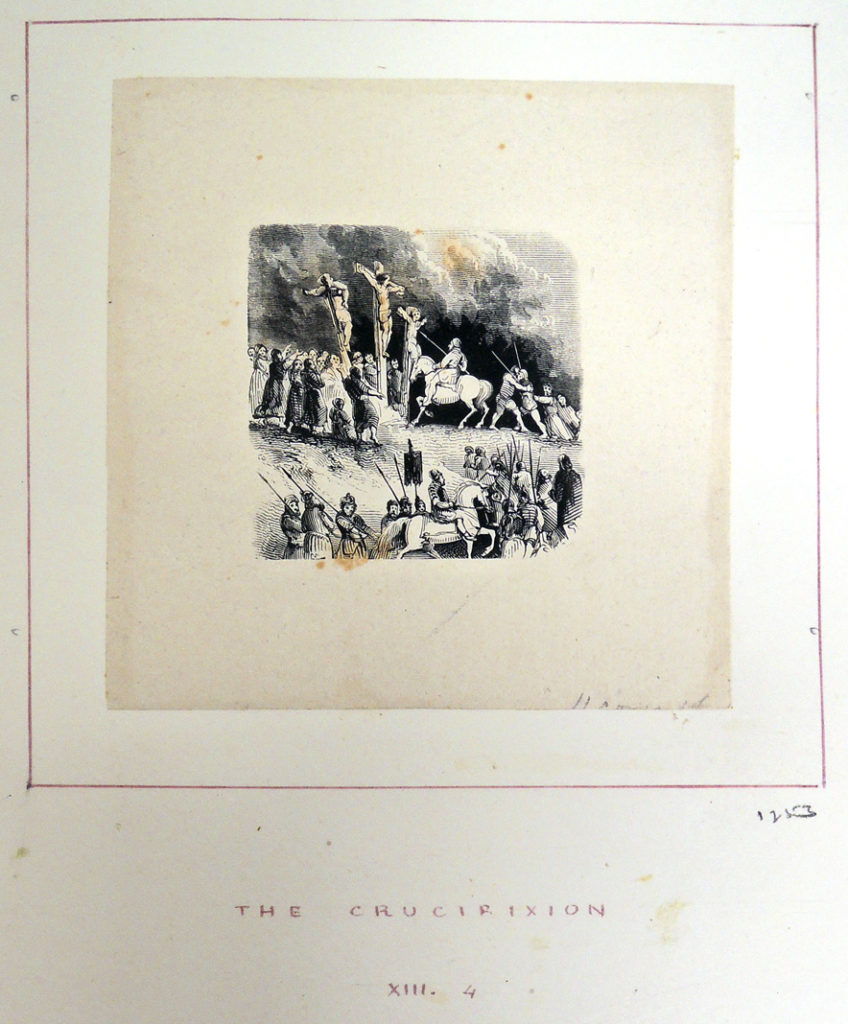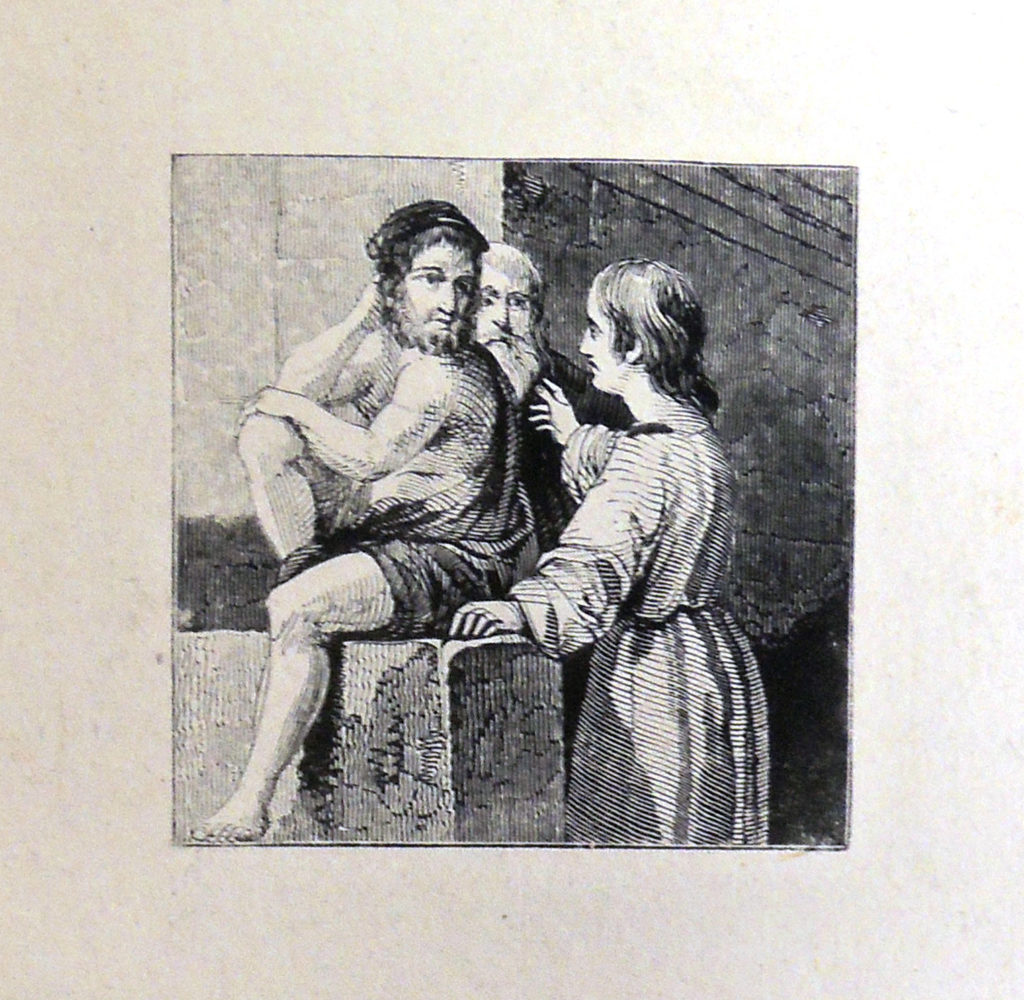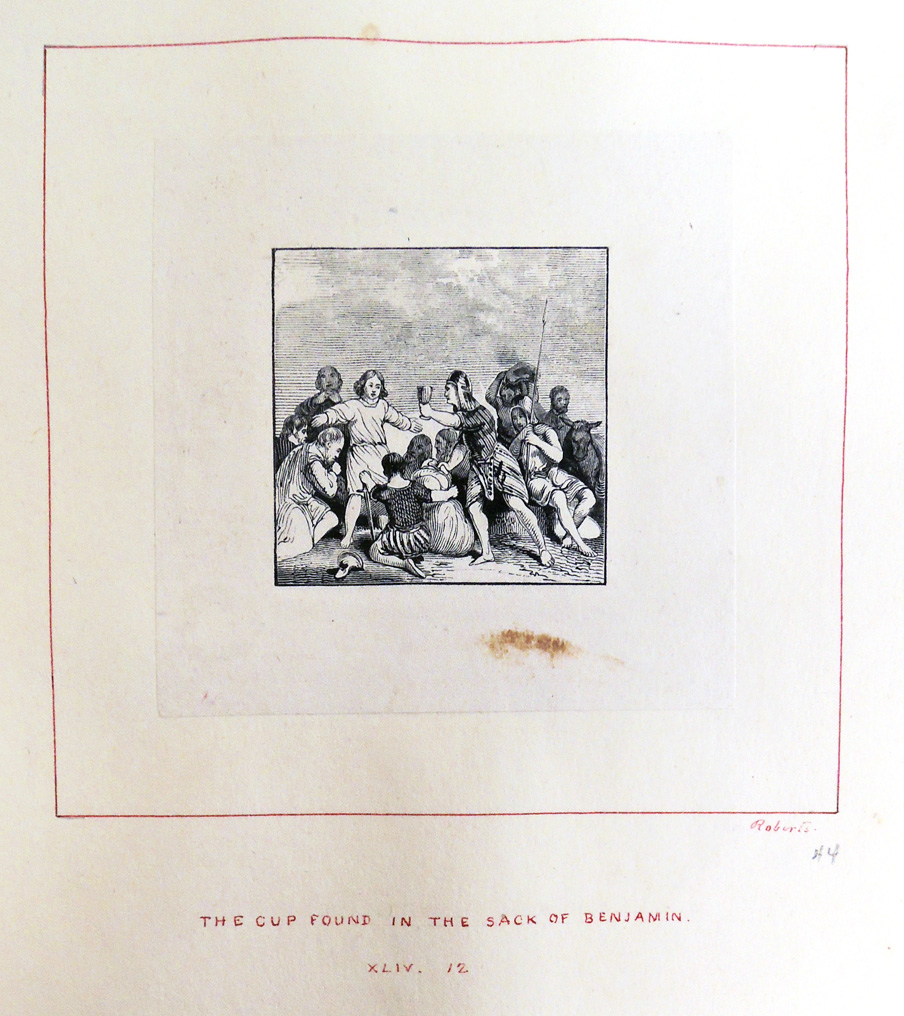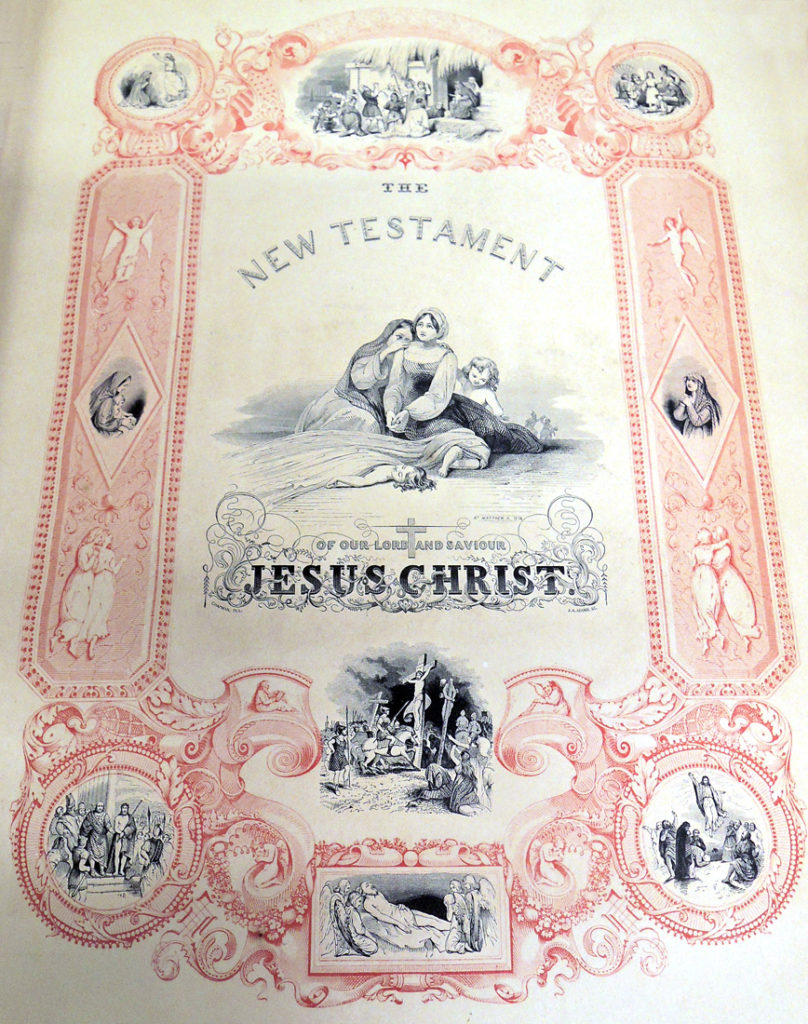 John Gadsby Chapman (1808-1889), Bible illustrations ([New York? 1846?]). 5 v. Note: "These proofs, from the original cuts, were taken by hand by the Engravers thereof, in course of execution for 'Harpers Family Bible' – New York 1843.-44. 45- and are, so far as I know, the only complete set existing. Presented by me to my Daughter. – Rome October 5. 1879. – John G. Chapman." Sinclair Hamilton Collection of American Illustrated Books. Graphic Arts Collection (GAX) Oversize Hamilton 199q