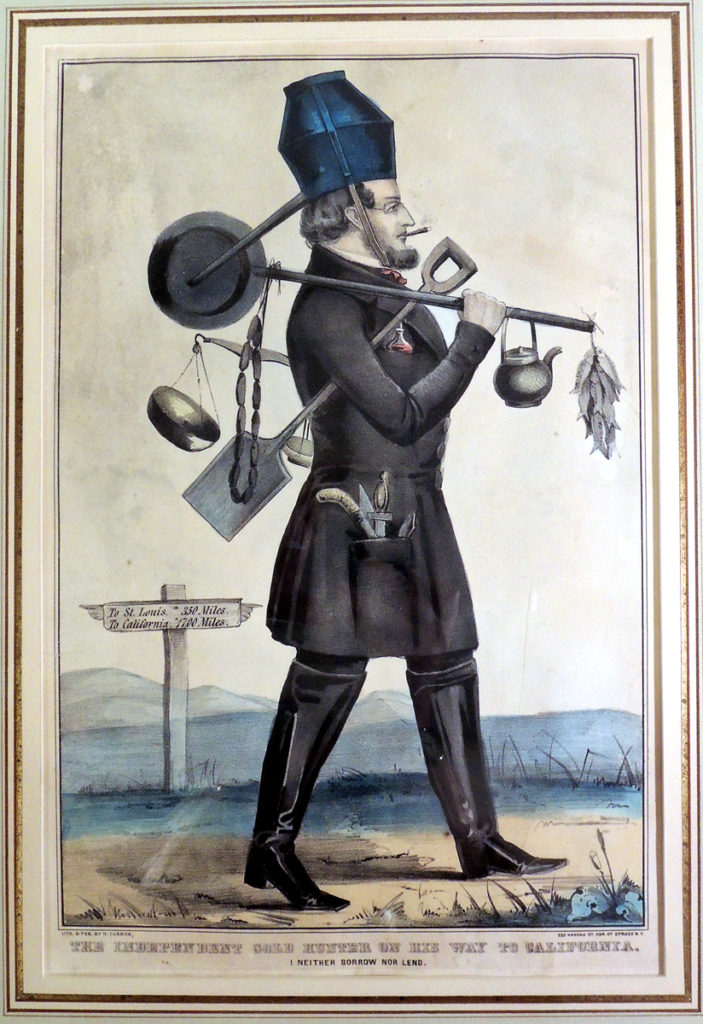 New York lithographer and print seller Nathaniel Currier (1813-1888) published the hand colored lithograph The Independent Gold Hunter on His Way to California with no date but we assume it was made at the time of gold rush mania between 1848 and 1850.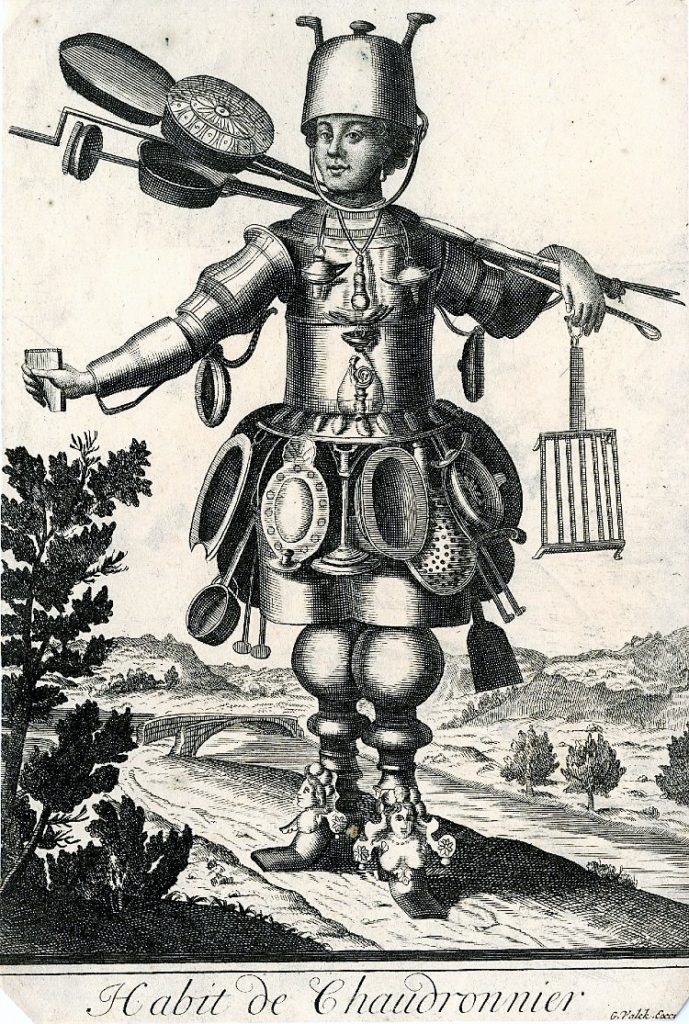 His gold hunter is shown confidently walking to California, carrying with him all the things he might need including pans, scales, flask, kettle, shovel, sausages, fish, and other equipment.
Currier may have used as inspiration Nicolas de Larmessin's fantastical engraving Habit de chaudronnier from the late-seventeenth-century series Costumes grotesques et habits de Métiers. Larmessin created representations of nearly 100 different occupations dressed in iconographic costumes, most walking in outdoor settings.
Within a short period, Currier's chief competitor, the Hartford firm of Kelloggs and Comstock published a variant lithograph, equipping the gold hunter with a more practical suitcase and adding a decorative vignette at the top. Both prints sold well but the Kellogg brothers–Jarvis, Daniel, Edmund, and Elijah–marketed their image to commercial companies, leading to further variants on cigar boxes and other products cashing in on gold rush mania.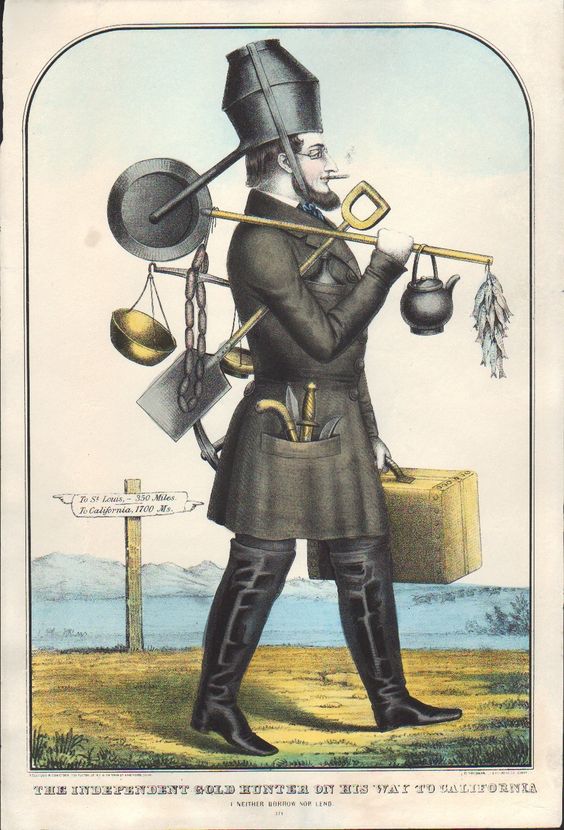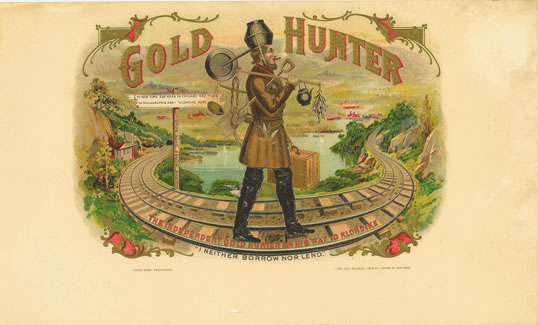 The verse in each of these prints comes from Jeremiah 15:10, 16-21:
Woe to me, mother, that you gave me birth!
a man of strife and contention to all the land!
I neither borrow nor lend,
yet all curse me.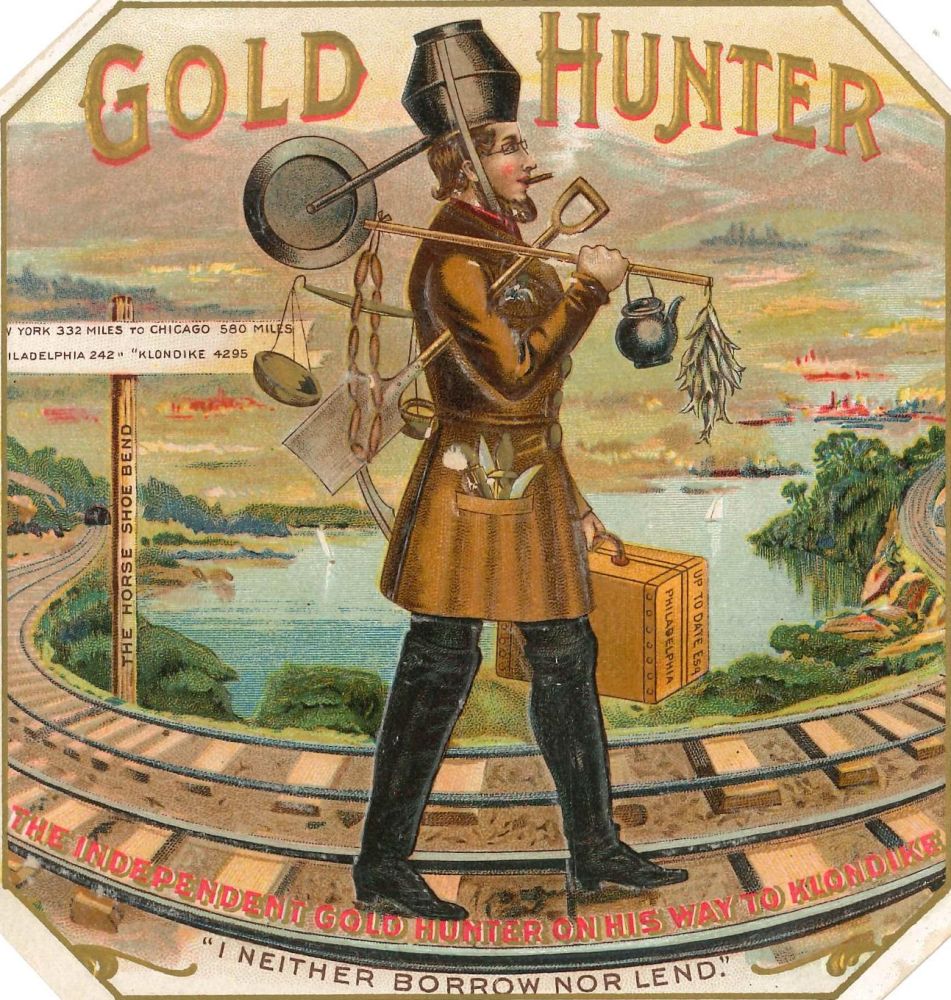 George Schlegel, The Independent Gold Hunter On His Way To Klondike, ca. 1897. Embossed chromolithograph for the Gold Hunter Cigar company showing a prospector walking on railroad tracks at Horse Shoe Bend.
[Top] Nathaniel Currier (1813-1888), The Independent Gold Hunter on His Way to California, [ca. 1848-1850]. Hand colored lithograph. Published by Currier, Nassau Street, NY. Purchased with funds from the Western Americana and the Graphic Arts Collections. GAX 2017- in process
[Center] After Nathaniel Currier (1813-1888), The Independent Gold Hunter on His Way to California, [ca. 1848-1850]. Hand colored lithograph. Published by Kelloggs & Comstock, Hartford, CT. and Ensign & Thayer, Buffalo, NY. Posted by Metropolitan Museum of Art