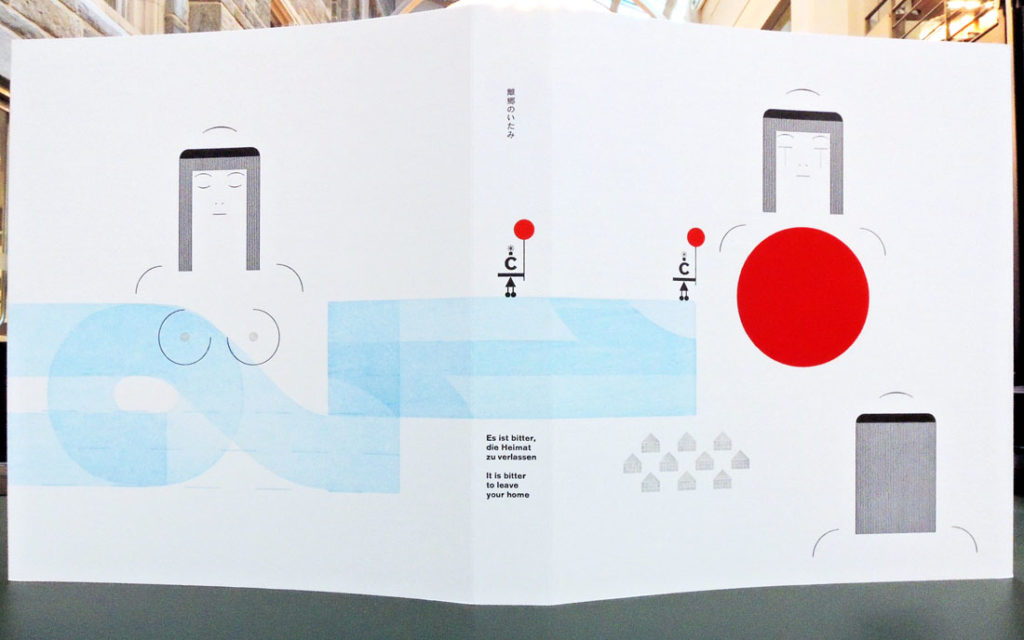 Romano Hänni, Es ist bitter, die Heimat zu verlassen [It is Bitter to Leave Your Home] (Basel: Hänni, 2017). Number 21 of 87 copies of the standard edition. Text in German, English, and Japanese. Graphic Arts Collection GAX 2017- in process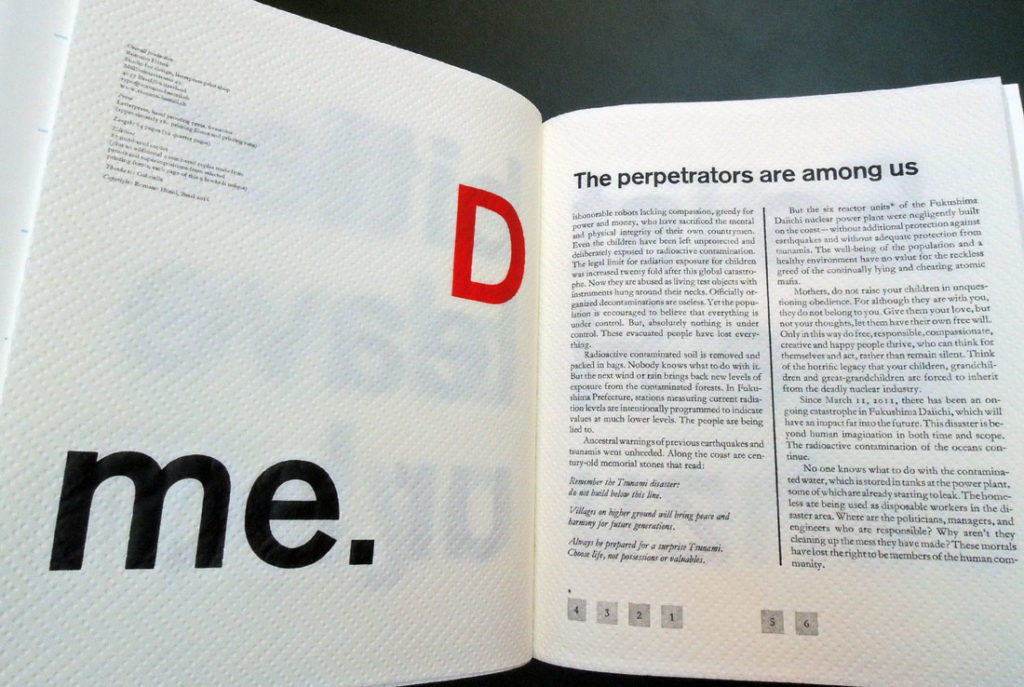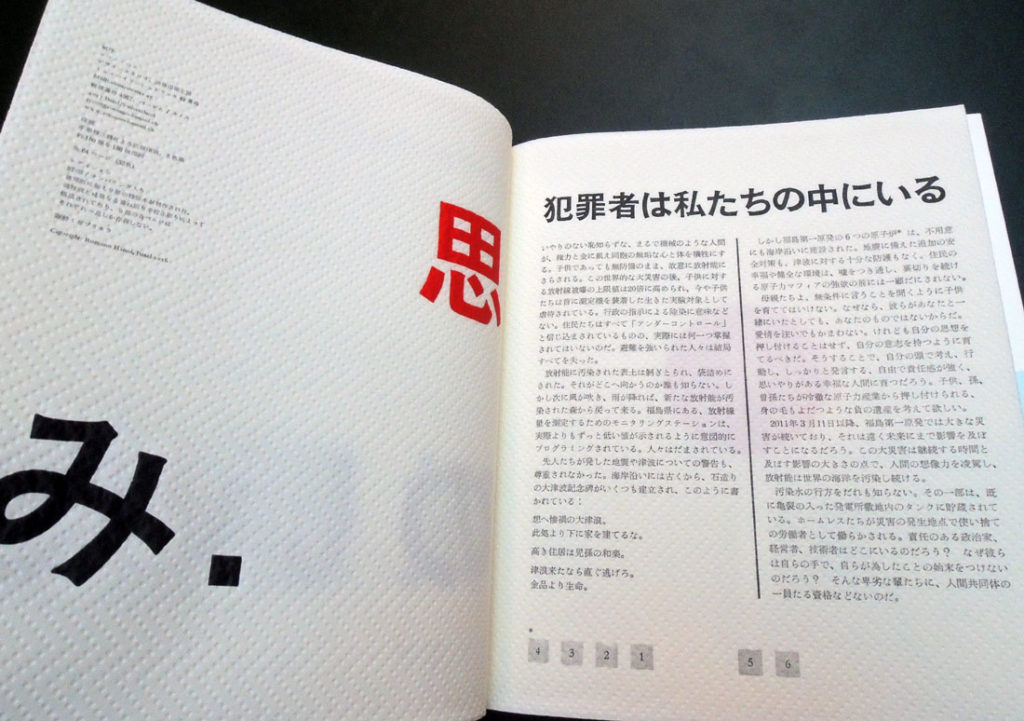 Swiss artist Romano Hänni has spoken passionately about the devastating effects of contamination from nuclear facilities. His new book Es is bitter die Heimat zu verlassen concerns the disaster at Japan's Fukushima Daiichi nuclear power plant that occurred on March 11, 2011, as well as the ongoing impact of radioactive contamination.
Hänni writes that claims made by nuclear scientists "that no health consequences are to be expected from contamination are unscientific, immoral, and criminal." He further states that "there is no peaceful use for nuclear energy. It is repressive, criminal and deadly. Only nuclear plants that have not been built can offer absolutely safety."
His newest book is printed in five colors on paper towels, a technique the artist perfected with an earlier work: Typo bilder buch: von Hand gesetzt und auf der Handabziehpress gedruckt. Graphic Arts RCPXG-7350409. Small selections of text are juxtaposed with letters, images, and symbols to communicate the event and its aftermath.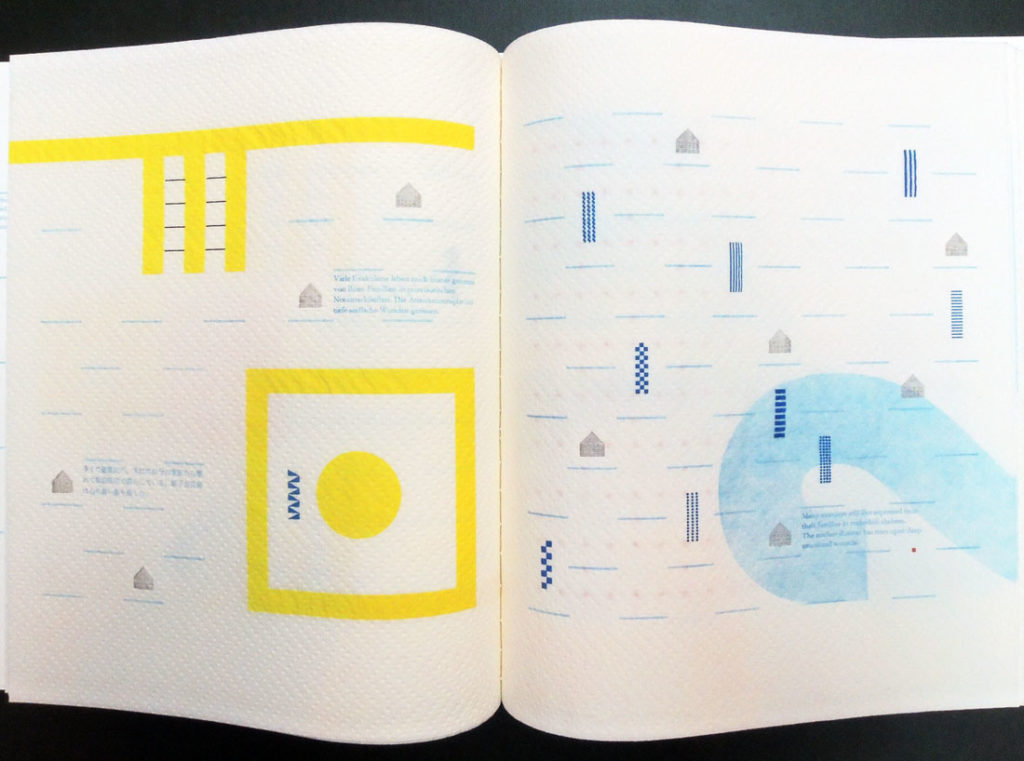 The artist writes "Work on this book began in December 2013, was interrupted by some commissioned work, and lasted until June 2017. The page format was determined by the paper: paper towels, maxi roll . . . The printing forms were composed from individual parts and printed on the hand proofing press. The Japanese text was [cast] and composed in the type foundry Sasaki Katsuji in Tokyo and delivered to Basel. For most of the pages several printing forms and printing runs are needed. The body of the book was bound by hand with thread. Overall production time was approximately 1400 hours."
http://www.romano-haenni.ch/assets/21_it_is_bitter_to_leave_your_home_standard-edition-2017.pdf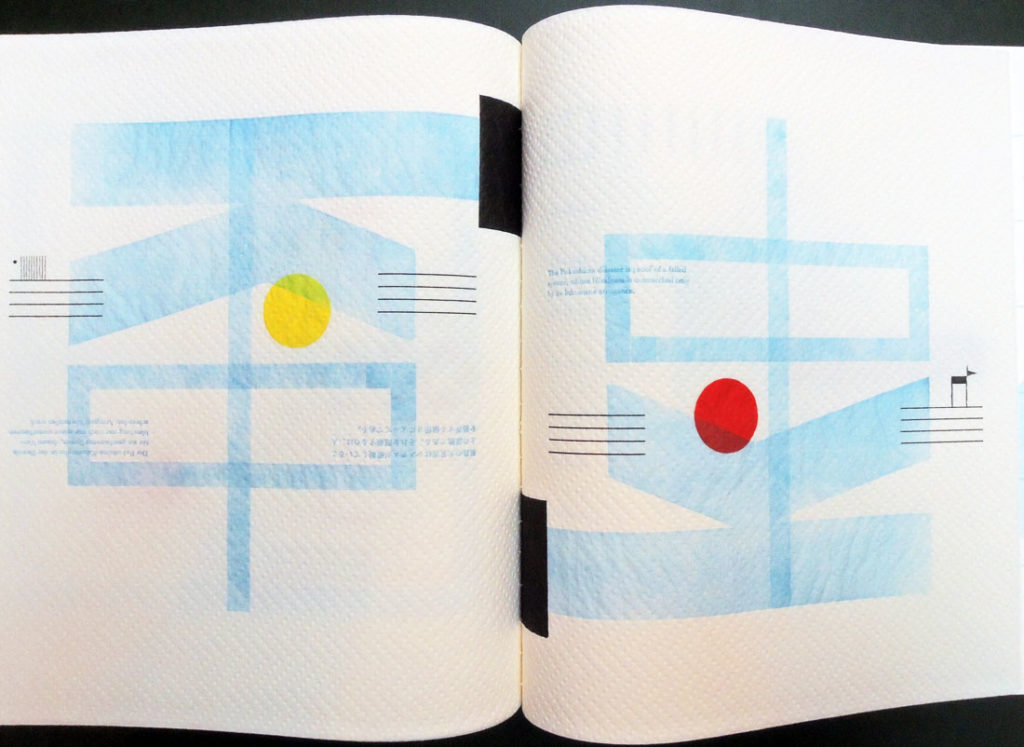 Minnesota Center for the Book: "Educated at the Basel School of Design, [Romano] Hänni returns to the core values of traditional printing technique and modernist European design. The strict limitations of hand typesetting are his cornerstone, everything composed from the incremental units of type and spacing available in the type shop. Hänni's work encompasses a wide range of fields in visual communication, from books, magazines, catalogs and newspapers to drawings, photography and journalism about design and everyday culture."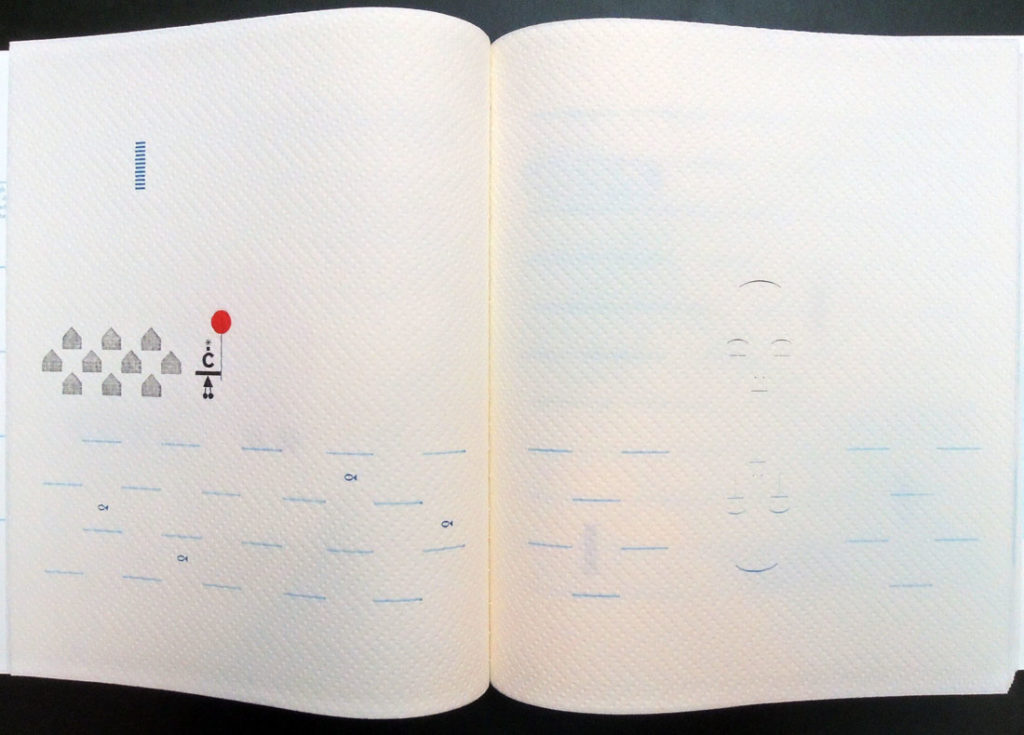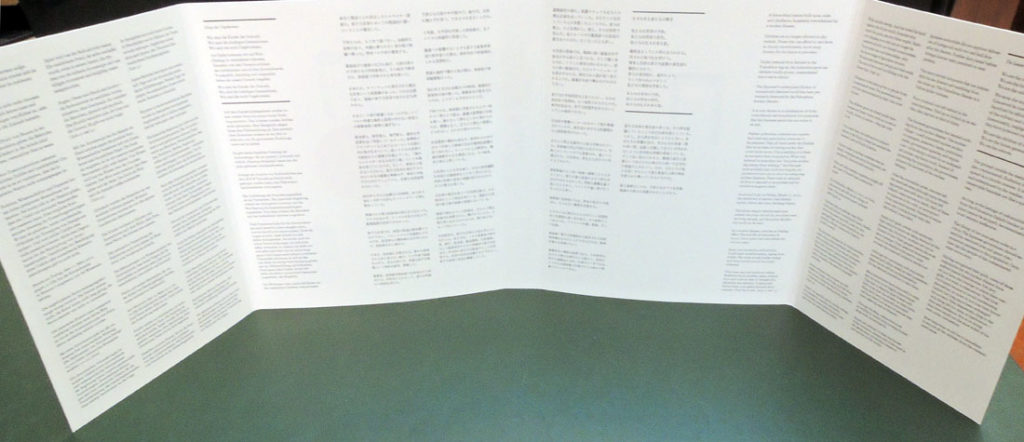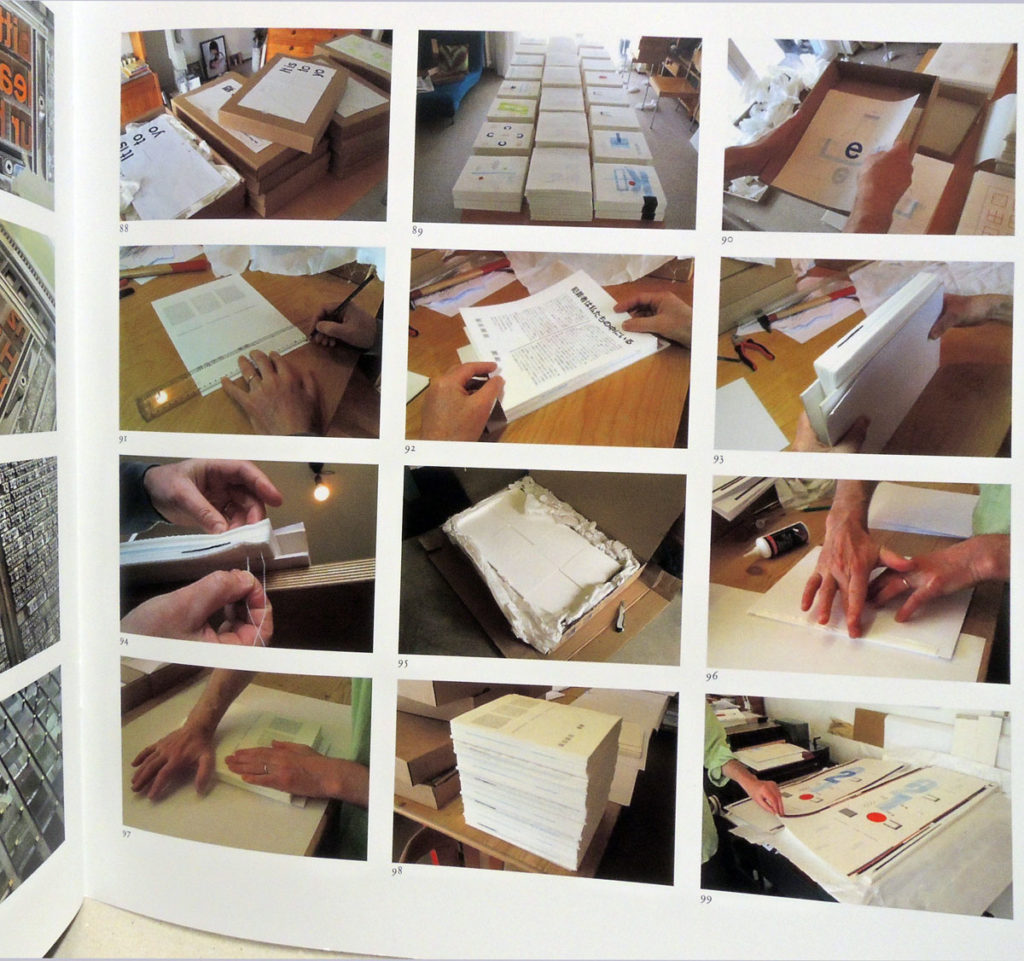 The book is accompanied by a glossy 12-page color pamphlet with 108 photographs documenting the production process for this publication.