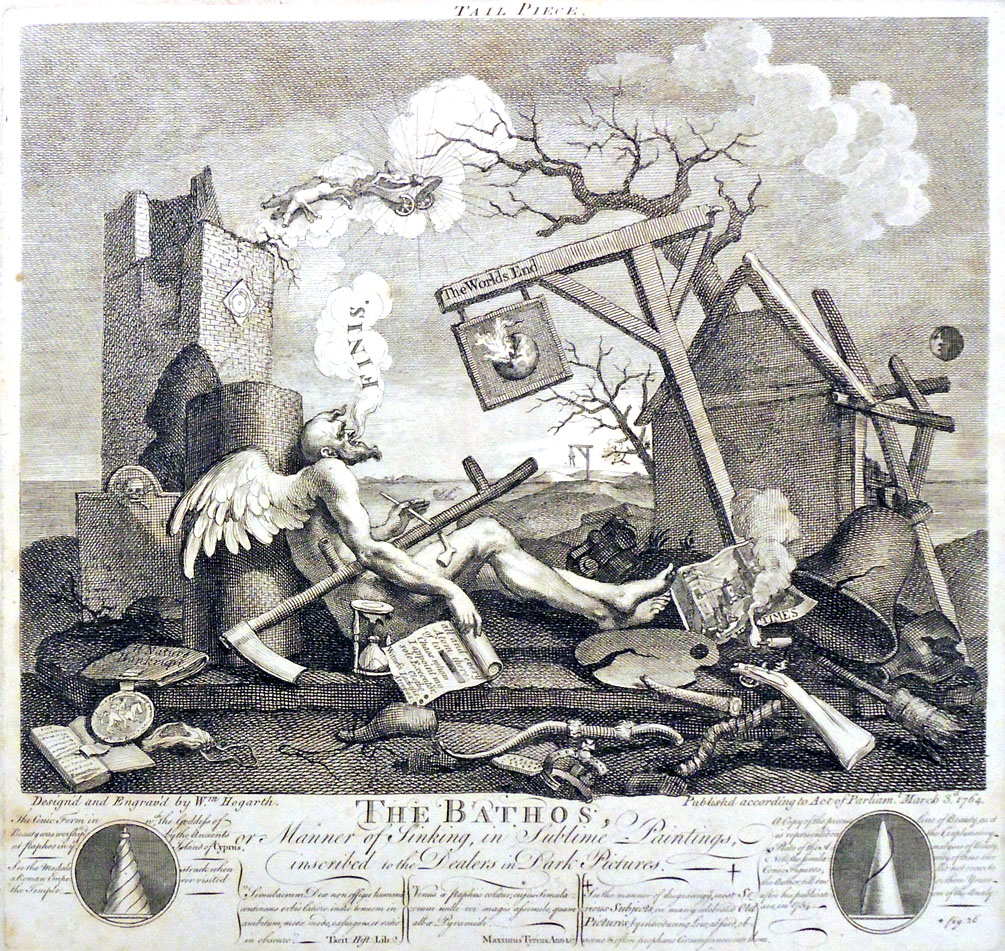 William Hogarth (1697-1764), Tailpiece, or The Bathos, 1764. Engraving. Graphic Arts Collection
There was a reference question this week concerning Hogarth's last print, The Bathos, which is filled with all manner of images denoting the end of life as we know it. This led to a close reading, following entry no.216 in Ronald Paulson's catalogue raisonne Hogarth's Graphic Works, 3rd revised edition.
Paulson writes "This print is the culmination of such pessimistic images . . . . [taking] his general composition, the configuration of objects, and some of the particular items, from Dürer's engraving, Melancholia; but he also recalls Salvator Rosa's Democritus in Meditation (which derives from Dürer's print) with a scroll at the bottom of the etching: 'Democritus the mocker of all things, confounded by the ending of All Things' (Antal, p.168)."
below left: Albrecht Dürer, Melancholia I, 1514. Engraving. Princeton University Art Museum, x1952-1
below right: Salvator Rosa, Democritus in Meditation, Etching. Metropolitan Museum of Art, 2012.136.848
"But," Paulson adds, "Roubiliac's Hargrave Monument (Westminster Abbey, 1757), with crumbling pyramid and Time himself breaking his scythe across his knee, must have been Hogarth's primary inspiration."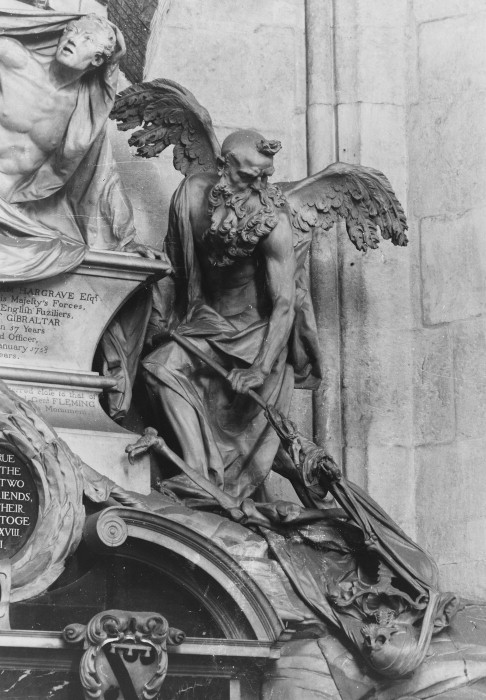 Louis François Roubiliac, Monument to General William Hargrave, 1757. Photographic detail, Courtauld Institute of Art.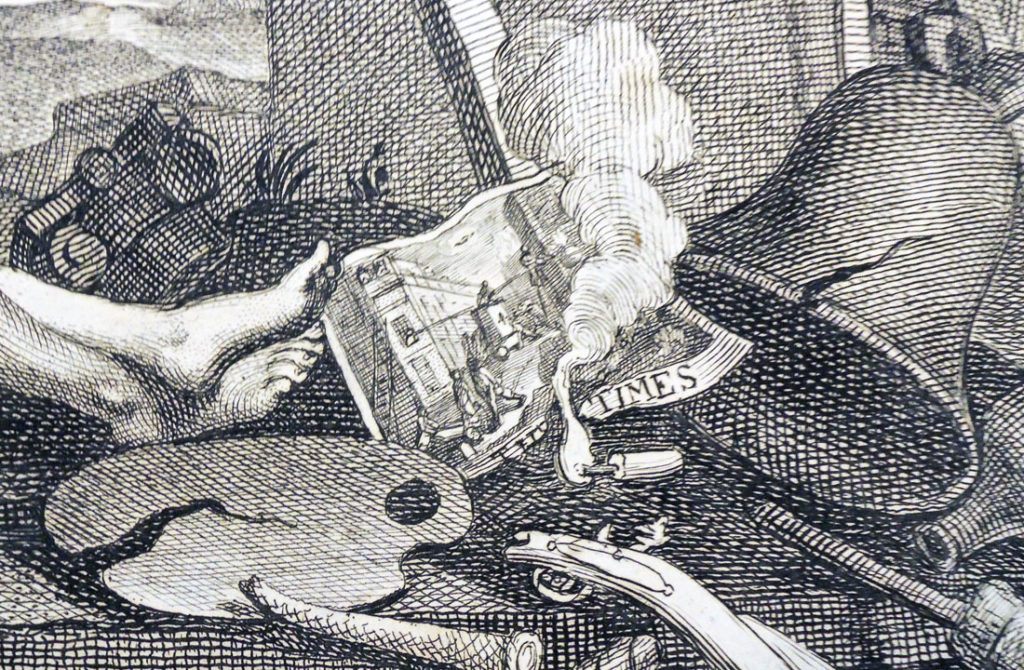 Hogarth includes several references to his own print The Times, including the entire sheet [seen above] catching on fire from a burning candle. Below we see a globe also on fire, as it is in the far right of The Times.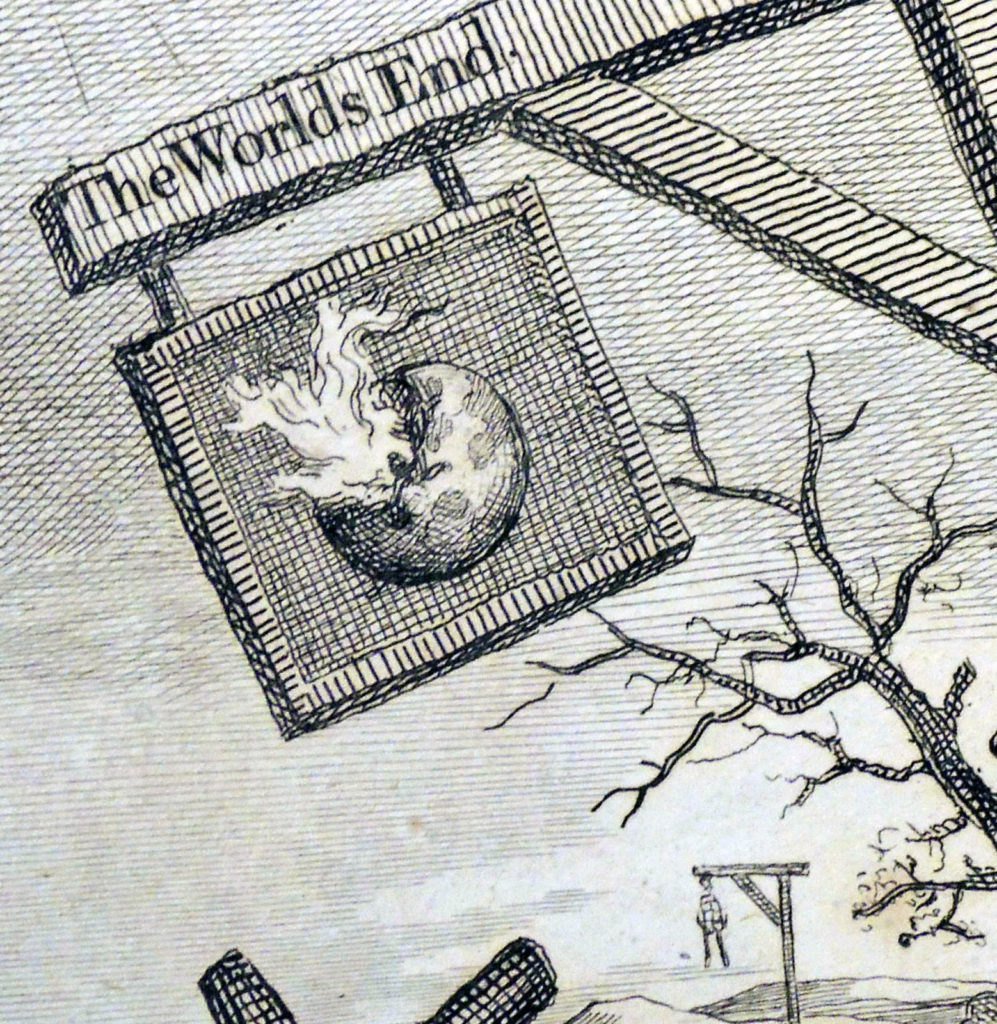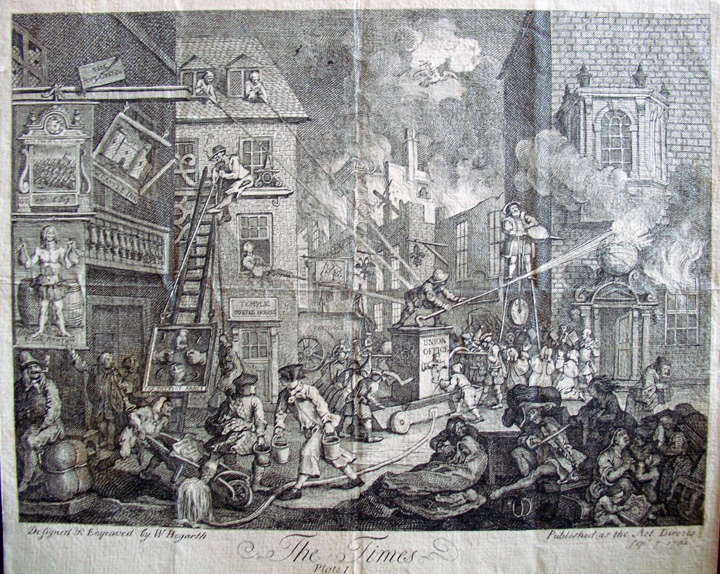 William Hogarth (1697-1764), The Times, plate 1, 1762. Engraving and etching. Graphic Arts GA113.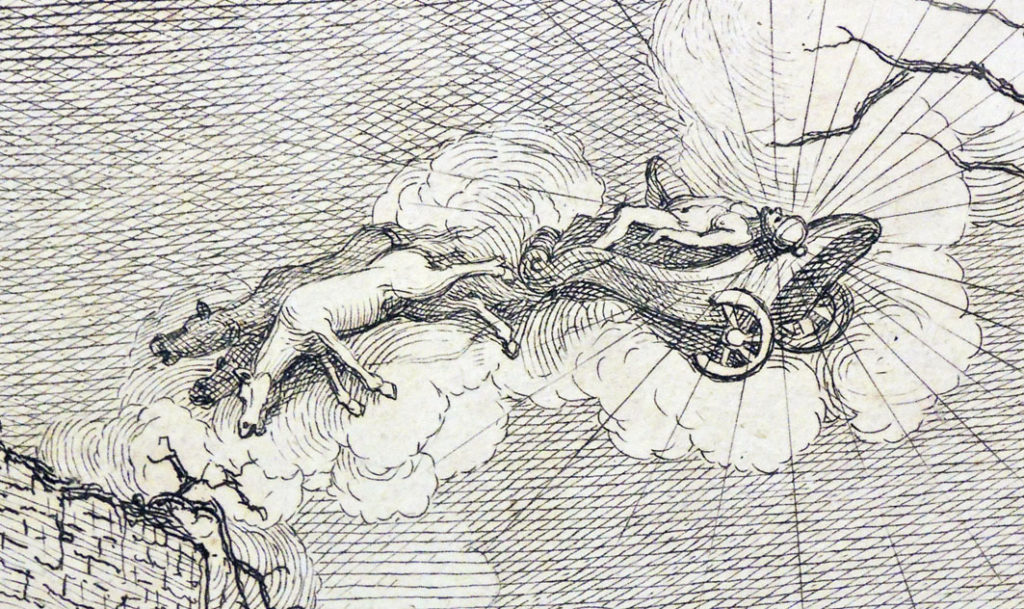 Paulson continues, "In the far distance is a sea with a sinking ship and a gallows on the shore (for hanging pirates). Above in the sky is Apollo and his horses dead, his chariot wheel broken, a limp parody of the group in Poussin's The Kingdom of Flora."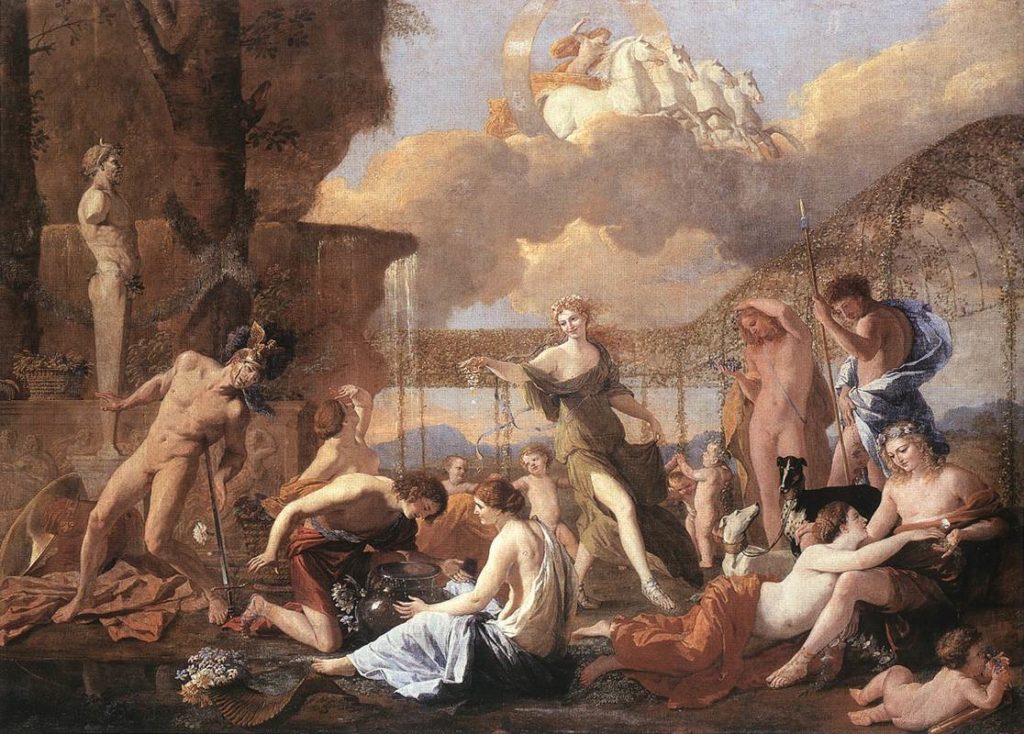 Nicolas Poussin, L'Empire de Flore, 1594. Oil on canvas. Gemäldegalerie Alte Meister Dresden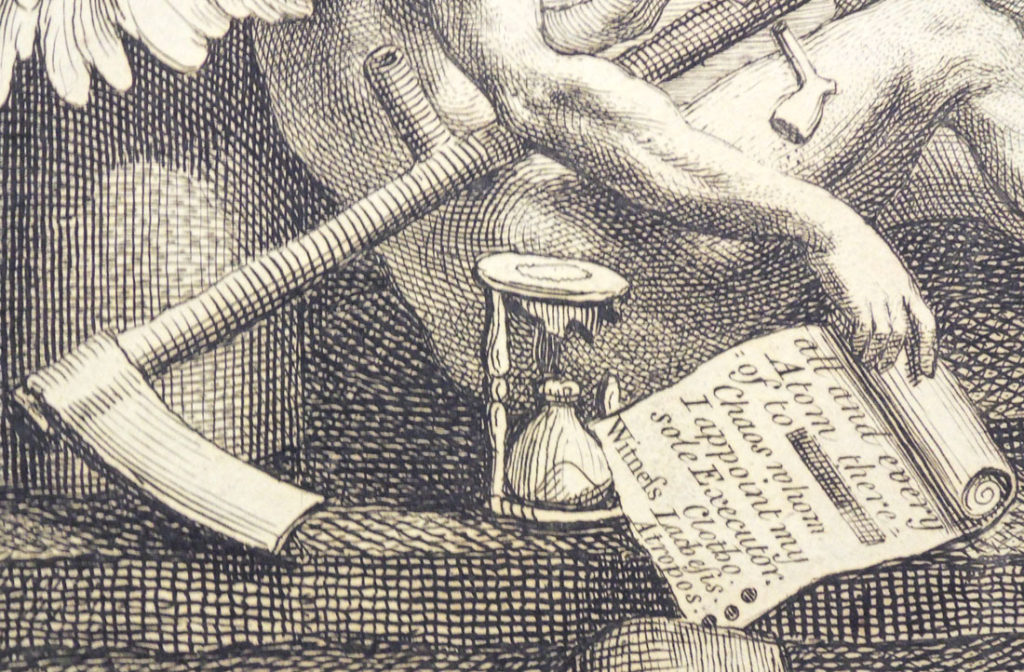 Time's "last will and testament reads: 'all and every Atom thereof to [name crossed out; beneficiary changed to ] Chaos whom I appoint my sole Executor. Witness Clotho. Lachesis. Atropos' (the three Fates, with their seals).
Behind him lies a statute of bankruptcy with a pendant seal (a pale horse and pale rider, probably Death, on it), labeled "H. Nature Bankrupt"; and an empty purse. A playbook open to its last page and Exeunt Omnes" [This is a stage direction to indicate that all the actors leave the stage].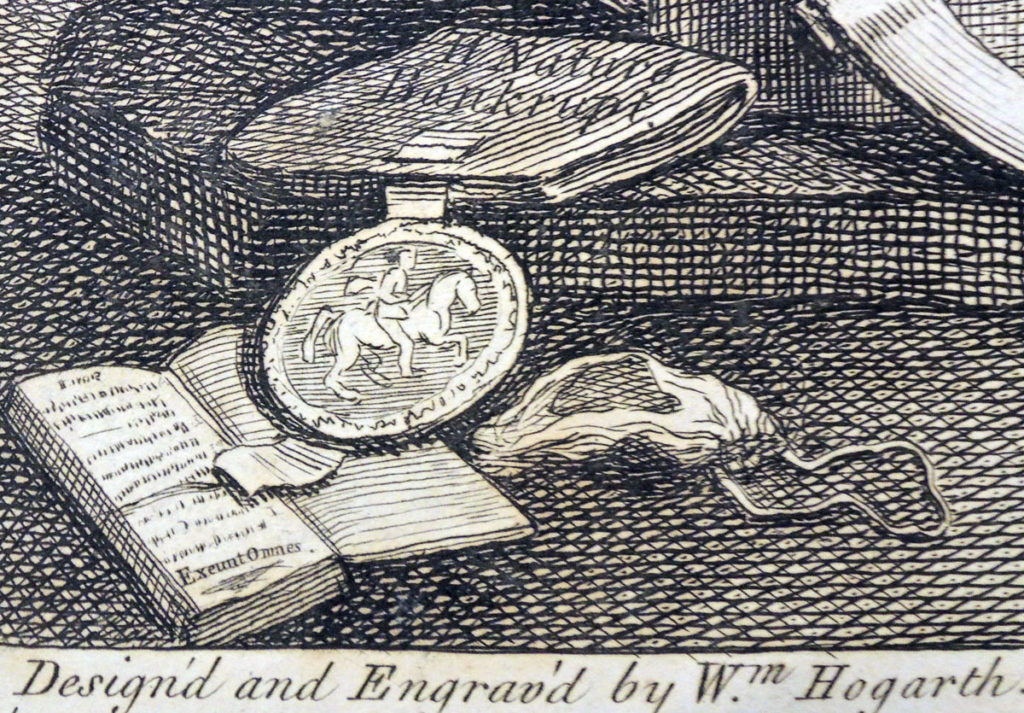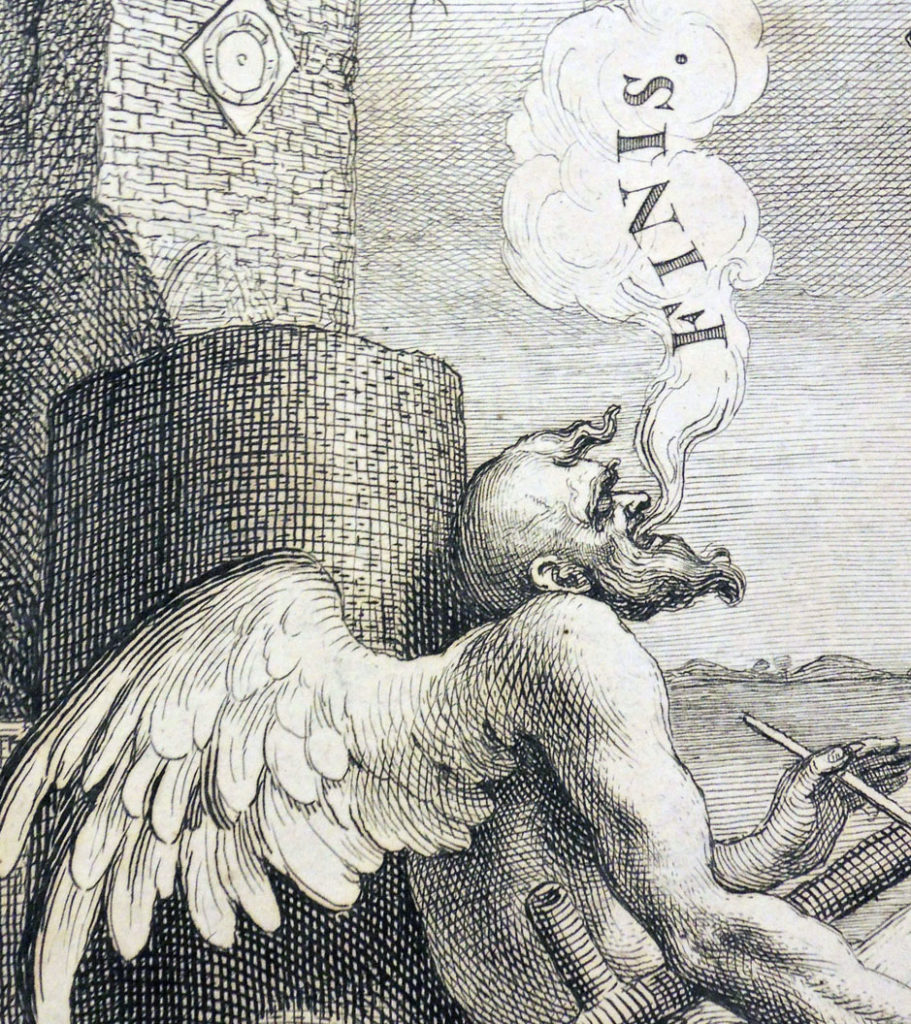 Hogarth's Graphic Works / compiled and with a commentary by Ronald Paulson. 3rd rev. ed. (London: Print Room, 1989). Graphic Arts: Reference Collection (GARF) Oversize ND497.H7 A35 1989q
See also: https://rbsc.princeton.edu/hogarth/